Boston Bruins' management are unafraid to make trades to address weaknesses. For the past few seasons, the B's have made moves at the trade deadline to try and address the weakness at wing on the second line. In 2018, they acquired Rick Nash from the New York Rangers. In 2019, it was Marcus Johansson from the New Jersey Devils. Last season, Ondrej Kase was the team's biggest acquisition. He came for the price tag of David Backes, prospect Axel Andersson, and their 2020 first-round pick.
Related: Bruins 2020 Trades Helps Future Salary Cap
These deals have had mixed results. Nash suffered a concussion and was unable to provide the impact everyone expected in 2018. Johansson had a great performance in the 2019 playoffs and helped the team reach the Stanley Cup Final, where they ultimately lost to the St. Louis Blues. Kase only had four assists in the 2020 playoffs. In both 2018 and 2020, the team lost to the Tampa Bay Lightning in the second round.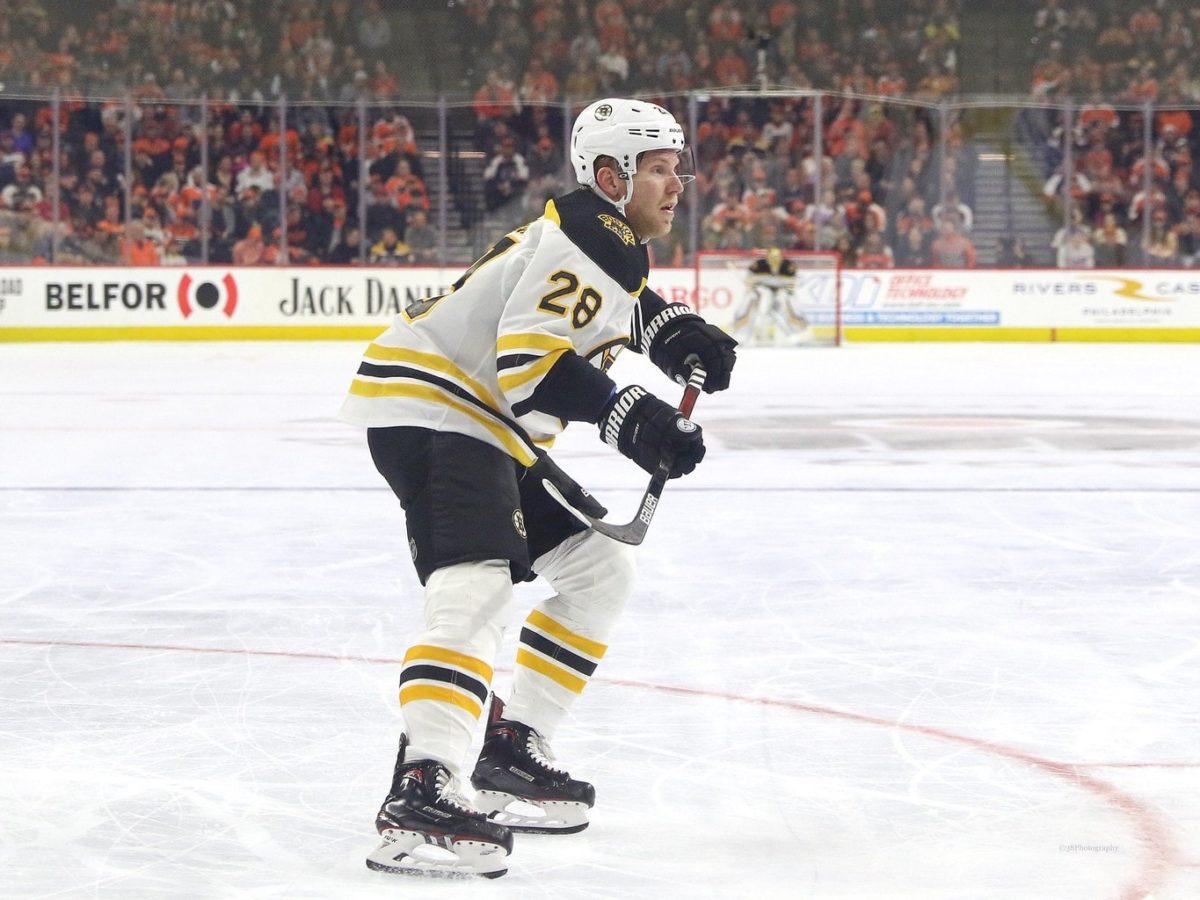 Despite consistently being one of the top teams during the regular season, the Bruins have not been able to put it all together and win a Stanley Cup in recent seasons. They lost their first-round pick in the 2018 and 2020 NHL Entry Draft in deadline deals that haven't panned out. With a young and fairly inexperienced blue line and top players Brad Marchand and David Pastrnak set to miss the start of the season recovering from surgery, the team will need to make moves to stay on top this season.
Time for Change
The Bruins have not won a Stanley Cup since 2011. While this is not necessarily a long drought, the team has had the talent to win in recent seasons but keeps coming up short. Something seems to be missing when it becomes crunch time, whether it's a lack of scoring outside the top line, weak goaltending, or a general lack of "playoff toughness."
Related: Boston Bruins' 2019 Draft Class Catch Up
With big contracts set to come off the books next offseason, the Bruins could make a big splash in the 2021 free agency. However, the time to make bigger adjustments to the roster may be now.
The team is weaker with the loss of defenseman Torey Krug. Zdeno Chara is still unsigned, and his loss, as both a player and leader, cannot be understated if he does not return. If nothing else is done to this roster, they should still be competitive. Both the Toronto Maple Leafs and Montreal Canadiens have made a lot of moves to improve this offseason. The defending Cup champion Lightning should still be dominant and the Buffalo Sabres are a wild-card who could take big steps forward.
With free agency winding down and a prospect pipeline a little light on top-end talent, the team is going to have to start considering trades. So the question becomes, who is potential trade bait currently on the Bruins roster?
John Moore
John Moore is a good defenseman who, after injuries and the emergence of Matt Grzelcyk and Connor Clifton, has fallen down the depth chart. He missed most of the 2019-20 season with a shoulder injury and was a healthy scratch in all but one game in the playoffs.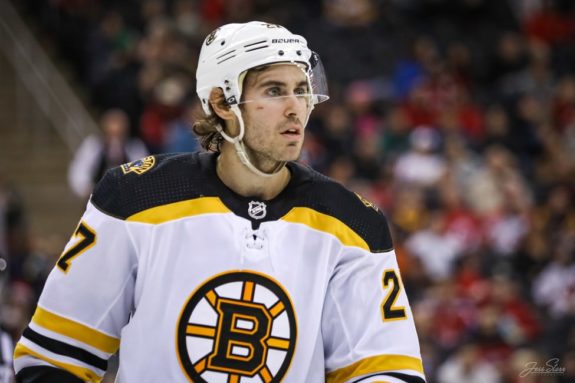 Moore is signed for $2.75 million a season through 2023. Given his lack of playing time, the Bruins probably won't be able to get a lot in return in a trade, but they are paying too much to have him be a healthy scratch.
Related: The State of the Bruins' Blue Line
If management wants to add a major piece, as well as re-sign restricted free agent Brandon Carlo to a bigger contract in 2021, they would benefit from creating more cap space by trading Moore. They also have several left-shot defensemen in Providence, including former first-round picks Urho Vaakanainen and Jakub Zboril, who are cheaper and could fill in as depth defensemen.
Anders Bjork
The Bruins struggle with consistent scoring outside of Pastrnak, Marchand, and Patrice Bergeron, and signing Craig Smith this offseason isn't going to fix everything. Another move is going to need to be made. Anders Bjork has shown flashes of potential but has struggled with consistency. Some of this can be attributed to injuries, but it's time to acknowledge that the Bruins might not be the best fit for him.
Related: Bruins Eye Hoffman, Urgent Need for Goal-Scoring Powerhouse
Sweeney would most likely be looking for a one-for-one swap for Bjork. The Bruins and the Edmonton Oilers reportedly discussed swapping Bjork and Alex Chiasson a few weeks ago. They've made similar trades in the past including the Danton Heinen for Nick Ritchie at the 2020 trade deadline.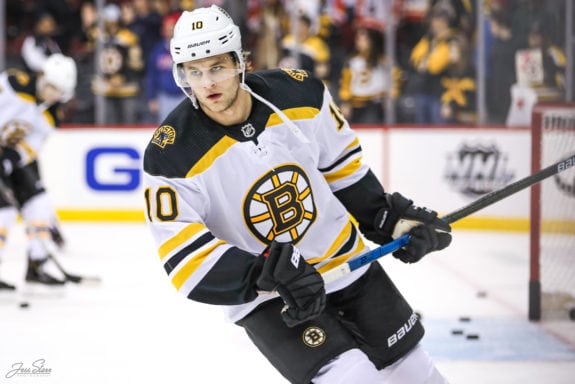 Bjork will have a chance to cement his spot in the lineup at the start of the season when Marchand and Pastrnak are rehabilitating. He's had chances to prove himself and if this season doesn't start well, a change would be beneficial.
The Window is Closing
At this time last year, there was little doubt that the Bruins were one of the top Eastern Conference teams. After the way the team played in the 2020 playoffs along with a weaker blue line and still no imminent, consistent secondary scoring options, there is reason for concern. The gap between them and other teams is getting smaller. Clearing Moore and Bjork's cap space to get a bigger piece will give them an edge.
The core of the team is starting to change. Chara may be done. Krug is with St. Louis. Marchand, Bergeron, Tuukka Rask, and David Krejci are getting older. Maybe someone will step up and have a breakout season and the team won't have to make a lot of moves.
Related: NHL Rumors: Bruins, Canadiens, Avalanche, Caps, Oilers, More
Or maybe the team struggles out of the gate to find their footing. Don't be surprised to see them make a big move either during the season or in the next offseason. In 2015, when they didn't make the playoffs, ending a seven-year streak, they not only traded Dougie Hamilton and fan-favorite Milan Lucic, but also fired general manager Peter Chiarelli.
There have already been trade rumors about Jake DeBrusk and Rask. While it sounds crazy to trade a young forward who scored 27 goals in 2018-19 or last season's Vezina Trophy finalist, this current roster will need a major change, if not this season, then the next. Competition is so tight in the NHL, that while it may seem surprising for a top team to be a favorite to win one season and then miss the playoffs the next, it isn't unheard of.
The first two trade options should be Moore and Bjork, but don't be surprised to see bigger names start popping up if things go south this season. The team could use some high-end prospects and cap space to make free agency moves and sign players like Carlo and Charlie McAvoy, to long-term deals.
---
---