Apart from securing the No. 5 pick in the 2023 NHL Entry Draft in June, it's been quiet for the Montreal Canadiens since the regular season ended, which is probably a good thing considering the upheaval happening within eliminated teams around the NHL these days.
It won't be long though before the offseason kicks into high gear with the draft, free agency, and a potentially roster-altering trade period. One of the items high on general manager Kent Hughes' summer to-do list is deciding about the path to take with Mike Hoffman. With one year remaining on his contract, the time is now to move on from the veteran forward and there are three options available to make that happen.
A Buyout
During his end-of-season media availability, Hughes did not discount the possibility of utilizing a buyout and Hoffman is the prime candidate.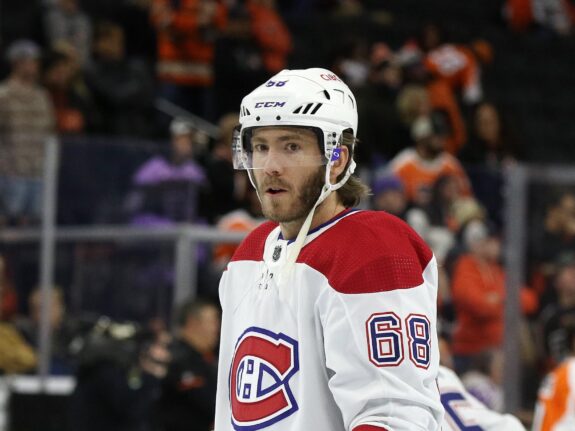 It's not that the Canadiens absolutely need the extra cap space heading into 2023-24, it's that keeping Hoffman on the roster for another year blocks an opportunity for a younger player who is in Montreal's long-term plans. Especially since head coach Martin St. Louis tends to give him minutes on top offensive units which isn't an optimal strategy for a team looking to take the next step in their rebuild. Not to mention that his production since joining the Habs, 29 goals and 69 points in 134 games, doesn't necessarily merit that kind of role.
The primary reason that Hughes won't buy out Hoffman is if he doesn't want to have the cap hit on the books in 2024-25 and if that's the case, there are other avenues he can explore.  
The Trade Market
The 33-year-old isn't exactly an attractive commodity on the trade market heading into the summer, but that doesn't mean he can't be moved thanks to a little creativity.
Related: Canadiens' Anderson is their Best Asset in Rebuild
With one year to go before he's eligible for unrestricted free agency, clubs looking for secondary scoring, particularly on a second power play unit, might look in his direction if the Habs retain 50% of his $4.5 million cap hit for the season. Hughes could also swap his contract for another one that a fellow GM deems to be undesirable that belongs to a player who fills another hole on the roster in the short-term like an experienced defenceman. Hoffman could also be included in a package as part of a bigger deal to make the money work for both sides.
It's even possible that Hughes decides to bite the bullet and sweeten the pot by adding a draft pick along with the winger in a potential trade with a team armed with available cap space hoping to bring in future assets. It's not the ideal scenario, but it might be worth it.  
Send to the Minors
A last resort would be burying Hoffman's contract in the minors before finalizing the 23-man Opening Night roster and sending him to the American Hockey League (AHL) with the Laval Rocket.
---
Latest News & Highlights
---
Again, not an ideal course of action because he would just be taking a spot from another player only this time at a level lower and it's likely he won't take his demotion well which could create unnecessary friction in an environment that is meant to promote development. That's not the kind of influence management wants on their prospects trying to make their way to the big leagues. The minors are a last resort, but something that should be considered if needed.
Hughes has successfully surrounded his young players with strong, experienced leaders and changed the Canadiens' culture with the help of St. Louis, but Hoffman is one veteran who has worn out his welcome for several reasons. People doubted that Montreal's GM would be able to move Shea Weber's contract or trade Jeff Petry for a decent return which ended up being an upgrade in the form of Mike Matheson, so don't be surprised if he pulls another rabbit out of his hat this summer.