In this week's Montreal Canadiens news and rumors, Jeff Petry signs a four-year contract extension with the Canadiens, Jake Evans and Joseph Blandisi also re-sign to stay in Montreal, plus Nick Suzuki is named to the NHL's All-Rookie Team.
Meanwhile, Marc Bergevin won't be entering the Patrik Laine sweepstakes, Cole Caufield might be playing for Wisconsin after all and get the details on some Habs themed marriage proposals.
Jeff Petry Is Staying in Montreal
Canadiens general manager Marc Bergevin took care of an important piece of offseason business on Friday, signing defenseman Jeff Petry to a four-year contract extension with an average annual value of $6.25 million.
The 32-year-old put up 40 points in 71 games during 2019-20 campaign, his third straight 40-point season. He has ranked first among Habs' defenseman in points each of those three seasons. Petry also led the team in hits and was also responsible for 30 takeaways this year, tops amongst Montreal defenders. He added two game-winning goals and an assist in 10 playoff contests in 2020.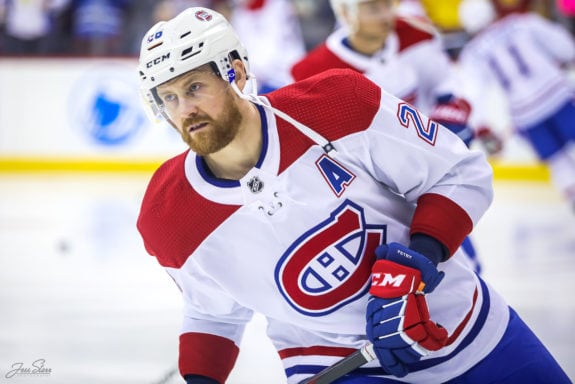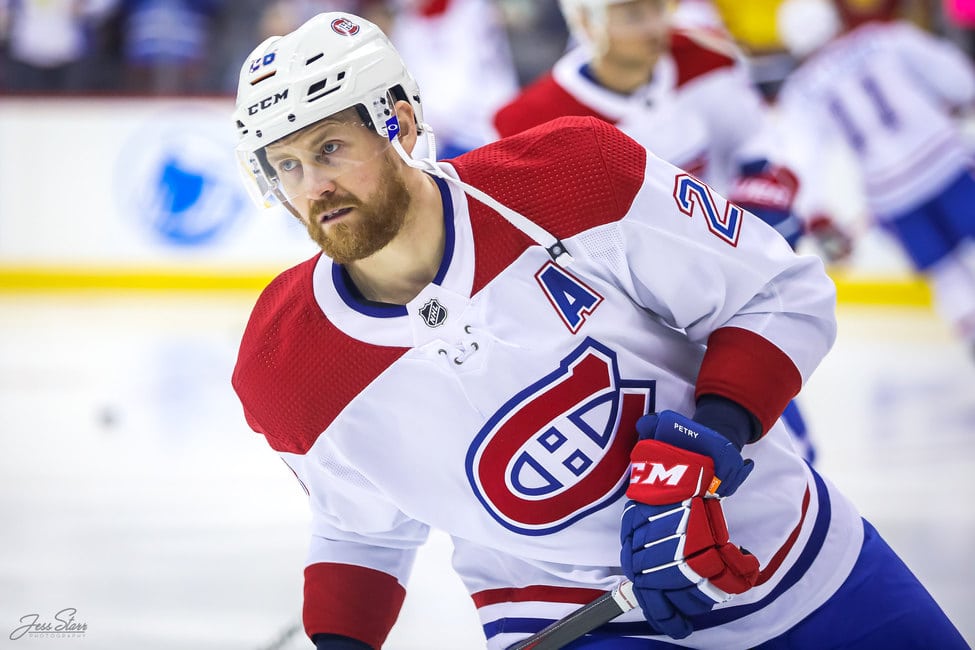 Petry was quick to prolong his career in Montreal not only because he and his family love the city, but also because he's pleased with the direction the team is heading.
"We have a lot of good young players, and you know, guys like KK and Suzuki showed that during the playoffs — which is huge to have success as a team. With those guys coming up, it shows that the future is bright here, and that was one of the deciding factors in ultimately signing this extension," Petry explained.
Related: Petry Extension One of Canadiens GM Bergevin's Best
Bergevin's acquisition of Petry from the Edmonton Oilers in 2015 is widely considered one of his strongest trades as GM of the Habs and this contract is one of his best signings to date as well. Not only did Bergevin lock up a valuable top 4 defenseman who has become one of Montreal's core pieces, but he did so with a manageable term of four years and for less annual value than Petry would have fetched had he opted to test free agency.
Extending Petry was one of Bergevin's priorities this offseason and he delivered with a terrific contract as he continues to try and add pieces to his roster.  
Nick Suzuki Named to All-Rookie Team
Nick Suzuki's impressive rookie season was recognized with a selection to the NHL's All-Rookie Team at centre alongside Cale Makar, Quinn Hughes, Dominik Kubalik, Victor Olofsson and Elvis Merzlikins.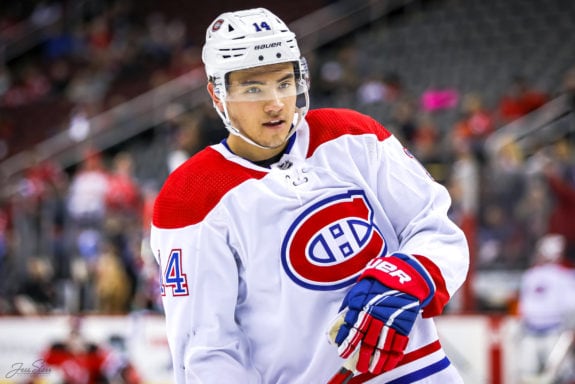 In addition to finishing sixth in rookie scoring with 41 points, Suzuki led all first-year forwards in total ice time (1,135:16) and even-strength ice time (960:02) in 71 games in 2019-20.
Suzuki is the first Canadiens player to be selected for the All-Rookie Team since Brendan Gallagher was named in 2012-13. P.K. Subban, Carey Price, Patrick Roy, Chris Chelios and Mats Naslund are among the other Habs rookies who have been bestowed with the honor.
Jake Evans and Joseph Blandisi Re-Sign With the Canadiens
In addition to Petry, Bergevin also re-signed forwards Jake Evans and Joseph Blandisi this week. Both were pending restricted free agents.
Evans, a seventh-round pick in the 2014 NHL Draft, signed a two-year deal after appearing in 13 regular-season games with the Canadiens in 2019-20, scoring two goals and one assist. The 24-year-old also registered one assist in this year's playoffs.
Related: 5 Ways the Canadiens Can Improve for 2020-21
In two seasons with the Laval Rocket in the AHL, Evans has collected 83 points. He was leading the Rocket in scoring before the league was shut down due to the COVID-19 pandemic.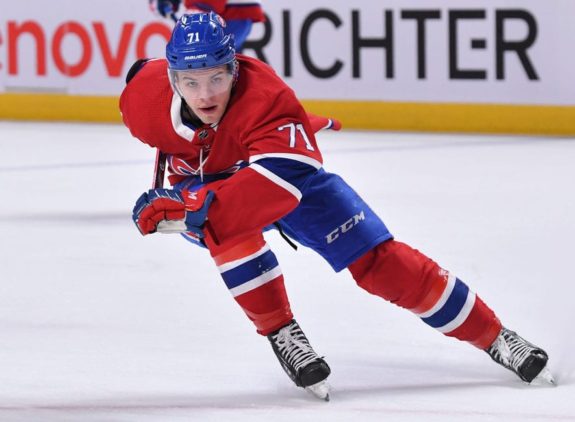 The Canadiens hope Evans will become the team's full-time fourth line centre behind Phillip Danault, Jesperi Kotkaniemi and Suzuki as soon as next season. He's proven capable of filling the role in his short time with the big club.  
"Playing center comes with a little bit more responsibility, especially with those faceoffs and defensive coverage. It's just a little more responsibility and I really enjoy those moments. I take pride in winning those big draws and making those strong defensive plays, so whenever I get the chance to do that, it's a great opportunity for me," Evans said.
For his part, Blandisi signed a one-year, two-way contract after registering four points in four games with the Rocket in 2019-20 after being acquired from the Pittsburgh Penguins at the trade deadline.
Canadiens Are Out on Patrik Laine
In a recent edition of Insider Trading on TSN, Pierre Lebrun indicated that, despite their need for scoring on the wing, the Canadiens will not be pursuing Patrik Laine, who has been the subject of many trade rumors in recent weeks.
"I'm told, at this juncture, that the Montreal Canadiens don't intend to get in on the Laine sweepstakes."
Things can certainly change quickly, but the asking price from the Winnipeg Jets for Laine has to be too rich for Bergevin and might include some of his untouchables like Alexander Romanov, Suzuki and Kotkaniemi.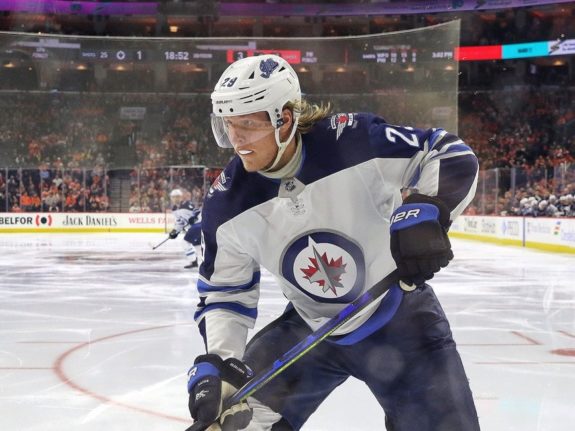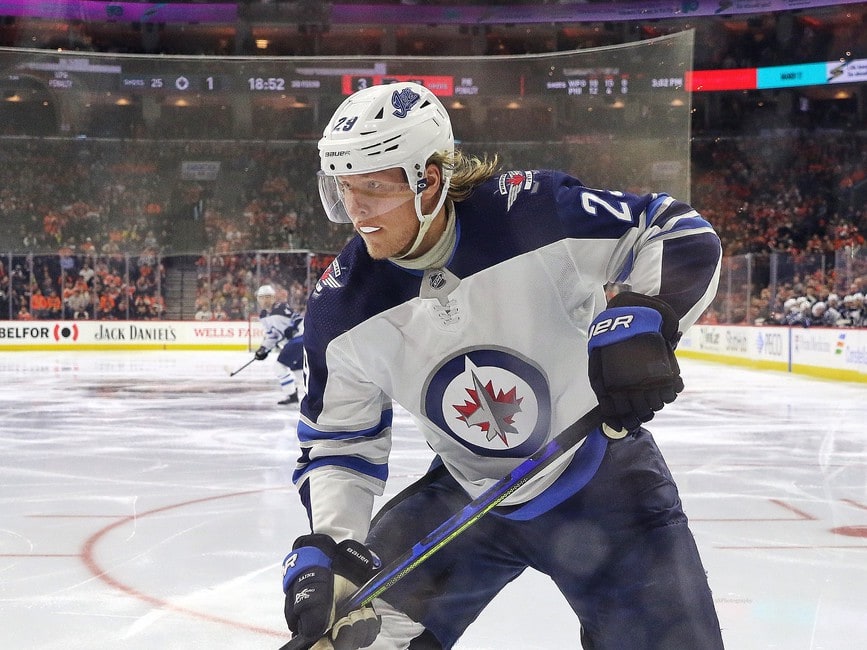 While Bergevin is more willing to move some of his prospects at this stage than in the past, he still has limits even though it's not a secret that he would love to get his hands on an elite scorer like Laine who would fit in nicely with the Habs' strong Finnish contingent. It's still early in the game so we'll if Bergevin is tempted to throw his hat in the ring over the coming weeks.  
Cole Caufield Staying in Wisconsin?
Rumors swirled last week that Cole Caufield might be headed to Europe to play with Rögle BK of the Swedish Hockey League (SHL).
Related: Future for Canadiens' Cole Caufield Undecided
Tony Granato, Caufield's coach with the Wisconsin Badgers, appeared on The Athletic's The Full 60 podcast and indicated that he is confident that Wisconsin will be able to play a full Big Ten schedule beginning at some point in November. If a season does happen, Granato believes that the NCAA is still the best place for Caufield.
"If we didn't have a season and weren't going to play, then he should be playing. He should be going overseas to find a home. But with the confidence we have of getting up and running at some point in November I think this is the right place for him. He still has to sort through things and make sure he feels the same way – I think he does," (from 'The Full 60', The AthleticNHL – 09/24/20).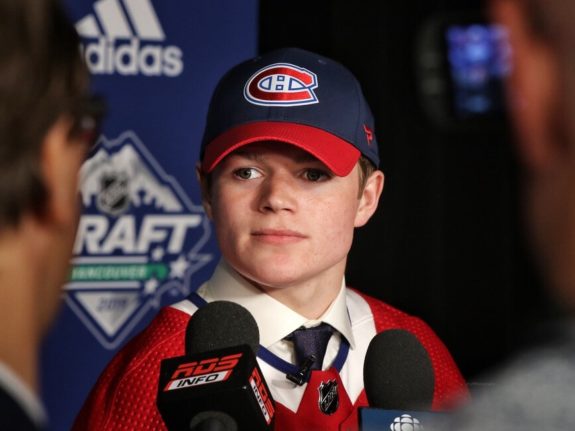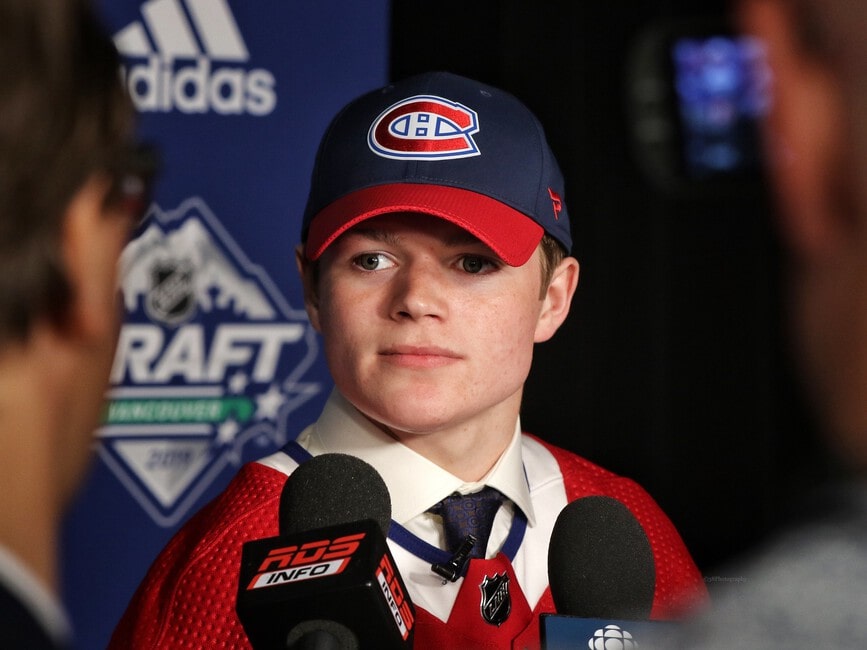 Hopefully, Caufield and the Canadiens will get some clarity soon as to where and when he'll play this season.
Habs Themed Marriage Proposals
The Bell Centre has been an awfully quiet place for the past few months, but it was the site of a marriage proposal for two Canadiens fans this week as Nathan and Caitlyn got engaged at the Tricolore Sports boutique. Nathan pulled out the stops to surprise Caitlyn, who has the Habs tattooed on her, literally. Great job, Nathan!
In other Canadiens wedding news, Montreal defensemen Noah Juulsen and Victor Mete also recently popped the question to their partners and will be headed down the aisle.
What's Next for the Canadiens?
It's already been a busy offseason in Montreal and it's about to get even busier with the NHL Draft and the opening of free agency just around the corner.
Will Bergevin strike some deals at the draft with his plethora of picks? Will he look for some scoring on the free agent market or use another strategy? Is Brendan Gallagher next in line to sign an extension with the Canadiens?
Habs fans will get answers to these questions and more in the coming weeks. Stay tuned.
---
---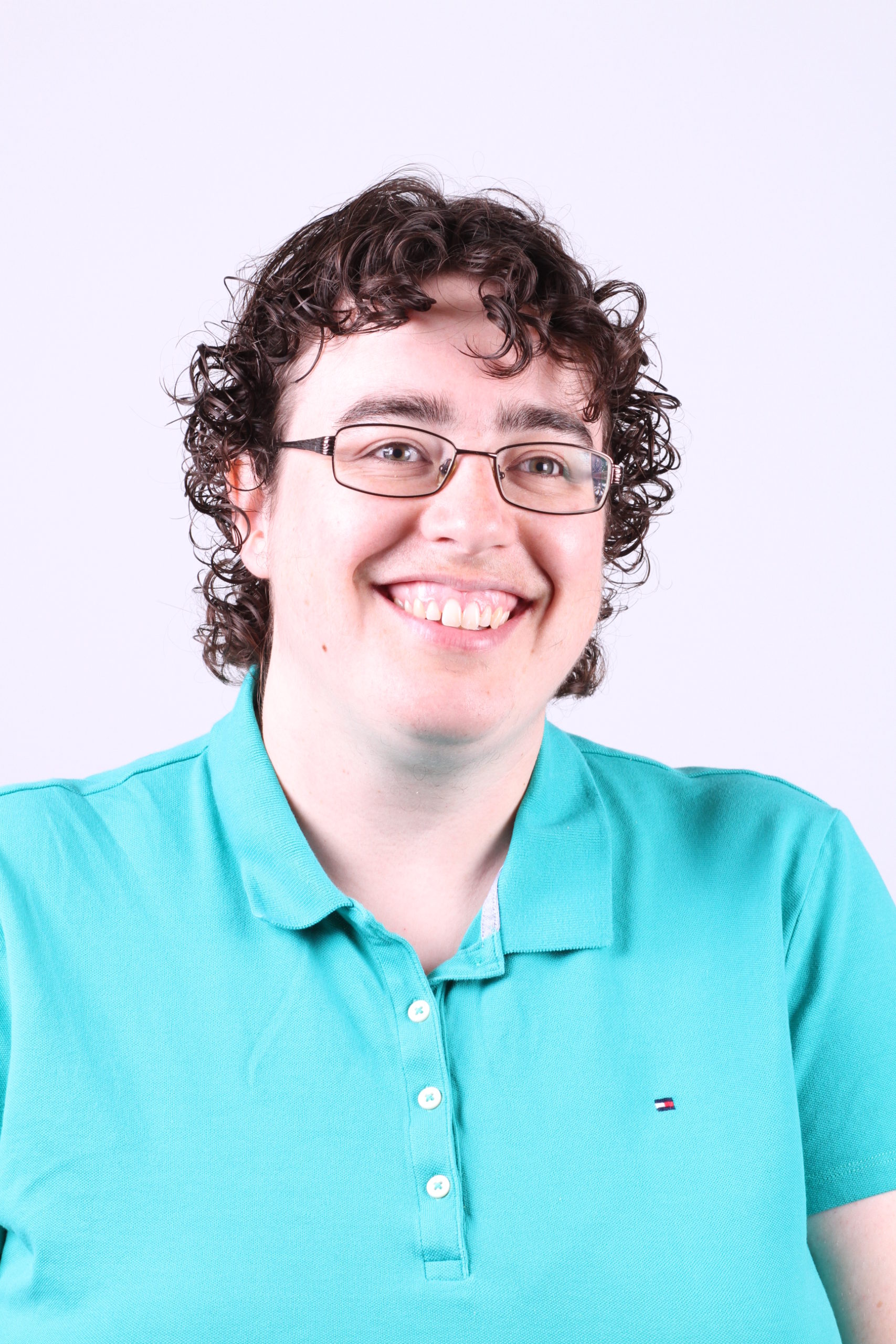 Melissa has been covering the Montreal Canadiens for The Hockey Writers since March of 2020. She is also THW's Social Media & Marketing Manager as well as co-host of Chicks & Sticks, a weekly show produced by THW. In 2006, she spearheaded the social media initiatives for Tennis Canada and Rogers Cup and was the primary person responsible for their upkeep for over 10 years. She has written articles for multiple tennis websites and interviewed the likes of Roger Federer and Serena Williams. While her career in sports started in tennis, her first love has always been hockey. She has a journalism degree from Concordia University.