Carter Sotheran
2022-23 Team: Portland Winterhawks
Date of Birth: June 26, 2005
Place of Birth: Sanford, Manitoba, Canada
Height: 6-foot-3, Weight: 185 pounds
Shoots: Right
Position: Defense
NHL Draft Eligibility: First Year Eligible
Rankings
Carter Sotheran is a big, defensive defenseman who excels in transition both on defense and offense. Sotheran is the prototype of a modern-day defensive defenseman, with good skating and hockey sense which, when combined with his large frame and exceptional reach, allows him to regularly shut plays down and turn the puck the other way.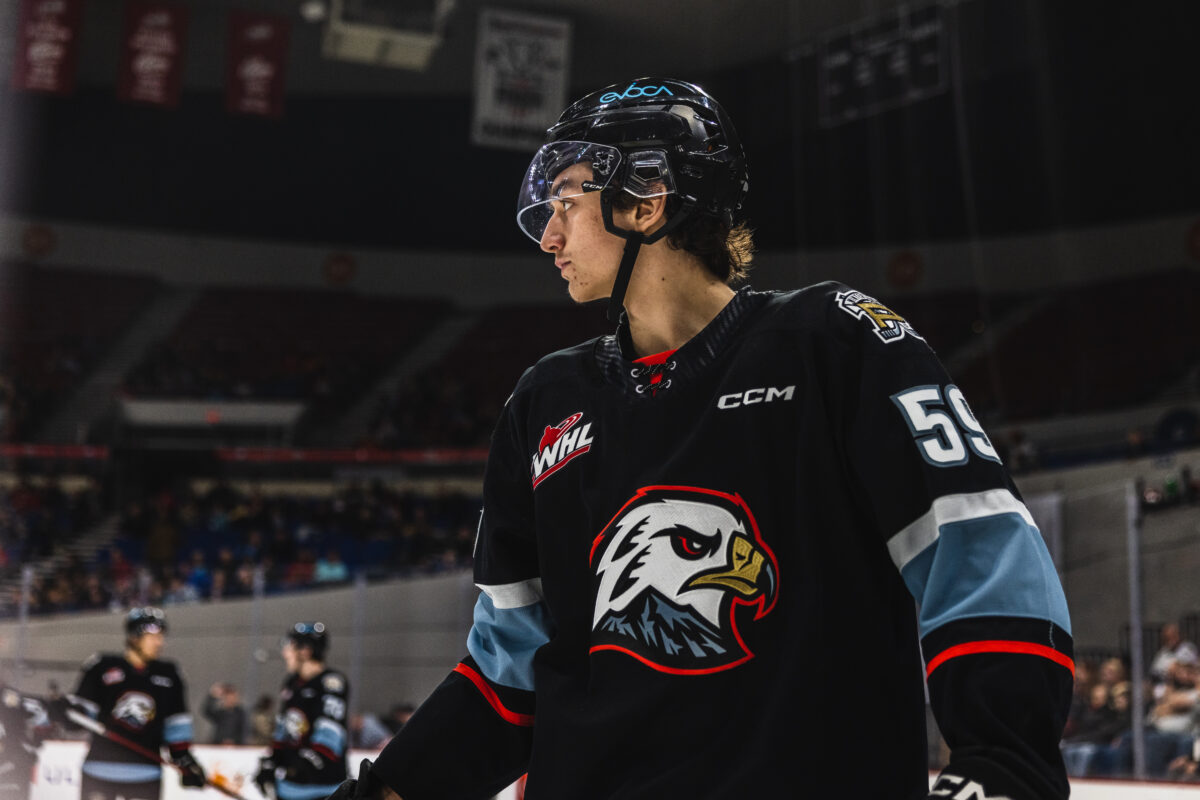 He boasts a better physical game than most 17-year-olds I've ever seen in junior hockey, ragdolling guys in board battles and boxing out opposing forwards in front of his own net with ease. The crazy thing is that Sotheran has even more room to grow into his frame, which should allow him to handle NHL physicality in a few years. Sotheran's gap control (the ability to maintain a safe/smart gap between him and the opposing attacker) is quite mature already and he's always ready to be the last man back on defense, especially when his regular defense partner, Luca Cagnoni, cheats a bit for offense. 
Sotheran's offensive game hasn't been particularly dynamic for most of his draft year, which is why he isn't being heralded as a top-two round pick by most people. However, I think a big reason that's the case is that he was paired with Cagnoni for most of the season, one of the best pure-offensive defenders in the class. Carrying the defensive load for the entire pairing this year left Sotheran much fewer opportunities to show off his offensive skills.
His hockey sense shows up again when he's transitioning the puck up ice, where Sotheran is good at attracting attention before passing ahead to teammates in space. He has shown glimpses of skill with the puck, moving around and through defenders in traffic, but he hasn't been empowered to play that way for most of the year so his offensive game has looked pretty limited for much of the year.
Related: 2023 NHL Draft Guide
Sotheran spent the 2021-22 season in the Manitoba AAA U18 Hockey League (MU18HL) where he led all defensemen in scoring with 54 points in 41 games despite being a U17 player. This season he made the jump to the WHL where he scored 23 points in 68 games, good enough for 11th amongst U18 defenders. Point production will never be Sotheran's calling card, but I think he could put up significantly more points next season in the right situation.
Other THW Draft Profiles
Carter Sotheran – NHL Draft Projection
I expect Sotheran will be someone that team's are talking about in the late second round, as big defenders who skate well and have a right-handed shot don't tend to last long in the draft. My guess is he goes in the 60-75 range on draft day to a team that believes he has more offense to show if he wasn't anchoring his d-pairing as the only man back.
Quotables 
"He has a very high threshold for panic, which allows him to keep a cool head in the midst of an opposing forecheck and find the right passing lane to diffuse that pressure and contribute to clean breakouts." – Hadi Kalakeche, Dobber Prospects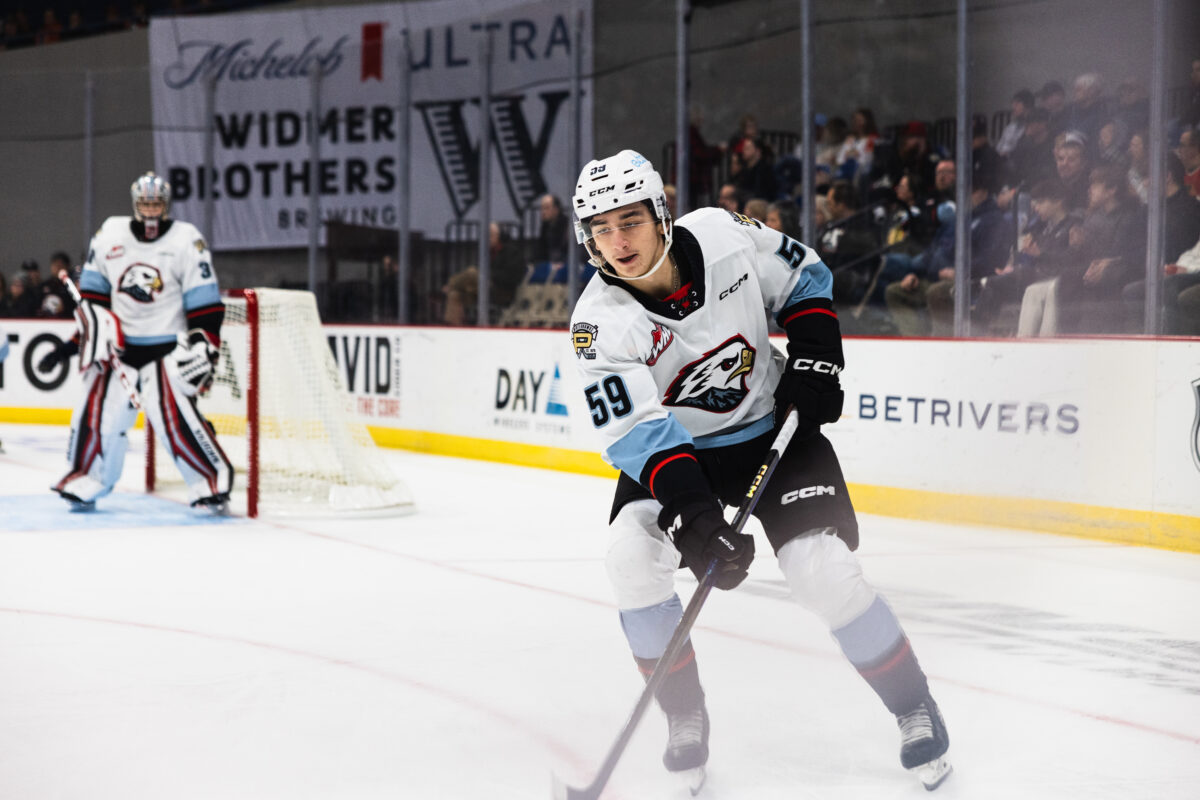 "He's got excellent gap control and great footwork that keeps himself aligned to the attack. If there is a defenseman that I'm willing to bet on being a solid shutdown defenseman at the next level in the mid-rounds, I'm betting on Sotheran." – Josh Tessler, Smaht Scouting
"Sotheran is a big, strong, naturally fluid, and athletic skater. His game is still growing too, as I've noticed a considerable boost in his core strength, balance, and patience to be sure of outlets around the net and at times try to carry the puck through the neutral zone." – Joel Henderson, FC Hockey
Strengths
Defense in transition
Physical play along the boards and around the net
Calm under pressure
Under Construction – Improvements to Make
Achieve consistency on offense
Improve shot (should be heavier given his size)
NHL Potential
Sotheran's most likely NHL role is as a bottom pairing shut-down guy, someone who can be counted on with regular minutes but who won't produce much in the way of offense. However, if his offensive game continues to develop over the next few years, I could see Sotheran landing as a second pairing two-way guy who anchors a pairing next to a more offensively gifted guy, maybe like a Chris Tanev-lite type player.
Risk-Reward 
Risk – 2/5, Reward – 2.5/5
Fantasy Hockey Potential
Offense – 3/10, Defense – 7/10
Interviews/Links
Portland Winterhawks: Introducing Carter Sotheran | PNW Hockey Talk
Awards & Achievements
2021-22: MU18HL Best Defenseman
2021-22: MU18HL Most Points by Defenseman
2021-22: MU18HL Most Goals by Defenseman
2021-22: MU18HL First Team All-Star
Carter Sotheran Stats
Videos

---
Latest News & Highlight
---