Saturday August 26 would have been the late Matiss Kivlenieks' 27th birthday. The Cleveland Monsters are making sure that his legacy is preserved.

This year is no different. The team is hosting their second-annual "Kivi Day." The Monsters are paying tribute to Kivlenieks while giving back to the community. This is their way of continuously remembering him on or around his birthday.
Current Blue Jackets' Goaltending Development Coach and former teammate Brad Thiessen is taking part in the event. He wants to make sure the children of northeast Ohio know his story and is honored to share it.
"I am honored to take part in Kivi Day again this year to celebrate and remember my teammate and friend Matiss," Thiessen said. "It is important to me to be able to share his story with the kids of Northeast Ohio, how he followed his dream and love for the game of hockey to achieve his goal of playing in the NHL."
---
Latest News & Highlight
---
Kivlenieks was a goaltender in the Columbus Blue Jackets' organization and spent part of four seasons with the Monsters before his tragic passing on July 4, 2021.
Kivi Day Events
Kivi Day is being recognized this year over two days. First on Aug 25, members of the Monsters' front-office staff took part in a day of service helping the team's Learn to Play partners at Parma Hockey Association. Around 20 staff members helped re-paint three locker rooms of the Michael A. Ries Rink in advance of the 2023-24 youth hockey season.
Then on Kivlenieks' birthday, a special goalie clinic is taking place. Children ages 8-10 from the Monsters' Learn to Play partners will take part in the clinic. Thiessen will lead two sessions with the kids at their practice facility Brunswick Auto Mart Arena.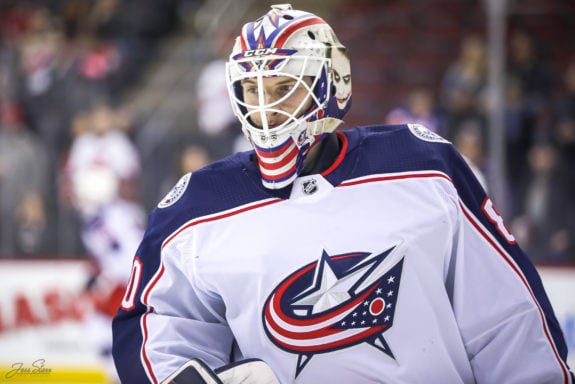 All children taking part in the event will receive a special "Kivi's Kids" goalie jersey. They'll also learn more about Matiss' life in Cleveland while playing for the Monsters.
In addition, the Monsters will be sponsoring scholarships for two randomly selected participants in the clinic. They will be able to attend the 2024 Conway Goaltending School's Cleveland Summer Camp.
Kivlenieks' Legacy Lives On
In addition to what the Monsters are doing to remember Kivlenieks, the Blue Jackets and the Latvian Hockey Federation helped introduce goalies age 10 and under to hockey. In July, the federation hosted Kivi goaltending camps for kids who want to get into hockey. Before that, the Blue Jackets Foundation made a donation of $80,000 to the Latvian Hockey Federation for Kivi's Kids.
The passion for hockey especially goaltending in Latvia is strong. Thanks to these camps, more kids are able to get into the game of hockey while also learning about the impact Kivlenieks had on everyone.
You Might Also Like
Current Blue Jackets' goalie Elvis Merzlikins gave his son Knox the middle name of Matiss. At Kivlenieks' eulogy, Merzlikins said he "died a hero."
Kivlenieks' infectious smile, his joy for life and his passion for hockey made him an instant fan favorite. His legacy is helping rise up the next generation of goaltenders in hockey. His impact is felt worldwide. He will never be forgotten by anyone around the Blue Jackets or Monsters. His memory will live on with generations of hockey fans worldwide.