The Arizona Coyotes entered the 2023 Draft filled with endless possibilities as they surveyed their options in a rather deep class. It was headlined by Connor Bedard, Adam Fantilli, Leo Carlsson, and many more. There was also Matvei Michkov, who presented the league with many questions as no one could grasp where he would fall. Then there was the Coyotes, who were set to draft at six. With many rumors and speculation on how the draft would play out following the top five, not one mock draft had general manager Bill Armstrong taking smooth skater, Dmitri Simashev.
Related: Sky Is the Limit for Coyotes Dmitri Simashev
At the time, Simashev was projected to go around the late teens and into the early 20s, but analysts would be lying if they said they expected him to go at six. Many thought it was a massive reach, and having a generational talent in Michkov on the board left plenty of people puzzled. While many factors play into drafting a player, Simashev has a chance to dominate the Kontinental Hockey League (KHL) this season, where he'll be playing against premier talent.
Allowing Offensive Side of Game to Grow
The NHL as we know it today houses some elite defensive talents, highlighted by offensive defensemen Cale Makar, Adam Fox, and Erik Karlsson. While some are more offensive than others, there are also the shutdown defenders of the league, such as Jonas Brodin, Jacob Slavin, and Alex Pietrangelo. When looking at Simashev's game in 2022-23, he racked up zero points in 18 games in the KHL. While it may look underwhelming on the stat sheet, he has the potential to be an elite lockdown defenseman in today's NHL. However, the Coyotes are gambling on his offensive output to increase in 2023-24.
There are plenty of reasons to believe Simashev will increase his point total and offense contribution. A key factor is his height, as he stands in at 6-foot-4. His large frame easily allows him to get out of situations and move up the ice, creating opportunities for himself and his teammates. Another aspect that can immediately be seen when watching the tape is how smooth of a skater he is. Other than Bedard, Simashev could very well be right behind him for the best skater in the 2023 class, which provides him with elite speed, helping him defend the rush and lead the charge up the ice.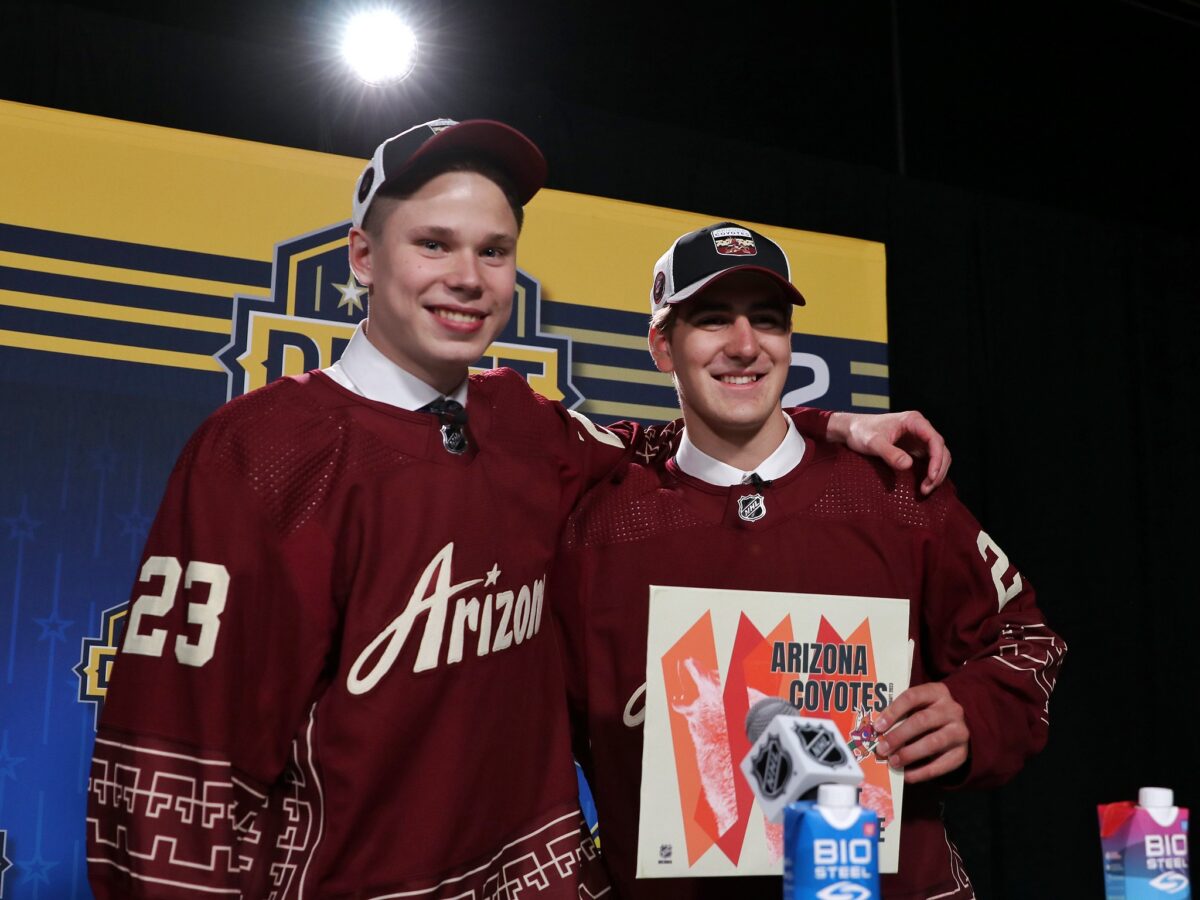 "Simashev is a physically dominant defenseman," Armstrong said. "We call him the unicorn of the draft. They're hard to find, guys that can move and skate like that for a big man. He gets up in the neutral zone and he hunts you down. His feet for a big man, I can honestly say this, I don't know that I've seen a skater of his size in the last 20-some-odd years. He can close on guys quick."
2023-24 has plenty in store for Simashev, and seeing his offensive game take a step forward will do wonders for the Coyotes down the road.
Seeing Significant Minutes As Season Progresses
It can be a struggle for many prospects in the KHL to develop due to a lack of ice time. Unlike the American Hockey League (AHL), Ontario Hockey League (OHL), and Western Hockey League, the KHL houses some premier talent. That's not to say those other leagues don't, but many former NHL players will often play in the KHL, meaning the opponent will be significantly older most of the time. This can make it hard for a young 18-year-old like Simashev to get a reasonable amount of minutes each game.
---
Latest News & Highlights
---
So, how many minutes a game is realistic for Simashev? Given the circumstances on a good Lokomotiv Yaroslavl team, a fair estimate would be around the 12-14 minute mark. While it's not expected he'll be getting any power play time, getting above at least ten minutes of overall ice time each game will be huge for his development.
It's also fair to note that Simashev has only played 20 KHL games in his young career. Whereas he played in the MHL (Russia's top junior league) last season, he had much more of an offensive impact, recording 10 points in 29 games.  "In the KHL, it's a more defensive, physical game," Simashev, 18, said. "I am a young player and it was my first season on the KHL team. In the MHL, I'm more free, I'm offensive."
The KHL season kicked off just a few days ago and watching Simashev slowly gain traction and minutes will help the Coyotes in the future.
Experience Against Older Competition Will Further His Development
There have been countless times when draft prospects tear it up in junior leagues, recording monstrous numbers, yet fail when they arrive in the NHL. Having tremendous amounts of pressure can also affect how prospects play at the NHL level, but another reason many don't consider is the quality of the competition. No league has the amount of talent the NHL does, however, the only one that comes close is the KHL.
Simashev is under contract for the next two seasons, and assuming he stays in the KHL for the time being, he will have tons of experience playing against men. If he can maintain a comfortable amount of ice time, by the time he comes over to North America to play for the Coyotes, he'll have a leg up over many prospects his age. While it's still uncertain how he'll handle the 2023-24 season, seeing strides of improvement in his game against older competition will back the scouting department's gamble in taking him sixth overall.
Simashev Has Plenty of Obstacles Ahead
Being a top-ten draft pick in the NHL is no easy task, and many prospects crumble under these circumstances. However, while there are plenty of obstacles at hand with Simashev, the sky is the limit. He has a toolkit that is rarely seen in the NHL and has the potential to be a top-pairing defenseman in the league. Giving him time to develop and mature into his size and not pressuring him into his role on the team will be vital. The future is bright in the desert, and with Simashev in the fold, it couldn't be more exciting to be a Coyotes fan.