With the 2023 NHL Draft just a few days away, it's time for one of our annual tradition here at The Hockey Writers where we get our writing team involved and take part in the writers' mock draft. Similar to last year, we got together with our team and they made their selections through the first 32 picks. This post will cover the entire first-round and each selection will be followed by an explanation of the pick by the writer who made the pick. I will also be giving my thoughts on the mock at the very end, looking back on how it all played out.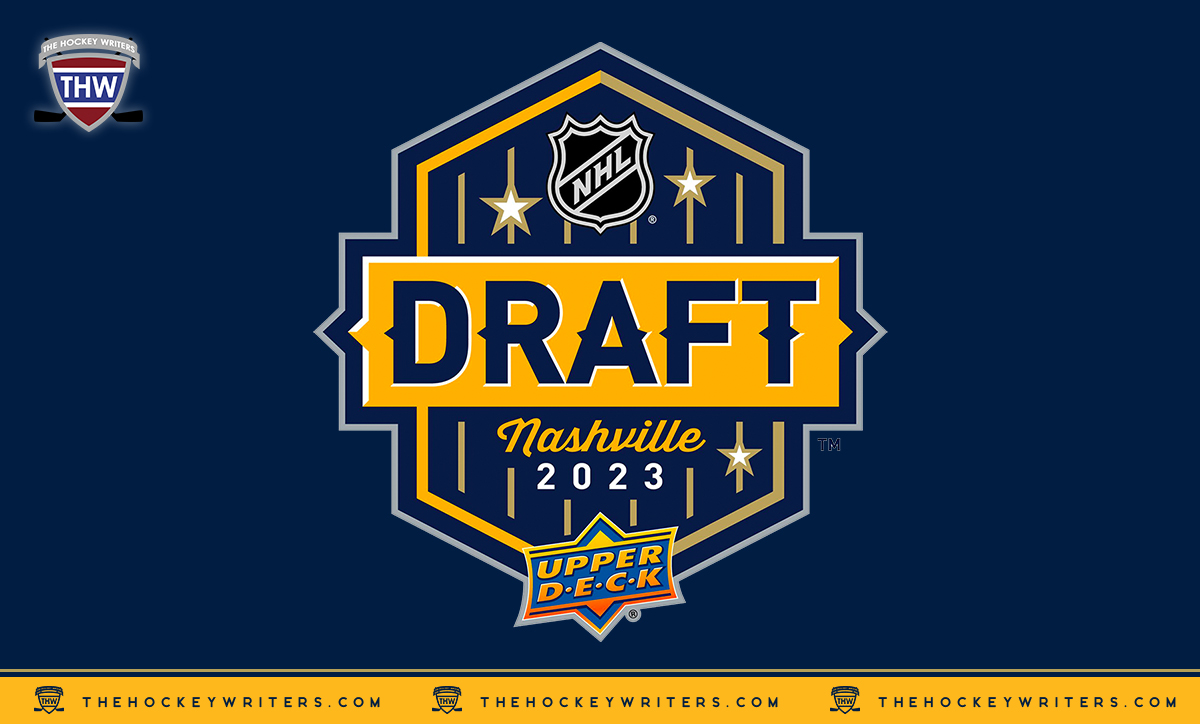 Since this was a mock draft, we did our best to select players where we think they'll end up on draft day, rather than where we would take them personally. However, it's obvious that we wouldn't all agree on every single prospect so it was fun to watch this unfold in real time with some people worried about selecting certain prospects while others were blown away that everyone was passing on them.
Enough of the chatter, let's get into the results of our first-round mock draft!
1. Chicago Blackhawks: Connor Bedard, C, Regina Pats (WHL)
THW Writer: Logan Horn
This was maybe the only true no-brainer of our mock draft as the Blackhawks add Connor Bedard at first overall, an incredibly exciting prospect with elite goal scoring potential and the level of skill that you can build an entire team around.
Related: 2023 NHL Draft Guide
---
Latest News & Highlight
---
With the recent exits of both Patrick Kane and Jonathan Toews, Bedard will instantly become the face of the franchise and will have every possible opportunity to be a top-line center in the NHL.
2. Anaheim Ducks: Adam Fantilli, C, University of Michigan (NCAA)
TWH Writer: Jacob Billington
The Anaheim Ducks taking Adam Fantilli with the second pick is a no-brainer. He has speed and size which go hand-in-hand in creating a dominant NHL center, and when you factor in both his playmaking and shooting abilities, he is going to be a perfect fit on the Ducks who will be balancing out some smaller forwards with this pick. Though there is a ton of skill up front from players like Trevor Zegras, Troy Terry and Mason McTavish, Fantilli comes in at a whole other level of pace. He has a great path to success with the Ducks as he can take over the number-one center spot as soon as he proves he deserves it.
3. Columbus Blue Jackets: Leo Carlsson, C/LW, Örebro HK (SHL)
THW Writer: Mark Scheig
The decision to draft Leo Carlsson was an easy one although much thought was given to Will Smith. Carlsson's size and two-way play were major factors and then his performance at the World Championships on Sweden's top line showed what he could ultimately become. He also put up numbers rarely seen for someone his age in the SHL. The Blue Jackets are thrilled to get a top-line center for the next decade plus.
4. San Jose Sharks: Will Smith, C, USA U18 (NTDP)
THW Writer: Dayton Reimer
The San Jose Sharks have compiled a bunch of great prospects, but they haven't quite found that one player that they can build around, one that will lead the offence for many seasons to come. This year, they will certainly find that player in Will Smith.

His season with the United States Development Program (USNDP) was one for the ages; in 60 games, he recorded 127 points, the second-highest ever recorded, and scored 51 goals, putting him fourth all-time and just four goals behind Auston Matthews' total in 2014-15. When he has the puck, you know something incredible is going to happen, and he has been compared to Jack Hughes in terms of his ability to impact the flow of the game. While there are better goal-scorers available, namely Matvei Michkov, there are few better than Smith in overall skill with the puck.
5. Montreal Canadiens: Ryan Leonard, C/RW, USA U18 (NTDP)
THW Writer: Blain Potvin
Trigger Warning for the Montreal Canadiens fans, this mock draft sees the Habs pass on Matvei Michkov because they already have an elite, undersized, scoring winger in Cole Caufield. The 2023 NHL Playoffs highlighted a need for players who can play a physical, abrasive style, but also provide skill. That is what Ryan Leonard provides, and is something the Habs are in need of. He has a very high compete level, he is caustic and excels along the bords and in front of the net. Those attributes are similar to the Tkachuk brothers' style and could make the right winger an attractive option for the Canadiens. Kent Highes made that exact comparison at the NHL Scouting Combine.  
Leonard, is more than just a hard-nosed forward, he has high-end offensive skills, he scored 62 goals and 114 points in 74 games for the USNTDP, followed by eight goals and 17 points (including the gold medal winning goal) at the under 18 world junior championships. While Michkov is the "sexy" pick because of the fun you tube highlighs, there is significant risk in selecting him. Meanwhile, Leonard is a "safe" pick because you know exactly what kind of player you are getting. As mentioned, Leonard is the kind of player that every team wants and needs on their roster for playoff success. His ability to play at a fast pace, as well as his aggressive two-way and power-forward style would be an excellent complement to the Habs core group.
6. Arizona Coyotes: Zach Benson, LW, Winnipeg ICE (WHL)
THW Writer: Adam Kierszenblat
At 6th Overall, the Arizona Coyotes add to their impressive forward group by drafting Zach Benson. A dynamic winger who is one of the most complete players in the draft, he can rack up the points while also being solid in his own defensive zone. Don't let his size scare you, this is a high-end prospect with massive upside.
Horn's Thoughts:
7. Philadelphia Flyers: Matvei Michkov, RW, HK Sochi (KHL)
THW Writer: Shawn Wilken
The Philadelphia Flyers simply can't pass up on the undeniable talent of Matvei Michkov. We had the feeling he may slip out of the top five, and were ready to take the plunge and grab him at the 7th spot. Sure, there's a lot that encompasses his name; his availability, his contract in Russia, the country's state, but we feel that with enough patience, he'll come over to North America. We're ecstatic to have him here and look forward to seeing him strike fear into the hearts of his opponents, and regret in those who passed up on him.
8. Washington Capitals: Dalibor Dvorsky, C, AIK (HockeyAllsvenskan)
THW Writer: Matthew Zator
The Washington Capitals were this close to adding Matvei Michkov, but since he went a pick before to the Philadelphia Flyers, they decided to select 6-foot-1 center Dalibor Dvorsky. With the uncertainty surrounding Evgeny Kuznetsov and the injury-prone Nicklas Backstrom getting up there in age, they need their next top-line centerman of the future.
Related: Horn's 2023 Two Round Mock Draft
Dvorsky has the ceiling to become that since he's a great playmaker and has a very high hockey IQ. While it's unknown at this point if he will be around when Alex Ovechkin is still lighting up the scoreboard in the NHL, he will still be a great complement to any sniper that's put on his line. He's also a very versatile forward capable of playing wing, so even if they don't use him as a center, he should make a difference in the future of Caps hockey.
9. Detroit Red Wings: Oliver Moore, C, USA U18 (NTDP)
THW Writer: Devin Litte
This choice came down to Oliver Moore and defenseman David Reinbacher (who St. Louis took at 10th overall in our mock draft.) While I could be convinced that I should have taken the best defensemen in this year's draft, when a prospect is consistently compared to Red Wings captain Dylan Larkin, it's not hard to envision that prospect being a fit in Detroit.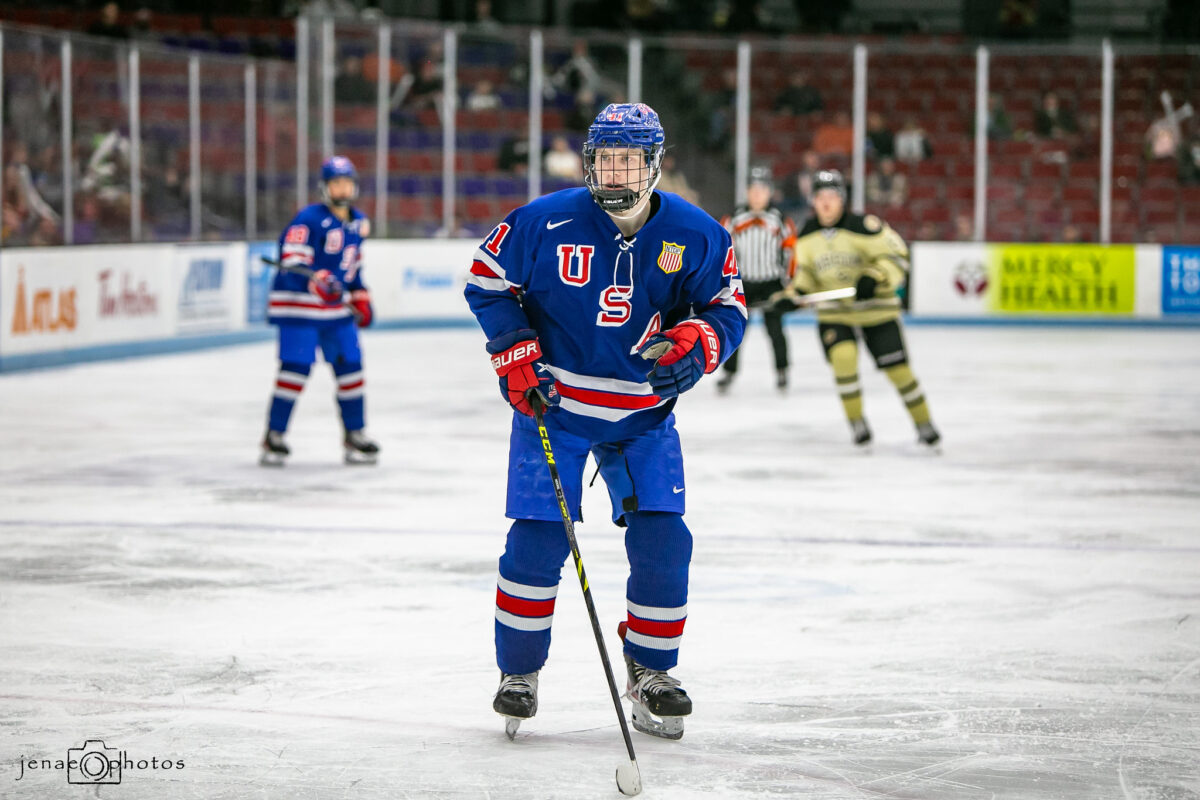 Moore possesses elite tools as both a skater and a playmaker, and he already has a keen understanding of how to make an impact in the defensive zone. Between him and the Red Wings' top pick in last year's draft, Marco Kasper, Detroit would almost certainly have their top center of the future.
10. St. Louis Blues: David Reinbacher, RD, Kloten (NL)
THW Writer: Jim Bay
When my golf buddy and Missouri native John heard I was picking for the Blues in this mock draft, he very directly told me to get a defenseman with the first of the Blues' three picks in the first round. With a forward heavy draft for the Blues in 2022, picking the top-rated defenseman in David Reinbacher with the tenth pick made perfect sense. There is much to like about this smart, two-way threat who many feel is the most NHL ready defenseman in this class.
11. Vancouver Canucks: Tom Willander, RD, Rögle BK J20 (J20 Nationell)
THW Writer: Matthew Zator
The Vancouver Canucks reached with Tom Willander at 11th overall, but considering his rising stock in recent months, it might not be that much of a stretch. They left the more offensively-inclined Axel Sandin Pellikka on the board, but given their need for more two-way defenders and ones that can kill penalties, I believe Willander was the better pick here. He's got a more well-rounded game at this point in his development and could be the perfect complement to Quinn Hughes in the future. With his skating, playmaking and strong first pass, he would be more than just a Luke Schenn/Chris Tanev-type partner. He would be just as dangerous on the rush as Hughes is, making the duo a force to go up against. All in all, Willander should turn into one of the best defencemen the Canucks have drafted since the aformentioned Hughes.
12. Arizona Coyotes: Dimitri Simashev, LD, Yaroslavl (KHL)
THW Writer: Adam K
With the 12th overall selection, Arizona adds to their blueline by selecting Dimitri Simashev. Listed at 6'4, the left shot Russian defenceman is an excellent skater and projects as a top-pair shutdown defender. Once he finally does come over to the NHL, he should be able to jump right into the lineup and be a force on the penalty kill.
13. Buffalo Sabres: Axel Sandin Pellikka, RD, Skellefteå AIK (SHL)
THW Writer: Jim Bay
The area the Sabres organization lacks the most depth is at defense, so choosing a defensman with the 13th pick of the draft seems likely. With Reinbacher and Willander selected just before the 13th, Axel Sandin Pellikka was the easy choice, being he is one of the three best defenders on most boards.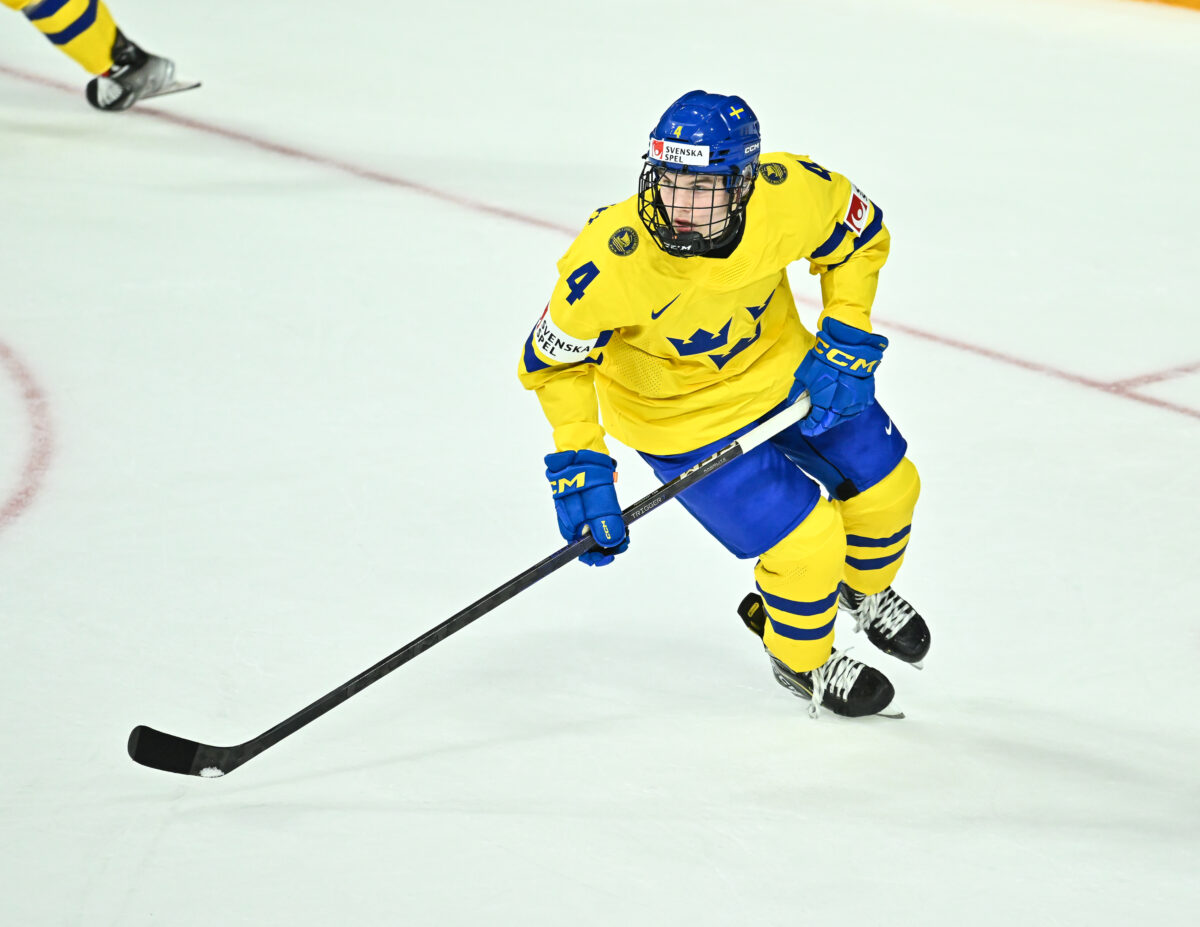 Sandin Pellikka was outstanding at the most recent U18 World Juniors for Sweden, demonstrating his high Hockey IQ and impressive puck moving abilities. If he can put on some size, he has the chance to be one of the better offensive-minded defenseman in the NHL.
14. Pittsburgh Penguins: Nate Danielson, C, Brandon Wheat Kings (WHL)
THW Writer: Devin Little
I have two thoughts about this pick. One, I believe that Penguins President of Hockey Ops Kyle Dubas will look to move back from pick 14, or move it out entirely to acquire roster help (a goalie perhaps?) Second, if the Penguins do keep this pick, Nate Danielson is one of the best fits for them given their current predicament. We're in the twilight of the Crosby/Malkin/Letang era, and Danielson is the type of player that could play a variety of roles in Pittsburgh as they chase one last championship. The Penguins' succession plan down the middle begins here with this pick.
15. Nashville Predators: Matthew Wood, LW, University of Connecticut (NCAA)
THW Writer: Shawn Wilken
Matthew Wood has the size, skill and work ethic we want to prioritize here in Nashville and we believe he'll be a wonderful player for us in the next few years. We tracked his shooting, which we pencilled in as a question mark, but were satisfied to see significant improvements  throughout the year. We're hoping he'll add a bit more muscle to his frame, because his corner battles and ability to fight off pressure are already good, we'd love to see what he'd look like with an even stronger frame.
16. Calgary Flames: Brayden Yager, C, Moose Jaw Warriors (WHL)
THW Writer: Logan Horn
Brayden Yager is a goalscorer first and foremost, with the shot, speed, and compete level to score at the game's highest level. I think Calgary will draft him hoping he makes it as a center in the NHL, with most of their top prospects being wingers, though they'll likely be able to live with him ending up as a winger if his goalscoring translates like some think it will.
17. Detroit Red Wings: Colby Barlow,  LW, Owen Sound Attack (OHL)
THW Writer: Devin Little
After taking a speedy playmaker with the Red Wings' first pick, it was time to address a team need at 17. While I was holding out hope that defenders Tom Willander or Axel Sandin Pellikka would miraculously still be on the board here, it wasn't meant to be. Instead, I decided to draft a scorer for Moore to pass the puck to.
Related: NHL Draft Rankings – Horn's Final Top 160
Colby Barlow checks a lot of boxes for the Red Wings: he competes well, he's a high-character individual, his NHL ETA shouldn't be too long, and he knows how to put the puck in the back of the net. He scored one more goal this season than Red Wings prospect Amadeus Lombardi, and Lombardi's scoring abilities made him a darling across "Hockeytown" this season. I believe that Barlow has the potential to be the top six scorer that Detroit seriously lacks.
18. Winnipeg Jets: Andrew Cristall, LW, Kelowna Rockets (WHL)
THW Writer: Jacob Billington
The Winnipeg Jets selecting Andrew Cristall is an easy pick. They love their skilled players and despite Cristall being undersized like some other prospects, he will fit in well. The Jets don't have a major need with the 18th overall pick, so the best player available is the way to go. Cristall's playmaking abilities will transition well with the current crop of forwards the Jets have both on the roster and in the system. Whether Cristall ends up playing with an experienced player in Kyle Connor or with a fellow youngster in Rutger McGroarty, he will be destined for success with this lineup.
19. Chicago Blackhawks: Samuel Honzek, LW/C, Vancouver Giants (WHL)
THW Writer: Logan Horn
Samuel Honzek is a big winger who skates well, competes incredibly hard and has a great shot. He'll be a great complementary piece to help balance out a top-six forward group in Chicago a few years down the line, giving them a dimension of size up front that they don't yet have in their system. He's got tons of two-way potential and is likely to spend time on both special teams in just a few short years. 
20. Seattle Kraken: Quentin Musty, LW, Sudbury Wolves (OHL)
THW Writer: Adam K
The Seattle Kraken and Quentin Musty just make sense. The Kraken are a team the loves big players that can play physical and that is exactly what the Sudbury Wolves winger brings to the table. If he can continue his development and become a power forward as many draft experts believe, he could become a steal at 20th overall.
21. Minnesota Wild: Otto Stenberg C/LW, Frölunda HK J20 (J20 Nationell)
THW Writer: Dayton Reimer
Otto Stenberg has an incredibly high ceiling. At the 2023 U18 World Junior Championship, he led Sweden with seven goals and 16 points in seven games en route to winning the silver medal, the team's third medal in as many years. He's a great skater, has a blistering shot, and can contribute at both ends of the ice as he's not afraid to throw his body around and get into the dirty areas.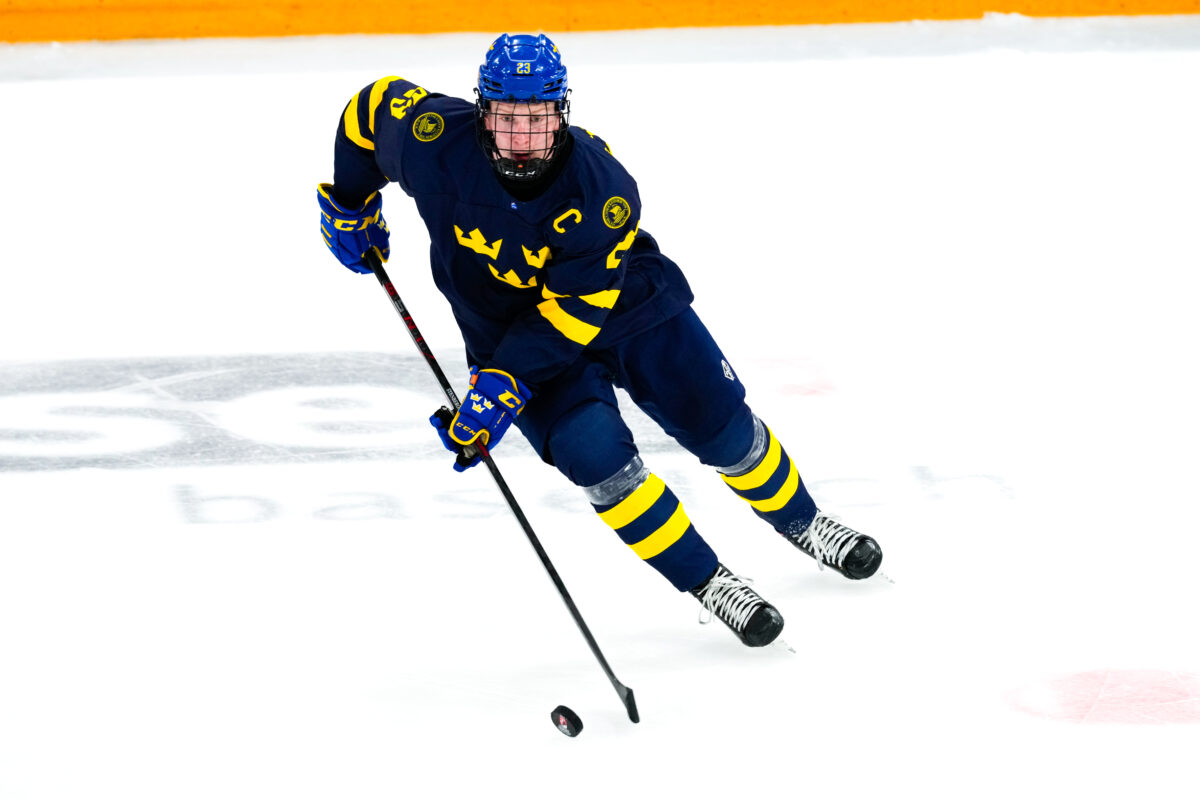 However, it will take him a while to fully realize his potential, meaning he's at least two or three years from making a North American debut. With the Minnesota Wild having a well-stocked farm system, they can afford to make a bit of a riskier pick in hopes that he'll complement fellow Swede Liam Ohren, whom they selected in the first round in 2022.
22. Philadelphia Flyers: Gabe Perreault, LW, USA U18 (NTDP)
THW Writer: Shawn Wilken
Every goal scorer needs its playmaker and after taking Michkov, we looked at Gabe Perreault's ability to be quick and decisive with the puck and felt like it could be a match made in heaven. He has tremendous vision and quick decision-making, and we're certain he'll continue to progress as a solid top-six centre for us in the future. We're talking about a guy that left the likes of Will Smith and Ryan Leonard in his dust, and we'll do our best to ensure he's properly surrounded once he's ready for the NHL.
23. New York Rangers: Calum Ritchie, C, Oshawa Generals (OHL)
THW Writer: Devin Little
The Rangers are built to win right now, but they also have enough quality young players in their system and on their roster  that they could be a sustainable contender over the next decade. However, outside of Filip Chytll, the Rangers' center depth lacks youth and upside. Calum Ritchie addresses that need and could become a highly versatile, all-situations forward for New York in his prime. Given the strength of their current roster, they can also afford to let him develop at his own pace – I fear that he's a prospect that could be "ruined" if rushed to the big leagues too soon.
24. Nashville Predators: Eduard Sale, RW, HK Kometa Brno (Czechia)
THW Writer: Shawn Wilken
We weren't expecting Eduard Sale to be available to use past the 20th pick, but we're thankful to include him in our prospect pipeline. We wanted to expand on our depth on the right side and add an extra element to that position. We have skilled guys like Luke Evangelista and Joakim Kemell, and we believe that Sale's size and soft hands will complement those two beautifully. We're not concerned by his struggles in the Czechia league this year, as his play before that, particularly on the international stage, show us he has the tools to be a really good player for us.
25. St. Louis Blues: Oliver Bonk, RD, London Knights (OHL)
THW Writer: Jim Bay
With the emphasis on boosting the depth on the Blues' blueline, Oliver Bonk offers a lot that will make him a nice fit in St. Louis. He is a good sized defenseman at 6-foot-2 and 180 pounds but also can also contribute offensively. The son of longtime NHLer Radek Bonk, Oliver has all of the tools to be top-four defenseman in the NHL for a long time and his selection here is quite the luxury for the Blues in this draft that does not have very many high-end defenseman to choose from.
26. San Jose Sharks: Tanner Molendyk, LD, Saskatoon Blades (WHL)
THW Writer: Dayton Reimer
The Sharks have shown that they're not afraid of reaching for underrated prospects, especially with a late first-round pick., With that in mind, and given their lack of defensive depth, I went with Tanner Molendyk, one of the best skaters in the 2023 Draft Class not named Oliver Moore. He glides across the ice effortlessly and can go from first gear to third in a split second.
Related: Early Look at the 2024 NHL Draft
He's also a strong puck mover and his 37 points ranked fourth among draft-eligible defencemen in the WHL. His points should have been higher, but he was tasked with playing a shutdown role for the Saskatoon Blades and became one of the team's go-to options to stop the most dangerous opponents. He's a strong two-way presence who will blossom into a dynamic player in 2023-24 and definitely worth a first-round selection.
27. Colorado Avalanche: Gavin Brindley, C/LW, University of Michigan (NCAA)
THW Writer: Shawn Wilken
In our viewings of Gavin Brindley this season, we saw something that we normally see in players twice his size. He's like a honey badger out there, always looking to get his hands dirty and forecheck the opposition into nightmares. We absolutely love his game both with and without the puck and believe he has wonderful upside of being a valuable role player for our team in the future. We're hoping he adds some much-needed weight to his frame, as being more bottom heavy will counteract his lack of height, and with the style he plays, it will only benefit him in the long term.
28. Toronto Maple Leafs: Riley Heidt, C, Prince George Cougars (WHL)
THW Writer: Peter Barrachini
Even with a new general manager in the fold, I still feel like the Maple Leafs should still go with upside in terms of skill and compete. The fact that Riley Heidt dropped in this mock draft despite still being a potential top-20 pick, is probably a steal. Heidt plays with a lot of pace and creativity as he has great puck skills and is a very deceptive playmaker when he's on the attack. He knows how to be in position to intercept plays and pressure the opposition. He has the speed, agility and edges to create separation and be quick in transition.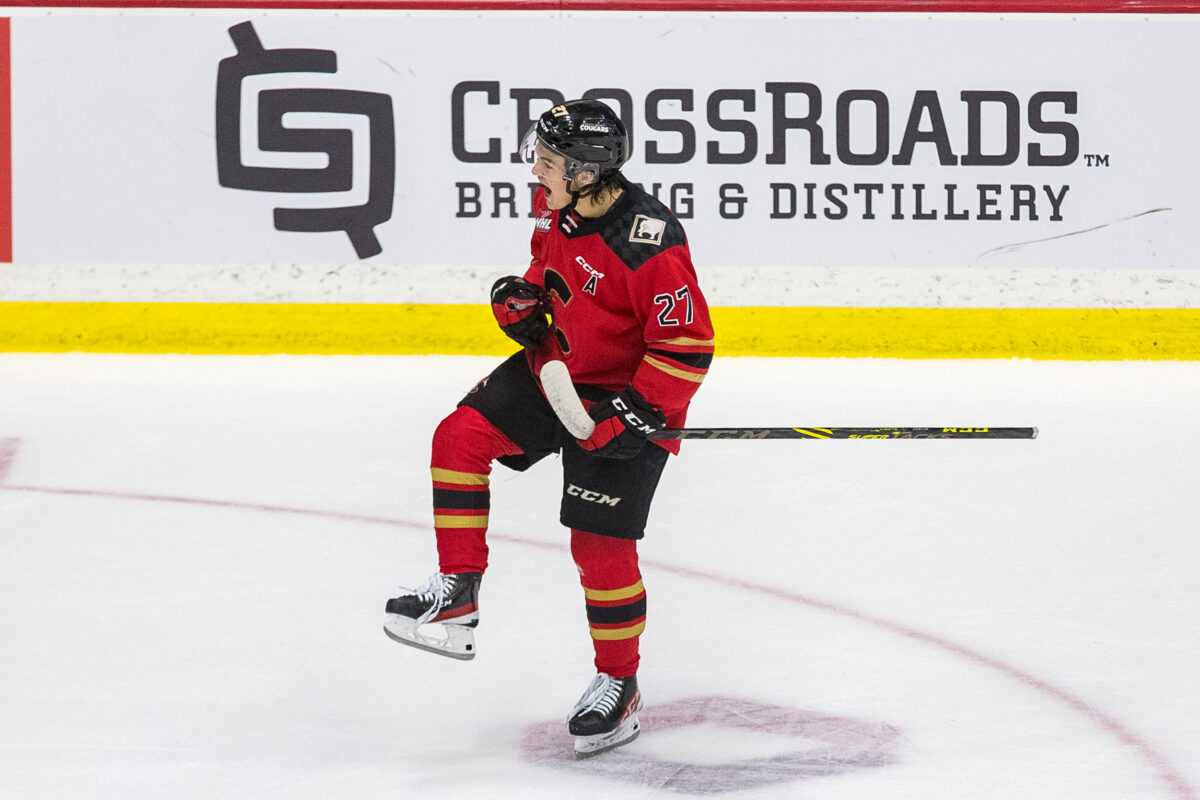 Heidt can make moves in tight and is always finding the middle of the ice. Even though he's 5-foot-11, he plays with an edge, showing no fear to be physical as it's very similar to what I see in Brayden Point. Despite having good depth pieces, the Maple Leafs lack a strong producer with some bite up the middle of the ice. Heidt gives them just that.
29. St. Louis Blues: Daniil But, LW, Loko Yaroslavl (MHL)
THW Writer: Jim Bay
Know this about Daniil But: At 6-foot-5 and 205 pounds, But is one of the bigger prospects in the draft and he just turned 18 in February. In addition, he also possesses a good shot and puck handling skills for someone that big. He does need to improve his skating, but given the chance to grow into his body, But has the athleticism to get his skating ability to the level that will make him a top-six forward. A nice find here at 29 as some feel he has the ability to be produce enough in the NHL to be one of the ten best in this draft class.
30. Carolina Hurricanes: Ethan Gauthier, RW, Sherbrooke Phoenix (QMJHL)
THW Writer: Adam K.
The Carolina Hurricanes haven't had a first round pick since 2020 which is why they jump at the opportunity to draft Ethan Gauthier at 30th overall. The winger is considered the best QMJHL prospect available, he is very versatile and loves to play physical when he has the chance. A prospect that is a pain to play against, he should develop into a solid top-six winger in the NHL.
31. Montreal Canadiens: Trey Augustine, G, USA U18 (NTDP)
THW Writer: Blain Potvin
With two first-round picks, and an early second rounder, the Canadiens are set up well to select a goaltender. Doing so would fill a very specific need as they lack a "goaltender of the future" to project as a starter when the team is ready to compete. Even though there are other, larger framed goaltenders, Trey Augustine (6-foot-1) has the best raw athletic ability of the draft class. 
Augustine has excellent reflexes and lightning quick lateral movement that helps him to cover his crease. His positioning is impeccable and his technical style is sound. He tracks the puck as well as any goaltender seen in recent drafts and his professional approach provides his team confidence, which is why Augustine is one of those rare goalies to start every game for the US at both the U20 and U18 World Championships, capturing bronze and gold medals in the process. He has the potential to become a star starting goaltender in the NHL
32. Vegas Golden Knights: Charlie Stramel, C, University of Wisconsin (NCAA)
THW Writer: Logan Horn
With the final pick of the first round, the Stanley Cup Champion Vegas Golden Knights select Charlie Stramel, a big, bruising center who skates well but has some question marks offensively. Stramel had a tough year as a true freshman in the NCAA this year, but I think he has more to give offensively than we've seen from him in college so far, plus his size and physicality feel like a natural fit in Vegas.
Horn's Thoughts on the Mock Draft
Overall, I'm pretty happy with how it played out here. Obviously there were some picks I didn't 100% agree with, but if you want my best guess at the outcome, you can find that elsewhere. I love the pick of Zach Benson to the Coyotes at sixth overall, but I don't think it's very likely to come true as they've already got a handful of high-end forwards on the shorter side and Benson's skating is likely not quite dynamic enough for him to end up in the top group of prospects this year.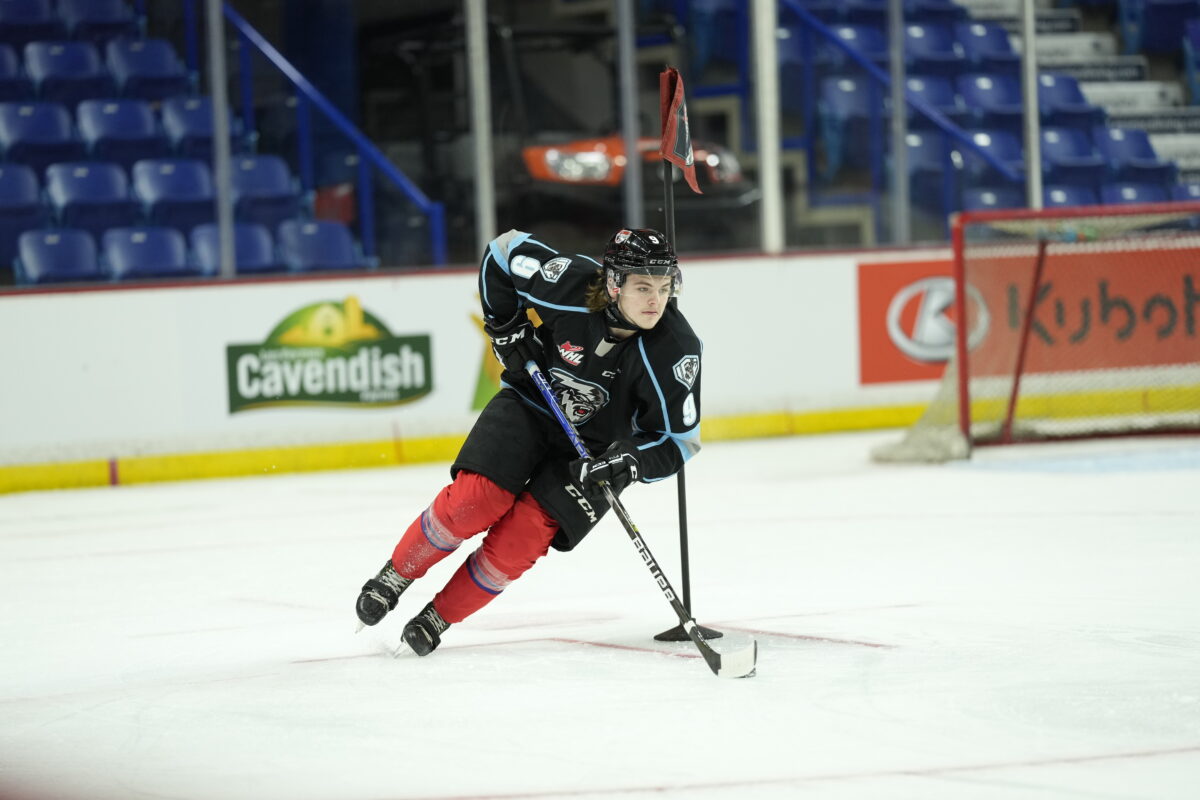 I was also surprised to see Reinbacher fall so far, landing at 10th overall. I expect he'll go in the top-six on draft day, with many teams looking for a top-of-the-lineup right shot defenseman. Following that, I also found it interesting that we had a run on defensemen, with Willander, Simashev, and Sandin Pellikka going in the next three consecutive slots.
One of the biggest questions on draft day is what will happen with Michkov, with many people assuming he's going to go eight overall to the Capitals. In our mock draft he went seventh overall to the Flyers which I think makes all kinds of sense for a Philadelphia team that has been active on the trade market and seems to be committing to a full-scale rebuild, meaning they have the time to wait for Michkov's KHL contract to expire.
At the end of the day, I think this mock draft turned out pretty well. Obviously it's impossible to accurately predict what every single team will do on day one of the draft on Wednesday night, but there are quite a few picks here that make a lot of sense given the current and future needs of teams.
What are your thoughts on our final writers' mock draft? Are there any picks that surprised you? Are there any players you would take in the first round that didn't make the cut for us? Sound off in the comment section below!