Back in 2013, the Detroit Red Wings struck a deal with the San Jose Sharks which allowed the latter to move up two spots in that year's NHL Draft. In exchange, the Red Wings received San Jose's 20th overall selection and the 58th overall pick. This deal—over five years old now—continues to look better every day for the Red Wings.
The first pick turned into Anthony Mantha, who the Red Wings probably would have selected with the 18th overall choice had they decided to retain the pick. The other piece of the deal—essentially a bonus second-round selection—saw the Red Wings reach a little for a prospect they liked. That draft pick became Tyler Bertuzzi.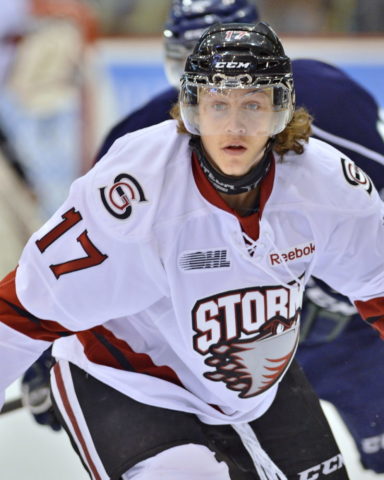 Flash-forward half a decade. All of the players involved in that June 2013 deal are now established NHLers: Mantha and Bertuzzi in Detroit and San Jose's pick—defenseman Mirco Mueller—now patrols the blue line for New Jersey. For Mantha and Mueller, their roles are clear – the former as a top-six forward, and the latter as a stay-at-home, bottom-pairing defenseman.
Bertuzzi, on the other hand, still requires some clarity. He's not exactly a top-six forward, but not a bottom-six grinder either. He's responsible in his own end, but not a shutdown player. And he plays a gritty, power forward-esque game, but isn't the largest player on the ice.
Where exactly does Bertuzzi belong in Detroit's lineup? What's his ceiling?
Red Wings' Shuffled Lines
Before the 2018-19 season began, coach Jeff Blashill discussed the possibility of Bertuzzi skating on a line with Mantha and Dylan Larkin – Detroit's top line. "Little Bert"'s sandpaper playing style and skill along the boards would open more space for the other two to create offense.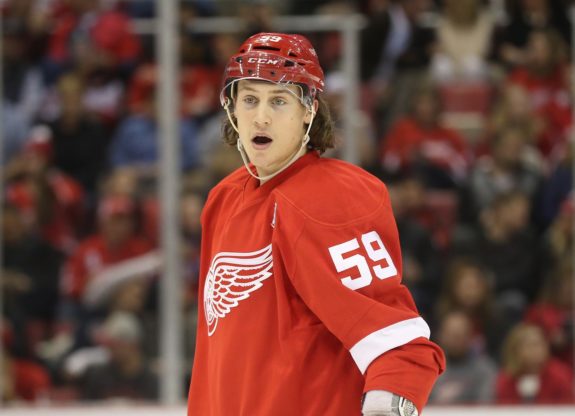 Opening night, however, saw him with Frans Nielsen and Michael Rasmussen on the third line. Since then, he's skated with Nielsen and Andreas Athanasiou on the second line, Luke Glendening and Justin Abdelkader back on the third line, and—before his suspension—Glendening and Rasmussen.
It's clear that Blashill trusts Bertuzzi in any 5-on-5 role. The same can be said with the man advantage. And Bertuzzi has rewarded his coach. Through 27 games, Bertuzzi has recorded 16 points – outscoring his 0.50 points per game pace from the previous season.
With Mantha and Darren Helm out with injuries, Bertuzzi will have the opportunity to earn top-six time given his chippy play and nose for the net. He could even supplant Justin Abdelkader on the top line if the veteran isn't contributing enough in Blashill's mind.
Once everyone is healthy, Blashill should try Bertuzzi on a potentially dangerous third line with Helm and Rasmussen. Their combination of speed, size, and checking ability could cause matchup issues against opponents' bottom-six forwards.
Bertuzzi's Future Usage
Ideally, Bertuzzi slots in as a middle-six winger. He would fit in well on a dangerous third line, capable of scoring key goals, wearing the opponent down, and matching up against any opposing forward group. In a pinch, he could move up to the second line and not miss a beat.
As far as projections go, Bertuzzi can be counted on as an Abdelkader-type player with a little more offense. He's never going to be the main offensive driver on a line, but he would complement other highly skilled forwards well. Still only 23, Bertuzzi should be able to reach 20 goals within the next few years, but likely not surpass that total by much.
With Athanasiou, Mantha, Rasmussen, and Dylan Larkin ahead of him on Detroit's post-rebuild depth chart and the likes of Filip Zadina, Joe Veleno, Jonatan Berggren, and a potential top-10 pick on the way, Bertuzzi's ideal role matches up with his likely place within the Red Wings. However, future trades, signings, and the 2021 Seattle expansion draft could change that.
Where should the Detroit Red Wings play Tyler Bertuzzi? Share your thoughts below.