| | | | |
| --- | --- | --- | --- |
| Born: | Jan 23, 1974 | Draft: | 1992 Flames, 129th Overall |
| Hometown: | Montreal, Quebec | Position: | Defense |
| Known For: | 2x AHL All-Star Game | Shoots: | Left |
| National Team: | Canada | Current Status: | AHL Head Coach (San Diego Gulls) |
Joel Bouchard (born January 23, 1974) is a former Canadian ice hockey player, having played his final year in the NHL with the New York Islanders during the 2005-2006 season. Drafted 129th overall by the Calgary Flames in the 1992 NHL Entry Draft, Bouchard was an exceptional defenseman at the Quebec Major Junior Hockey League (QMJHL) level, recording a point-per-game pace in his final two seasons leading up to his promotion to the Flames' organization. While his first two seasons were split between the NHL and the American Hockey League (AHL), Bouchard got his shot at a full-time role during the 1996-97 season. Playing in 76 games, he registered four goals and five assists, finishing the year with a disappointing minus-29 and a lacklustre offensive game. The following year, he appeared in just 44 games but improved his point total to 12.
Bouchard signed with the Nashville Predators for the 1998-99 and recorded a career-high 15 points in 64 games. Unfortunately his numbers dropped the following season and upon being put on waivers, Bouchard was claimed by the Dallas Stars. The following five seasons contained stops in five cities, as he played for the likes of the Arizona Coyotes, New Jersey Devils, New York Rangers, Pittsburgh Penguins, and the Islanders. He struggled to hold a full-time spot in each lineup, playing more in the AHL than anywhere else, and by the 2006-07 season, he became a regular AHL player. His final season was spent in the Eastern Professional Hockey League (EPHL) with the Hudson Valley Bears, where he recorded one goal in seven games.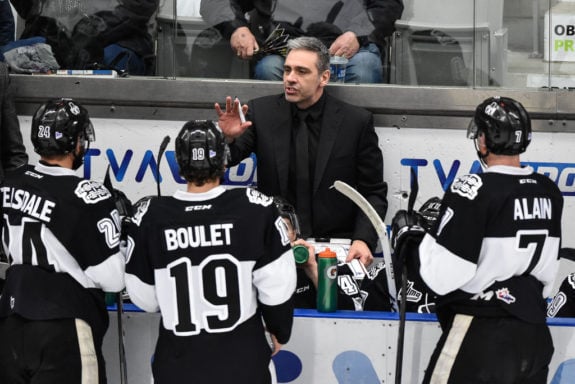 Following his retirement, Bouchard pursued a career in coaching. After serving as an analyst for Réseau Des Sports (RDS), Bouchard was hired by the Montréal Juniors of the QMJHL as the team's head coach. After three years, he became the general manager for the Blainville-Boisbriand, where he gained the majority of his notoriety as a front-office worker. Holding down roles as general manager, head coach, president and vice president of hockey operations, Bouchard earned a job with the Montreal Canadiens' AHL club as the team's head coach. After one year of proving his worth as a coach, the Anaheim Ducks hired him to serve as their minor-league team's head coach.
Joel Bouchard Statistics
Trade Tracker
Deeper Dive
Staff History
Montréal Juniors, QMJHL (Assistant Coach) 2008-2011
Blainville-Boisbriand Armada, QMJHL (General Manager) 2011-2018
Blainville-Boisbriand Armada, QMJHL (Head Coach) 2014-2018
Canada U20, WJC-20 (General Manager) 2016-2018
Blainville-Boisbriand Armada, QMJHL (President) 2017-2018
Blainville-Boisbriand Armada, QMJHL (Vice President of Hockey Operations) 2018-2021
Laval Rocket, AHL (Head Coach) 2018-2021
San Diego Gulls, AHL (Head Coach) 2021-current
Achievements
QMJHL Champion (1992)
2x U20 WJC Gold Medal (1993, 1994)
CHL Third All-Star Team (1994)
QMJHL First All-Star Team (1994)
2x AHL All-Star Game (1995, 1996)
World Championship Gold Medal (1997)
QMJHL General Manager of the Year (Maurice Filion Trophy) (2012)
2x QMJHL Coach of the Year (Ron Lapointe Trophy) (2015, 2018)
U20 WJC Silver Medal (2017)
U20 WJC Gold Medal (2018, General Manager)
Sources