By himself, Jonathan Drouin is a great acquisition. There are still a lot dominoes that need to fall before Montreal Canadiens fans can call this huge deal a win, though.
The Canadiens acquire Jonathan Drouin + a cond. 6th-round pick (2018) from TBL, in return for M. Sergachev + a cond. 2nd-round pick (2018).

— Canadiens Montréal (@CanadiensMTL) June 15, 2017
Look at it this way: If someone would have told you last season that the Canadiens were going to acquire a winger who can maybe play center, is relatively weak defensively, but who scored over 50 points as a 22-year-old, in exchange for the team's top defensive prospect, you likely would have responded with something to the effect of, "Isn't Alex Galchenyuk already a Canadien?"
Drouin vs. Galchenyuk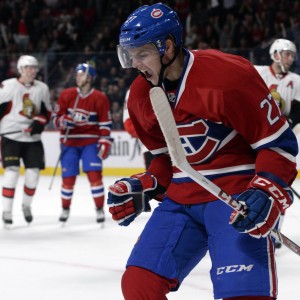 Of course, Galchenyk and Drouin are not carbon copies of one another. While Drouin is probably the better playmaker, Galchenyuk, 23, scored 30 goals last season to Drouin's 21 in 2016-17. Galchenyuk is 6'1" and 210 pounds. Drouin is 5'11" and 188. And Galchenyuk is American with a Belarusian last name. Drouin is from an hour up north of Montreal.
It's important not to be blinded by the luster of a hometown kid, here.
Now, if general manager Marc Bergevin is done dealing, he has no doubt improved his offense drastically. Drouin is a dynamic young player who has made the Canadiens instantly better for next season. It's hard to say they're better beyond that point, as that depends on how Mikhail Sergachev develops with the Lightning.
Considering the Habs are looking to win now though, it's hard to get on Bergevin's case too much for this deal. He's going all-in, getting a young player entering his prime in exchange. He should be commended for that.
Then out come reports Galchenyuk is more likely to be moved. If these rumors come to fruition, Bergevin will have just switched out one player for a similar one. All the while, he will have blown up the team's pay structure after having given Drouin a six-year, $33 million deal right out of his entry-level contract.
Setting Double Standards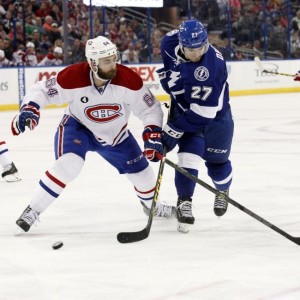 Think about that for a second and how up to now Bergevin has been all about bridge deals, setting a precedent with P.K. Subban after the last lockout that no player is above one. Not Nathan Beaulieu and not Alex Galchenyuk, who should have been the one in line for a massive deal like the one Drouin just signed.
Are you telling me that Subban wasn't worth the rumored $5-6 million per-season price tag he had been requesting five years ago? If you lock him up then, maybe the Canadiens don't even trade him last year… but let's not go down that rabbit hole. Let's look past that whole can of worms and assume this is just a sign of personal growth on Bergevin's part, that he has learned from his miscalculation and he will no longer try to sign budding stars coming out of their entry-level deals below their respective market values. Fine.
That still doesn't change how Bergevin has just created a huge hole on the back-end in the organization to potentially fill one that didn't exist, because, if the Habs fully intended on keeping Galchenyuk on the wing, their main need was down the middle. That's something he said he would not do, specifically in regard to trading Sergachev.
Drouin vs. Sergachev
Let's be clear, Sergachev is not an uncertainty. Drouin may be more of a tangible success story at this point of his career, but Sergachev is as sure of a thing as there is when it comes to top-end defensive prospects. The Habs needed him to counterbalance Shea Weber on the top pairing, to serve as Andrei Markov's heir apparent. He was to be their future No. 1.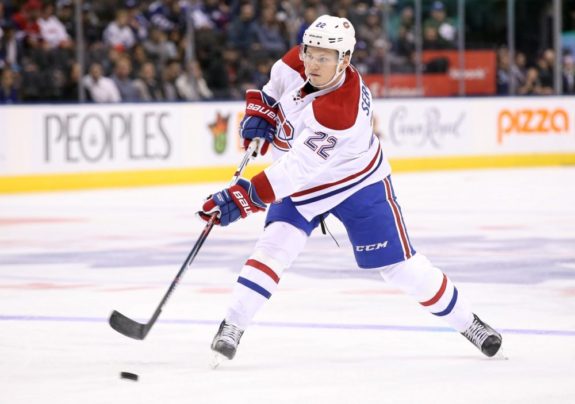 Admittedly, that likely would not have been this coming season, so there is definitely a way for Bergevin to come out of this smelling like roses. Assuming Drouin is going to play center, if Galchenyuk absolutely has to be moved, move him to fill that hole on the back-end, for a defenseman who is poised to contribute to the team's success to a greater degree than Sergachev would have this coming season.
Getting anything short of that and this trade is little more than a lateral move, one that cost the team its future on defense and a conditional second-round pick (for a conditional sixth) all to get a local boy in a Canadiens jersey.
Even if Alexander Radulov doesn't return (and all signs point to the Habs not being able to afford Radulov, especially now), next season's Habs are still undeniably better on paper than they were a few short days ago. The question is will they still be in a few more?