Ryan Nugent-Hopkins joined the Edmonton Oilers in the fall of 2011 as an offensively creative 18-year-old and played with fellow young guns Taylor Hall and Jordan Eberle. He had 18 goals and 52 points in 62 games in his injury-shortened rookie season. In the years to come, though, Nugent-Hopkins sacrificed some of his offensive potential to become a reliable two-way centre.
That changed late last season when Nugent-Hopkins was moved from third-line centre to Connor McDavid's wing, where he has remained. He put up seven goals and 15 points in the final 13 games of the season alongside the two-time defending Art Ross Trophy winner. But more importantly, the Oilers had a 7-4-2 record (s 100-point pace) with McDavid and Nugent-Hopkins on the top attacking line.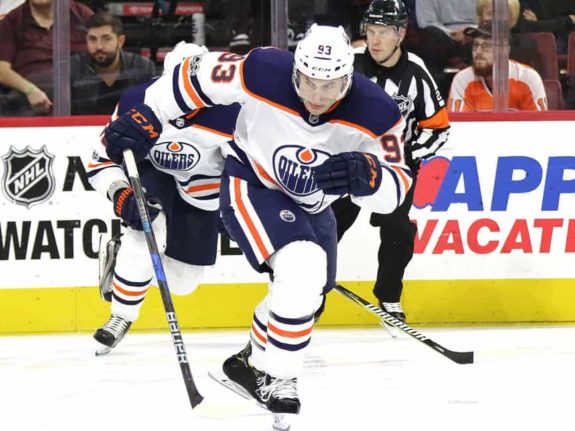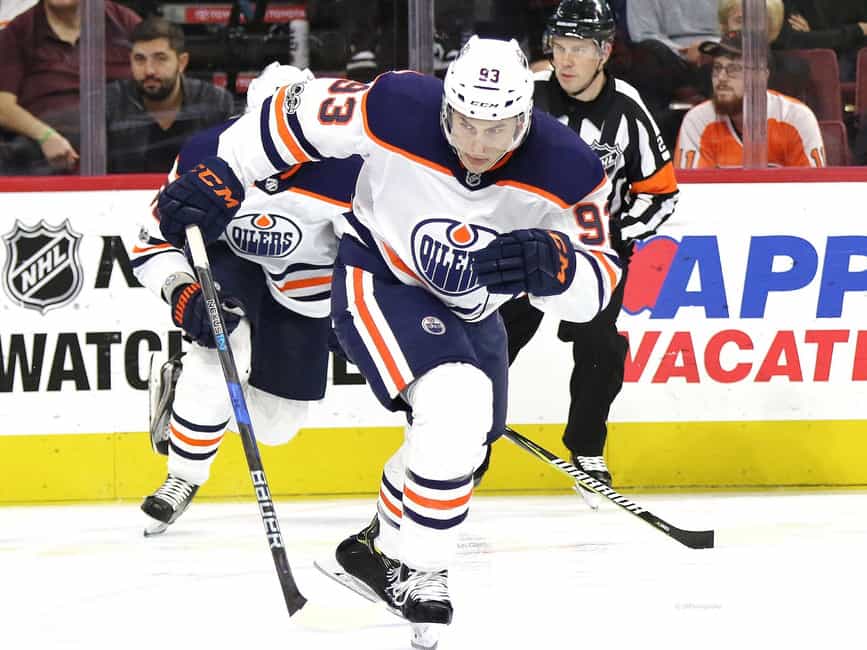 Nugent-Hopkins told Oilers TV on the first day of training camp that it was important for him and McDavid to carry their strong play from the final month of the 2017-18 season into this year:
"I thought we clicked pretty well at the end of last year and through the World Championship," said Nugent-Hopkins. "So, we have to pick it up right off the bat and I know [McDavid] is going to come out flying, and that will raise my game and make me go even harder and make some plays. It's important to start out well, and that's going to be my goal and the team's goal."
They certainly have.
Related: Oilers Shouldn't Trade Nugent-Hopkins
Showing His Skill
After remaining pointless in the first two games this season, Nugent-Hopkins has accumulated three goals and 11 points in his next six games. The Oilers closed out their four-game homestand with a convincing 4-1 victory over the defending Stanley Cup-champion Washington Capitals on Thursday. In a game that featured superstars like McDavid and Alex Ovechkin, Nugent-Hopkins shone the brightest.
He scored a brilliant shorthanded goal midway through the second period, picking off a drop pass, deking out his man and firing a low, hard wrist shot from the slot past former Vezina Trophy-winner Braden Holtby. Then, with a little more than a minute to play in the game, he set up McDavid for an empty net tally when he easily could have finished off the play himself.
Nugent-Hopkins has elite vision and passing skills. However, it's his ability to evade checks and accelerate with the puck that makes him dangerous both on the rush and when he's setting up plays in the offensive zone. While he has put an emphasis on scoring, his defensive game hasn't suffered. In fact, Nugent-Hopkins has has only been on the ice for one even-strength goal against with the goalie in the net this season.
"I would evaluate his hockey IQ as very high," said head coach Todd McLellan in an interview with Oilers TV on Thursday. "I would evaluate his risk assessment within games as high as well. I think it's improving, he's realizing he can takes some risks offensively now, but it's never at dumb times. It's never at risk of getting scored against."
Nugent-Hopkins Expected Totals
If there was ever a season to break out and show the hockey world why he was selected first-overall by the Oilers in 2011, this is the year. Fellow 2011 draftees Nikita Kucherov, Mark Scheifele and Johnny Gaudreau have each scored 80 points in the league at least once, while Nugent-Hopkins' career-high is 56 points.
Still, he has always had the potential to be a consistent 70-point player. If he stays healthy and plays with McDavid for the full season, that should be the low bar for him. McDavid makes everyone around him better, but Nugent-Hopkins is perhaps the one player on the Oilers who makes McDavid better.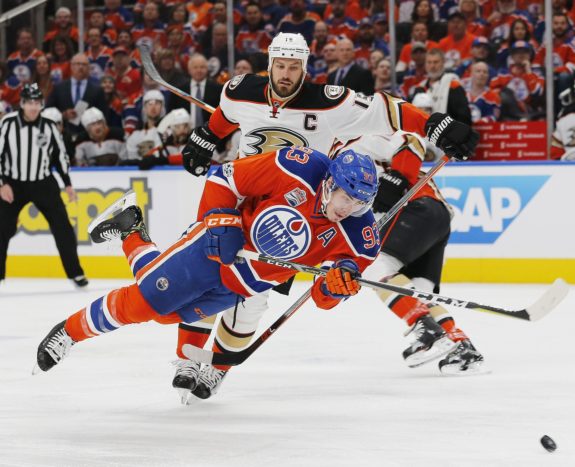 Related: Nugent-Hopkins Primed for Career Season
Through eight games, the 25-year-old Burnaby, British Columbia native is on pace for 30 goals and 112 points. While I think he will set career-highs in all offensive categories this season, scoring 100 or more points might be a stretch. That said, if McDavid gets 120 or more, it's not unthinkable that Nugent-Hopkins could push for 90. They play together at even strength and on the power play, so when McDavid is scoring, Nugent-Hopkins likely is too.
It's early, but No. 93 and No. 97 might be the most lethal scoring duo in the NHL.
Eric Friesen is a freelance sports broadcaster and journalist in Saskatoon, Saskatchewan. Eric has diplomas in Broadcasting from Mount Royal University in Calgary and Sports Journalism from Centennial College in Toronto. A lifelong hockey fan, Eric has followed the Edmonton Oilers for more than 20 years. He cheers for the Oilers because of his hockey hero Wayne Gretzky, who played his more productive seasons in Oil Country.