Finally, the 2023 NHL Trade Deadline has come and gone. The Columbus Blue Jackets are ready to embark on the last 19 games of their regular season.
The Blue Jackets enter Sunday in 32nd place in the NHL standings after a pair of losses Friday and Saturday. The Seattle Kraken won 4-2 on Friday thanks to Alex Wennberg's third period goal. Then on Saturday, Travis Hamonic and Tim Stutzle each scored twice to lift the Ottawa Senators to a 5-2 win.
For our Sunday Long Read this week, we have a lot to talk about. That's why we are going to empty out the notebook. We'll get you caught up on everything around the Blue Jackets including a special conversation with Kraken rookie Matty Beniers from Friday night.
Kekalainen Recaps Trade Deadline
As was expected, the Blue Jackets were quiet on trade deadline Friday. They completed their moves in advance of Friday so they could have a relatively calm day. You can read below to see what this means for the offseason moving forward.
Related: Blue Jackets Use Trade Deadline to Setup Big Offseason
GM Jarmo Kekalainen met with the media on Friday afternoon to discuss his thoughts on how they handled the deadline. Here are some of his most notable takeaways and quotes from that availability.
---
Latest News & Highlights
---
Kekalainen remains confident that the young core will continue to get better. "I've seen great growth in Kent Johnson. I think he'll be even better next year," Kekalainen said. "Kirill Marchenko is having a great rookie season. I'm confident that Cole Sillinger is going to bounce back and get better. A lot of our core is still young and can get better."
Kekalainen went on to say that they expect Alex Texier to return next season. He has gone overseas to meet with Texier more as a checking in thing than anything else. It's still unclear if he will return to the Blue Jackets. But for now, the team is expecting a return.
Here's Kekalainen on the upcoming offseason and expected moves that could be coming: "We've got a lot of work left to do in the offseason and right now the opportunities are not there because 20 teams are trying to load up and they're not willing to give up anything. They're just adding to their teams, just like we would if we were in that position, and we did that in 2019. So, those opportunities will come in the offseason, when there'll be 31 disappointed teams." 
Kekalainen said he has liked some of the growth in their young defenseman. Specifically, he mentioned Adam Boqvist, Nick Blankenburg and Tim Berni by name for guys that he's seen improvement in.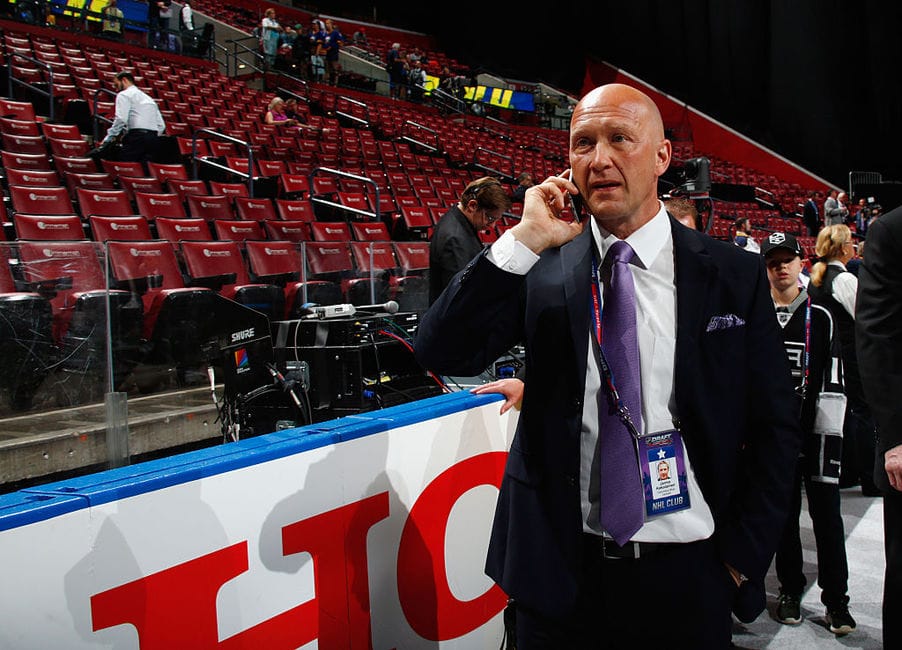 On some of the trades the Blue Jackets made, specifically the one that sent Jake Voracek's contract to the Arizona Coyotes, flexibility was needed. Here's Kekalainen. "We needed to do some trades because of the flexibility and make sure we have all that moving into the offseason and into next season. That's why we moved Voracek's contract and that provides us a lot of cap room and potential opportunities to find add something that we really need to replace him."
The Blue Jackets have shown some improvement of late as compared to earlier in the season. Kekalainen was asked if this improvement was a result of not playing under any pressure. "I guess I look at it two different ways. We've got to learn how to deal with the stress if that's the reason we're playing better but at the same time we're playing teams desperate for points so no one is taking us lightly in those games because they need the points."
"The top athletes in the world whatever the sport is you've got to be able to deal with the stress every day, every night, every performance. That's a huge part of being a professional and if that's a reason we didn't perform better in the beginning of the season then we have to put a lot of emphasis on that."
Do not expect to see Daniil Tarasov on the Blue Jackets for the rest of this season barring injury. The acquisition of Michael Hutchinson allows Tarasov to stay in Cleveland and play games. "There's no reason to have him come here and sit on the bench."
Bjorkstrand Returns to Columbus
Once the trade deadline passed, an old friend returned to Nationwide Arena. Kraken forward Oliver Bjorkstrand returned for the first time since being traded as a result of the free-agent signing of Johnny Gaudreau.
Bjorkstrand as expected still has a heart for Columbus and the Blue Jackets.
"Yeah, still feels a little weird," Bjorkstrand said. "But it's fun and exciting at the same time being back. Excited for tonight."
Bjorkstrand said the playoff series win against the Tampa Bay Lightning remains his biggest memory. The fans had a lot to do with that.
"I'd like to have gone on a longer run, obviously. Other than that, there's a lot of good memories with teammates along the way and different seasons. I remember the fans of Columbus. They're always so nice to the guys. They really care and want a winning team, so I always appreciate that about the city."
Kraken head coach Dave Hakstol appreciates everything Bjorkstrand brings to the team. After an expected adjustment period, he has settled in with his new team.
"There's always an adjustment period for everybody coming in, regardless of the circumstances that you come in under," Hakstol said. "There was never an adjustment in terms of his professionalism, how good a team guy he was, his level of work. But just that chemistry and that comfortability has shown through more and more as we've gotten through into the second half now and down the stretch run."
The Blue Jackets played a tribute video to which Bjorkstrand waved to the fans and pointed to his heart afterwards. It was a touching moment in front of a sellout crowd.
A Conversation With Beniers
Friday night in Columbus was a special night for Beniers. He got to play against his former University of Michigan teammates in Kent Johnson and Nick Blankenburg for the first time.
Beniers was injured for the game in Seattle along with Blankenburg. While it's always a friendly rivalry for them when they oppose each other, the special moments they had together will last forever.
"It's pretty cool seeing them out there doing as well as they are," Beniers said of Johnson and Blankenburg. "I got out there in warmups and saw them skating around before the first puck drop. I was smiling. I hope they do well but against another team, not against us."
If we included Sabres' defenseman Owen Power, that group has something special going. Beniers credits them for helping him get better in his own game.
"It's really special. We were able to, in a crazy way, go to school together with everything that happened with Covid. We were able to play together. That was a big piece of our success. We were pushing each other every day and in practice and outside the rink with a lot of friendly competition. That pushed all of us to get so much better."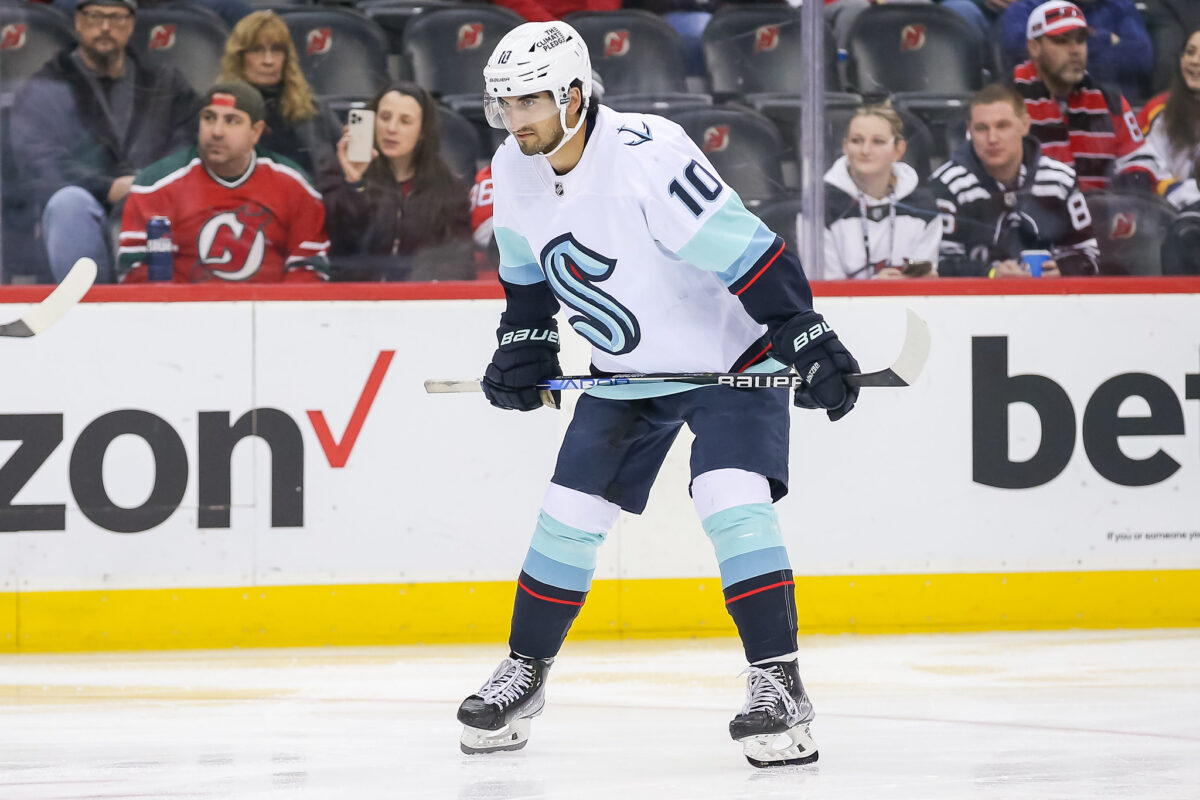 Beniers couldn't have been happier to see Blankenburg sign with the Blue Jackets.
"First of all, he's an incredible dude, so it couldn't happen to a better guy. He's earned it. He's earned it every step of the way. It's awesome to see that (his hard work) paid off."
Bjorkstrand's impact has been felt throughout the Kraken organization from top-to-bottom. Beniers said it well when describing that impact.
"Incredible guy," Beniers said. "Off the ice and in the locker room, he's a guy you want to be around. And then on the ice, just a workhorse. He makes plays and does everything that you need. He has that scoring touch too."
It's safe to say the Kraken are greatly benefiting from the contributions of both Beniers and Bjorkstrand. That's why they're in the thick of the playoff race. They're primed to contend for years to come.
AHL Outdoor Classic to Remember
What started as a bright sunny day in Cleveland for the Monsters Outdoor Classic turned into an all-day event. The one time the sun is not the best thing for something is when teams are about to play outside.
The Wilkes-Barre/Scranton Penguins were set to take on the Cleveland Monsters at First Energy Stadium. Everything was set, except for the ice. Although it was cold enough in the air, there was not a single cloud in the sky when warmups began.
The teams took the warmup as usual. They went to their locker rooms. Then they weren't seen again until some of the players came out not wearing their jerseys.
It was obvious the game couldn't start on time. However there wasn't an announcement until well after the game was supposed to start. The announcement came as a shock to some. This game will be delayed until at least 6pm.
Uh oh.
That meant fans and the media alike had to kill almost five hours before potentially playing the game. Fans were allowed to leave and re-enter the stadium. Some went home. Some including yours truly stayed the whole time. I was treated to free concession food as a result so that works.
But what did the players do to stay ready? Dillon Simpson is experienced in this area.
"I'm a veteran in that sense," Simpson said with a smile. "This is my fourth one. That might have been the shortest delay I've had in an outdoor game. For me, status quo. For the other guys try to keep their minds in it. You do what you can to keep your body relaxed but ready to go. I think everyone did a good job of staying mentally sharp but just rolling with the punches."
Simpson said some guys went home while others stayed at the stadium. Whatever each individual player did it eventually worked. The Monsters rallied for a thrilling 3-2 overtime win over the Penguins in a bit of a controversial ending.
Penguins' goaltender Dustin Tokarski thought he froze the puck. It got knocked loose. Marcus Bjork then scored to send First Energy Stadium into a frenzy. However the Penguins weren't convinced the goal should have counted. After review, the goal was allowed to stand and celebration erupted.
The Penguins stood on the ice near their bench for several minutes after the game in shock. Tokarski received a misconduct for abuse of an official as a result. Mark Friedman was seen leaving the ice before his teammates. He was clearly upset the goal was allowed to count.
That sequence capped a wild day of hockey in Cleveland that showed everything good about the city. Many fans stayed or came back to take in the game. The ice conditions improved according to Simpson and Josh Dunne later in the game. The organization has a lot to be proud of despite a 1 P.M. scheduled puck drop not ending until after 8:30 eastern.
You Might Also Like
"Huge shoutout to the fans," head coach Trent Vogelhuber said. We talk about it all the time. They show up, good times, bad times. That's a long one for them. I'm sure they had a heck of a day. But to see that many people in the stands be that loud, that was great to see."
Vogelhuber joked one of his favorite parts of the day was the trainers bringing in donuts during the delay. He admitted eating three of them. While the donuts were tasty, the win and battling back from 2-0 down was even better for them. The win was needed to stay in the playoff race. The same two teams will meet at Rocket Mortgage Fieldhouse Sunday. That should be interesting to see if there's any carryover from the way Saturday night ended.
The game ultimately was a glimpse of what a potential Blue Jacket outdoor game could look like. Once things finally get figured out, the game will be a life-changing experience for everyone involved.
Side Dishes
Let's wrap the Outdoor Classic up. Vogelhuber said that Yegor Chinakhov and Daniil Tarasov were each held out as a precaution due to the sun delay and ice conditions. Both are recovering from injuries so there was no need to risk anything. Chinakhov was originally in the lineup had the game started at 1 P.M.
Hard to say what the final attendance numbers were given the delay, but the expectation was that the game would be the highest attended outdoor professional hockey game ever in Ohio. It wouldn't be surprising if 25,000 people intended to be there. It would have been packed and loud.
Corson Ceulemans' season at Wisconsin ended on Saturday night with a loss to Michigan. He now could sign with the Blue Jackets if he was ready to turn pro. Kekalainen was asked Friday about him. Here's what he said. "That's up to him and we never push guys to leave to college early. That's their life, their decision, their career. Academic life is involved as well. We're in constant communication with him. Our development coaches are watching him. They're playing Michigan tonight and we'll be scouting him and we'll see where we're at the end of the season."
My own two cents. I was always under the impression Ceulemans would turn pro after this season. So we wait and see if it comes to pass. He was the third of three first-round picks for the Blue Jackets in 2021.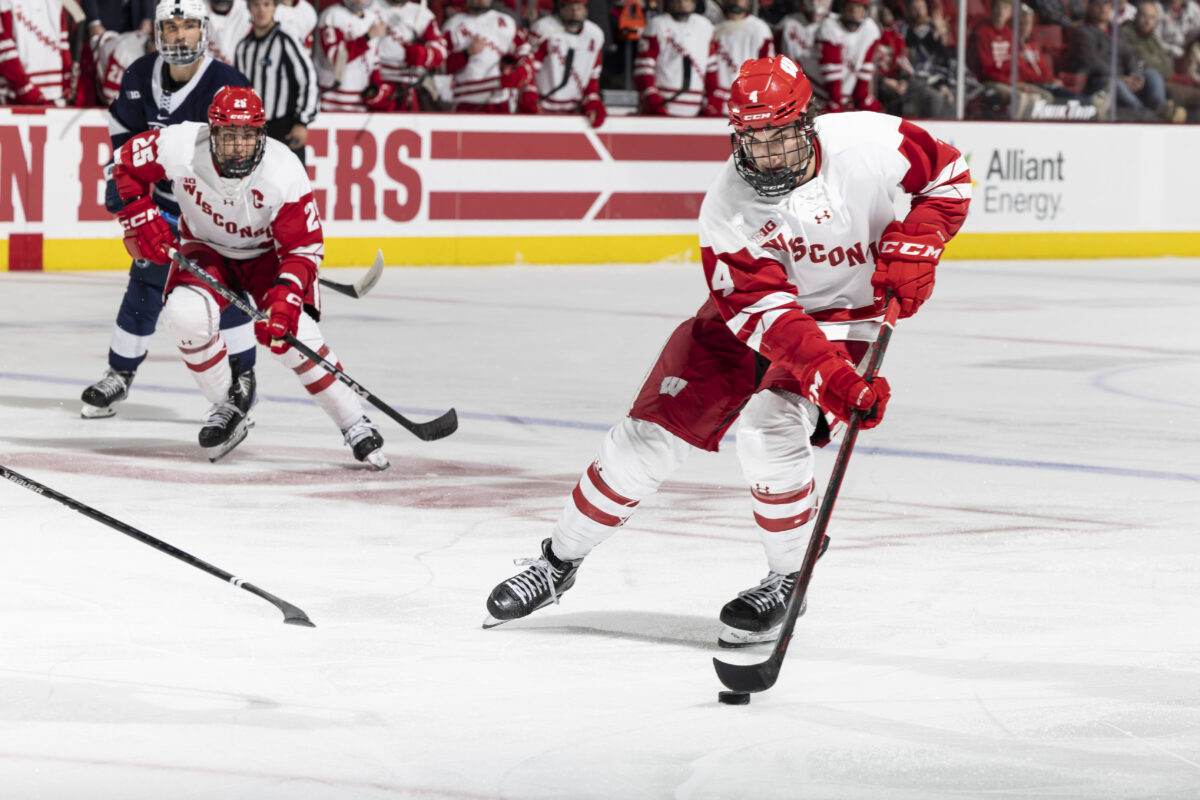 The Blue Jackets did paper Cole Sillinger to the Monsters on Friday then called him back. This happened to make him eligible to be sent down later and for AHL playoff eligibility. However don't expect him to be sent down right away. "We haven't made any plans but this is just something if, and hopefully when we make the playoffs in Cleveland, and I'm sure they would have if we hadn't gutted their team, they were doing great in the beginning of the season until we started taking their players; if they make the playoffs  that will be a great experience for Cole just as it was for Zach Werenski. Hopefully, a deep run there. If we can get healthier and get some guys playing in Cleveland ass well if they make the playoffs, Cole would be a great addition," Kekalainen said.
Kirill Marchenko and Kent Johnson were not papered so they will stay with the Blue Jackets the rest of the season. With only four regular recalls, Kekalainen didn't want to burn them all. They have three remaining with the Sillinger move.
Joonas Korpisalo earned his first win with the LA Kings on Saturday night, a 4-2 win over the St. Louis Blues.
Multiple reports indicated the Blue Jackets expressed some level of interest in Flyers' center Kevin Hayes. That will be an offseason story to watch. They need a veteran center. This makes a ton of sense.
Here's Brad Larsen postgame from Saturday night in Ottawa: "Too many passengers." Let's see how the team finds motivation in these last 19 games.
I'll end this on a personal note. Korpisalo, Gus Nyquist, Jake Voracek and Vladislav Gavrikov were all first class. Every interaction with them was enjoyable. Each represented the Blue Jackets as you might expect. I got to say goodbye to Korpisalo and Gavrikov in Buffalo with the last words being best wishes on their next chapter. One look at each of their faces said a million words. They loved the Blue Jackets with all their heart. But as with everything else in the business of hockey, it's time to move on.
Next up for the Blue Jackets is Tuesday night in Pittsburgh. See ya there.