Recently, ESPN took on the daunting task of predicting each and every NHL player's stat line for the 2023-24 season. What makes this so daunting is that many detractors will come out and criticize the list, making it a thankless job.
Related: Flames' Huska an Early Favourite for the Jack Adams Award
While they certainly deserve kudos for putting such a list together, there were so many head-scratchers that you almost can't help but critique it. There were several odd choices, but they really missed the mark on the Calgary Flames.
The Flames struggled in 2022-23, with several players having down seasons. Apparently, ESPN isn't expecting the team to bounce back, as they have predicted many of those players to put up similar stat lines again in 2023-24. Here is a look at some of their predictions and why they are off.
ESPN Guesses Low on Several Flames
While the ESPN list didn't miss the mark on every Flame, they sure did miss on several. Perhaps the most egregious error on the list is Jonathan Huberdeau, who they predict will score 17 goals and 59 points in 80 games. Based on last season's stats alone, that prediction may seem fair, but everyone who has watched Huberdeau throughout his career knows he is capable of much more.
What ESPN didn't account for is that Huberdeau was forced to switch teams for the first time in his career. There can be an adjustment period for many players, and that was certainly the case for Huberdeau, who, before 2022-23, had averaged over a point per game in each of the past four campaigns. Being more comfortable in his new surroundings, with a different head coach that will allow him to play his game, Huberdeau is a great bounce-back candidate and could easily surpass the 80-point mark.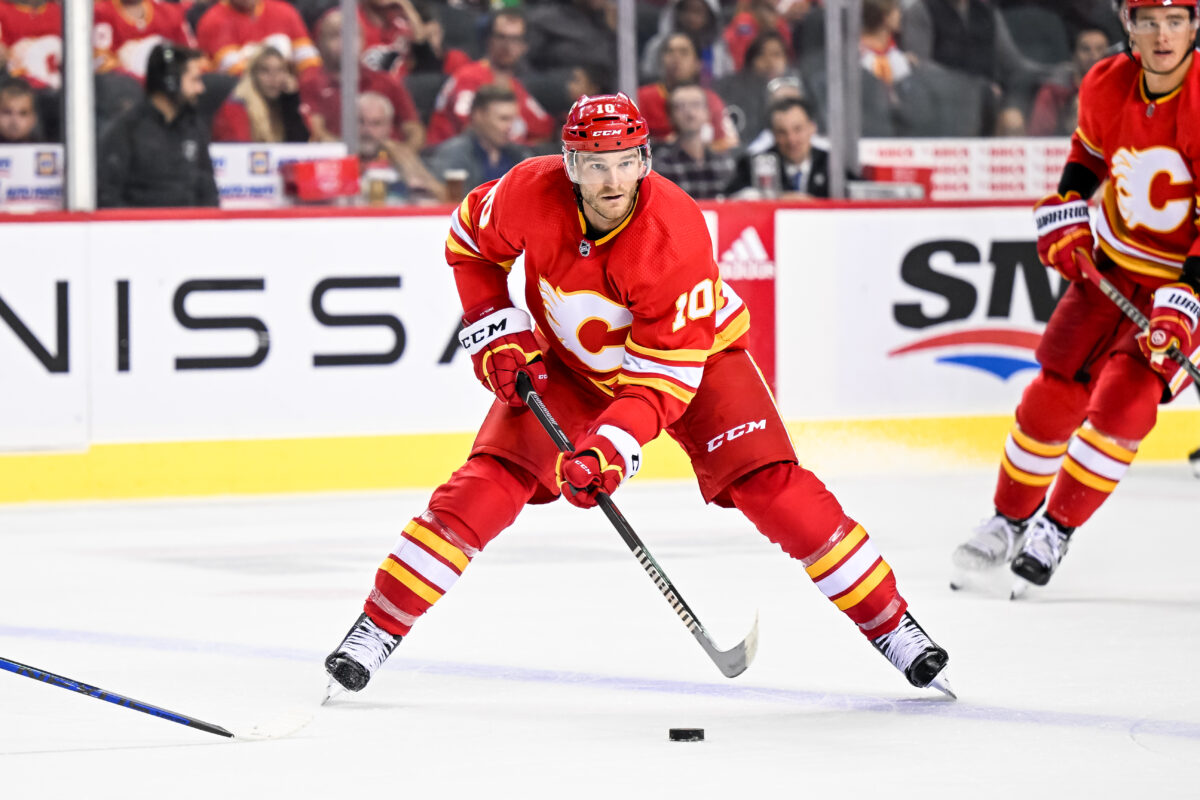 The same can be said of MacKenzie Weegar, as well. The 29-year-old struggled to get acclimated early on in his first season in Calgary but still managed 31 points. Despite that, ESPN's list has him regressing to just 22 points, which would be an extremely disappointing year for a defenceman who is offensively gifted.
Yet another player who struggled at times in his first campaign as a Flame was Nazem Kadri. After a hot first half of the season, he fizzled out in the second and finished with 24 goals and 56 points. But he is just one season removed from a 28-goal, 87-point season with the Colorado Avalanche, so there's a strong possibility he could bounce back. ESPN doesn't seem to think so, however, predicting that he will score just 16 goals and 36 points in 68 contests.
---
Latest News & Highlights
---
The 2022-23 season marked the first time in Andrew Mangiapane's career that he regressed. After a 35-goal, 55-point 2021-22 campaign, he struggled last season, like many of his teammates, with 17 goals and 43 points. Considering it is his first step backward in his NHL career, he is also a strong bounce-back candidate. Instead, ESPN has him regressing for the second straight year with 15 goals and 33 points.
Finally, there's Mikael Backlund. The 34-year-old is getting up there in age but is coming off a career-high 56 points in 82 games. It is logical to expect a bit of regression in his totals, but not to the extent that ESPN is suggesting.
High on Noah Hanifin
While ESPN's list underrated several Flames, they seemed to be quite high on Noah Hanifin. The 26-year-old is a solid two-way defenceman, but not one who will blow anybody away from an offensive standpoint. In 81 games last season, he scored seven goals and 38 points.
Related: Flames Have Real Shot at Winning Stanley Cup This Season
The season before, Hanifin recorded a career-high 48 points in 81 games at a time when the Flames had two 100-point scorers in Matthew Tkachuk and Johnny Gaudreau. It also came without Weegar, who, along with Andersson, should contribute much of the offence from the Flames' back end this season. ESPN projects him to have a career-high 49 points this season, which seems high considering his career stats.
Fair Picks on Three Flames
Despite some questionable projections, the creators of this list do deserve credit for the ones they got right. They are predicting a bounce-back season for Elias Lindholm, with 32 goals and 73 points, both of which seem quite reasonable. The same can be said for Dillon Dube, who they have scoring 18 goals and 42 points. The 25-year-old took a big step last season and could be in store for an even bigger year, but that is by no means a guarantee.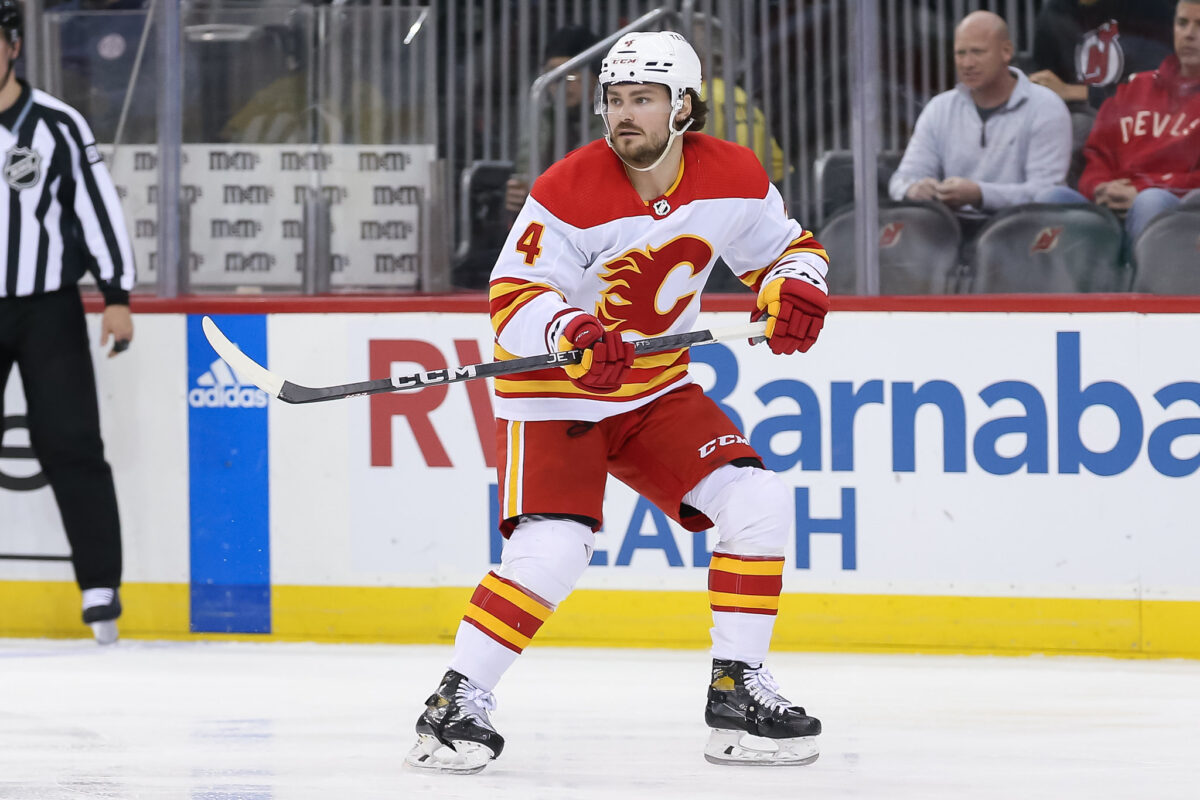 Finally, they had a very accurate prediction for Rasmus Andersson, who they expect to record a career-high 53 points. Given that several Flames are due for bigger seasons, it seems likely Andersson will be able to up his offence ever so slightly. The 26-year-old has recorded 50 and 49 points in each of the past two seasons, making this projection quite fair.
Flames' Bounce-Back Season
While most Flames players are capable of much more than their projections, it remains to be seen if they can bounce back after poor performances last season. However, one thing is certain, if they don't exceed the projections on ESPN's list, they will not be competing in the 2024 NHL Playoffs.