Fantasy hockey is a great way for competitive fans to have a stake in the action, and even prove they know more than their friends. Each team drafts their own players and gets points for different actions — goals, assists, shots, etc. — by players on their team. However, is a good fantasy hockey player really a good NHL player? The short answer: not necessarily.
Power Play Points Shouldn't Count Extra
If you ask any coach or hockey analyst, he would tell you scoring a goal at 5v5 is more impressive and valuable than scoring a power-play goal. The same goes for getting an assist: it is harder to get an assist at even strength than on the power play.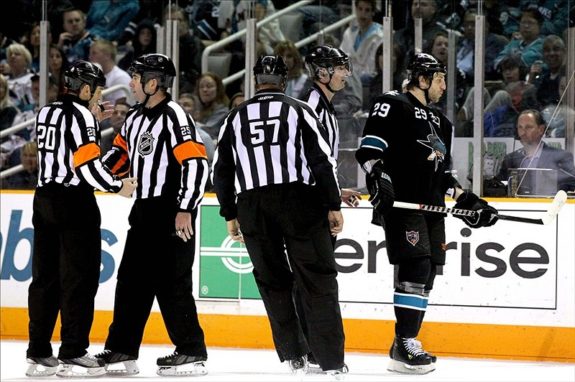 Yet, most fantasy hockey leagues' standard scoring rewards players extra for scoring on a power play. For example, ESPN hockey rewards two points for a goal and one point for an assist. Additionally, ESPN gives out 0.5 points for a power-play point. This means a power-play goal would be worth 2.5 points, and a power-play assist would be worth 1.5 points.
Related: Maple Leafs' Power Play Shakeup Is a Mistake
Instead, it would make more sense if power-play points came with a negative add-on. For example, a power-play point could be worth -0.5 points. Under this system, a power-play goal would be worth 1.5, and a power-play assist would be worth 0.5. This would reward players who generate their own offense, rather than those who benefit from the other team taking penalties.
Penalty Minutes Hurt Your Team
Many fantasy hockey leagues, including the ESPN standard, give out points for penalty minutes. If you reread that last sentence, I don't blame you.
The intention here is to give value to "enforcers" whose only role might be getting in scraps. Fighting majors count for five penalty minutes, making fighters worthy of a look in the lineup. The problem is, this also rewards players who commonly take careless penalties. In the NHL, putting your team in a shorthanded situation is never a good thing.
Related: Broad Street Bullies: More Than Goons, Fists & Enforcers
The solution? Create a new fantasy stat, called "fights". Additionally, count all other penalties as negative points. This keeps the value of enforcers up, while not rewarding players for tripping or hooking.
Assists Are Often Luck-Based
How many times have you seen a defenseman make a simple breakout pass and wind up with a secondary assist for their efforts? Unfortunately, this kind of "undeserved" assist counts just as much as a successful backdoor pass for a tap-in goal.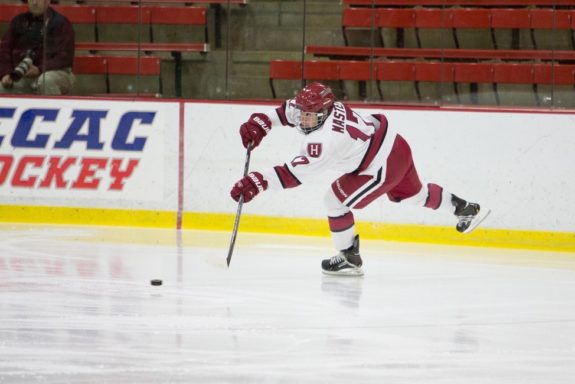 One problem with the concept of assists is that it is an "all or nothing" statistic. Furthermore, that "all or nothing" event is something out of the passer's hands: how well his teammate does.
Shot assists is a trendy analytical statistic that could help here. If Patrice Bergeron passes to Brad Marchand, and Marchand shoots the puck on goal, Bergeron would be credited with a shot assist.
Shot assists do a better job measuring only the player in question, rather than being affected by the performance of his teammates.
If Bergeron sets up Marchand for a ton of chances throughout the season, that's all that really matters. Whether or not Marchand executed once he got the puck, Bergeron did his job and thus should be credited.
Assists don't have to be scrapped completely– but using shot assists as a supplementary stat could have some upside when it comes to fantasy hockey.
Goalie Stats Don't Paint the Full Picture
Goalie statistics are acceptable in fantasy hockey, but they could be much better. Most fantasy leagues reward quantity over quality, and heavily favor goalies on good teams.
ESPN's standard scoring settings give out four points for a "Goalie Win," 0.2 points for a save, minus two points for each goal against, three points for a shutout, and one point for an overtime loss.
The four-point win reward would be regarded as a cardinal sin in the world of analytics. Great goalies on horrible teams, like John Gibson, should have a bone to pick with whoever decided on this measurement system.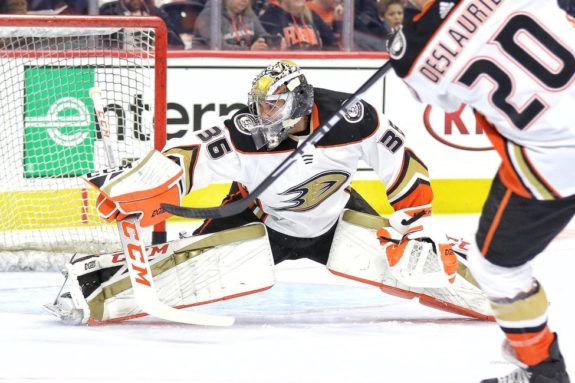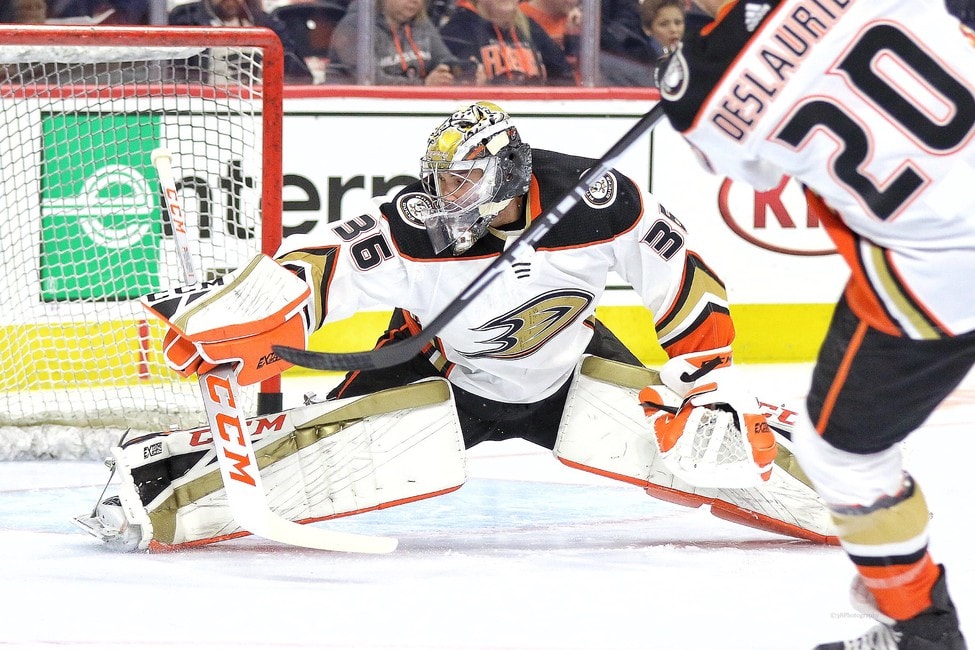 Ignoring the win statistic, goalies are valued decently in fantasy hockey. The scoring relies heavily on save percentage (SV%), which isn't the worst way to value goalies– but it's also not the best. The problem is, stopping a shot from the blue line should not be worth the same amount of points as stopping a breakaway.
This is the perfect time to turn to the world of analytics. Goaltenders should be evaluated by GSAx, or "Goals Saved Above Expected." GSAx measures the disparity between how many goals a goalie is expected to allow, and how many they actually allow. A goalie who faces higher danger chances (breakaways, one-timers, etc.) faces more "expected goals".
The calculation for GSAx is simply expected goals against minus actual goals against. Stronger goalies have a positive GSAx, as they saved more chances than they were expected to. Weaker goalies have a negative GSAx, since they stopped fewer shots than they were expected to.
A more simple alternative to GSAx is high danger SV%. High danger save percentage is a barebones version of GSAx. This statistic gives a separate save percentage which only is affected by shots deemed "high danger." These high danger chances are typically defined as shots from the slot.
Defensive Players Are Undervalued
For both forwards and defensemen, it seems that defensive-minded players are snubbed by fantasy scoring.
Related: Rangers' DeAngelo Needs a Reliable Defense Partner
Two-way forwards such as Valeri Nichushkin (Colorado Avalanche), Ryan O'Reilly (St. Louis Blues), and Anthony Cirelli (Tampa Bay Lightning) are extremely undervalued. Take Nichushkin, for example, who was first in 2020-21 EVD (Even Strength Defense) according to EvolvingHockey. Nichushkin is a fringe player for fantasy: in most leagues, he was left as a free agent for the majority of the year despite having an elite defensive impact. If there were more metrics to measure defense, Nichushkin's fantasy stock would reflect his two-way excellence.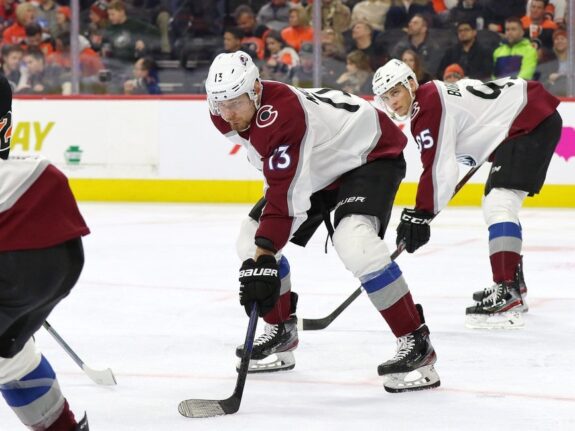 It should come as no surprise that offensive defensemen are far more valuable than defensive defenseman in fantasy hockey. A shut-down guy like Ryan Suter (Minnesota) is extremely valuable to an NHL team. However, in fantasy, it's more favorable to go for a much less skilled player who will get more assists, such as Tony Deangelo (New York Rangers). While Deangelo is not as strong as Suter in real life, his fantasy value is driven by his point total.
A Goalie's Value Is Largely Determined by His Team
Goaltenders on good teams are given an unfair edge over goalies on bad teams. With some leagues rewarding as much as four fantasy points for a win, the importance of a good team is noticeable. For years Carey Price (Montreal Canadiens) was a dominant puck-stopper, but his team's lack of support made him a questionable choice in fantasy.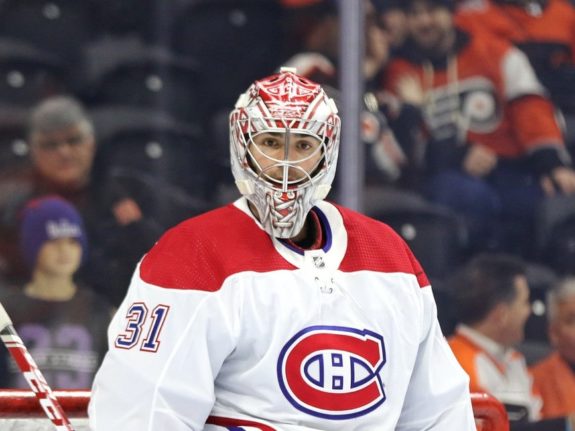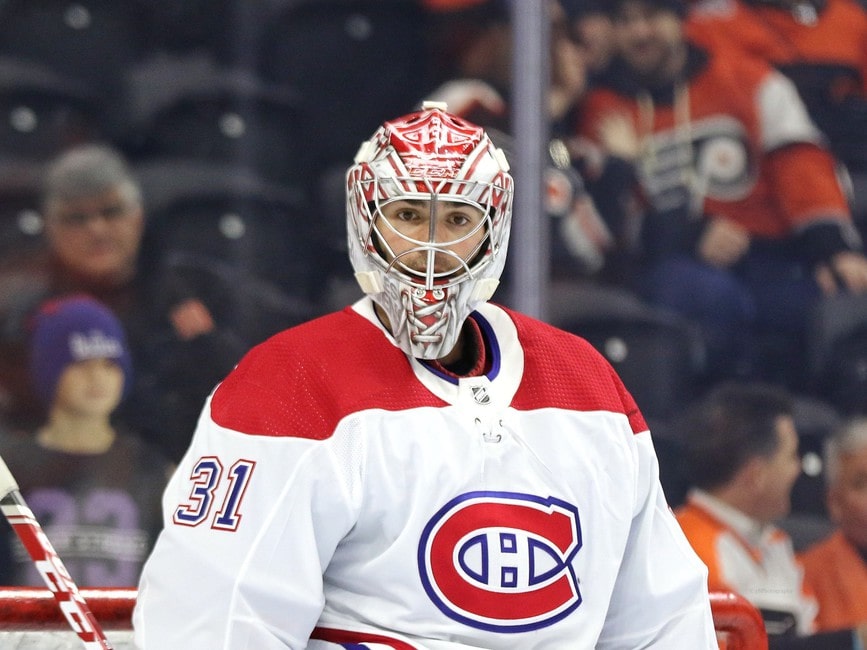 More recently this phenomenon has hurt Gibson (Anaheim). On the other end of the spectrum are goaltenders like Philipp Grubauer (Colorado), who are boosted by their dominant teams. He might not be a top backstop this year, but the Avalanche will help Grubauer rack up some wins.
Some Takeaways to Help You Win in Fantasy Hockey
Fantasy hockey has its imperfections, which is why it's important to know how to tilt the odds in your favor. Picking players that are the best options in real life will result in an imperfect Fantasy team.
Firstly, remember that every fantasy hockey league is different. Make sure you know the scoring settings in your league, as they may differ from the scoring setting you are used to.
Most leagues allow you to see how many fantasy points any player would have scored the previous season with the league's scoring settings. This is extremely helpful for understanding how the league works, and what type of players you should target.
In general, prioritize offensive-minded players who score a lot of goals. Players who are on teams with a good offense are also important to consider. If a player's linemates are good, he will have an easier time racking up points.
When it comes to goalies, keep in mind that a goaltender's fantasy value is largely a product of how good his team's defense is. It may be tempting to take a star goalie on a struggling team, but it is seldom worth it.
---
---