It wouldn't be a season for the Philadelphia Flyers if they weren't dealing with salary cap issues.
Since the salary cap was implemented in the NHL following the 2005 lockout, the Flyersl have always had problems with fitting the team within the cap restraints. Back then, it was Derian Hatcher and Mike Rathje eating up salary. Today, it's Andrew MacDonald. Unfortunately, that's what happens when a team hands out big contracts to players who can't fulfill them.
In this season's episode of working around the salary cap, the Flyers are nearly brimming the maximum salary allowed after Michal Neuvirth was taken off IR Tuesday. For a quick fix, Philly retroactively put Mark Streit on IR, but he will be returning from injury soon, putting the Flyers less than $200,000 over the cap.
That's a sum less than the minimum a player can make in the NHL, but Philadelphia still needs to be under the $73 million maximum. Perhaps luckily for the team, there are a few different ways they can do that. Unluckily for the team, it means swallowing a bullet on ridding a player.
Waivers And Demotions
The reason why the Flyers are over the cap by so little is because Roman Lyubimov unexpectedly made the team and has since cemented himself as a forechecking fourth-liner. The Russian was scratched Wednesday, but it wasn't due to his play:
Flyers had to temporarily send to Lyubimov to Phantoms (paper move) because Alt had to be activated and waived today. Hence, Gordon plays.

— Bill Meltzer (@billmeltzer) January 5, 2017
In his place, off-season acquisition Boyd Gordon played. The former Coyote was brought in as a face-off and penalty killing specialist, but hasnt' lived up to those monikers and Lyubimov has replaced him in the lineup, more often than not. [Full Cap info can be found on our Flyer's team page]
Sending Gordon through waivers may be one of the best ways to save some space. He's been scratched often and doesn't deserve to play over Lyubimov or Nick Cousins, another healthy scratch of late. If he clears waivers, all of his $950,000 salary would be taken off the books.
Lyubimov wouldn't require waivers and would, therefore, be easier to demote to save salary, but if the Flyers want the best lineup, the undrafted rookie would be a part of it over Gordon.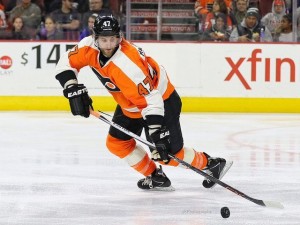 Another veteran who fans would love to see put on waivers is Andrew MacDonald. There's no chance the 30-year-old would be claimed, but most would be delighted just to see him away from the team.
Fans may feel that way, but the coaching and management don't seem to share the same sentiment. MacDonald is paired with rookie Ivan Provorov and is logging top-pairing minutes. He's overplayed and paid too much, but no one goes from first line to waivers in days.
Possible Flyers Trades
If a team was offering a trade for MacDonald, he'd already be gone, regardless of the minutes he's playing. The former Islander is simply overpaid for too many years.
The same can't be said for Gordon, but he won't have too much trade value as a 33-year-old failing in a defensive role. A team claiming him on waivers would be the only way to move him, but if he stays in the AHL, there's little harm to the Flyers.
But that doesn't mean there aren't trade options for the Flyers. Goalie Michal Neuvirth and forward Dale Weise could be available.
Steve Mason just won eight games during a 10-game win streak and rookie Anthony Stolarz looked strong in two showings. Neuvirth makes a manageable $1.625 million and there are teams like the Toronto Maple Leafs and Edmonton Oilers who need backups.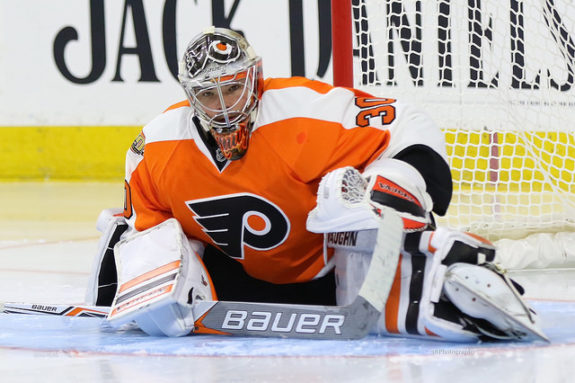 On the other hand, Mason has dealt with injuries in previous years and cold streaks. The team wasn't willing to hand the net to Stolarz often while Neuvirth was injured and Mason shouldn't play over 80 percent of the games left.
Like MacDonald, Weise makes too much money for too many years. Unlike MacDonald, it's at a smaller cap hit and relatively, doesn't restrain the Flyers as much as the defenseman's contract.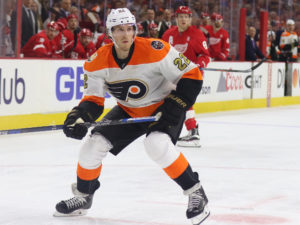 Weise has underwhelmed in Philadelphia after scoring 14 goals split between the Canadiens and Blackhawks last year. A team may be interested in trying to find that spark in the 28-year-old again, but most teams will shy away from the three years left on his contract.
A couple defensemen could be trading options, also. Mark Streit, Michael Del Zotto and Nick Schultz are on final years of the contract. The former two play a big role with the team, though, and Schultz's $2.25 million cap hit isn't too enticing.
In two-and-half years at the helm, general manager Ron Hextall has made just eight trades. After looking at possible trade options, it's easy to see why. The team doesn't have great trade chips it's willing to move.
For those reasons, sending Gordon through waivers may be the best option for the Flyers and their salary cap.