The 2020 offseason has so far been a major success for the Calgary Flames. General manager Brad Treliving started it off with a terrific draft, and has signed high profile free agents such as Jacob Markstrom and Chris Tanev, as well as great depth in players like Joakim Nordstrom and Dominik Simon.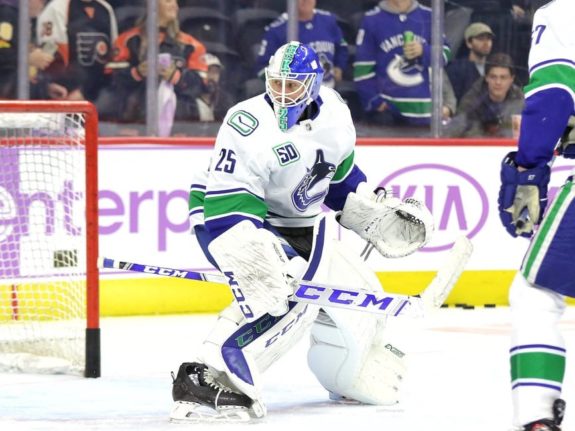 While they have had a great offseason, so have their province rivals, the Edmonton Oilers. Much like the Flames, they had a fantastic draft and have signed some very intriguing pieces which should help them for the 2020-21 season. That, along with the fact they have two of the best players in the entire world in Connor McDavid and Leon Draisaitl, means they won't be fading away in the standings anytime soon.
Last season, the Oilers were the better team throughout the regular season, though only slightly. Their 83 points in 71 games played were good enough for second place in the Pacific Division, while the Flames' 79 points in 70 games had them in third. As mentioned, they have both had great offseasons. I will review both and explain why I believe the Flames have had the better of the two.
Forwards
Flames
Additions: Joakim Nordstrom, Dominik Simon, Josh Leivo
Subtractions: Mark Jankowski, Tobias Rieder
While Tobias Rieder had a terrific playoff for the Flames, scoring a ridiculous three shorthanded goals in just 10 games, he was only able to post 10 points in 55 regular-season games, and also found himself on waivers at one point during the season. As for Mark Jankowski, he needed a new change in scenery after having a horrendous season with just five goals and seven points in 56 games, followed up with zero points in five postseason games.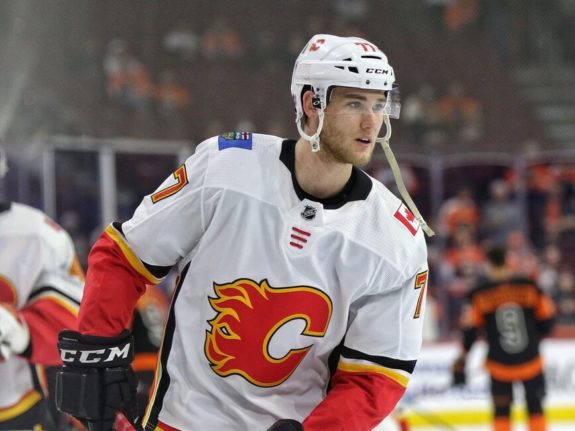 The one thing both these players brought to the Flames was their ability to kill penalties, however Nordstrom is a great replacement on that end. He also brings much more physicality, proven by his 91 recorded hits in just 48 games during the 2019-20 season. Simon has killed penalties in the past as well, and can jump into the top six if needed, having spent plenty of time in that role with the Penguins.
Josh Leivo has the potential to be a huge bargain for the Flames at just $875,000. He provides the Flames with more secondary offence than both Jankowski and Rieder. This past season saw him put up 19 points in an injury-riddled 36-game campaign, which translates to a 43-point season over a full 82-game schedule. While he didn't land any big fish, Treliving did a nice job improving his forward depth this offseason.
Oilers
Additions: Kyle Turris, Jesse Puljujarvi, Dominik Kahun
Subtractions: Andreas Athanasiou, Riley Sheahan
The Oilers have lacked a true No. 3 center for quite some time, and it appears general manager Ken Holland has finally solved that issue, bringing in Kyle Turris on a very team-friendly two-year deal at $1.65 million per season. This will give the Oilers the chance to have either Leon Draisaitl play alongside Connor McDavid on the top line, or have them on two separate lines with Ryan Nugent-Hopkins on one of their wings.
Jesse Puljujarvi, who was taken fourth overall in 2016, was an interesting signing after it appeared his time with the Oilers was finished when he chose to play in Finland last season. It remains to be seen, however, if he can make an impact at the NHL level. Their most recent signing in Dominik Kahun is a great add for a team that desperately lacks scoring wingers.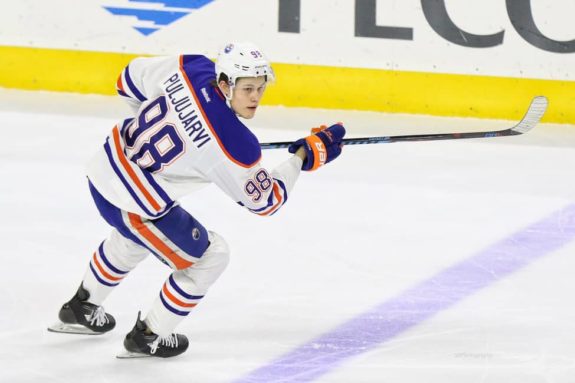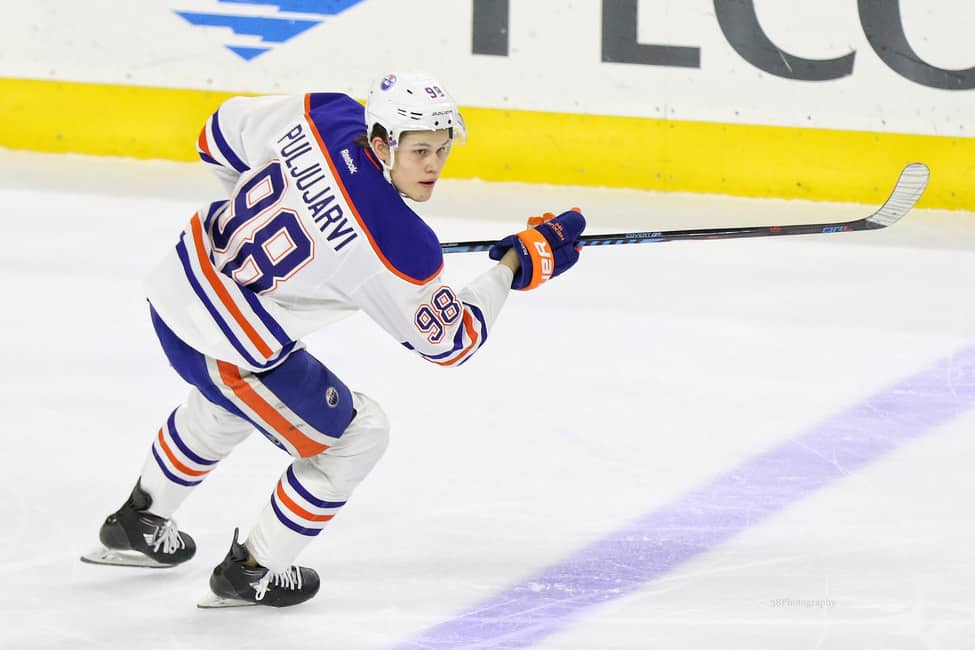 On the other side of things, losing the speedy Andreas Athanasiou was a tough blow for the Oilers, who gave up two second-round picks for him at the 2020 trade deadline. It's hard to blame this on Holland, as had the salary cap gone up like it was supposed to prior to the pandemic, they likely would have been able to re-sign the former 30-goal scorer. Riley Sheahan, despite only having 15 points last season, played a big part in the Oilers having the second-best penalty kill in the NHL. They will miss him going forward.
Advantage: Neither
This one is too close to call. While the Flames didn't lose nearly as impactful of players, they also didn't add anyone who has the potential to put up points like Turris and Puljujarvi. As mentioned above, Puljujarvi has yet to make much of an impact during his NHL career, but is highly skilled, having put up 53 points in 56 games last season in the SM-liiga. While the Oilers additions appear to be greater right now, they also lost more. Therefore, this is a wash.
Defence
Flames
Additions: Chris Tanev, Nikita Nesterov
Subtractions: T.J. Brodie, Travis Hamonic, Erik Gustafsson, Derek Forbort, Michael Stone
All that can be said here is "wow." The Flames lost a ton of blueliners this offseason, although that was expected given that they acquired both Erik Gustafsson and Derek Forbort as rentals at this year's trade deadline. While Gustafsson has the ability to put up points, proven by his 60-point campaign with the Chicago Blackhawks in 2018-19, he struggles both defensively as well as with consistency. It was wise for the Flames not to give him the $3 million deal the Philadelphia Flyers did. As for Forbort, his speed was exposed on multiple occasions during his short time in Calgary. He is not an impactful loss.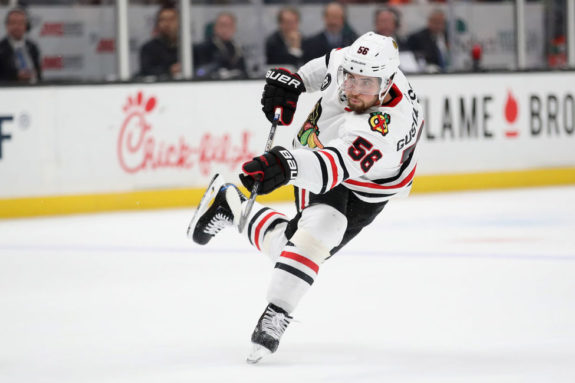 T.J Brodie, Travis Hamonic, and Michael Stone were all much longer serving members of the Flames. The first two will certainly be missed. While Hamonic remains a free agent, the Flames simply do not have the cap room to bring him back. They were however able to bring in a very similar player in Chris Tanev, though I can't say I necessarily loved the money or term of that deal.
Still, he is a very good shutdown defenceman who will help the Flames during the 2020-21 season. They also made a surprising signing in Nikita Nesterov. Though the Russian didn't have a successful first stint as an NHLer, he has reportedly improved a ton in recent years in the KHL and could end up being a great under the radar addition. Given that the Flames are still looking for a right-handed defenceman, Stone may be brought back, but he is a No. 7 at best these days and isn't a significant loss. Treliving did the best he could here given that he had five blueliners with expiring contracts.
Oilers
Additions: Tyson Barrie
Subtractions: Matt Benning, Mike Green
There was not nearly as much shuffling on the blueline for the Oilers as there was for the Flames. The one player Holland was able to sign on the backend for the Oilers was one of the more intriguing offseason acquisitions for any team in Tyson Barrie. The 29-year-old defenceman had a rough first and only season with the Toronto Maple Leafs, failing to hit 40 points for just the second time in his past six seasons.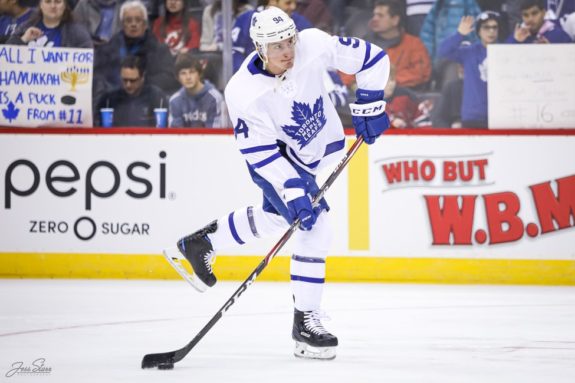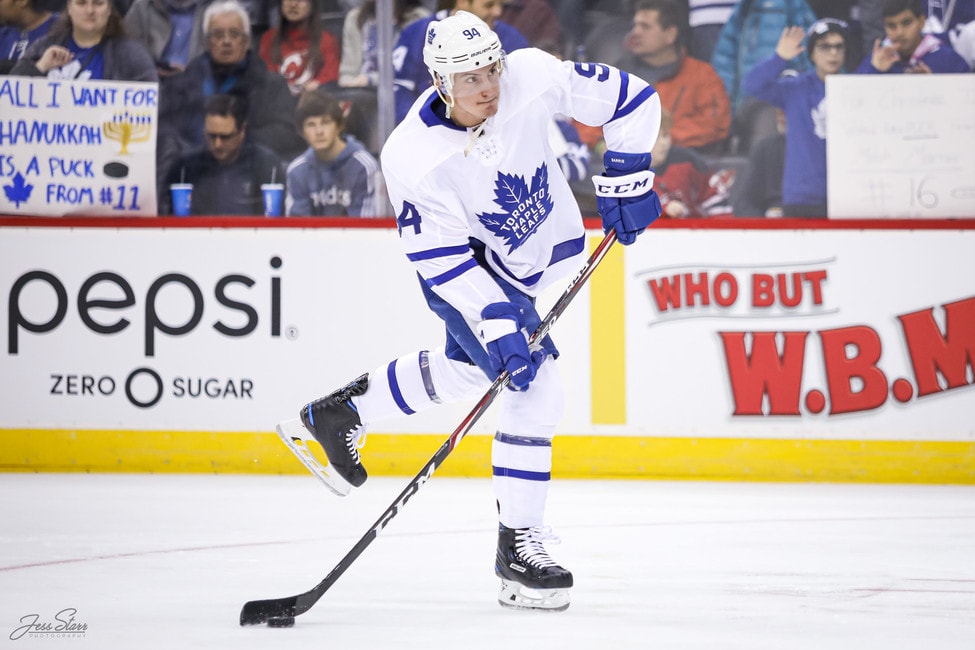 He has proven in the past with the Colorado Avalanche just how good he can be offensively, and joins a lethal power play that finished first in the entire NHL last season. If it all clicks like many expect it to, their power play could be downright frightening this coming season.
On the other end, they lost both Matt Benning and Mike Green. Benning made the team surprisingly in 2016-17 and had many thinking he would become a solid top-four NHL defender, but that hasn't turned out to be the case. He may be able to get his career back on track with the Nashville Predators but he needed a change of scenery. Mike Green was acquired at the trade deadline but got in just one full game with the team as he was injured early in his second. He clearly wasn't the player he once was, and recently announced his retirement after a fantastic 880-game career.
Advantage: Oilers
Though the Flames added a few pieces on the back end and will have a healthy Jusso Valimaki for the 2020-21 season, they arguably got weaker in this position than they were last year. Flames fans, particularly the ones who made Brodie a whipping boy, may come to realize just how important he was for them.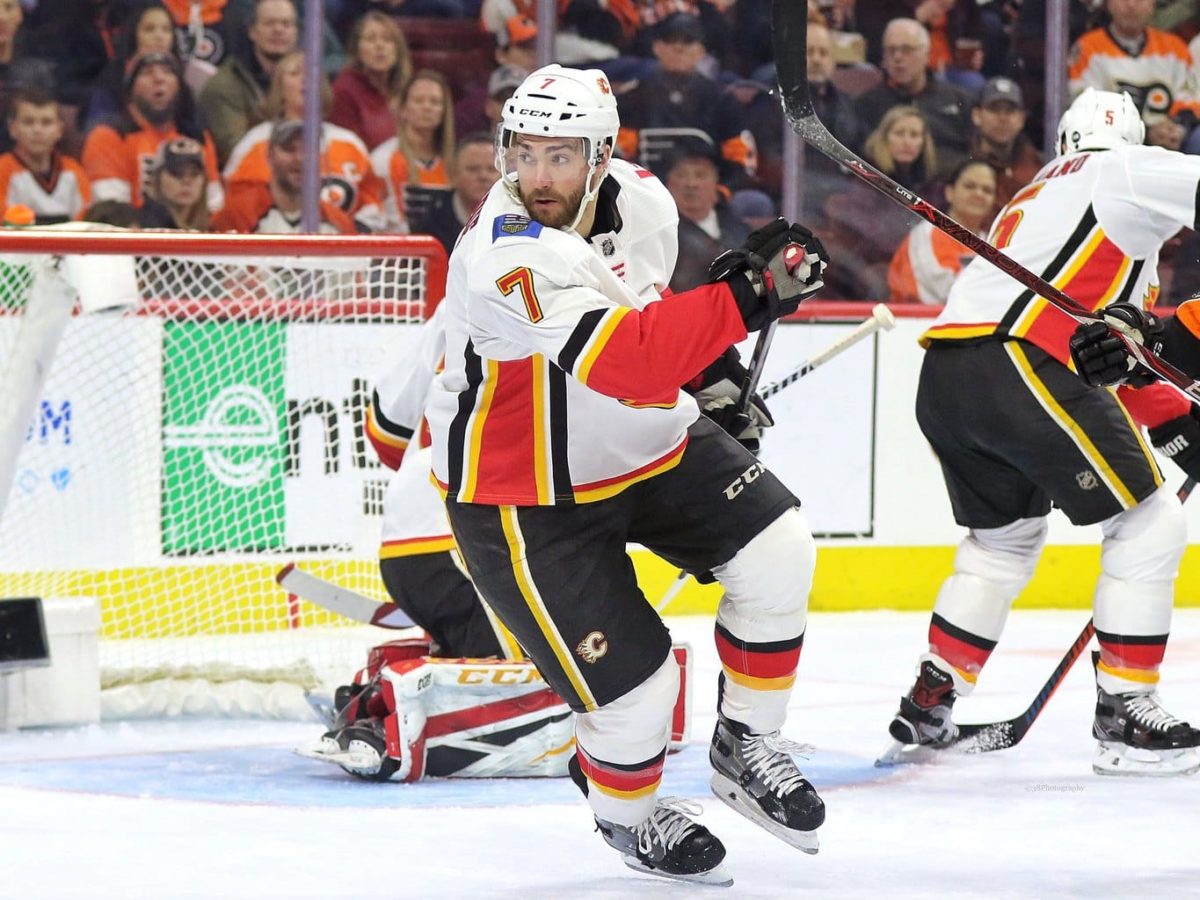 The Oilers, on the other hand, improved their blue line in a big way. Holland needed to do something given the fact that Oscar Klefbom is expected to miss significant time next season, and he was able to do just that. Sure, Barrie is not great defensively, but he will give them a huge boost offensively from the back end and will help an already loaded power-play unit. There were reports that he had received offers at $6 million but chose to take the bargain deal with the Oilers to try and get even more money next offseason, so he will be extremely motivated as well.
Goaltending
Flames
Additions: Jacob Markstrom
Subtractions: Cam Talbot
Treliving's biggest move of the offseason was without question the acquisition of Jacob Markstrom. The 30-year-old had been the Vancouver Canucks' starter for a number of years, and is coming off of the best season of his career, posting a 2.75 goals-against average along with a .918 save percentage in 43 games played. Adding Markstrom gives the Flames a top 10 NHL goalie and their first legitimate No. 1 since Miikka Kiprusoff.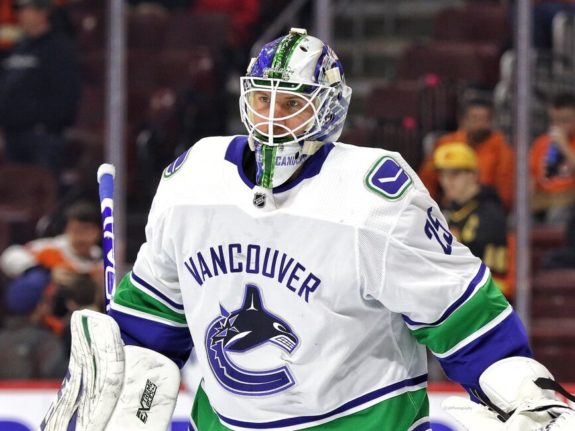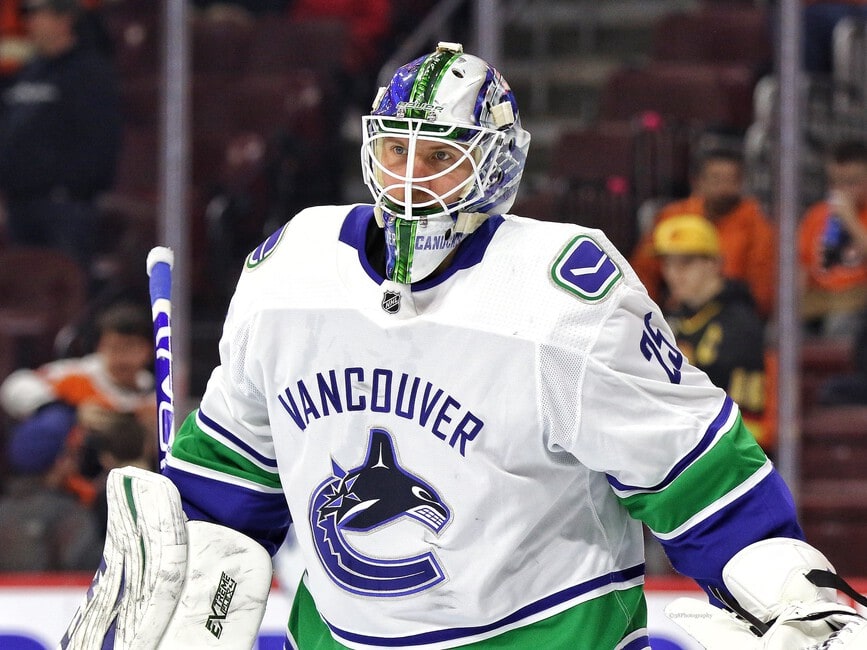 On the other hand, going with Markstrom meant that they were moving on from Cam Talbot. The Flames signed Talbot last offseason to a one-year deal, and the 33-year-old made the most of it. Despite starting the season behind David Rittich, he became the team's starter down the final stretch of the regular season as well as the playoffs. His play, particularly in the playoffs, was outstanding, and as a result, he signed a three-year, $11 million contract with the Minnesota Wild.
Talbot provided the Flames with everything management could have hoped from him, but even still, replacing him with Markstrom is a major upgrade. While it remains to be seen how they will perform come the 2021 playoffs, this move has the Flames looking like serious contenders on paper.
Oilers
Additions: N/A
Subtractions: N/A
The one area where Holland has disappointed this offseason was failing to bring in a goaltender, especially given the fact there were so many available. Instead, he chose to re-sign Mike Smith, who posted an uninspiring 2.95 GAA along with a .902 SV% last season. This wasn't simply just an off-year either, as he posted a 2.72 GAA and a .898 SV% with the Flames during the 2018-19 season.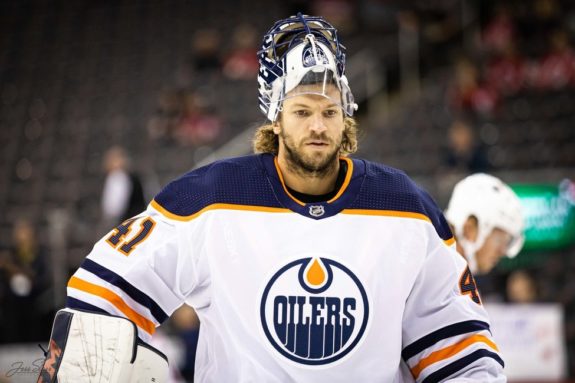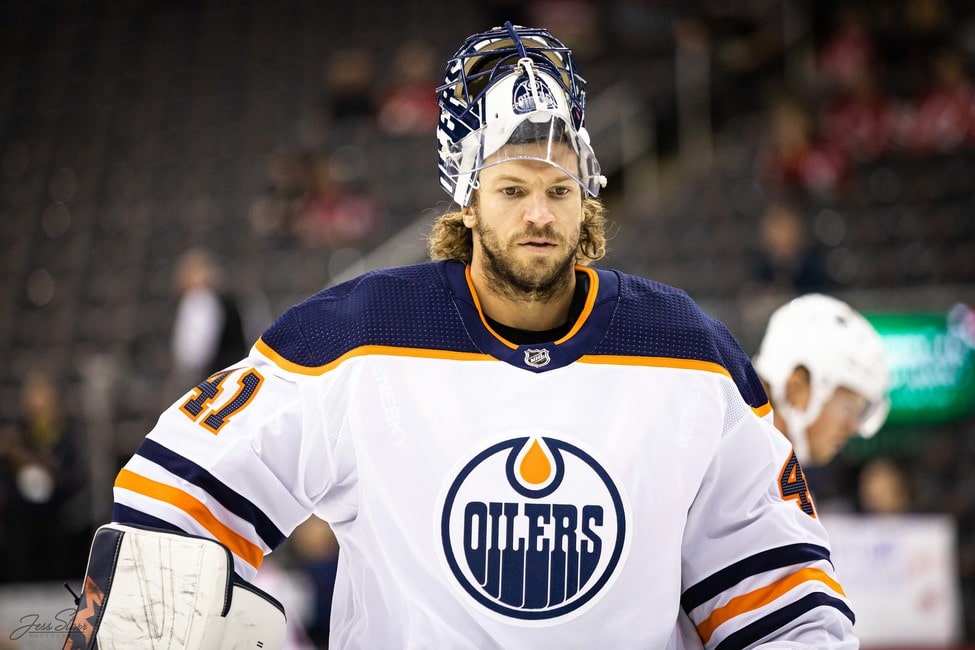 Some have defended Holland given that he was left in a very tough situation salary cap wise from the mess former general manager Peter Chiarelli made, however, there appeared to be better options available that could have been signed for a very similar $1.5 million deal he gave to Smith. Perhaps he will have a bounce-back season, but at 38 years old, that seems extremely unlikely.
Advantage: Flames
While there is room for argument on which team better improved their forwards and defence, the Flames clearly outdid the Oilers in net. It remains to be seen whether Markstrom will be able to maintain his high level of play throughout all six years of his contract, but there is no doubt that this deal will help the Flames out for the first three at the very least.
Change in Standings
Both Flames and Oilers fans should be quite happy with what their teams were able to do this offseason. However, I believe that despite the Oilers having both McDavid and Draisaitl, Calgary still possesses the better all-around roster. That, paired along with the fact they added one of the better starting goaltenders in the entire league, should be enough to have them place ahead of the Oilers for the 2020-21 season.
---
---