If you find yourself wearing a big "C" on your sweater, you can assume that you have reached the pinnacle of individual hockey success. Being named team captain is an ode to an individual's character as well as his playing ability by his team and teammates. Throughout the Florida Panthers' relatively young existence, there have been nine captains or co-captains. I've done a deep dive into what makes these players important to the Panthers community, how their careers developed, and what they've done post-playing career.
Brian Skrudland (1993-97)
Prior to joining the Panthers in 1993-94, their inaugural season, center Brian Skrudland was primarily a member of the Montreal Canadiens. He played eight seasons and won the 1986 Stanley Cup with the storied franchise. In the 256 games he played in a Panthers uniform, he accumulated 99 points, was a Selke Trophy finalist in 1994, and led the young franchise to their first postseason appearance in 1996.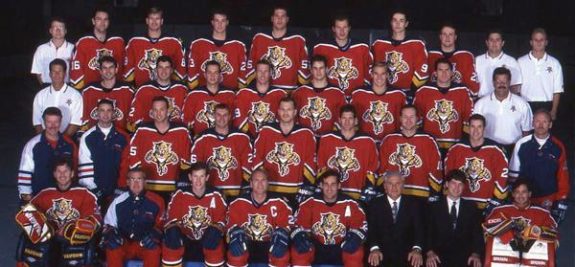 Skrudland was immediately immortalized in the Panthers community when he was named the first captain in team history in 1993 and has continued his attributions to the franchise in his post-playing years. He left the Panthers in free agency in 1997 and retired after the 1999-00 season. Since retirement, he was the Director of Player Development or an assistant coach for the Panthers, further sealing his legacy as a pillar of excellence in the organization.
Scott Mellanby (1997-01)
In terms of contributing to the Panthers culture, few players can claim more influence than winger Scott Mellanby. Not only did he score the first goal in franchise history, he is also credited with starting the iconic "Rat Trick" tradition. As legend goes, he was in the locker room preparing for a game when a rat scurried across the floor. He used his stick and saucer passed the rat across the room. Later that night, he scored two goals with the same stick.
---
Latest News & Highlights
---
As the Rat Trick story spread, fans began bringing plastic rats to games and throwing them at opposing goaltenders after every goal. Mellanby was named team captain in 1997 and remained with the Panthers until 2001 when Florida traded him to the St. Louis Blues. He also played for the Atlanta Thrashers before retiring after the 2006-07 season. He remains the team's second-leading goalscorer and third-highest point producer.
Co-Captains Pavel Bure/Paul Laus (2001-02)
Pavel Bure
The numbers that co-captain Pavel Bure produced as a winger during his four years with the Panthers are mind-boggling. In 223 games, he scored 251 points and during his lone season as captain, he had 92 points in 82 games. He is currently the Panthers' third-highest goalscorer with 152 and also leads the franchise in hat tricks with 10.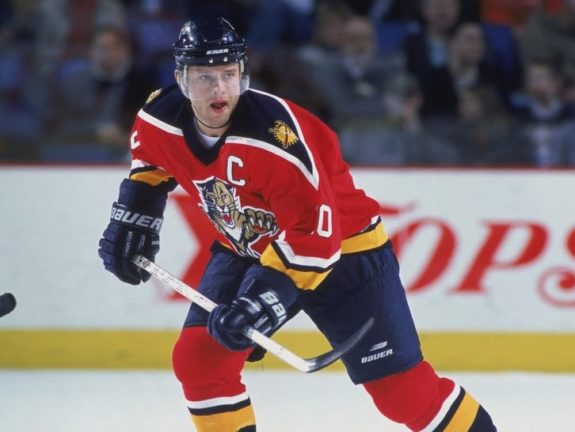 He was a player ahead of his time. At only 5-foot-10 and 189 pounds, his build resembled that of a modern-day analytics darling. He combined his speed with a wrist shot that made it possible to score from anywhere and he was one of the game's best players with two Rocket Richard Trophies as a Panther. Although Bure's career was cut short due to chronic knee injuries, he scored 779 points in 702 games and was inducted into the Hockey Hall of Fame in 2012.
Paul Laus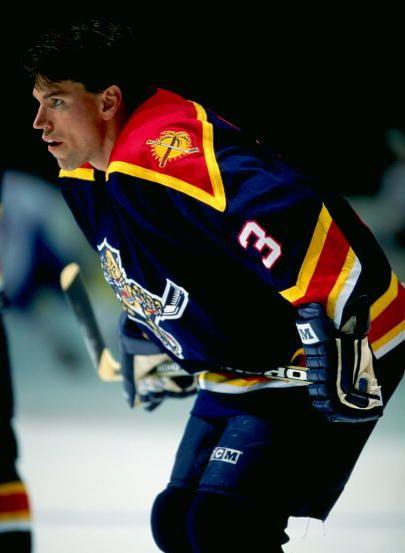 The 2001-02 co-captaincy was a yin-yang situation for the ages. While Bure was the highly skilled, flashy scorer, defenseman Paul Laus was an enforcer whose sole intent was to pick fights and change momentum. The Panthers selected him in 1993 Entry Draft, their inaugural draft, and he spent his entire 13-year career with the Cats.
In 530 games, he accumulated 1,702 penalty minutes. He knew his role for the Panthers was not to score but to intimidate, and he enjoyed it. Unfortunately, near the end of his career, Laus broke his wrist in a fight and called it quits in 2002. Since retirement, his reputation has changed from bruiser to that of father and family man who still resides in Florida.
"Where else can I go out and get into a fight and five minutes later come out and not be in jail…I think I took whatever frustration I had throughout the day and that was my outlet for it." As told by Laus to THW's Kathy Mizera
Olli Jokinen (2003-08)
Following in Bure's footsteps, Finnish center Olli Jokinen made a name for himself in South Florida as an offensive machine. In seven seasons with the Panthers, he played in 567 games and is the franchise's leader in shots (1,837), is second in game-winning goals (36) and goals (188), and third in points (419).

He was an iron man as well. In his years as captain, he never missed a game and only missed six games in total during his tenure with the Panthers. Although Jokinen played for nine other teams in his career, Florida was always his true home. In 2017, he signed an honorary contract with them to retire as a Panther.
Even after retirement, the former captain continues his contributions to the local community by collaborating with the South Florida Hockey Academy, which helps develop young players and grow the game in South Florida. Jokinen says the academy's mission "has been to make South Florida a destination for young hockey players around the world to develop both on and off of the ice."
Bryan McCabe (2009-11)
In a Sept. 2008 trade with the Toronto Maple Leafs, the Panthers acquired defenseman Bryan McCabe during the 2008-09 season. In his seven years with the Maple Leafs, he scored 297 points, sixth all-time for Toronto blueliners. He continued his success with Florida over the next three seasons with 104 points in 199 games. He played with the Panthers until 2011, when they traded him to the New York Rangers.
Since retirement, McCabe has continued his work with the Panthers as Director of Player Development and has since been promoted to Director of Player Personnel. Upon his promotion, McCabe seemed excited for the future, saying "I have really enjoyed my time scouting and working with our prospects as Director of Player Development. While continuing to work with our prospects, I look forward to the challenge of my new role as we compete towards our goal of winning the Stanley Cup."
Ed Jovanovski (2012-14)
As a former number one overall pick, Ed Jovanovski has a long history with the Panthers organization. The 6-foot-3, 220-pound defenseman left his mark during the historic 1995-96 season. At just 19 years old, he scored 10 goals and 31 points during the regular season and continued his strong play throughout the playoffs all the way to the Stanley Cup Final.
During the 1996 Conference Finals against the Pittsburgh Penguins, former Penguin left winger David Roche commented on Jovanovski's play: "That's the thing with Eddie, he'll hit anyone. Big, small. (Eric) Lindros or a no-name. He'll nail you." Although the Panthers were unable to bring the Cup home, Jovanovski became a fan favorite until he was traded to the Vancouver Canucks in the deal to acquire Bure.
You may also like:
"Big Ed" spent the next six seasons with the Canucks and another six with the Phoenix Coyotes until he returned to Florida in 2011. He was immediately named captain and held the position until 2014 when he retired due to hip injuries and the Panthers bought out his contract. Although he didn't play a significant amount of games during his second tour of duty with the Panthers, he did serve as a great mentor to a team that was struggling to find stability.
Willie Mitchell (2014-16)
During his 15-year career, defenseman Willie Mitchell played in over 900 games and hoisted two Stanley Cups with the Los Angeles Kings. Although his style of play did not produce an abundance of points, he was a defensive-minded player who posted a negative plus/minus just twice during his career.
In his two years with Florida, Mitchell was a role model for the young players and, specifically, Aaron Ekblad. The relationship between the two was described as "father and son like." Ekblad has credited Mitchell with teaching him the ins and outs of the NHL saying, "I've learned absolutely everything I've learned in the game of hockey, in the NHL, from Willie Mitchell. Learning to be a good person and a good player. Can't thank that guy enough."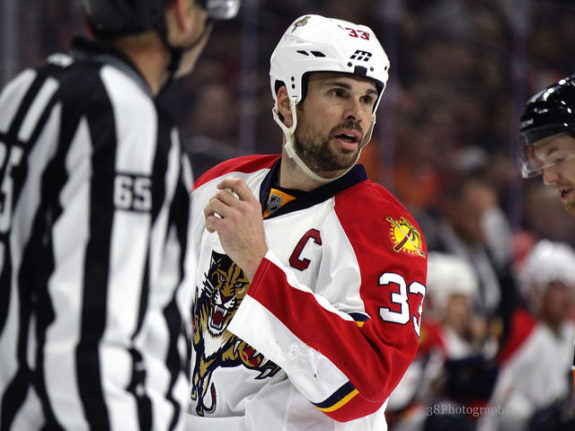 Mitchell's career ended due to a concussion during the 2015-16 season. It was the seventh concussion of his career and Mitchell has taken a stand by criticizing the NHL's lack of attention to player safety. Hopefully Mitchell's leadership helps bring attention to a sensitive subject and can create a much-needed change.
"I can't change my life, the damage has been done," Mitchell said. "I'm talking to the kids about it. I want them to be thoughtful and educated, and God forbid they're in the same situation as me." Mitchell with regard to his criticism of player safety.
Derek MacKenzie (2016-2018)
Starting his career with the Atlanta Thrashers in 2002, Derek MacKenzie served as Panthers captain for two seasons. "DMac" played in over 600 games and provided much-needed experience during his tenure as captain.
After the conclusion of the 2017-18 season, he would hang up his skates and call it a career as injuries plagued him throughout his time with Florida. With that, he would pass off his captaincy to Aleksander Barkov before the start of the following season.
Aleksander Barkov (2018-Present)
On Sept. 17, 2018, Aleksander Barkov was named the 10th captain in Panthers history. He is the second Finnish vaptain in Florida's young history.
Drafted 2nd overall in the 2013 NHL draft, Barkov has made his presence known throughout the NHL as an elite center in today's game. Throughout his time with Florida, he's piled up 407 points, making him third all time in franchise history.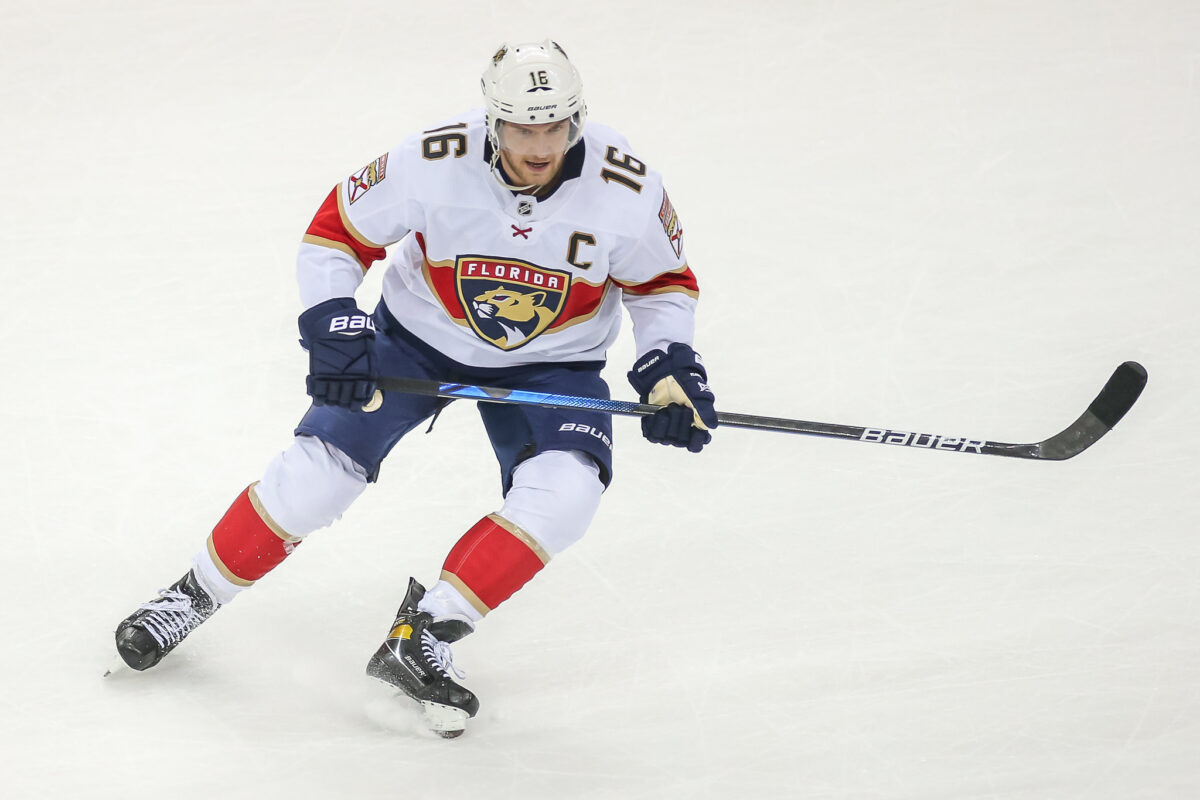 In the 2017-18 season, he was named to the All Star Game as a representative of the Panthers. The following season, he would hit a career high 96 points (35 goals, 61 assists), becoming a franchise season for most in a regular season. Furthermore, he was awarded the Lady Byng trophy that year after only taking four minor penalties that season. With his history and goal-scoring touch, it is only natural why he was named captain.