On Sept. 16, the Philadelphia Flyers completed their second rookie game against the New York Rangers. After losing both contests, the results as a collective might not have been what was expected, but there were still several impactful individual performances from those who competed. Which players were among the best in the two-game stretch?
Zayde Wisdom, Forward
Out of any Flyer that saw the ice in the club's second game, Zayde Wisdom was probably the best. In fact, the coach of the Flyers' American Hockey League (AHL) affiliate Lehigh Valley Phantoms, Ian Laperriere, had some high praise for him despite the loss, stating that he is "focused on making our team" and that he had been "our best player".
In the two games, Wisdom recorded a fight against a 6-foot-8 Matt Rempe, a goal in his most recent campaign off a nice feed from Denver Barkey, as well as several shifts where he was the most noticeable player on the ice.
Wisdom showed great hustle and competitiveness most notably in the second of the two games. He was creating opportunities from virtually nothing and winning forechecking battles to set up teammates for chances. If his goal is to make the NHL in the future, his efforts were very inspiring. Even though this camp likely means much more to him than someone like Tyson Foerster who has a very good chance of making the Flyers' roster, he was playing against players who needed to shine just as much as he did. The 22-year-old forward played 45 games in the AHL last season, but might be due for an even heavier workload after his performances.
Denver Barkey, Forward
Barkey was all over the ice in the second game of the Flyers' back-to-back series against the Rangers. The 2023 third-round choice out of the Ontario Hockey League (OHL) is making his case as a sneaky grab already. Much like Wisdom, he never gave up on a play, and should be commended for such.
---
Latest News & Highlights
---
Recording the primary assist on Wisdom's goal, the stat sheet alone would tell you that he played well. Barkey was creating chances throughout the game, however. He proved his worth on the power play, where he had smart shot selections, good forecheck and hustle to try to keep plays alive, as well as solid cross-ice play. He was also helpful in the defensive zone, which is something notable out of an 18-year-old centerman. His play for his young age was promising, and it gives hope that he can be successful with some development over the next few years.
Alex Ciernik, Forward
Selected a round after Barkey in the 2023 NHL draft, Alex Ciernik was pretty explosive when he was in possession of the puck. On what seemed like a broken play, he chipped the puck to himself from the neutral zone into the offensive end to create a nice scoring opportunity that unfortunately didn't lead to much in his second contest. In his first, he was able to record one of the three Flyers' goals scored in the camp.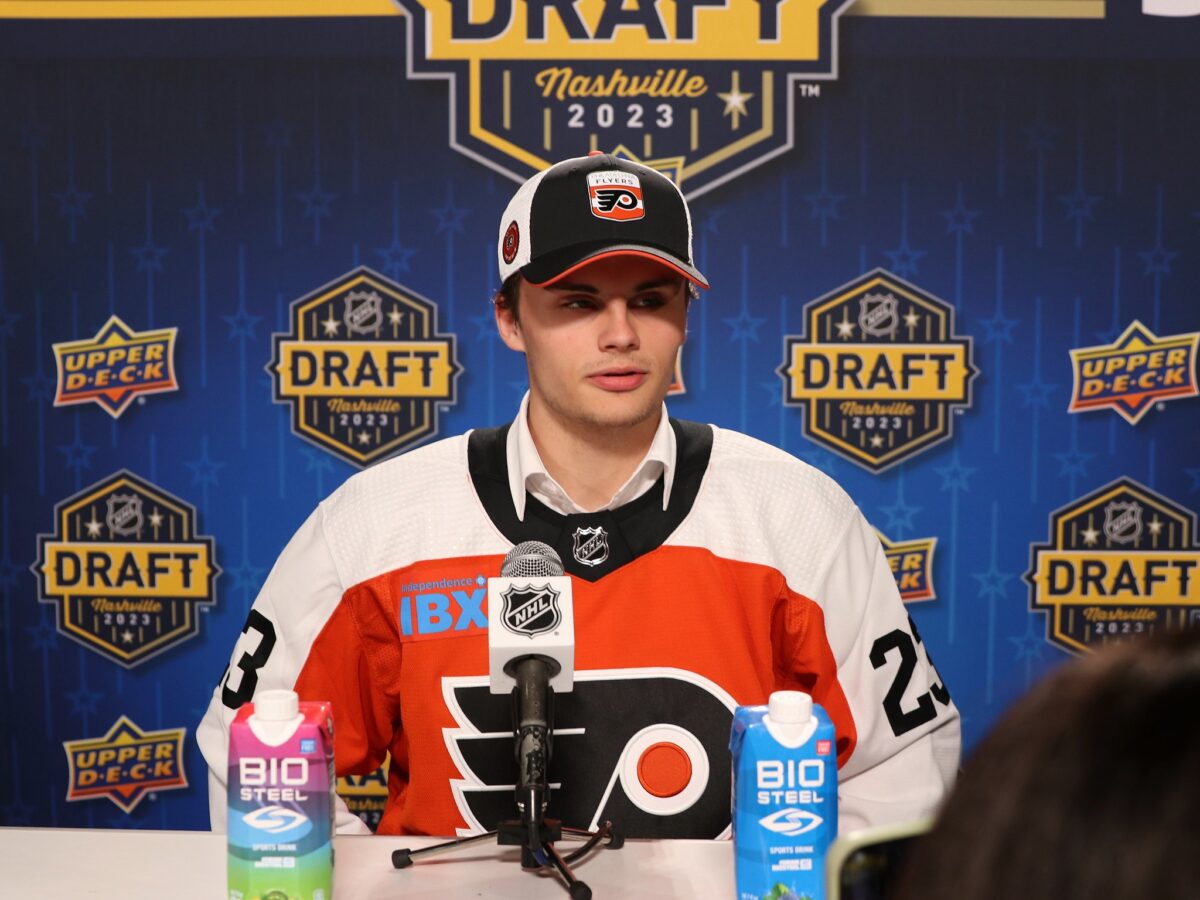 Overall, Ciernik was making plays at both 5-on-5 and on the power play for Philadelphia in both of his contests. The most important thing for him was his play creation, and he was doing that seamlessly. For an 18-year-old, this is an infinitely valuable skill.
Will Zmolek, Defenseman
Will Zmolek might not get as much credit for his performance as his defensive counterparts such as Helge Grans and Emil Andrae who were also on their game, but he was equally as impressive. His offensive game was more or less unnoticeable, but he was very good in the defensive end and winning battles against the Rangers' forwards.
Zmolek was using his stick impressively and sealing off defenders and using his body to do the same. Puck battles are a key thing to win as a defender, and he was doing so even on the penalty kill. He is one player that should not be overlooked.
Notable Players Who Caught Criticism: Forwards Bobby Brink, Foerster
Bobby Brink played well and generated several scoring chances in both contests, but he also got flack for a goal against that wasn't particularly on him in his second game. On a 2-on-2 chance while he was behind the play, he opted to cover the point man, while Zmolek took away one of the forwards and left an isolation situation between defenseman Matteo Mann and Rangers' forward Bobby Trivigno. The defenseman lost, and a goal resulted.
If anyone should be hanging their head for this play, the Flyers' winger is not one. Cramming in front of the net would have also led to an opportunity, and it would have been the incorrect play to make even with hindsight in consideration. He could have capitalized more on his shot attempts and chances, but to say he was a defensive liability would be a bit unfair.
Foerster was another player who received some criticism for how he played, but he definitely gave an effort. His first game was much more eventful than his second, where he wasn't generating many scoring chances or having a great impact on defense. For a player that is supposed to make the team, a rookie camp seems counterintuitive. How good or bad he performs really wouldn't change his situation.
Related: Flyers' See Positives in Rookie Game Loss to the Rangers
With millions of dollars on the line for his first NHL contract beyond his entry-level deal, a setback from injury could cost him everything. His lack of production isn't excusable, but it is understandable.
Though the Flyers lost both of their games against the Rangers, there were many positive takeaways to have from them. The scorecard wouldn't tell you much, but the on-ice play was rather inspiring. Even though Philadelphia did not have their two best prospects in Cutter Gauthier and Matvei Michkov, they still had several standout stars.
---

---