Even though the Philadelphia Flyers are in a rebuild, that does not mean that they have to be sellers in every single trade discussion. In fact, it might be smart for them to buy low on some young players with potential to help give themselves some upside in the near future. It might not seem practical for a team that is actively selling veterans off of their team to do this, but it is logical to want to help get the maximum potential out of a budding star that could be best utilized in a different situation.
Shane Pinto Trade Rumors
Recently, it has been reported that the Flyers were in talks with the Ottawa Senators around their key restricted free agent (RFA) Shane Pinto. Ottawa does not have enough money to offer him a contract at all at this point in time, with them only being able to afford 22 of 23 roster spots under their current salary structure. While talks have reportedly died down, the idea of Philadelphia acquiring a 22-year-old center is not a bad one.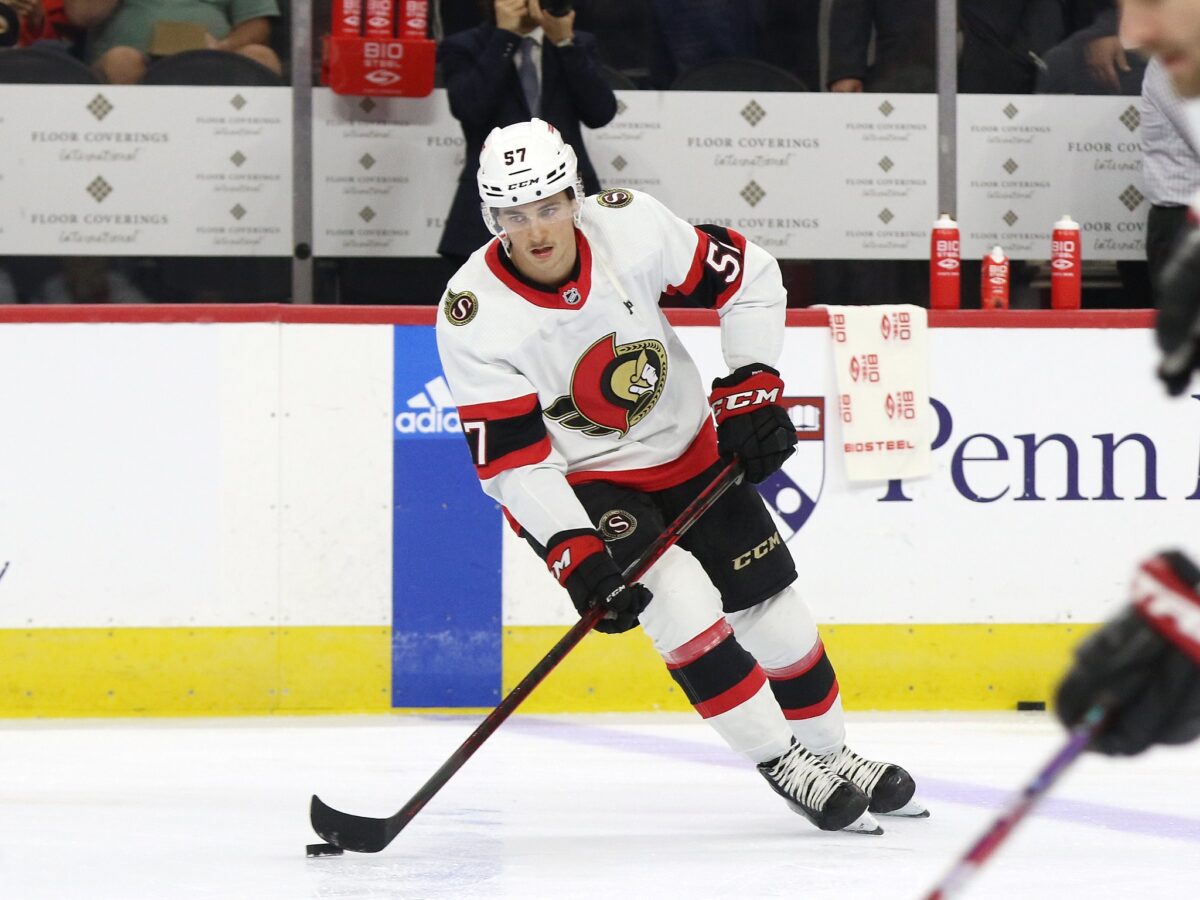 A rebuild should not prevent the Flyers from listening in on offers to improve their team. This is a unique situation that would not only allow Philadelphia to build for the future, but also become a more complete group in the process. If talks are on the table, the Flyers should be all over them.
Since the Senators are still trying to win and have expressed interest in Philadelphia forward Scott Laughton in the past, it would make sense to include him in this deal for both teams. To make the cap work, the Flyers would probably have to take on a contract like that of Mathieu Joseph. Although purely hypothetical, this trade would give Philadelphia a better lineup and a potential top-six stud, who registered 20 goals and 15 assists last season.
Potential Flyers' Offensive Lineup With Pinto Trade
| | | |
| --- | --- | --- |
| LW | C | RW |
| Joel Farabee | Sean Couturier | Travis Konecny |
| Morgan Frost | Shane Pinto | Owen Tippett |
| Cam Atkinson | Noah Cates | Tyson Foerster |
| Mathieu Joseph | Ryan Poehling | Garnet Hathaway |
It would be unwise for Ottawa to trade a young player for a package centered around a veteran, but the takeaway should be more about eyeing young talent rather than the specifics of it. If any player that could realistically crack the Flyers' lineup is available and could be helpful to their future, Philadelphia has the extra draft capital and prospect depth in order to make that happen.
Rebuilding Teams Target Upside
During the 2022 NHL Draft, the Montreal Canadiens made a shocking move to trade a first-round draft pick and more to the Chicago Blackhawks in order to acquire forward Kirby Dach, who was coming off of a rather disappointing nine-goal, 26-point campaign with Chicago in 70 games. Almost instantly, his fortunes changed.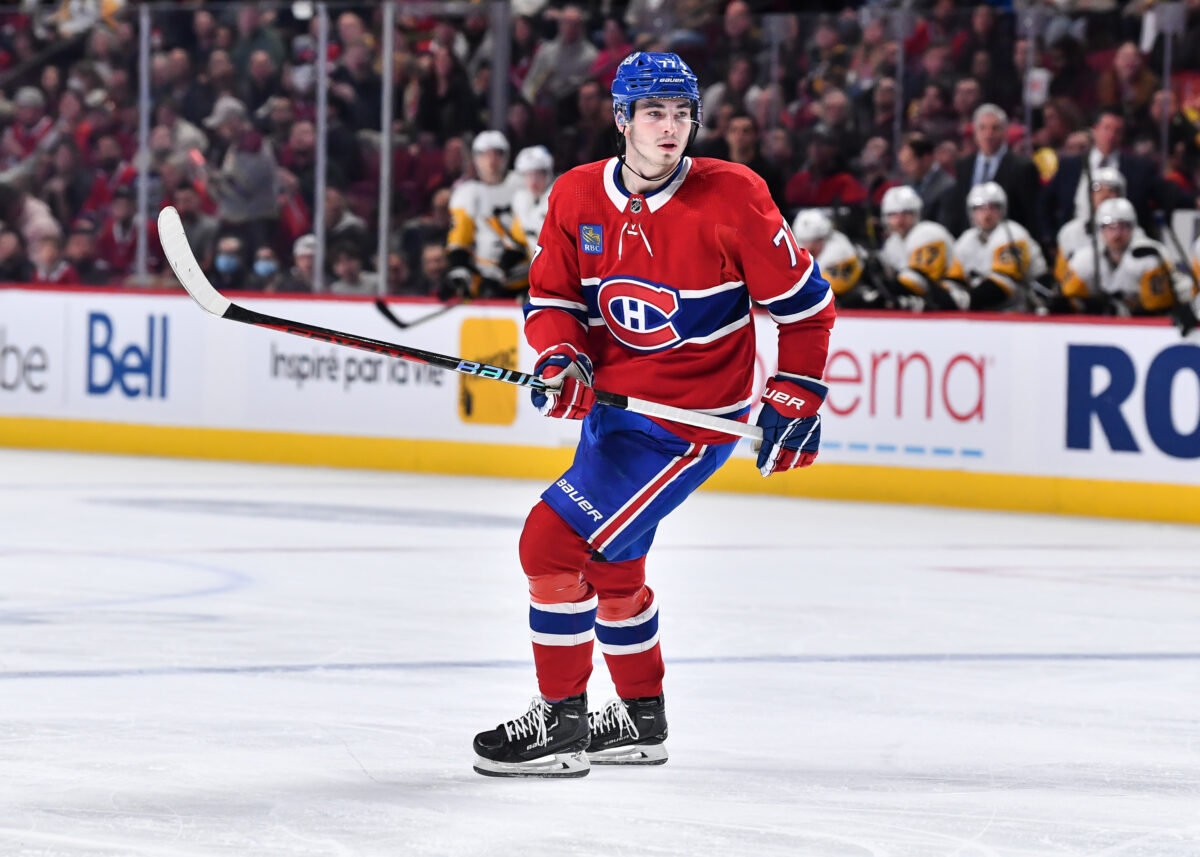 Even though the Canadiens were coming off of a league-worst finish in the 2021-22 season, they were still willing to go after young talent. Montreal is definitely a more demanding hockey city, and they will always be on the lookout to make a splash. However, the fact that they were able to intelligently improve their team without crippling their future could be a sign for Flyers' general manager (GM) Danny Briere and company. Even rebuilding teams will take a stab at a young player to see what they could provide. For Montreal, this worked out brilliantly, as Dach was able to score 38 points in 58 games. Low-cost, high-upside moves will not always be available, but they should be something that no team is shying away from.
---
Latest News & Highlights
---
Though it would almost be impossible to pull off in the modern NHL, the Flyers were in the process of a rebuild when they acquired Eric Lindros from the Quebec Nordiques. With him as the primary star of their team, they reached the Stanley Cup Final all because they were willing to take a chance. There won't be another player of his caliber on the block, but the point stands that historically, the Flyers won't turn anything down.
Winning Helps Growth in the NHL
It might seem obvious, but making moves that intentionally give a team no chance to be competitive is harmful in almost all cases. It has worked out favorably for some, but a consistent losing culture has not only ruined rebuilds, but it has ruined franchises as well.
Some of the best-run teams in the league have remained somewhat competitive in the toughest of times. This could not be more accurate for the Flyers, who, after finishing with their worst record in franchise history in 2006-07, acquired forwards Scott Hartnell and Briere as well as Kimmo Timonen for their back end in order to return to the playoffs. Not only were they able to do that, but they were able to advance all the way to the Eastern Conference Final in 2007-08. Philadelphia didn't really make a genuine rebuild effort, but they did try to remain competitive with a team that was on the downswing. Things quickly worked in their favor, and they were able to start a new era.
Related: Lessons From the Philadelphia Flyers 2007 Rebuild
Now, the Flyers won't go out and make deals for veteran options, but they might go for younger ones. While the idea of Philadelphia being one of the most consistently great hockey teams has faded in recent memory, they have still always tried to be good, even when times were bad. The Flyers have the pieces to compete in the future, but they can start building whenever they please. If a cheap player is on the market, they should not restrict themselves. A winning culture is one of the main reasons why players choose certain teams. Going out and getting quality players helps establish this.
With Philadelphia being in discussions for a player like Pinto, they have made it clear that they will be on the lookout at all times. If the Flyers want to have the reputation of being a winning hockey team, they have to go out and make moves that help them do that, no matter the situation.