The arrival of American Thanksgiving can signify a lot of different things – a break from school, road trips to visit family, or simply Thursday. In the hockey world, it comes about one-fourth of the way through the NHL regular season, making it a good time to take stock of the league and its teams.
For the Columbus Blue Jackets, things aren't bad, especially considering some of the team's past struggles. Despite losing their last two games, the Jackets sit 10-5-3 and hold the first wild card spot in the Eastern Conference. Plenty can change with more than 60 games left and the team has room for growth, but last season Columbus was 6-12-0 through the same number of games, so this is a huge improvement for the Blue Jacket faithful.
With last season and many other disappointing ones throughout the team's history in mind, Columbus fans have a lot to be thankful for this year. So it seems like the perfect way to get into the holiday spirit is to take a look at five of those items, with a nod to their Thanksgiving feast counterparts. Give thanks for the following, Blue Jackets fans.
Sergei Bobrovsky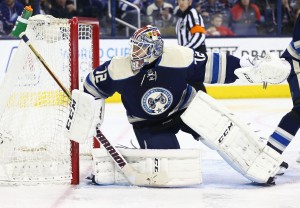 For the Blue Jackets to have success, a lot has to go right. Most importantly, they need stellar play in net from Sergei Bobrovsky. Of course, every team needs a good goalie, but it's likely a painful exercise for fans to imagine where this Columbus team would be with an injured or slumping Bobrovsky. Lucky for them, the team hasn't had to deal with that this season.
After a wonderful performance playing for Russia in September's World Cup of Hockey, Bobrovsky has been great for the Blue Jackets, posting a .929 save percentage and three shutouts in 16 games. Backup Curtis McElhinney has played well when given the opportunity, which is a good sign for the team's goaltending situation, but Bobrovsky is by far the key. So far, so good.
On the Table: Turkey
Like the bird that stars in most Thanksgiving spreads, none of this would be possible without Bobrovsky. His play in net is crucial to his team's success, especially as Columbus's young defensive corps continues to learn and grow. Like the turkey, he's supported by several key players, but in the same way that a bad bird can throw off an entire meal, the Blue Jackets won't win many games without a good Bobrovsky on the ice.
Young, Talented Defensemen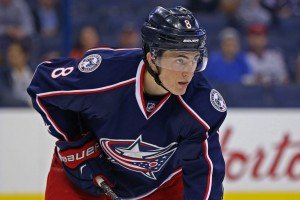 It would have been easy to simply say Zach Werenski here, considering the 19-year-old rookie has 15 points in his first 18 NHL games.  But as you may have read here before, the group of young defensemen on the Columbus blue line is a luxury the franchise has not enjoyed in its history. Werenski plays with poise and a scoring touch beyond his years, but it's the group as a whole that fans should truly appreciate.
Since Columbus acquired him last season, Seth Jones has already shown a knack for playing the role of the workhorse on the blue line and leads the team's skaters in ice time per game this season (24:02). Ryan Murray seems to be settling into the season after some early injury issues, and then there's the team's rookie defenseman not named Werenski, Markus Nutivaara.
Chances are that you didn't know that name before the season started. At most, you could probably say you knew of him but nothing about him. A seventh-round pick in the 2015 NHL draft, the 22-year-old Nutivaara made the team out of camp and has neither looked out of place nor relinquished his spot in the top six. He's not racking up points like Werenski, but he is not shy about joining the rush to try and help out offensively. In fact, none of the four players mentioned here are.
On the Table: Stuffing
A unique flavor crucial for a proper feast. In today's NHL, defensemen need to be mobile and have the ability to move the puck, and this group fits the bill. Sure, young blue liners make plenty of mistakes, and those playing for Columbus certainly have (to be fair, the team's more experienced defensemen have as well), but they're very talented and poised to play key roles for years to come.
Depth
The Blue Jackets have had talented players in their history. What they haven't always, or even often, had is depth. Now, the team has quite a bit, starting on the aforementioned blue line.
Along with the young defensemen already discussed, Jack Johnson and David Savard (who is only 26, by the way) play key roles, ranking third and fourth, respectively, among Columbus skaters in minutes per game. The defensive corps has already gone eight deep this season, with Dalton Prout and Scott Harrington each stepping in at times. When Seth Jones and all his minutes missed six games this month due to injury, the Blue Jackets went 5-1-0. That doesn't happen without capable players who can step into the lineup and perform.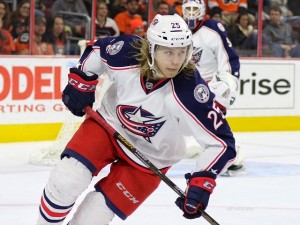 Columbus's depth up front hasn't been tested like it has on defense, but all four lines have had their moments early this season. Young forwards Josh Anderson and Lukas Sedlak are not playing big minutes but have become mainstays in the bottom six. Depth at center is often touted as critical to success, and the Blue Jackets are okay down the middle, even after trading away Ryan Johansen last season. Alexander Wennberg is on pace for a career year and William Karlsson is one of the team's top penalty killers and defensive forwards.
Along with roster depth, scoring depth is a common thread among successful teams, and so far Columbus has it this season. Six players are averaging more than 0.70 points per game, a pace no Blue Jacket met last season. Top six forwards Nick Foligno, Cam Atkinson and Wennberg head the team's list of leading scorers, but Columbus is receiving contributions from throughout its lineup. Sam Gagner is playing just 13:46 per game but has already scored 12 points, including five on the power play. Scott Hartnell has chipped in 10 points while averaging even less ice time (12:31).
On the Table: Mashed Potatoes
What's a Thanksgiving meal without them? These starchy mounds play major roles in holiday food comas everywhere. You may have some pizzazz and flash elsewhere on the table, but Thanksgiving without mashed potatoes is far less filling. Similarly, a team without depth cannot keep pace with others, no matter how good its stars are.
A Captain Who Cares
Some hockey players seem as though they were destined to wear a "C" on their jerseys. Names like Sidney Crosby and Jonathan Toews have become synonymous with NHL leadership, and while most people probably wouldn't group Nick Foligno with them, he's a strong captain for this Columbus team in more ways than one.
After scoring a career-high 73 points in 2014-15, Foligno managed just 37 last season, his first as the Blue Jackets' captain. He's bounced back so far this year, leading the team with 18 points in as many games. As Aaron Portzline of The Columbus Dispatch explained this month, Foligno's improved play has no doubt helped him as a captain, lending more credibility to the 29-year-old. He sets an example with his effort and has even dropped his gloves to stick up for his team.
All that is great, commendable and what you want from a captain, but Blue Jackets fans should also be sure to appreciate what Foligno does away from the rink. He and his family donated $1 million to a pair of hospitals that dealt with his daughter's congenital heart defect. This past offseason, the Columbus captain dropped in on a fan event to show his appreciation (documented by The Hockey Writers' Mark Scheig here). These are things Foligno doesn't have to do, but the fact that he does do them proves he is invested in his team and the local community.
Great show of support from @NickFoligno #CBJ teammates as Foligno family donates $1 million to Childrens Hospitals pic.twitter.com/lODE8eyEyJ

— Dave Maetzold (@DMaetzMedia) October 11, 2016
On the Table: Green Bean Casserole
Not always on the menu, but when it is, things are sooooo much better. The Blue Jackets have had some good captains in their history, some not as good, and have even played without a designated captain. The team and its fans should certainly be thankful for what Foligno does on and off the ice.
Matt Calvert
After what happened last Friday night, the hockey world definitely knows this name.
A huge shoutout to my linemate @mattcalvert11 for taking 36 stitches and returning to the game in the third period #GWG # warrior pic.twitter.com/80Ho3Sjjxn

— Josh Anderson (@joshanderson_77) November 19, 2016
Calvert took a slap shot to the face, received 36 stitches, returned to action and scored the game-winning goal against the Rangers. If that doesn't make you feel something, check your pulse.
As you may have read on this website, Calvert is not the guy who piles up points, but he still plays an important role of bottom six forward who always skates with effort and sets an example for teammates to follow. If taking a slap shot to the face and returning to the game doesn't inspire the boys to try a little harder, nothing will. As a fan, you can't help but be happy that Calvert got a moment in the spotlight last week (though it's a shame it took such a painful event to make that happen).
Me and the man! #Legend #CBJ pic.twitter.com/mdFS6RrqTD

— William Karlsson (@WKarlsson71) November 19, 2016
On the Table: Cranberry Sauce
The little dish off to the side that people may never talk about, but it's always there and you know what you're getting from it. Calvert is that in a player, always giving effort no matter the situation or how many stitches he's had. A solid player who has earned everyone's respect.