Winning the Stanley Cup tends to solve a lot of problems. Flaws in a team can easily be glossed over and high prices paid for talent are justifiable. No NHL team is ever perfect, but who needs perfection when you have the Cup?
There is no better example of this than the reigning Cup champions, the Vegas Golden Knights.
It wasn't that long ago that the Golden Knights' roster was problematic and, to some eyes, in need of a reset. The club was coming off their first-ever non-playoff year and featured an aging, injury-prone core of players signed to expensive, long-term deals. There were even some foolish prognosticators who suggested the team would miss the postseason again and be in the market for a new general manager (GM).
We all know what happened next. Suddenly, what was a flawed roster with numerous lengthy commitments turned into a bona fide championship foundation (largely kept intact) that has been locked up for years to come. This includes core players who have demonstrated the ability to help their team go the distance.
Here are four players who significantly upped their value en route to last season's championship:
Jack Eichel
It was easy to paint Jack Eichel and the Golden Knights as the villains when the blockbuster deal that brought him to Vegas from the Buffalo Sabres went down. Eichel was the prima donna who engineered an acrimonious departure from the team that drafted him, thus landing a $10 million player on a team that had already shown a penchant for skirting salary cap rules; it was gratifying for many to see returning trade assets like Alex Tuch and Peyton Krebs thrive with the Sabres.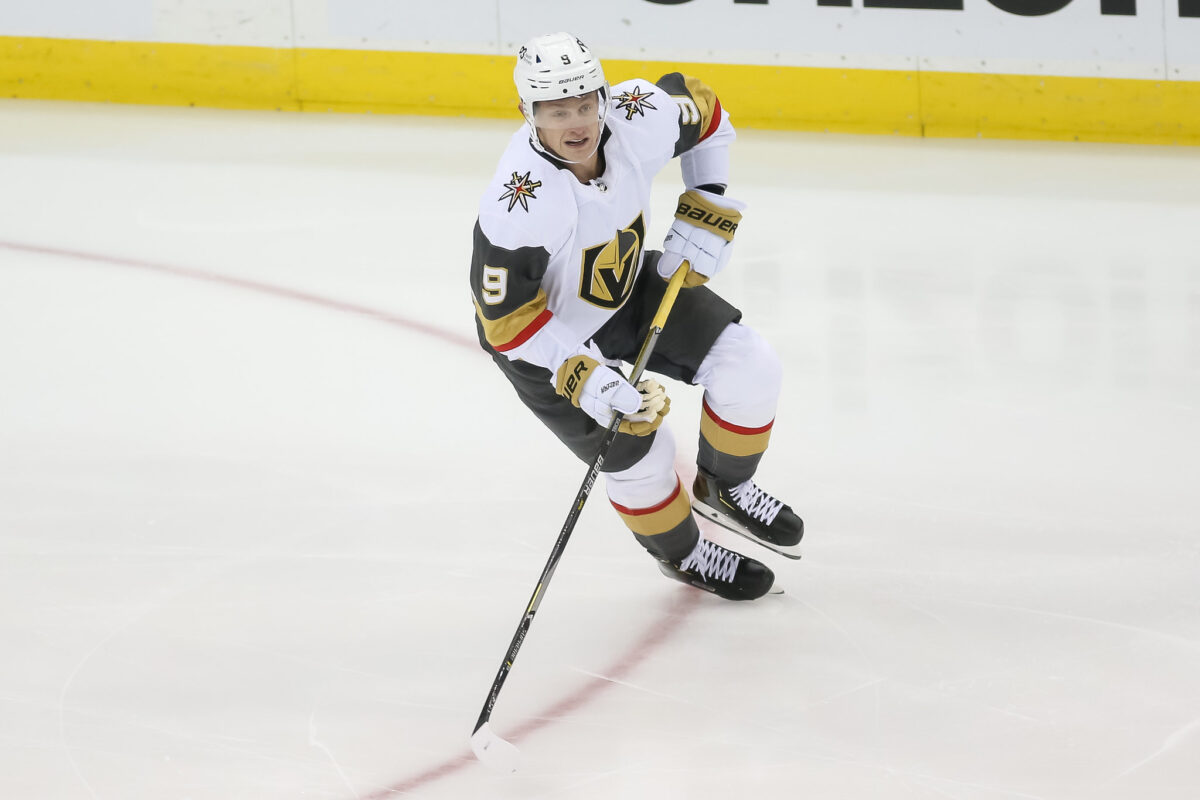 Then, the playoffs began. Eichel had already bounced back from his neck surgery and returned to superstar-caliber play, but his first foray into the postseason elevated his game to another level. With six goals and 20 assists in 22 games, he lived up to the pressure of being the club's best player and was instrumental in the Cup win. Regardless of what Tuch, Krebs, or 2022 first-round pick Noah Ostlund achieve moving forward, it's difficult to deny that Vegas got the best of this trade.
Mark Stone
When Mark Stone steps onto the ice for the Golden Knights' banner-raising season-opener on Oct. 10, it will be his first regular-season contest in 10 months. It's hard to think back now, but there was no shortage of concern over whether the team captain's back issues would allow him to ever resume a healthy NHL career. Considering his contract ($9.5 million against the cap in each of the next four seasons) and what he means to the club, Stone's future is intrinsically tied to the success of the organization.
---
Latest News & Highlights
---
Now, 22 postseason games offer no guarantees of long-term health, but Stone had to feel pretty good about jumping from the sidelines right into a stellar 11-goal, 13-assist postseason showing, averaging nearly 19 minutes of ice time per game – his Cup-clinching Game 5 hat trick probably didn't hurt either. A healthy 82-game season for the 31-year-old is no certainty, but Stone's back wasn't the hot offseason topic that it might have been under other circumstances.
You Might Also Like
Jonathan Marchessault
No matter how the 2023 postseason played out, Jonathan Marchessault was always going to be a beloved figure in Vegas. What the Conn Smythe winner has now become, however, is a local legend. Eichel and Stone may both be considered bigger stars, but it was the ultra-popular Marchessault who was named playoff MVP for his league-best 13 playoff goals, 10 of which came at even strength.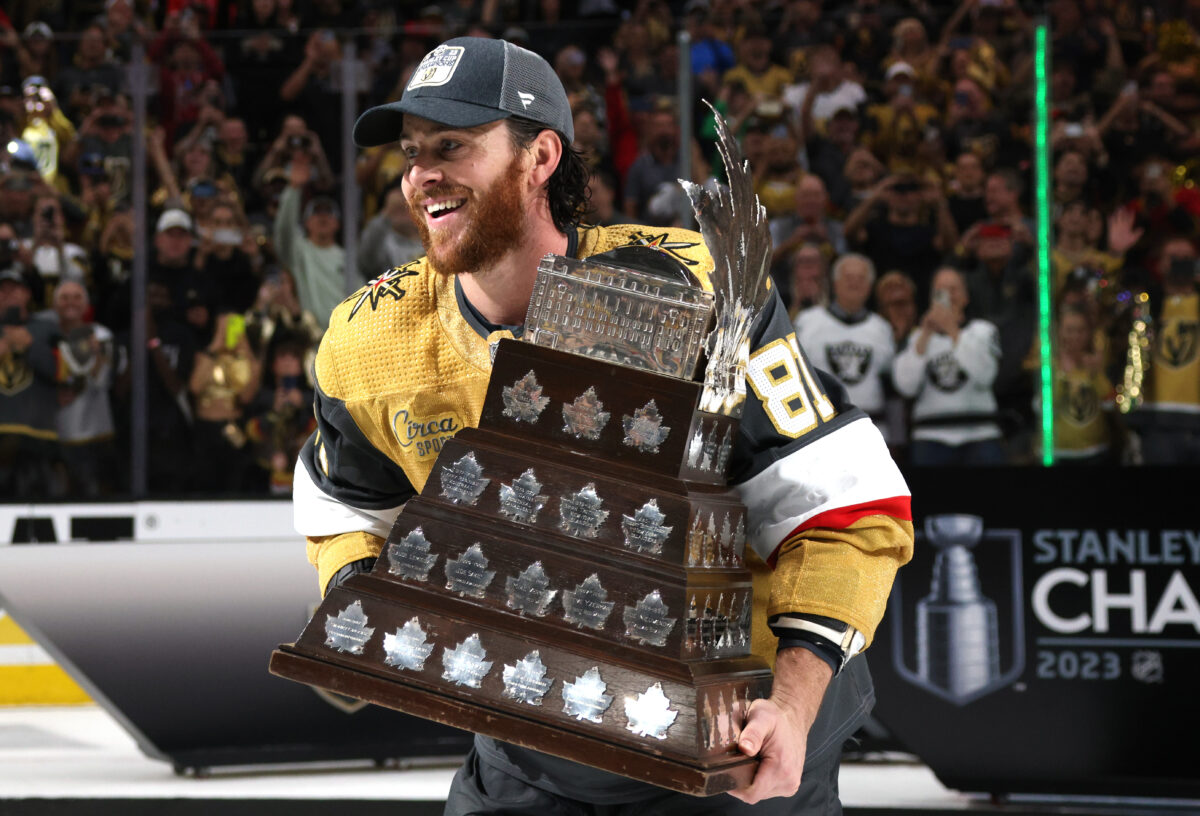 Heading into a contract year, Marchessault's future in Nevada remains a big question mark as one of the few key Golden Knights who isn't signed long-term. If you believe recent trade rumors, the 32-year-old could be moved sooner rather than later. No longer in question, though, is his legacy as one of the most impactful franchise originals and one of the central engineers of the organization's first Stanley Cup.
Alex Pietrangelo
If we're being honest, it really took until year three of Alex Pietrangelo's seven-year contract to see the full impact of the three-time All-Star defenseman. The 33-year-old's first year in Vegas was interrupted by the pandemic, while year two saw him fail to keep a struggling, injury-marred blue line afloat despite being one of the few consistently healthy representatives on the backend.

Then it all came together in year three. Despite playing seven fewer games last season (73) than in 2021-22 (80), Pietrangelo recorded 10 more points (54 to 44). Come playoff time, he still had enough juice to lead the club in average ice time (by more than three minutes, no less) as a blue-line anchor. There was always the understanding that the latter years of Pietrangelo's contract may look burdensome as he faces age-related decline, but the primary objective of signing the two-time Cup champion in the first place has officially been achieved.
As the saying goes, "Banners fly forever." The Golden Knights' cap woes haven't entirely disappeared (see the Reilly Smith trade) and it's still possible that the club's aging core will take a step back this season. Thanks to last spring, though, those worries seem a little less significant this time around.