When it comes to who will win the NHL's Hart Trophy as the league's most valuable player (MVP), the conversation starts and ends with the Edmonton Oilers' Connor McDavid.
In two short seasons, McDavid has become the face that runs the place in Northern Alberta. In his sophomore season, the 20-year-old leads the NHL in scoring with 94 points. That's seven more points than the runner-up, Patrick Kane. If that wasn't enough, no player in the league has a higher points-per-game (P/GP) than McDavid's 1.21 — not even Sidney Crosby (1.17).
CONNOR McDAVID'S MVP-WORTHY YEAR

YEAR
GP
G
A
P
+/-
PIM
PPP
SHG
SHP
GWG
S
S%
16-17
78
29
65
94
28
26
24
1
2
6
237
12.2
Several notable players have garnered MVP praise around the league, but no player has made a bigger impact on his team and the league this season than the Oilers captain. Edmonton's gone from being the laughingstock of the league to potentially having a long playoff run. The Oilers have improved from a 29th overall finish (70 points) last year, to 7th place this year, all thanks to the magnificent play of their megastar.
Edmonton is likely to hit the 100-point plateau for the first time since 1986-87, and McDavid could be the league's only 100-point scorer when the campaign wraps up next weekend. Is that not enough to be considered league MVP? Is there anyone else that can hold a candle to the type of year McDavid's had?
Here are three other players that have earned Hart Trophy praise this season, and how they stack up to McDavid.
---
Sergei Bobrovsky (Columbus Blue Jackets)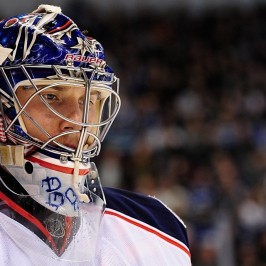 The Blue Jackets goaltender is the Vezina Trophy frontrunner and leads all netminders in multiple categories. Bobrovsky's tied with Braden Holtby (Washington) for most wins (41) and his seven shutouts are tied for second.
Through 61 games, his 1.99 goals against average (GAA) and 0.934 save percentage (SV%) lead all NHL goaltenders by at least ten points in each respective category.
Columbus is a much better hockey club, and head coach John Tortorella has relied on his star goaltender heavily. What makes him stand out even more, is a recent string of victories with an 8-0-1 record in March and a sparkling 0.99 GAA and 0.970 SV%, allowing a goal or less in seven of those games.
In comparison, McDavid's currently riding a streak of his own with 19 points in his last ten games. The Oilers have gone 9-1-0 during McDavid's streak, so you can't argue that his impact hasn't been reflected in Edmonton's record. Another argument can be made that Bobrovsky has been a streaky goaltender as well with nine games where he allowed four or more goals, and 18 games where his save percentage was 0.900 or lower.
---
Brent Burns (San Jose Sharks)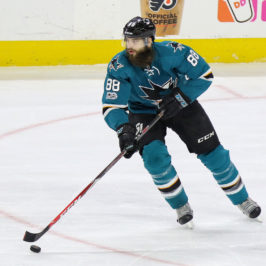 Burns is the hands down favorite to win the Norris Trophy this June, just don't tell the Erik Karlsson Fan Club that. His 28 goals and 73 points lead all defensemen in scoring, and he's leading his team in scoring as well.
San Jose has four 20-goal scorers including Burns, and if you subtracted him from their lineup their goals for total would fall from 211 (18th) to 183 (27th). That's a sizeable chunk of the Sharks' offense.
The Sharks are struggling down the stretch going 2-8-0 in their last ten games, and Burns has cooled off considerably, posting seven points in 17 games since March 1st. Their best player since March has been Joe Pavelski, not Burns.
While Burns has gone cold, McDavid has got hot. Burns has made a substantial impact on the Sharks' season, but from the start to the end, McDavid has been more of a driving force for success than Burns. Sportsnet's Andrew Berkshire brought up another point:
In terms of goals, McDavid and Burns have been far and away the top players, but the two face very different levels of pressure. In San Jose, the pairing of Marc-Edouard Vlasic and Justin Braun takes the lion's share of the heavy defensive minutes, freeing up Burns to play a high-flying game. That doesn't mean Burns plays soft minutes, no one as talented as him is going to escape line matching to shut him down, but McDavid doesn't have that luxury.
With the Oilers' secondary scoring struggling for long stretches this season, they've seemingly been a one-line team (McDavid, Leon Draisaitl, Patrick Maroon). Regarding the Hart Trophy, only one blueliner has won the award since Bobby Orr in 1972 (Chris Pronger, 2000). The odds are against Burns to become just the second defenseman in 45 years to win league MVP honors.
---
Sidney Crosby (Pittsburgh Penguins)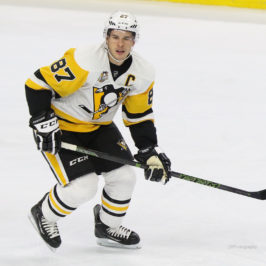 Patrick Kane (Chicago Blackhawks) and Brad Marchand (Boston Bruins) are also drawing a considerable amount of praise for their performance this year. For the simplicity of this argument, if Crosby had played the same number of games he would have 47 goals and 92 points, both higher totals than Kane and Marchand.
The Penguins forward has two Hart Trophy's to his name already (2007, 2014), leads the league in goals (43) and his points-per-game (1.17) is second only to McDavid's. His 84 points put him 4th in league scoring, and his shooting percentage is 13th in the league (17.2%).
SCORING RACE WITH FULL-SEASON FROM CROSBY

PLAYER
GP
G
A
PTS
P/GP
Connor McDavid (EDM)
78
29
65
94
1.21
Sidney Crosby (PIT)
79
47
45
92
1.17
Patrick Kane (CHI)
79
34
53
87
1.10
Brad Marchand (BOS)
79
39
46
85
1.08
The 29-year-old is having a great year, but if you stack the numbers up beside each other, McDavid has him beat in most categories including assists, points, points-per-game and even power play points. The biggest factor is if you remove Crosby from the Penguins lineup, they're still a playoff team. It's harder to make the same argument if you remove McDavid from the Oilers lineup. Do you remember what happened to the Oilers after McDavid broke his collarbone?
[irp]
---
Why McDavid Will Win
In some circles, this is one of the more widely contested Hart Trophy races in quite some time, but is it really? McDavid is on pace to be the closest thing the NHL has to a 100-point player, with 99.
The biggest factor though is his consistency on a nightly basis. McDavid's longest scoreless droughts this season lasted no more than two games, and he's followed them up with long scoring streaks.
The longest point-scoring streak of his season is the 10-game streak he's on (again that's 19 points in 10 games). Every time he's been held off the scoresheet, he comes back with a streak of two-five games. Added to that, McDavid has been a steady performer for the Oilers while their secondary scoring was highly debated and sometimes nonexistent.
Jordan Eberle, Ryan Nugent-Hopkins, Benoit Pouliot and even Milan Lucic and Leon Draisaitl have gone through considerable cold streaks this season. Patrick Maroon scores in bunches and then disappears,  so the fact that McDavid continues to excel is quite an impressive feat.
Crosby is widely considered the best player in hockey, but McDavid is slowly pulling that "best in the world" title away from him. Until he wins some major hardware, including a Stanley Cup, that'll stay with Crosby and his pedigree. McDavid isn't off by much, however, and you can't argue his value to the Oilers.
Take Bobrovsky, Burns, Crosby and McDavid off their teams, and how many of them are still playoff teams? The Sharks and Penguins for sure are, and even with an average NHL starter, so would the Blue Jackets. The Oilers? Not so much.
McDavid has revitalized a fan base of die hards in Edmonton. The franchise has gone through a decade of suffering, and even though they had three other first overall picks (Taylor Hall, Nugent-Hopkins, and Nail Yakupov), none have made the impact on Edmonton the way McDavid has.
[irp]
When all is said and done this season, we could be looking at the Art Ross, Hart Trophy, and Ted Lindsay Award recipient. If McDavid were able to win the Hart and Lindsay, it'd be the first honors for an Oiler player since Mark Messier in 1989-90.
Messier led the Oilers to their fifth Stanley Cup in seven years that year, while scoring 45 goals and 129 points. It could also be the first Art Ross Trophy in franchise history since Wayne Gretzky's seventh in 1986-87 (183 points).
Without a shadow of a doubt we're looking at the best Oilers player in nearly 30 years, and now perhaps the best player in the world. McDavid is the league's MVP, and there's no debate about that.