There's bound to be repetitive themes that pop up over the course of an 82-game season. Hockey is often a simple game, one that comes down to winning battles, finishing your chances, forechecking, being disciplined, and all the rest of the cliche hockey jargon that makes media members cringe every time a player spews it as the meat of their post-game presser. These cliches exist for a reason though, because they usually make the difference between winning and losing.
---
---
Simplifying is a buzzword during the playoffs, especially for a team that's scratching and clawing for every inch due to their current injury woes. The Carolina Hurricanes are missing three of their most talented offensive players, which has led to shifting roles. In some cases it has gone pretty well, while others are trying to do too much with the added pressure of filling in for absent teammates.
Their first-round series with the New York Islanders now shifts back to Long Island after a classic Hurricanes "do almost everything right except finish or win the game" Game 5. Carolina carried most of the play to come back from a 3-1 deficit but ultimately fell short, largely due to a few key details they fell short in; areas of the game where the urgency and desperation needed in the playoffs just wasn't quite up to par. Had they been executed better, these little details might have had the team sitting back, relaxing, and waiting for their second-round opponent by now.
Getting to the Interior, Elevating on Sorokin Must Be a Priority
Finding a way to beat Ilya Sorokin was an area of focus for the Hurricanes ahead of the series, and by and large they haven't done a terrible job of it. But, after watching rebound after rebound sit harmlessly in the slot, then cleared in Game 5, it feels like there were some big missed opportunities that could have played a large role in closing out the series.
There's no denying that Sorokin is an extremely talented goalie, but he's also got some pretty obvious weaknesses. For one, his rebound control leaves a lot to be desired. Time and again in this series, shots that seemed relatively harmless are kicked right back into the slot, even when Sorokin had time to track the puck and a clear line of sight. The Islanders' blue line is big and rugged, and you have to tip your cap to the job they've done clearing those rebounds.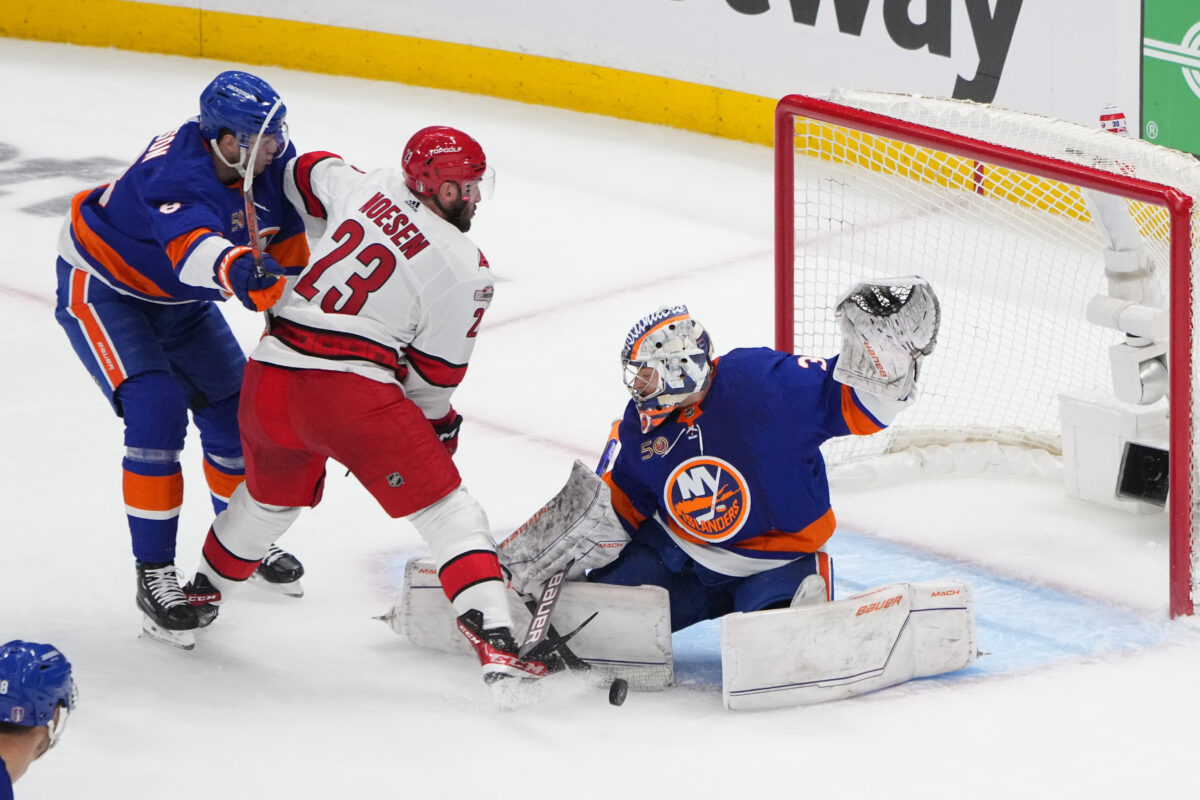 Now we'll get to the "repetitive" part, the thing that I've harped on in 2022-23: for a team whose game plan is to get the puck to the point for shooters like Brent Burns and Brady Skjei, there's rarely enough traffic or havoc in front of the net for those types of shots to be a challenge. In this series, not only is Sorokin not threatened by long shots that he can see, but most of the time, those shots aren't even going to get through; the Islanders are an extremely well-structured defensive team with a lot of players willing to pay the price, and they've put on an absolute shot-blocking clinic through five games.
Sorokin seals the bottom of the net as well as any goalie in the league. The Hurricanes have had almost no success beating him in the lower part of the net, but when they've been able to elevate the puck and pick corners from dangerous areas, they've actually had success. In Game 4, the Hurricanes scored five goals, and they probably combined to come from about 20 feet from the net (and most of that distance was from Mackenzie MacEachern's high-blocker snipe, which was still from the dead slot). Three of their goals came from backdoor passes to just on the doorstep. They won battles at the front of the net, they got Sorokin moving, and they elevated the puck. There's a theme here, and it needs to be repeated if they want to win.
Most of the Hurricanes' goals this series have been scored either off deflections or just outside the blue paint. This isn't the time for pretty passing plays and long-range snipes, because Sorokin isn't going to let many of those in — even if the team did have their typical personnel available that is more capable of pulling those types of plays off regularly. This team is built on out-working their opponents on the forecheck and getting things done in the dirty areas. Despite long stretches of outplaying the Islanders, they've been inconsistent in this area.
Forwards Must Earn Their Opportunities and Bounces
While the Hurricanes were winning battles and capitalizing on chances from in tight in Game 4, their missed opportunity in Game 5 was failing to consistently create anything substantial through the middle or in high-danger areas. Sebastian Aho won a race to the front of the net to bury a third-period goal that got the team within one, and they made a great play on a power-play goal by Stefan Noesen that was eventually disallowed due to an offsides challenge. Still, besides a handful of plays, they were content to pass around the perimeter and try to score from a distance.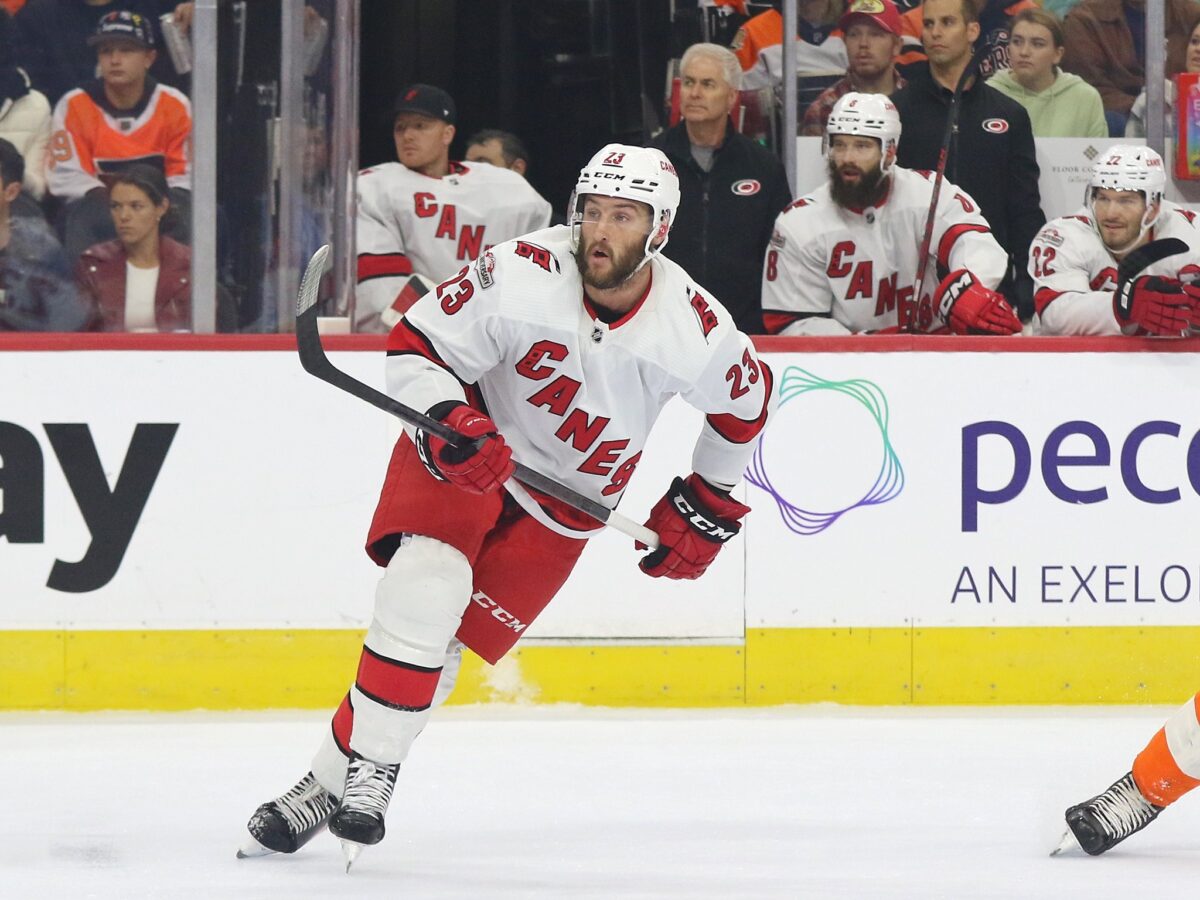 On the other hand, the Islanders were the beneficiaries of a couple breaks, but they created those breaks through hard work. Obviously, Brock Nelson's goal was really tough for the Hurricanes; Pierre Engvall's shot was going well wide, so wide, in fact, that it hit Aho in the face a few feet to the left of the Carolina net. The star center went down in a heap (and has a gnarly cut to show for it), while Nelson was left all alone to bat in the puck out of midair.
Before then, Burns inexplicably held up on getting to a loose puck, allowing Engvall to pressure him on a play that he easily should have been able to get to and clear. After that failed clear, Engvall then beat Burns to the front of the net, caught an easy pass to the dead slot, and opened the game's scoring. It's also a goal Antti Raanta likely wants back, but it was a play that never really should have happened to begin with. These are the little plays, the extra efforts or mental lapses, that will swing a game or series.
---
Latest News & Highlights
---
The Hurricanes had too many mental lapses and bad breaks (they also hit two posts) to get things done, but at the same time, what did they really do to earn those breaks? Even when they made their push late in the game, they still seemed to create very little actual substance in the middle of the ice. They weren't doing a good enough job fighting for position and putting stress on the Islanders' defense, and that made Sorokin and the Islanders' defense's job pretty easy.
Plus, the late-second-period goal shortly after the Hurricanes had cut the lead to one was a back-breaker; the Hurricanes need Martin Necas to be better, but it should come from hard work, not pressing like he did on the play. They are a forechecking team, and not dumping the puck at the blue line, instead turning it over for an odd-man rush and goal, really seemed to take the wind from their sails. Necas is one of the players alluded to in the opening about pressing too much, as the Hurricanes' leading scorer seems like he's feeling the pressure of their absent stars, and trying to play hero too often on his own.
There's something to be said for Game 5 just being a night where some breaks didn't go the Hurricanes' way, and it's a game that would be easy to explain away for that simple reason. Nonetheless, you must earn your bounces in the playoffs. If they get in the right position, perhaps a puck will bounce off you and find twine, or find your stick in a dangerous position. Getting pucks on net from tough angles, through screens set by linemates fighting for position has to be a priority for the team to have the offensive success they'll need to muster. When you create that havoc and are willing to take the punishment that comes with playoff hockey, good things happen.
Hurricanes Must Play From Ahead
Even novice hockey fans usually know how important the first goal of a game can be. Getting off to a nice start — especially in the postseason — can take the weight off a team's shoulders, while also putting the pressure on the opponent to potentially take a few risks in order to catch up. Those risks the Islanders have taken while trailing can and have led to more opportunities for the Hurricanes, and the last thing a team wants to do in the postseason is go down multiple goals.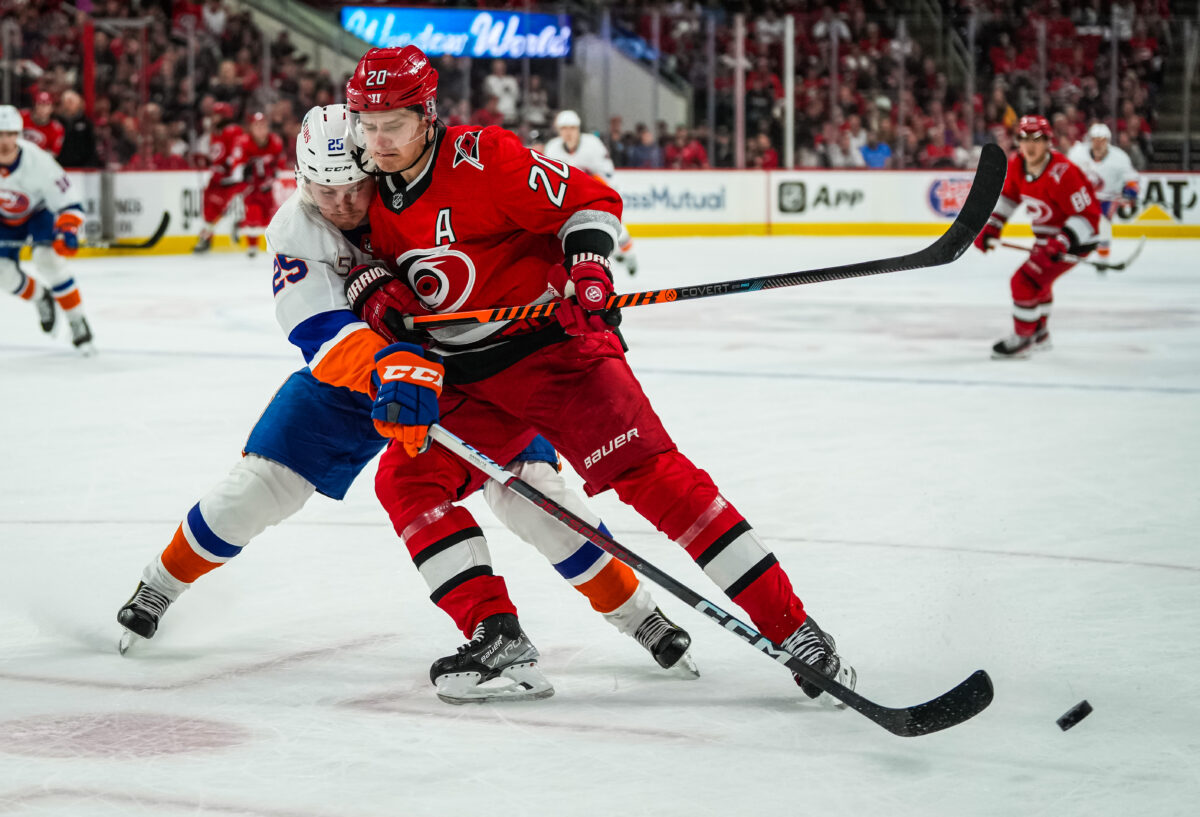 Going back to the Game 4 win on Long Island again, two of the Hurricanes' insurance goals came off odd-man rushes (Seth Jarvis' breakaway, Aho and MacEachern's well-executed 2-on-1) after the Islanders tried to press for a little more offense. Those types of plays don't happen often against them because of their defensive discipline; the easiest way to open up the Islanders is to make them play from behind and chase offense.
In this series, that importance of that first goal has been well-represented, as the team that broke the ice has won all five games. It makes sense too; neither of these teams are known for their offensive proclivities, and both excel at shutting down an opposing attack. The Hurricanes have shown their ability to completely eliminate New York's speed through the neutral zone, and therefore break off any pressure before it really begins. The Islanders, meanwhile, will allow some zone time, but everything has been to the exterior, as they've done a great job of cutting off passing and shooting lanes.
Related: Hurricanes Take One in the Teeth, Head to Game 6 in New York
The Hurricanes have shown on many occasions that they can come from behind and win hockey games. Their pressure system can turn momentum in a hurry, and when they start to smell blood in the water they can really attack. However, especially while down so many offensive performers, and the potential for there to be a few nerves after their struggles finishing in Game 5, it's in their best interest to get out to an early lead and not let any doubt creep in.
Treat Game 6 As a Must-Win
This is the first and only time in the series there was a two-day break between games, and it was well-timed for the Hurricanes. Game 5 ended with a frustrating result, and there's something to be said for the extra day off allowing the team to recalibrate and instead focus on the many positives over the course of the series.
Game 6 must be treated as a must-win game, though. Close-out games are never easy, and they certainly don't want to go into a do-or-die Game 7, even if that game would be played on home ice where they've been excellent in the postseason the last few years. The last game was a great example of the risk, as even when they out-played the Islanders, the bounces didn't go their way, and they still got saddled with a loss. Plus, Sorokin is not a goalie you want to face in a do-or-die situation. It's paramount that the Hurricanes come out ready to play, grab an early lead, and continue to grind away with their forechecking style; if they can accomplish those goals, they'll have to like their chances.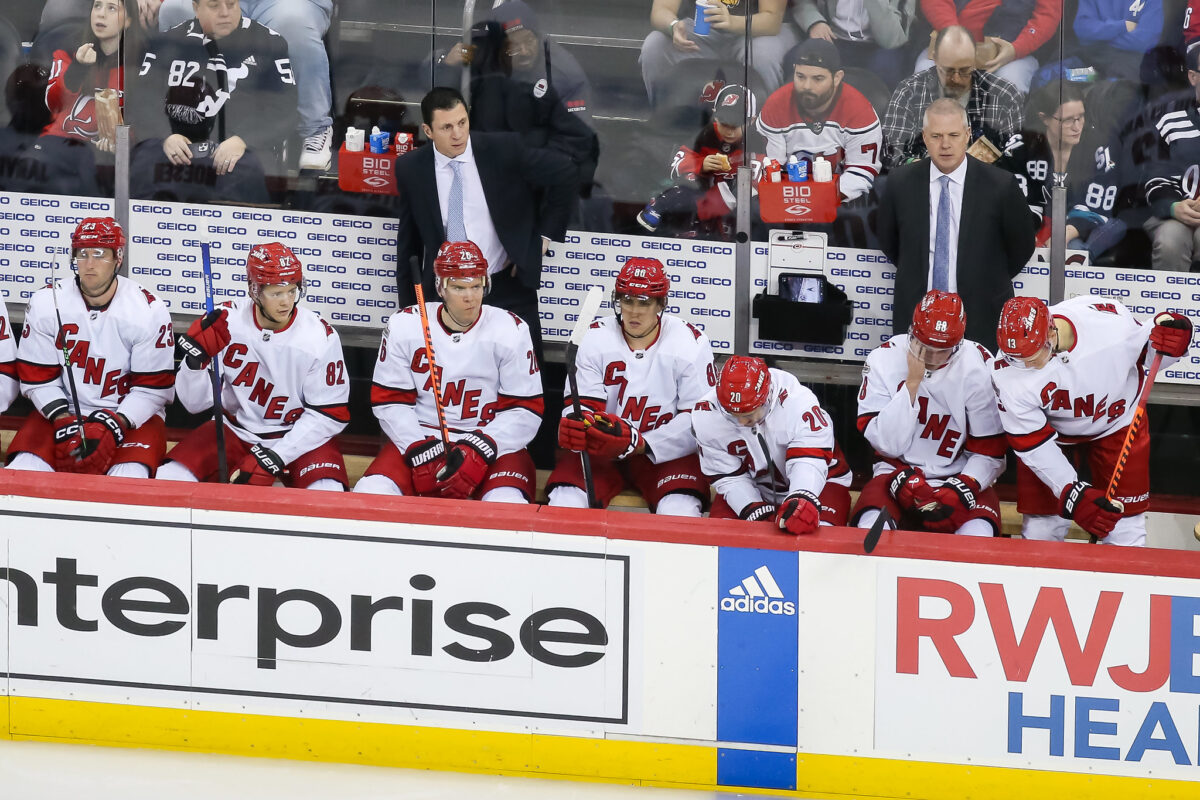 The Hurricanes aren't in a spot where they can afford to get outworked; not with the talent discrepancy from what this year's team is used to working with. They've got to bear down and win battles, to take the punishment they know the Islanders are going to try to get out. That's what this time of the year is all about, elevating your game, sacrificing for the team, and leaving it all on the ice. They fell short in those areas slightly in Game 5, but they've still got a series lead and two cracks at closing it out. Now they've just got to pick that desperation level back up back on the road, and get this series signed and sealed.