The Winnipeg Jets season is right around the corner, but starting Friday, Sept. 15, the Young Stars tournament in Penticton, British Columbia will be getting underway. While this is a very low-stakes tournament, there are more storylines and prospects to watch for this year than usual.
The Jets are sending their most star-studded roster ever to this tournament. With multiple first-round picks at forward, and both goaltender prospects who won Goaltender of the Year in their respective leagues, this team projects to be an incredibly interesting one to watch for the handful of games that they are slated to play.
Chaz Lucius
All eyes are on 2021 first-round pick Chaz Lucius. His season ended abruptly last year when a shoulder injury knocked him out after just six games with the Portland Winterhawks of the Western Hockey League (WHL). In those six games, he racked up 15 points and was on pace to dominate the league for the remainder of the season.
The first thing everyone will be watching for is his health. How healthy does he look after two major upper-body injuries? He skated at the Jets' development camp during the summer but was in a yellow non-contact jersey. Now that he is fully healthy, will he be able to carry his pre-injury play into the Young Stars tournament?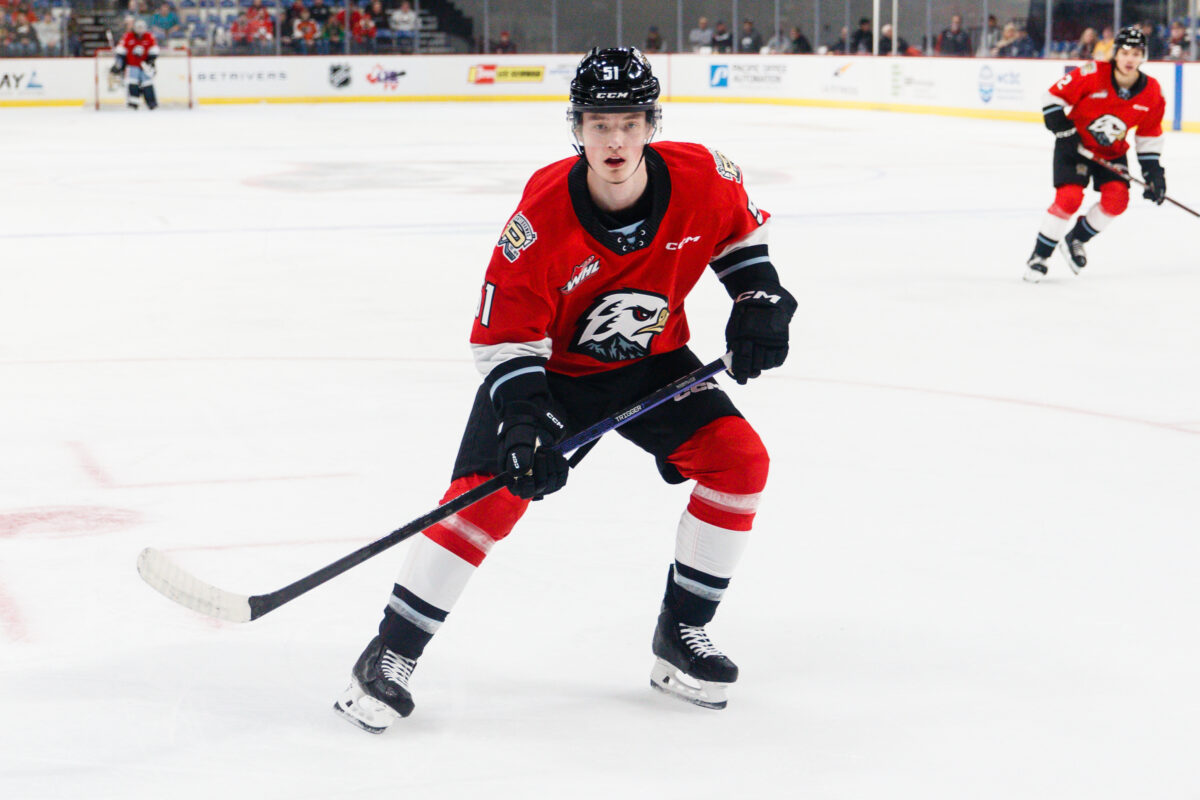 He will likely be the Jets' top-line centre in this tournament and will be given every opportunity to play on the power play and showcase his skills. Jets fans and the organization are hoping that he makes it through this tournament healthy, but seeing him on the scoresheet would be a welcome sight for the 20-year-old.
His potential is off the charts, but his health has already interrupted two key years of development. This tournament is just the beginning of what should be a long season of development for the young centre with the Manitoba Moose of the American Hockey League (AHL).
Elias Salomonsson
The Jets 2022 second-round pick, Elias Salomonsson, has been making plenty of noise in his first full season of development. Scott Wheeler of The Athletic was on the Level Flight Podcast, and he was asked about Salomonsson's impressive first season, and he explained why there are "reasons to be excited."
Related: Jets' Best Defensive Prospect Is Elias Salomonsson
The highly-praised right-shot defenceman has another year of development in the Swedish Hockey League (SHL), so the Jets organization may not see him for another year or two, but his play in this tournament should help boost his reputation among fans even further.
Simon Lundmark is a fellow second-round pick who will be on the Jets' blue line for this tournament, and former third-round pick Dimitry Kuzmin will also be a part of that group. With the focus up front with the previous four first-round picks being forwards, the defence group is the weaker of the two, but the defence prospects will likely be given every opportunity to shine in this tournament.
Danny Zhilkin
Danny Zhilkin was the star of development camp and even began to turn some heads at the Jets training camp last season. With a roster full of first-round picks such as Colby Barlow, Lucius, and Brad Lambert, can Zhilkin potentially outshine them all?
---
Latest News & Highlights
---
The third-round pick of the 2022 NHL Draft is a centre whose two-way game is his calling card. He posted 30 points in 35 games with the Kitchener Rangers of the Ontario Hockey League (OHL) last season and played big minutes in a Swiss-Army knife type of role.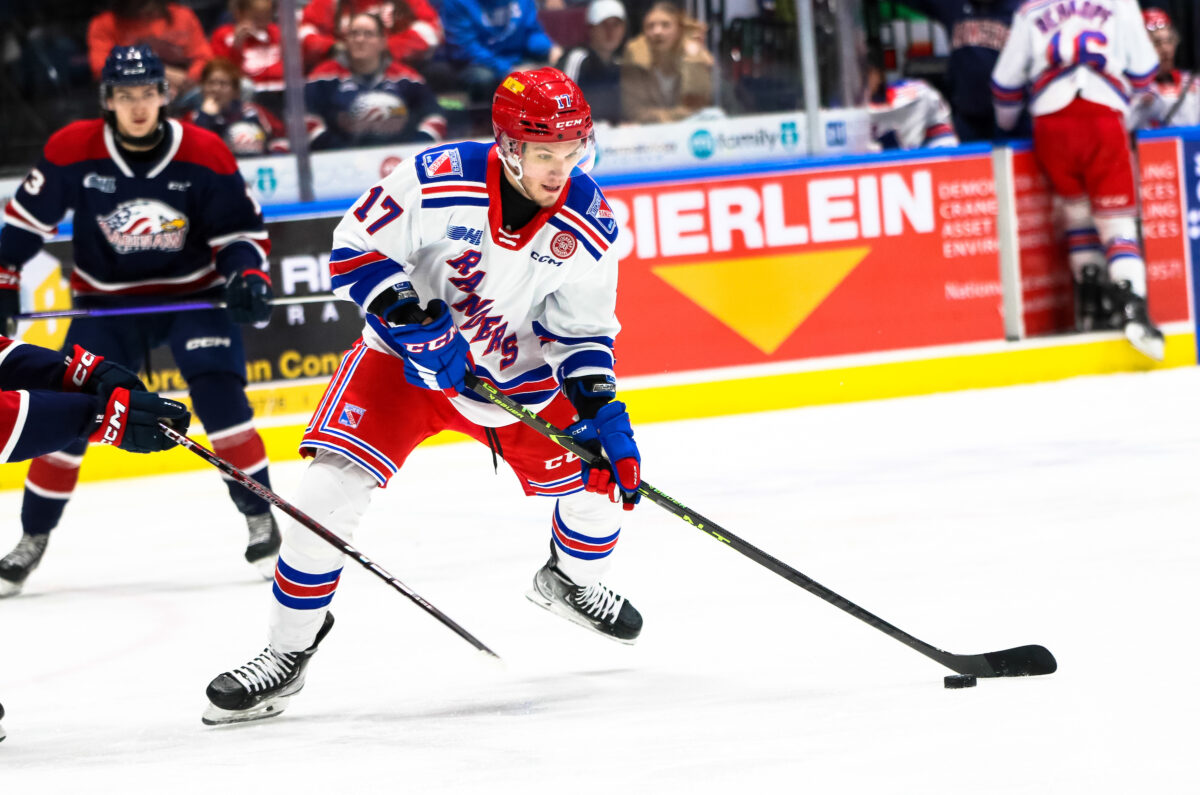 Carrying that momentum from last season and development camp into this tournament would set Zhilkin up well for another impressive training camp. He will likely be with the Manitoba Moose in 2023-24 and could be playing with a handful of younger prospects on what projects to be a young team.
He plays a style of hockey that coaches love, as they can trust him during important defensive situations, and late in close games, and he will add more than enough offensive flare to contribute at both ends of the ice. He is one of the most intriguing prospects in the Jets system, and this tournament could be the beginning of a huge season for him.
The Goaltenders (Thomas Milic & Domenic DiVincentiis)
It's hard to look at this roster and not mention both of the goaltenders. Thomas Milic, the fifth-round pick of the Jets organization in the 2023 Draft, was recognized by fans as the goalie who won gold with Team Canada at the World Junior Championship.
He posted an incredible 27-3-2 record for the Seattle Thunderbirds last season, and as a 20-year-old goaltender, he is no longer eligible for the WHL and will be turning pro this year. His performances in these games will be something to monitor, as he has excelled at every level of his career up until this point.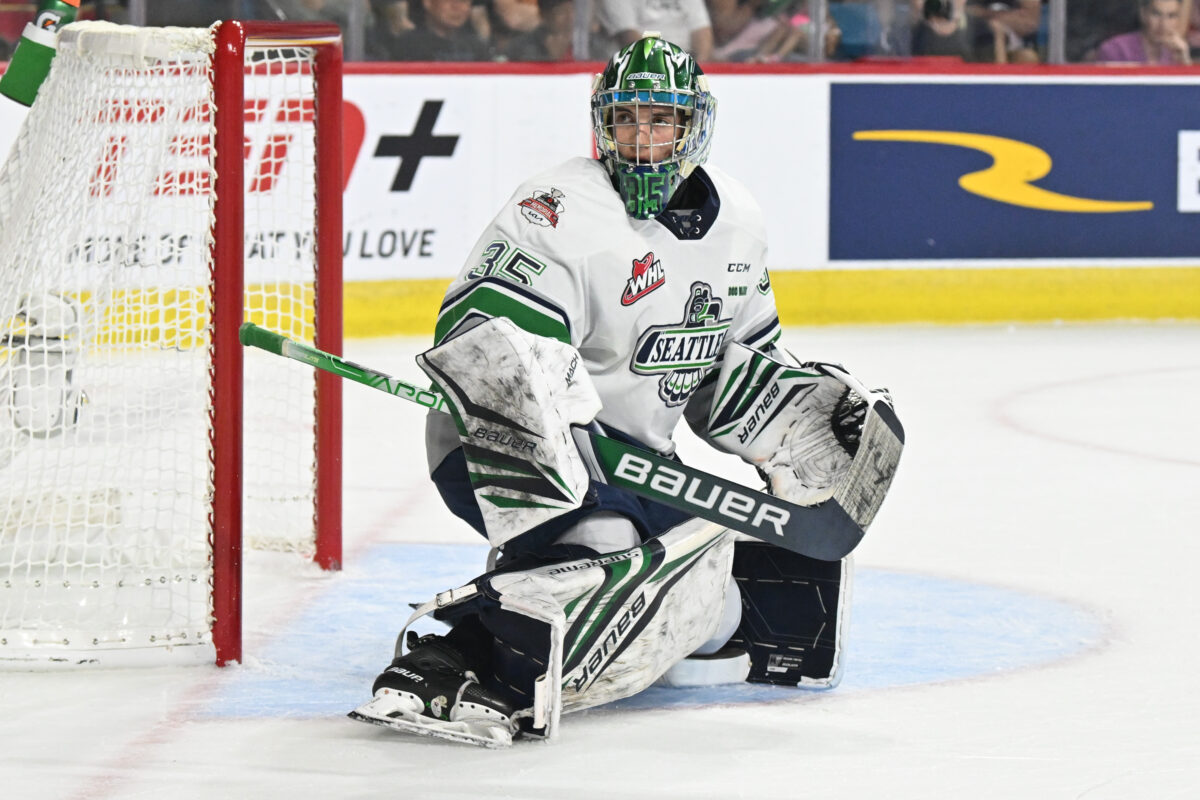 Domenic DiVincentiis is no slouch, either. He is slated to return to the North Bay Batallion this season and will look to repeat a season where he took home the Ontario Hockey League's Goaltender of the Year award. He dominated with a 36-9-2 record and a .919 save percentage (SV%). As a seventh-round pick of the 2022 Draft, he has far exceeded expectations up until this point, and his performances in these games will be a potential glimpse into the future for Jets fans.
Honourable Mentions
Since this roster is loaded with young talent, there are a few honourable mentions that cannot go unnoticed. Good luck trying to miss the flashy plays that Lambert makes on a game-to-game basis, and that speed and dynamic ability can also be found in Nikita Chibrikov, who was a 2021 second-round pick.
The Jets are trying out Connor McClennon of the now-defunct Winnipeg ICE, and he will be joining the roster as they head to Penticton. He was a sixth-round pick of the Philidelphia Flyers in 2020, and this is a great second chance for him to impress his way onto a roster.
I mentioned plenty of names in this piece, and one that I didn't mention will likely surprise everyone. Regardless, watching these young and dynamic players show their talents as a precursor to training camp will be a welcome sight for Jets fans.