With the NHL draft a little less than 24 hours away, action is beginning to pick up. Late this afternoon, the Winnipeg Jets and Los Angeles Kings finalized a sign-and-trade that sent Pierre-Luc Dubois to the Kings in exchange for Alex Iafallo, Gabriel Vilardi, Rasmus Kupari and a second-round pick. Here are the full details: 
Dubois had long made it clear that he didn't plan on signing long-term with the Jets. With him being a restricted free agent this summer and one year away from unrestricted free agency, the Jets had to trade him now. In doing so, they came away with quite the haul. As for the Kings, they improve their center depth and get a legit top-two center, though at quite a hefty price. Here are trade grades for each side. 
Cheveldayoff Hits Near-Home Run for the Jets
There's no doubting that the Jets and general manager Kevin Cheveldayoff were in a tough spot with Dubois since he wasn't signing long-term, and the list of teams he'd go to was limited. Still, Cheveldayoff made the best he could in a pressure situation that would significantly impact the Jets' future. 

Let's start with Vilardi, who's the centerpiece of this deal for the Jets. After some injury-plagued seasons since being a top-15 pick in the 2017 draft, he had a breakout year in 2022-23, finishing with 23 goals and 41 points in 63 games. That comes out to a 30-goal, 53-point pace over 82 games. He did shoot just above 18 percent, but he's also a 16.6 percent shooter for his career. Time will tell if that comes down, but he might have a high-end shot. 
Not only did Vilardi find success offensively, but he was one of the Kings' best two-way forwards. Wingers aren't always top-end defenders, but Vilardi is one of those. When looking at his player card from The Athletic, he provided much more market value than what his entry-level salary pays him.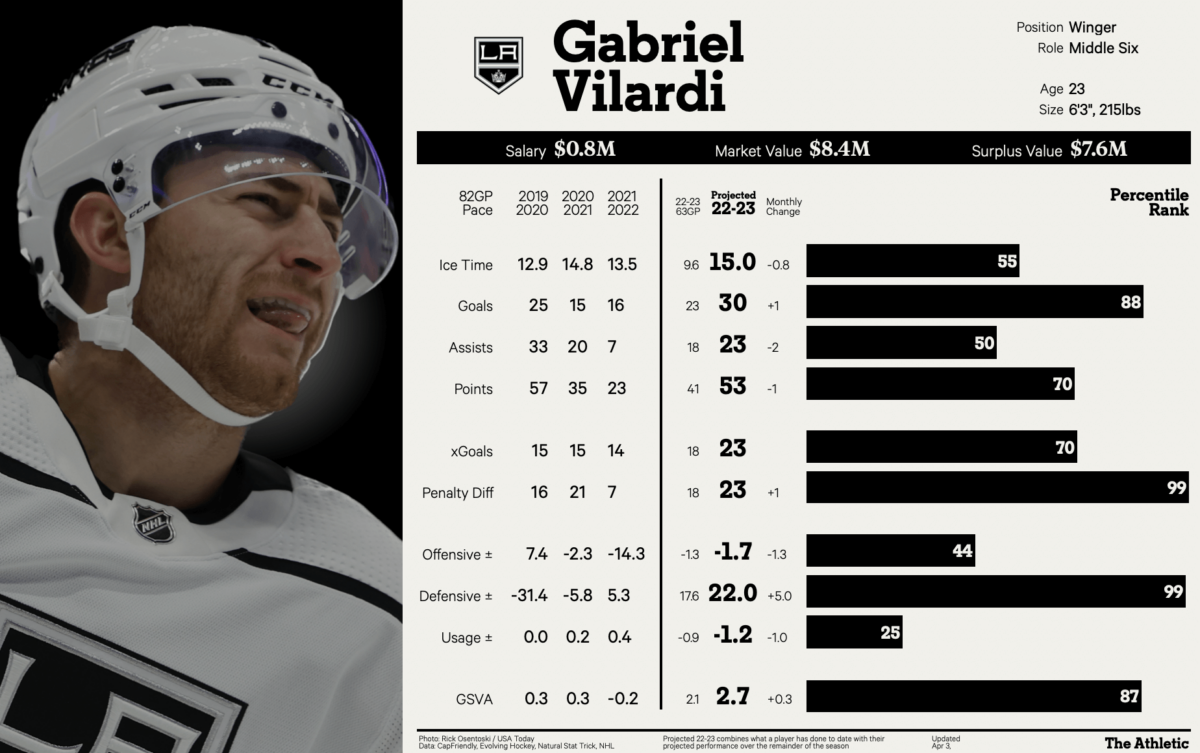 As long as he can stay healthy, Vilardi will be a solid addition to the Jets' lineup, but Iafallo is no slouch, either. He totaled 14 goals and 36 points in 59 games this season — a 19-goal, 50-point pace over 82 games. His impacts have always been solid at even strength, and like Vilardi, he's a two-way player too. Essentially the Jets added two top-nine players who could play in the top-six and erased some of what they lost in trading Dubois. 
Not only do the Jets get two NHLers, which they coveted since they want to retool instead of rebuild, but they also acquired a former top prospect in Kupari. He's struggled to get going in the NHL, but he's good on faceoffs and had solid defensive impacts in his time with the Kings. Perhaps a change of scenery will do him well since there wasn't a spot for him in Los Angeles after this trade. 
Related: NHL Trade Bait List for 2023 Offseason
---
Latest News & Highlight
---
Not only did the Jets get three players in return for someone who could've walked in free agency next summer, but they also collected a second-round pick in the 2024 draft. It's hard to imagine Cheveldayoff would've gotten a better return from the Montreal Canadiens or any other team interested in Dubois. They lost a legit No. 1 center but still got pieces that should help them remain competitive. 
Jets Grade: A-
Kings Pay High Price for Dubois
With the Canadiens not having the pieces the Jets wanted for Dubois, the Kings were the most logical destination. They're now loaded down the middle with Anze Kopitar, Phillip Danault, and Dubois as their centers. That likely means Quinton Byfield moves to the wing, but as Jeff Marek said on a recent 32 Thoughts episode: skill adapts. 
In Dubois, the Kings get a legitimate No. 1 center who should be Kopitar's successor whenever he decides to hang up the skates. There are differences between the two players, though. Kopitar has long been one of the better two-way pivots in the game, but Dubois is mostly an offense-first center. He's a good playmaker who can push play offensively but has a below-average shot and some defensive question marks:
Even though the Kings agreed to an eight-year extension worth $8.5 million a year, they gave up quite a bit for Dubois. He will create offense, but how much does he improve their team with Iafallo and Vilardi going the other way? He's an upgrade over those two, but perhaps not as significant as it may seem (Vilardi and Iafallo both produced at 50-point paces this season), especially since he's a below-average shooter and is not great defensively. 
It's also fair to question whether Dubois is worth $8.5 million annually. He's probably close to that, and perhaps the Kings believe he has another gear he hasn't hit yet. But his extension looks like an overpay, even if it isn't a significant overpay. It doesn't seem like the best asset management from Los Angeles since they have more significant needs to address (goaltending), but there's no questioning their center depth for at least next season. And Dubois will help their team moving forward. 
Kings Grade: B-