The Seattle Kraken enter the 2023 NHL Entry Draft holding the 20th-overall selection. Historically, this pick has produced some strong NHL talent, including Scott Laughton, Nick Schmaltz and Robert Thomas.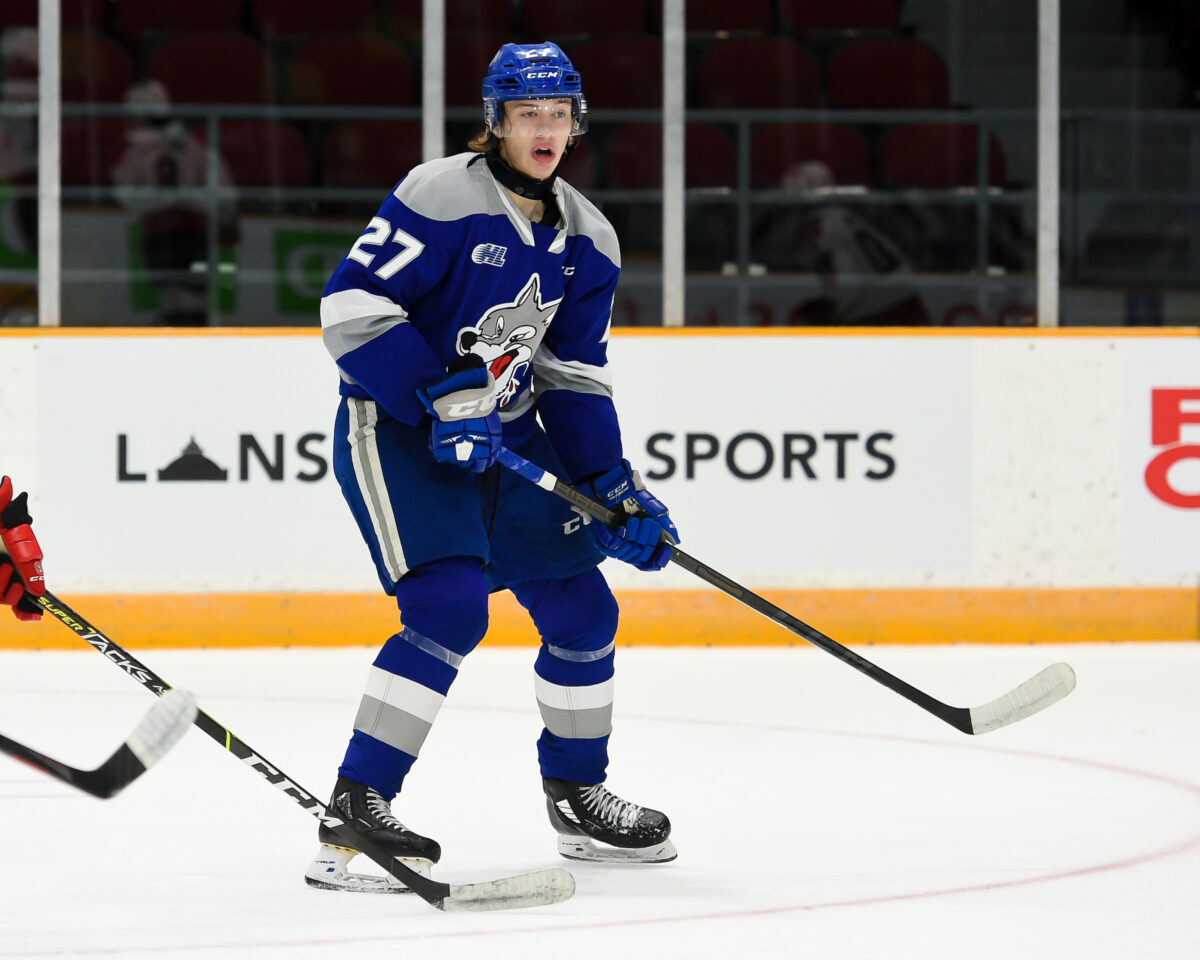 The hope is whoever Seattle selects can become an impact player for the foreseeable future, with one of those possibilities being Sudbury Wolves winger Quentin Musty.
Musty's Scouting Report
Musty is one of the top wingers available heading into the NHL Draft. A projected power forward at the next level, he uses his 6-foot-2 frame well, shielding the puck and winning board battles all over the ice. He also has a great shot that can beat goaltenders from all over the ice and used it constantly this past season, finishing with 26 goals in 53 games.
Related: 2023 NHL Draft Guide
Not only is his shot a threat, but Musty has developed into a strong playmaker, finishing the season with 52 points. He has great vision when it comes to spotting open teammates in scoring positions and can deliver crisp cross-ice passes through the defender's legs. When the puck is on his stick in the offensive zone, he is able to consistently create opportunities for himself and his teammates, making him one of the most dangerous draft-eligible players in the Ontario Hockey League (OHL) this season.
After his successful second season with the Wolves, Musty heads into the draft ranked 14th among North American Skaters on NHL's Central Scouting List. A consistent forward who registered a point in all but four of his final 20 games this season, including the playoffs, there will be a fair amount of teams looking to add him to their prospect pool. If available, he would be an excellent choice for the Kraken with the 20th-overall pick.
Musty's Stats
Why the Kraken Should Be Interested
Musty should be on Seattle's radar because he fits with the type of players they have built their team around — a big potential power forward that can play a physical game and can generate offence off the rush. He could very well be the player they are looking for to put next to Matty Beniers for the next decade.
Related: Quentin Musty – 2023 NHL Draft Prospect Profile
---
Latest News & Highlights
---
The other reason is that he already has a connection to the Kraken in Sudbury teammate David Goyette. Seattle's second-round pick in 2022 set a career high in points this season playing next to Musty and will be able to give the Kraken a proper scouting report about what it is like to play on a line with him. While the connection may not be the major reason they decide to go with him over somewhere else, it would allow Seattle a chance to look into the future, as both are expected to play major roles on the Wolves next season.
Why the Kraken May Stay Away
While Musty is a high-end prospect with a potentially successful future, there are questions about how well he plays in the defensive zone. He is often the last player back when the puck is turned over and isn't as aggressive as he should be when on defence. As an organization, the Kraken have made it a point that they want forwards that can not only contribute in the offensive zone but be defensively responsible. The good news is he is only 17, so there is still plenty of time for him to develop that side of his game before he makes it to the NHL.
Another reason why they may pass on Musty is that Seattle could be looking for a center or defenceman at 20th overall. Drafting a winger with a high upside is great, but finding capable wingers at the NHL level is a lot easier than finding a standout defenceman or center. As mentioned, he is a special talent but is limited based on the position he plays.

Verdict
If available, Musty makes a ton of sense for the Kraken at 20th overall. As mentioned, he fits the profile of players Seattle has built their team around and has high offensive potential, which is something every team is looking for. He would be a great addition to the Kraken's prospect pool and one they should seriously consider if available when they are on the clock.