Unless something happens in the days leading up to the 2023 NHL Entry Draft, the Tampa Bay Lightning will not have a lot to do, as they currently only possess one sixth-round and two seventh-round picks. Combined with a shallow prospect pool, these picks take on more importance than a year in which they had most or all of their selections available.
Drafting young hockey players is still a hit-or-miss proposition, no matter what round you have selections. Based on the data analyzed between 2004 and 2020 by hockeyanswered.com, only 49% of players ever drafted skate one game in the NHL. Of course, by round, that number goes down quite a bit for rounds later rounds, as only 31% of sixth-rounders make the NHL, while that number drops to 26% for those drafted in the seventh round.
Related: 2023 NHL Draft Guide
While those are not great odds, it does mean that some players who are drafted late can make it to the NHL and have good careers. The Lightning have had some success, including current defenseman Nick Perbix, who was drafted in the sixth round in 2017. Cole Gutmann, who was also drafted in the sixth round by the Lightning in 2017, had been doing well this past season with the Chicago Blackhawks before an injury cut his season short. Their most successful late-round pick for the Lightning would go to their 7th-round pick in 2011, Ondrej Palat, who was instrumental in helping the team win two Stanley Cups.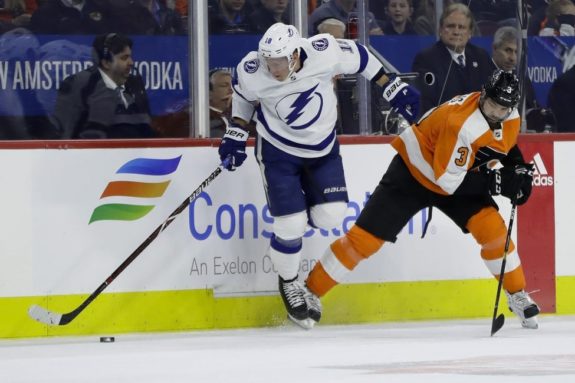 With that being said, five prospects have been identified and may be available to the Lightning in later rounds and could someday crack the Lightning roster.
Kale Carlsson
According to the THW prospect page by Dayton Reimer, Kalle Carlson is a smart, hard-working center who entered the season as a top prospect for the 2023 NHL Draft, but his rankings have dipped as the year progressed. After struggling with his Örebro HK J20 club in Sweden, he bounced back at the 2022 World Junior Championship, as he finished second on Team Finland with 10 points in seven games in helping Finland claim a silver medal.
While no relation to top prospect Leo Carlsson, the two were teammates for 14 games in 2021-22 for Örebro HK J20, where he put up numbers that had the scouts noticing his talents. Despite the struggles last season, which led to his drop in prospect rankings, some future improvements could see Carlsson becoming a reliable middle-six forward in the NHL.
Finn Brink
The thing that put Brink on the map was his 26-game performance with the Madison Capitals of the United States Hockey League (USHL). He joined that club after leading Madison Grove High School to the Minnesota State Tournament multiple times while recording 139 points over three seasons. Many noticed how quickly he adapted to the USHL, which is rarely done for players coming out of a high school program. This performance indicates that along with continued development while playing at the University of Wisconsin, he is worth a late-round selection.
Larry Keenan
While projected to go anywhere from rounds 5-7, Keenan was invited to the 2023 NHL Combine, where he indicated to me that the Lightning interviewed him. Keenan does have some NHL in his pedigree, as his grandfather of the same name played in the NHL with the Toronto Maple Leafs, St. Louis Blues, Buffalo Sabres, and Philadelphia Flyers between 1962 and 1971 and was on the ice when Bobby Orr scored his iconic goal in the 1970 Stanley Cup Final. His father Cory played professionally in Europe, and his sister Mackenzie skates for the University of New Brunswick.
---
Latest News & Highlights
---
Keenan possesses nice size, coming in over 6-foot-3 and weighing just about 185 pounds. With that size, he also is a very smooth skater that has nice speed with the ability to maneuver around players. This combination of size and speed makes him a valuable asset at both ends of the ice. While needing to show that he can play at higher levels of hockey after graduating from Culver Military Academy Prep School, Keenan has the skills and hockey IQ to make him a valuable pick in the sixth or seventh rounds.
Will Vote
Lacking some size and speed, coupled with being overshadowed on the talented U18 U.S. National Under-18 Team, has made him a player who could be a nice sleeper pick. Known as a hard-working, smart player who excels at passing the puck, his Team USA head coach, Dan Muse, may have summed him up best by recently saying, "Will Vote … he is a hockey player."
To go along with his passing skills, Vote is known as a player with a high motor in his own defensive end. He is a player who can be productive at 5-on-5 while also being able to kill penalties and contribute to the power play. There is a lot to like about a hard-working, intelligent player, who has versatility to his game, and the Lightning may want to take a chance on the Boston College commit.
Marcel Marcel
Undrafted at the 2022 NHL draft, Marcel is eligible for the 2023 draft as being only 19 years old, Non-North American skaters are eligible until they are 21. His name got him social media buzz at the U20 World Juniors for Team Czechia, but his play intrigues others. With his 6-foot-4 frame, Marcel is not only a physical forward but also possesses a good wrist shot. If he is not drafted, he may end up being signed as a free agent like the Lightning recently did in acquiring Finnish forward Waltteri Merelä and Norwegian defenseman Emil Martinsen Lilleberg.

If you are thinking that by having just three picks in the last two rounds, following what the Lightning do in these rounds would be a waste of time. It really isn't. The flip side of not having picks until later is that general manager Julie Brisebois and his scouting staff will have the ability to focus all their efforts on finding late-round gems, hoping to find that one player who may be the next Ondrej Palat.