The Toronto Maple Leafs Blue versus White game was broadcast regionally on both TSN and Sportsnet. Yes, people who don't get it, we spent our Saturday night watching an intrasquad game, one step above practice, and we are not sorry about it. A guaranteed Maple Leafs win night was tough to watch for Leafs' Nation. As much as you want to see your guys look good, it means another one of your guys is going to look bad.
The Core Four, Including John Tavares, Is Ready
John Tavares can be robotic in his interviews, but he is a well-oiled machine days before the season starts. He scored the first goal, charging the net and going high over the shoulder of Frederik Andersen. In the first period, he lost his stick in the defensive end and used muscle and positioning to keep Wayne Simmonds against the boards. The captain was interviewed in the first intermission, and he had barely broken a sweat.
The other three players who make up the core four looked good too. William Nylander had two goals and generated a lot of chances. Mitch Marner and Auston Matthews both scored as well, much to their linemate's delight, Joe Thornton.
Frederik Andersen Was Rusty
It's a common theme across all NHL camps. Goalies are the ones who seem to benefit the most from exhibition play. They seem more susceptible to losing the game's speed and require a bit more time to get the feel back. This is Andersen's contract year. He's been mentioned in trade rumors, and there has been an increase in criticism aimed at him. In two periods, he gave up three goals. There is no doubt he will be heavily scrutinized this season. The Leafs' brass will have to closely monitor the situation.
So Many Forwards, So Few Spots
Although Sheldon Keefe announced his lines, the head coach has many decisions to make – which is a good thing. Three players who were left out of the top four lines made a case for themselves. Pierre Engvall scored as well on an excellent play where he used his 6-foot-5 frame to his advantage. Adam Brooks got the second goal of the game and used his speed to generate chances.
Much has been said about Nicholas Robertson's shot. We got to see it late in the game. The puck came to him off a faceoff win. He was positioned in the slot and unloaded an absolute cannon of a blast to score.
Alexander Barabanov was given a spot on the fourth line. Although he was held off the score sheet, his forechecking led to a Jason Spezza goal. He also took a puck in the face from Simmonds but luckily, it hit his visor, and he was able to laugh it off.
Jimmy Vesey has been assigned to the second line replacing Ilya Mikheyev. He was not that noticeable, while Mikheyev's blazing speed was on display. Late in the game, he beat Marner to the puck on an icing call, not a play that shows up on stats, but the coaches love the effort. He scored the 3-on-3 winner as well on a clean breakaway.
Power in the Power Play, Not the Shootout
Thornton and Simmonds planted in front of the net. At the same time, Marner, Matthews and Morgan Rielly moved the puck around the perimeter. It was a totally new-look power play. Not sure if that's what we'll see when the roster is not split, but it was a good demonstration of how much the team has changed.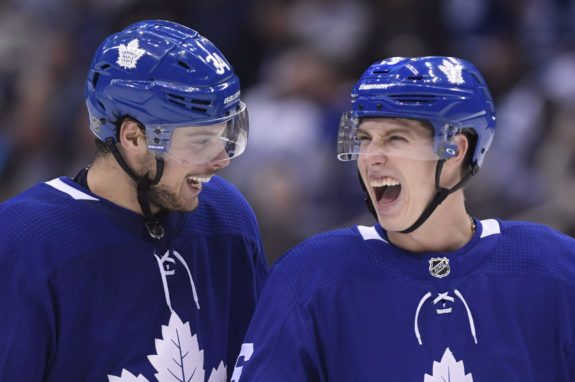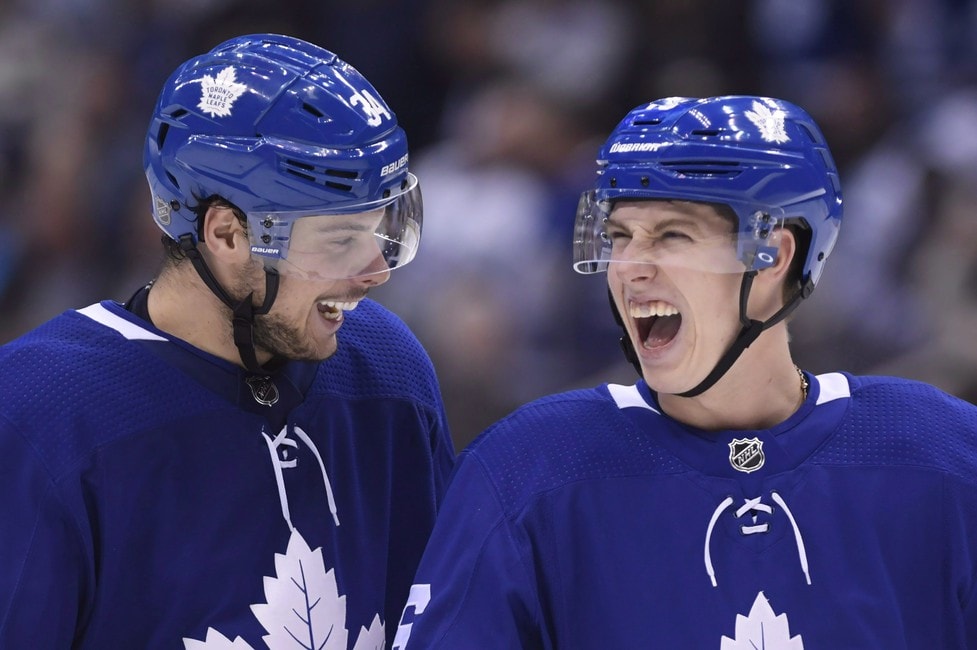 This was a controlled scrimmage, so the Leafs practiced the shootout at the end of the first and second periods. They better keep practicing. In all, there were 16 attempts and only two goals – both by a defenseman. Mikko Lehtonen and Rielly both scored. All of the forwards barely registered a threat, including Spezza losing control of the puck.
Non-Hockey Observations
A lot of things have changed – but not the goal song. "Make my Dreams Come True" by Hall and Oates blared through the speakers when both the blue and white teams scored.
William Nylander's flow is flowing. He may have added a few inches to the blonde locks since we last saw him. He is easily identifiable, streaking down the ice and hair trailing behind him.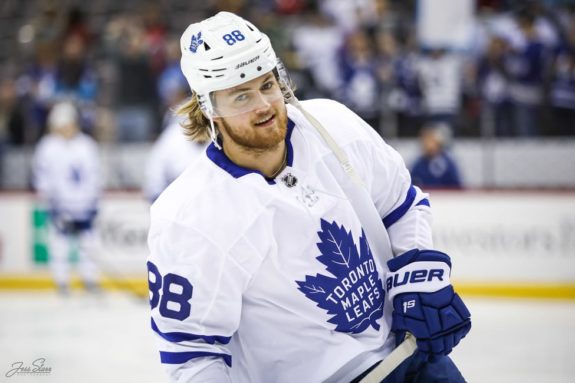 It's rare to see players without visors, but two in Toronto's lineup are under the grandfathered visor rule; Zach Bogosian and Thornton don't wear shields.
The Maple Leafs ended the night winless and undefeated. Not a bad start. But the dress rehearsal is over. Toronto will start playing for critical points in this shortened season beginning on Wednesday against the Montreal Canadiens.