When a player has two goals in five games, it's not often that you can call it a cold streak. But considering that he's the NHL's best even-strength goal scorer since he entered the league in 2016, we obviously hold Auston Matthews to a higher standard.
What makes the sniper's struggles even more perplexing is the fact that he's so well known for starting each season on fire: Matthews set the tone with his four-goal NHL debut against the Ottawa Senators, and over the past four seasons, October has been by far his most productive month, collecting 36 goals in just 46 games — a whopping 64-goal pace.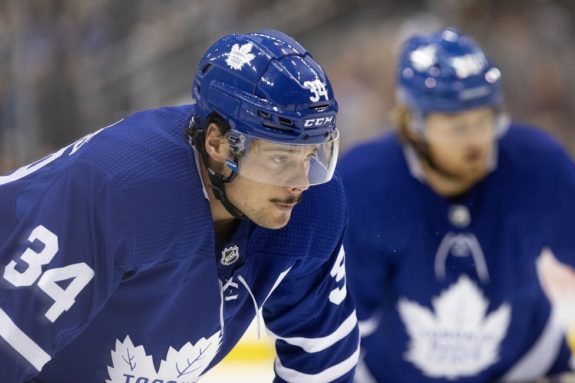 Perhaps the fact that the league — and the world at large — has been turned on its head has taken the star centre out of rhythm. Or maybe it's the new line combinations, increased ice time, and added responsibility that's got the 23-year-old in a bit of an offensive funk. Those factors could certainly be at play here, but I think Matthews' mini-drought is more a result of some longer-term patterns that could be worrying.
Matthews Isn't Shooting From Dangerous Areas
Over the past four seasons, we've seen Matthews emerge into one of the best players and arguably the best goal scorer in the NHL. He has so many physical gifts and does so many things well that it's hard to narrow down his skillset to just one or two points, but I do think there are a couple of things that he does as well as almost anyone: he takes a lot of shots, and he takes them from dangerous locations. There are tons of players who take lots of shots or get good looks, but it's rare for someone to do both at an elite rate. Matthews is that rare case, which is why he's considered an offensive unicorn.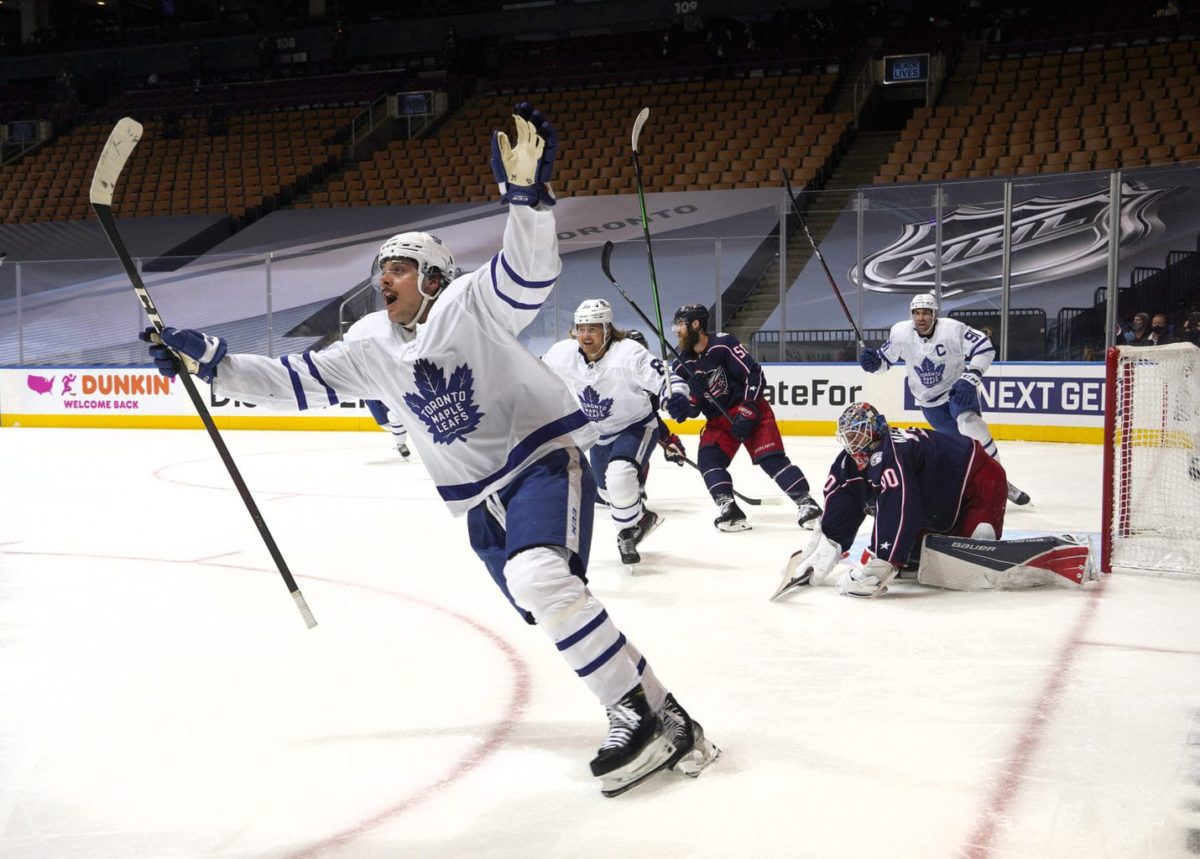 From 2016 to 2020, the 6-foot-3 pivot ranks 17th in shots per hour (S/60) and third in expected goals per hour (xG/60) at even strength. This tells us that Matthews shoots often and usually from good locations, and when you combine that with his elite shot, he's obviously going to score a ton. What some may not realize, though, is that Matthews' ability to create chances from high-danger areas has actually trailed off since last season. That could be the culprit of his current slump, as well as a reason to worry about his future performance.

There are a few key trends to focus on here. First, while Matthews' shot volume is still relatively strong, his even strength shot quality has trailed off since the 2019-20 season. He's generating fewer xG/60 than ever before, and his expected unblocked shot percentage (xFSh%) has been down for over a year now. He's been able to consistently outshoot his xFSh% over his career until this season (he's scoring at only four percent right now), but the declining shot quality means that his goals will also likely decline. We're seeing the results in real-time right now, as the centre has scored just one even-strength goal this season on 17 shots and 33 shot attempts.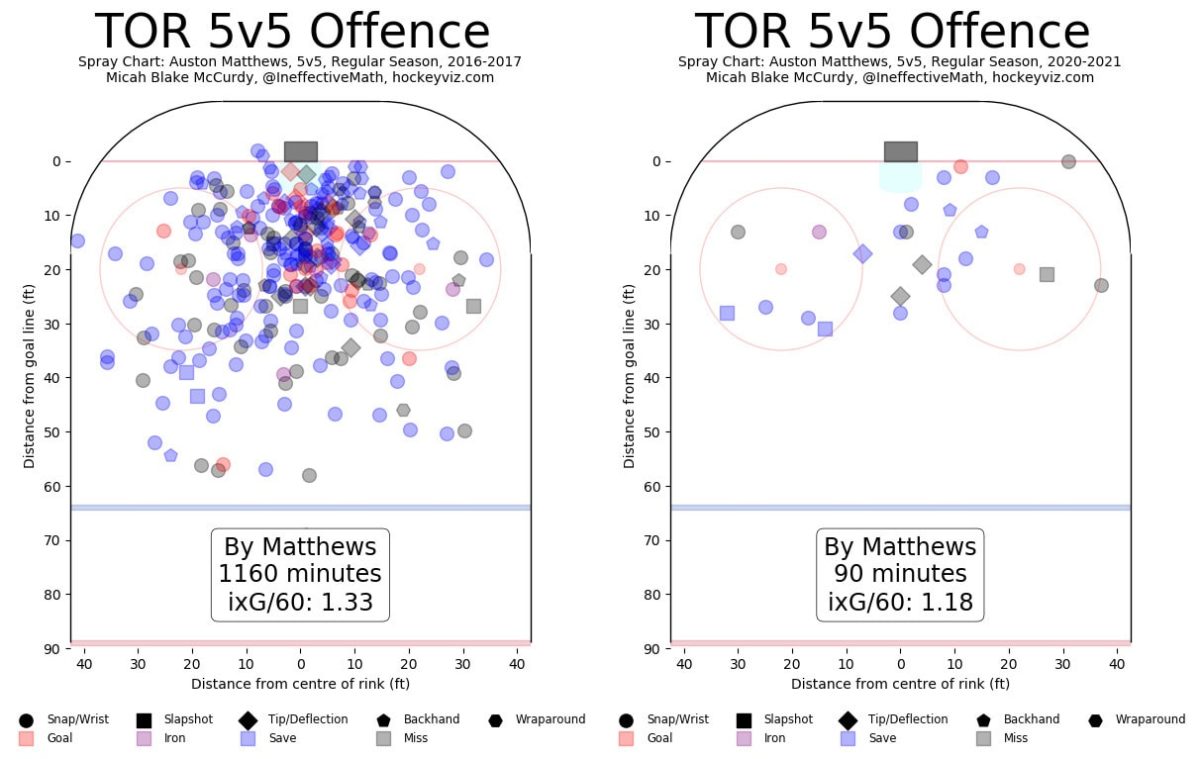 If you're more of a visual person, these shot maps may help drive it home. Matthews' best year by xG/60 at even strength was actually his rookie season back in 2016-17, and you can see he generated a boatload of shots from right in front of the net. Compare that to this season, and you can see that he's shot primarily from outside of the slot so far, which is not a great recipe for success. Obviously, the sample size is small, but you've got to wonder if we'll ever see the 2016-17 version of Matthews again.
Maple Leafs' Systems May Be to Blame
When analyzing any player, you've also got to take into account the surrounding team and systems in place. And in the case of Matthews, an established elite scorer, we've got to give him the benefit of the doubt. Maybe his declining chances and production are not totally on him, but partially on the Toronto Maple Leafs' systems. It sounds strange considering that we've always viewed Toronto as an offensive juggernaut, but their performance through the first five games this season has suggested otherwise.
Related: Maple Leafs News & Rumors: Matthews, Andersen, Thornton & Dud Game
In this early 2021 season, the Leafs currently rank 21st in 5v5 goals per hour (1.82), 21st in expected goals per hour (2.01), and 23rd in shots per hour (27.32). That's a stark contrast to last season, where the team ranked top-five in each of those categories once head coach Sheldon Keefe took over in mid-November.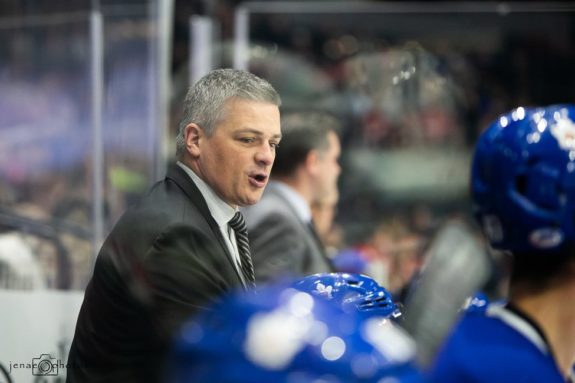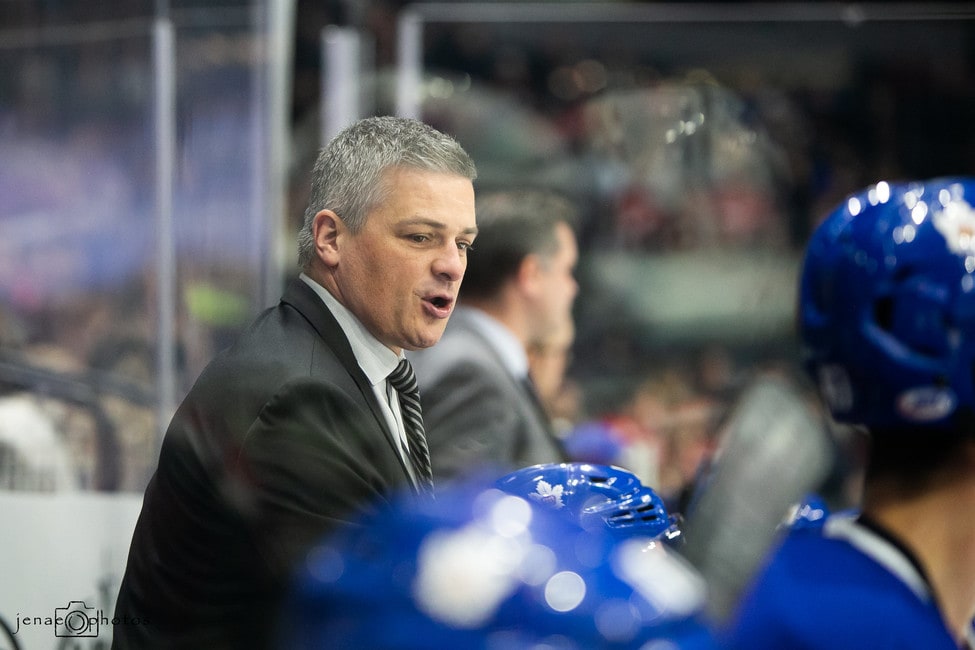 Like Matthews, the Maple Leafs may just be victims to a small sample size given their history of elite offensive results. However, there are also some troubling team-wide patterns, suggesting their struggles may not be a fluke.
The most obvious problem for Toronto right now is their lack of high danger chances (HDSCs) at 5v5. The Leafs are still producing a ton of shot attempts and scoring chances, ranking top-five in both departments, but they seem to be taking a lot of empty-calorie shots. The most threatening chances in hockey are always going to be close to the net, and in terms of HDSCs, the Maple Leafs rank middle of the pack at 15th. That's a sizable drop off from last season, where they finished sixth under Keefe with over 12 HDSCs per hour — nearly three more than this season's mark.
Related: Babcock Bombs as Former Leafs Coach Tries to Clarify Marner Drama
We've established that Matthews and the Leafs are struggling to produce dangerous looks, but now we've got to ask why that's the case. Luckily Corey Sznajder has done a ton of legwork by manually tracking games, giving us some insight into why Toronto has struggled to score.
The key stats here to look at here are scoring chances, shots off the rush, and cross-slot passes. In the Maple Leafs' 3-1 loss to the Edmonton Oilers on Wednesday night, they mustered just five scoring chances, nine rush shots, and zero (!) cross-slot passes at 5v5. For a team that's considered an offensive powerhouse, that's simply not good enough, and it helps to illustrate why both the team and Matthews have struggled to create chances and goals.
We've also got some insights from Anthony Petrelli, who dives into some clips from that same game, arguing that the Leafs have relied too much on point shots and not enough on driving to the net during rush chances. Judging by the team's shot maps, he seems to be spot on, as Toronto has apparently exchanged their offensive prowess for more defensive stability. So far, it doesn't seem to be a great tradeoff.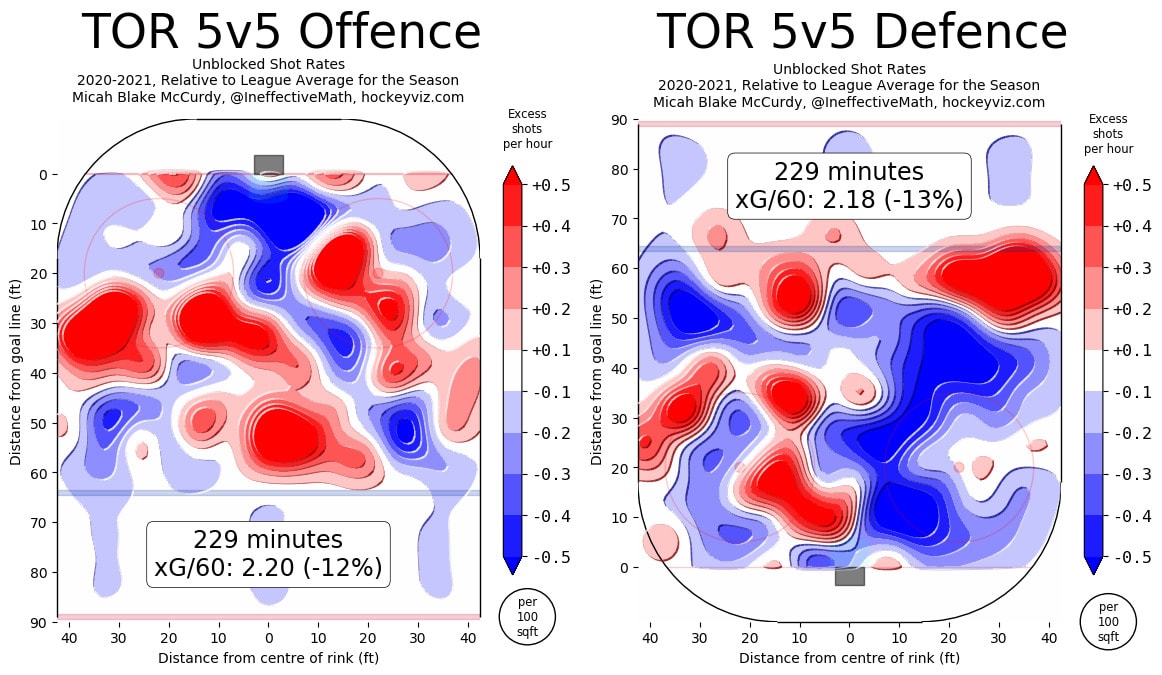 While Matthews and the Maple Leafs have had a somewhat underwhelming start to the 2021 campaign, they've got a couple silver linings on their side: it's still early, and they have a history of offensive dominance. The early returns aren't promising, but I'd put my money on both the player and the team to find their groove relatively soon.
Stats from Natural Stat Trick and Evolving Hockey
---
---
Chris Faria is a contributor for The Hockey Writers with a focus on the Toronto Maple Leafs. A hockey player and self-proclaimed analytics nerd, his work aims to combine both stats and a deep knowledge of the game. He is currently pursuing a graduate diploma in sports journalism at Centennial College in Toronto.