In this edition of Toronto Maple Leafs News & Rumors, I'll share news of Ilya Mikheyev's two-year contract and I'll discuss former Maple Leafs defenseman Cody Ceci who signed with the Pittsburgh Penguins.
Related: Maple Leafs News & Rumors: Why Dubas Signed Experience in Offseason
Third, I share a Joe Thornton and Jason Spezza conversation about who will wear no. 19. Finally, I'll share Don Cherry's thoughts about signing Thornton.
Item One: Thankfully, Ilya Mikheyev & Maple Leafs Avoided Arbitration
Fortunately, no one will be hearing or saying nasty things about Ilya Mikheyev and the Maple Leafs today – at least not in a discussion about salary. The arbitration hearing originally scheduled for today won't need to take place since the two sides have agreed to terms and Mikheyev has signed a two-year deal.
Late yesterday, Dan Milstein (Mikheyev's agent) announced that the Russian forward's contract will him with the team for two more seasons. Elliotte Friedman then tweeted that the terms of the contract were $1.645 million AAV.
As I reported yesterday, arbitration can be a contentious process that could have gone very wrong between the two parties. The two sides were far apart; Mikheyev and his agent asked for a one-year, $2.7 million deal and the Maple Leafs sought a contract at $1 million per year for two years.
Although the process itself pushes players to ask for a high number and teams to counter with a lower number, what is interesting is that these hearings push an arbitrator to choose between the player's actual production (there were only 39 games to assess) and his potential (Mikheyev started the season well before his horrible accident put him out of the lineup).
Those who understand the arbitration process would have guessed that – given the history of such cases – a final ruling might have been closer to the Maple Leafs' offer. In fact, the contract added $600,000 to the team's offer and shaved $1 million off Mikheyev's asking price.
Related: Oilers News and Rumors: Gretzky, Hall, Broberg, More
In the end, it's a good thing arbitration was avoided. Hurling or receiving insults can't be fun for anyone, nor will it be easily forgotten – even though the "professional" response is "it's nothing personal, it's only business." Professional or not, it isn't edifying.
Item Two: Cody Ceci Signs One-Year Contract with Pittsburgh Penguins
Maligned former-Maple Leafs defenseman Cody Ceci was in the news this week when TSN's Darren Dreger tweeted that he signed a one-year contract with the Penguins. The financial terms of that contract call for Ceci to be paid $1.25 million, which might be a win-win for both sides. It represents a low-risk option for the Penguins and a chance for Ceci to find his game and rebuild his NHL value.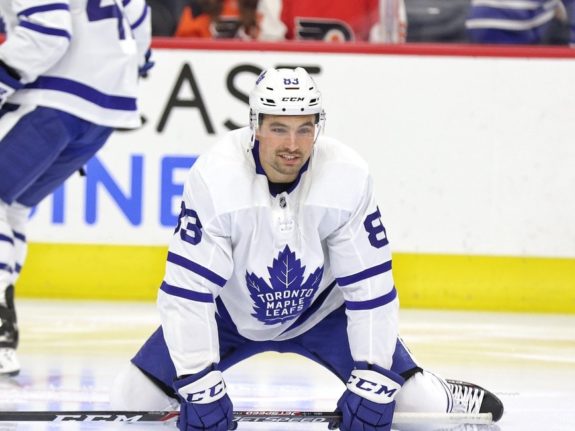 For the Penguins, Ceci is considered a replacement for Jack Johnson who was bought out by the Penguins and then signed with the New York Rangers for $1.15 million. However, many Penguins fans are less than pleased with this signing. Ceci scored one goal and seven assists in 56 regular-season games last season and was a dartboard for critics who used advanced analytics to claim he was a horrible defenseman.
At $1.25 million, perhaps Ceci will get a chance to overcome the issues he faced with the Maple Leafs. Given the size of his last contract ($4.5 million) and his 33 goals and 126 points in 496 career NHL games, some team had to have considered him a quality player (the Ottawa Senators). I hope he revives his career in Pittsburgh.
Item Three: Joe Thornton Rejects Jason Spezza's Offer and Will Wear #97
When Joe Thornton was signed by the Maple Leafs, his regular no. 19 was already taken by Jason Spezza. Spezza almost immediately contacted Thornton to offer Jumbo Joe the number, but Thornton refused. Instead, he will wear no. 97, a number he's worn in international tournaments and now wears with HC Davos in Switzerland.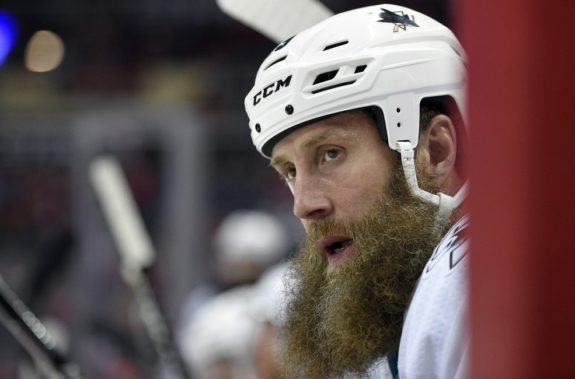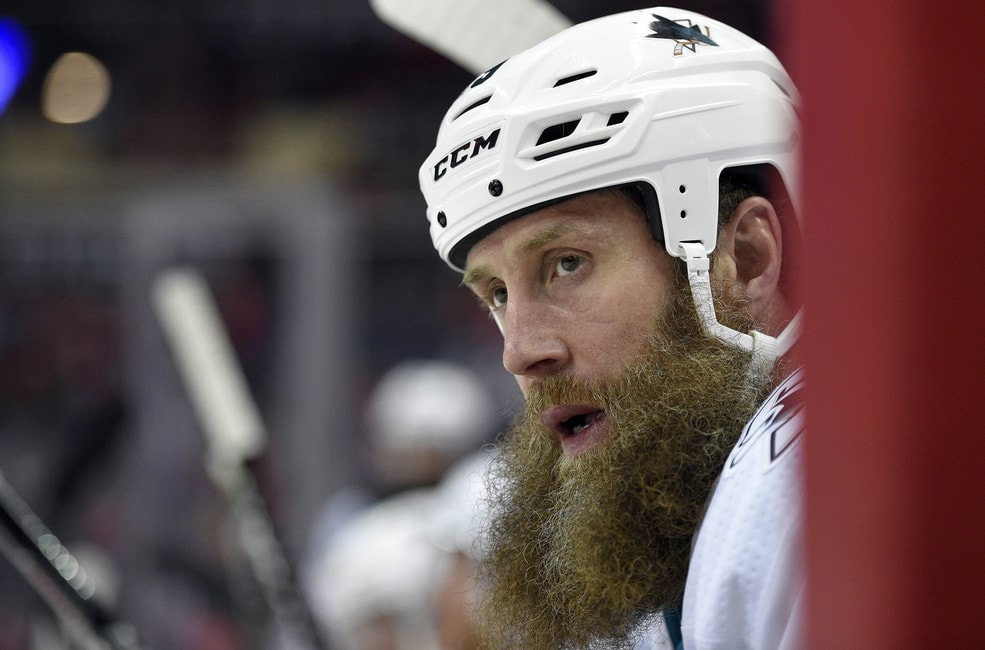 Thornton mentioned that Spezza asked if he wanted his number and Thornton replied that, although he appreciated the offer, "I'm not taking anything away from you." Thornton continued, "I couldn't do that to him. He really is a special guy." To which Spezza responded, "I have too much respect for him not to offer it." I was struck by the goodwill both players showed. That bodes well for the team's culture.
Item Four: The Potential Impact of Wayne Simmonds
One of the most significant moves the Maple Leafs made this offseason might be signing veteran power forward Wayne Simmonds. Adding him to the roster could ignite the change the team needs to improve. Although he isn't signed for the league minimum like Thornton and Spezza, Simmonds' one-year, $1.5 million contract might be great value.
Related: Top 15 NHL Power Forwards
Simmonds, who's from nearby Scarborough, is now 32 and has bounced around recently; however, if you envision him as a replacement for Kyle Clifford (whose AAV was $1.6 million in 2019-20), you can get a sense of his value. Specifically, Simmonds has the bite Clifford offered and adds more scoring. He has twice topped the 30-goal mark and he's scored 28 goals three other times. That's good offense for a physical player. There's every reason to believe "The Wayne Train" will turn out to be a great fit for the Maple Leafs.
Item Five: Don Cherry Likes Thornton Signing
I don't see Don Cherry on television much these days, but every once in a while he turns up with his "insight." Recently, he spoke about the Maple Leafs signing Thornton and noted that he has loved Thornton as a player from the first time he saw him skate with the Soo Greyhounds about 25 years ago.
Cherry still appreciates Thornton's "honest" game and added, "Yes, he is 41 but I can tell you he can still play and help the Maple Leafs," (from "Grapes looking forward to Leaf's Cup of Joe," Joe Warmington, Ottawa Citizen, 18/10/20).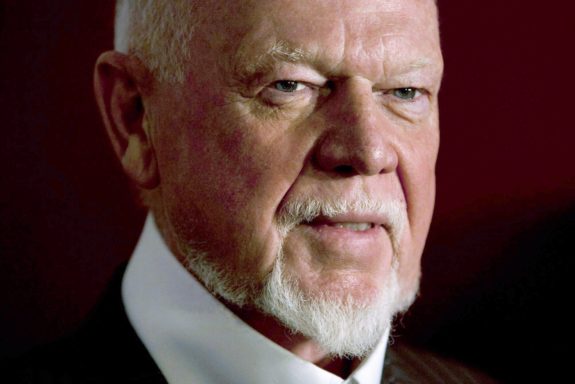 Cherry also noted that Thornton "can really help the younger players. But the secret is they have to play him. He can't sit around. If Joe gets some ice time, he will put up some points." Putting up points is something Thornton has done his whole career. In 1636 regular-season NHL games, he has scored 420 goals and 1089 assists (for 1509 points). He also scores in the playoffs with 31 goals and 102 assists.
Related: Maple Leafs' 2020-21 Roster: Who's Staying, Going & Coming?
Cherry then recounted, "I can tell you in Boston they always say that was the worst trade in Bruin history."
What's Next for the Maple Leafs?
As far as I can see, the next item on general manager Kyle Dubas' agenda is signing Travis Dermott. I assume Mikheyev's contract hasn't put Dermott's signing in jeopardy, but we'll see how that goes over the next day or so. Maple Leafs fans should expect an announcement about Dermott soon.
---
---