Heading into the home stretch of the hockey season, for some there's excitement about their respective team's upcoming postseason, while others are looking ahead to what the offseason might hold.
For those embedded in the prospect pool of NHL teams, they're looking ahead — if they haven't already — to see what players could make an impact for their team in the next season or two.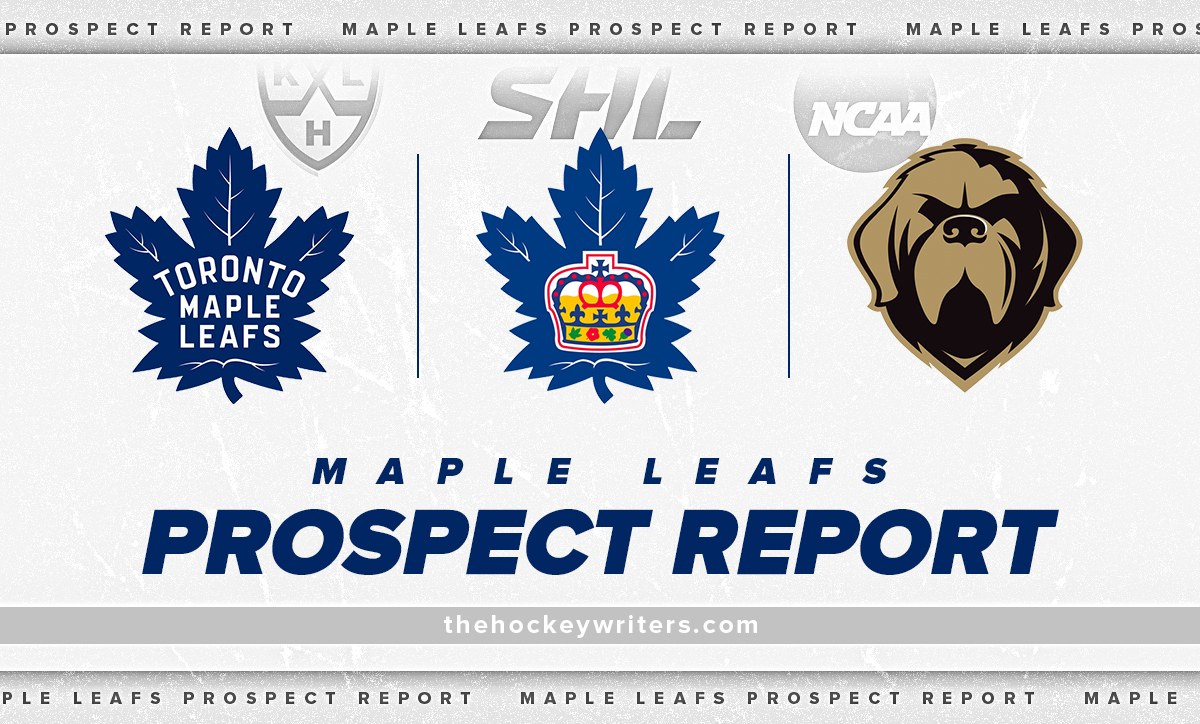 While the Toronto Maple Leafs might not have those top-end prospects like some other franchises, they do have a strong prospect pool when it comes to possible future NHLers. Secondary prospects or not, the team's cupboard is full and there are a number of players that could get a taste of the NHL in the coming years.
For now, however, we'll check in on some of the big headlines surround the Maple Leafs' prospects as they close out their regular seasons and ready themselves for what might come next, respectively.
Nick Moldenhauer Among Top USHL Performers
Once again, the Chicago Steel are atop the Eastern Conference in the USHL. It's a stat that seems to be a perennial headline when it comes to the Steel and the USHL. Fortunately for the Maple Leafs, this season that team includes their forward prospect Nicholas Moldenhauer who sits seventh in league scoring and fifth on the Steel in scoring.
Related: Maple Leafs' Acciari an Underrated Acquisition
Moldenhauer has excelled at the USHL level and is developing well from the third-round pick he was for the Maple Leafs in 2022. Still, smaller in stature, offence is one of his biggest assets for this team and he certainly hasn't disappointed this season with the Steel.
In fact, he has 23 goals and 54 points in 43 games this season for the Steel. That gives him a 1.26 point-per-game average — a number that has him sixth in the league when it comes to that stat.
On top of that, his shooting percentage is up at 19.8 percent and while you can take that as a little high for a career average, it's good to see he's picking his opportunities when they are given to him.
Moldenhauer is projected to top his previous point total by more than 20 points this season, setting a new career-high with the Steel and you can bet the Maple Leafs will take notice, with or without Kyle Dubas at the helm next season.
Joe Miller Earning Ivy League Rookie of the Year
A former member of the Steel in the USHL, Joe Miller has put up a good year as a freshman at Harvard. While he's certainly not on the top prospects list when it comes to what the Maple Leafs have organizationally, Miller's continue to develop at each level he's played since the Maple Leafs took him in the sixth round back in 2020.
Another smaller forward, Miller put up 13 goals and 26 points in 30 games for Harvard this NCAA season. He's fifth on the team in scoring and fourth in goals behind the likes of Sean Farrell, Alex Laferriere and Matthew Coronato.
---
Latest News & Highlights
---
In fact, Miller's effort this season helped Harvard sweep the Ivy League's major awards in men's hockey for the second straight year as Farrell won the Player of the Year Award, head coach Ted Donato won Ivy League Coach of the Year and Miller took home the Ivy League's Rookie of the Year honours.
He had nine points in 10 Ivy League games, scoring in six of those 10 games. In those six games, Harvard went 6-0-0, including a 4-2 win over Princeton where Miller had one goal and three points.
He's going to be a work in progress for the Maple Leafs, but he continues to show strides in his overall play which should be a positive note for this franchise — especially with the development they saw in another sixth-round pick this season in Pontus Holmberg.
Matthew Knies Atop the Big Ten
Another step towards being with the big club in the very near future, University of Minnesota Gophers' forward Matthew Knies was named the Big Ten's Player of the Year on Tuesday. Knies finished his NCAA season with 21 goals and 40 points in 35 games, topping his previous season of 33 points in 33 games.
Knies' strong season helped push the Gophers to a first-round by in the Big Ten playoffs, before defeating Michigan State in the semifinal. Knies tallied a powerplay assist in the game as his Gophers went on to win 5-1.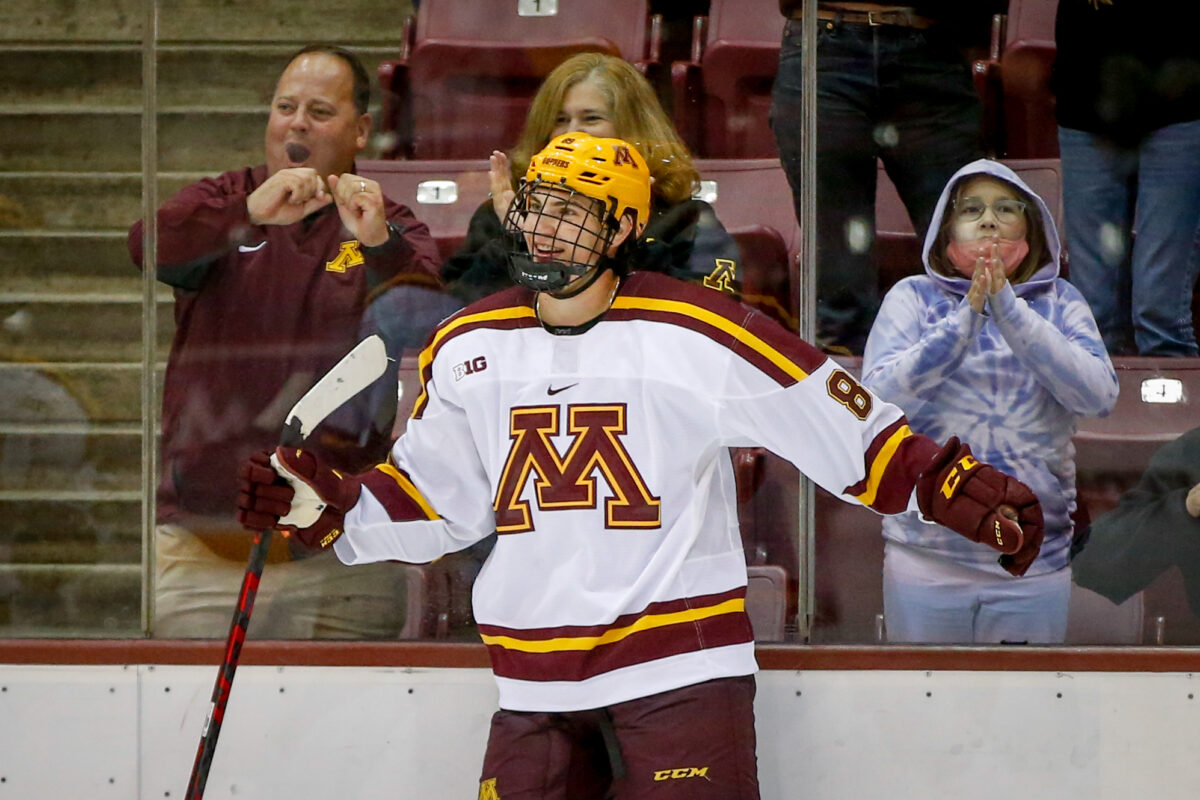 The Gophers will take on the Michigan Wolverines in the Big Ten Championship for the second consecutive season on Saturday, March 18 and Knies will be looking for another standout performance for his club.
There's still a ton of speculation as to what might happen with Knies following the end of his postseason, but one thing is for sure, the Maple Leafs are keeping a close eye on Knies and are surely excited to get him into their lineup when they get the chance.
Related: Maple Leafs – O'Reilly's Injury Shouldn't Trigger Panic
While it might not be a permanent spot right away, he sure is making a case to get a taste of the NHL sooner rather than later.
As for the rest of the Maple Leafs' prospects, the offseason will soon be here and it spells another opportunity for development camp and finding which hopefuls might catch the eye of the team's brass. However, for now, there's still some playoff hockey to get to for a handful of them which we'll check in on as it nears.
You may also like: