In this edition of Toronto Maple Leafs News & Rumors, I'll report an interesting story about Morgan Rielly's leadership and sacrifice for the team. I'll remind Maple Leafs fans not to forget about young prospect Nick Abruzzese, who won't be playing hockey this season with the Harvard Crimson but who is a great player.
Related: Maple Leafs News & Rumors: Chara, Nylander, Matthews & McDavid
Finally, I'll share rumors that player movements might not be fully over. There's a rumor that William Nylander is part of a trade discussion with the Philadelphia Flyers that would bring a defenseman to the team.
Item One: Morgan Rielly Agreed to Move Down to Get Tyson Barrie Going
As fans, we usually want our team to have more of something. However, one thing the Maple Leafs might have plenty of this season is leadership. New and highly-experienced NHL players and leaders such as Joe Thornton, Zach Bogosian, and Wayne Simmonds are moving onto the roster and will undoubtedly help pull the together and move it forward toward success. Jason Spezza's been around for a season now, and we have seen his leadership in action.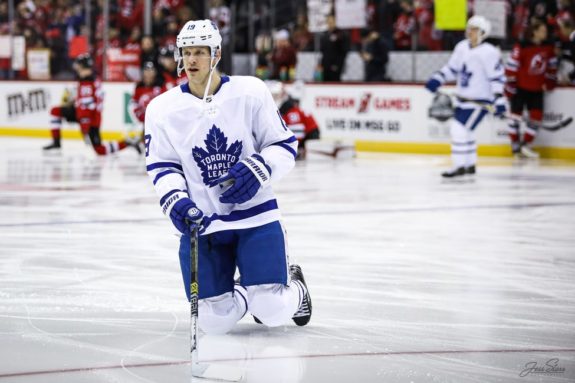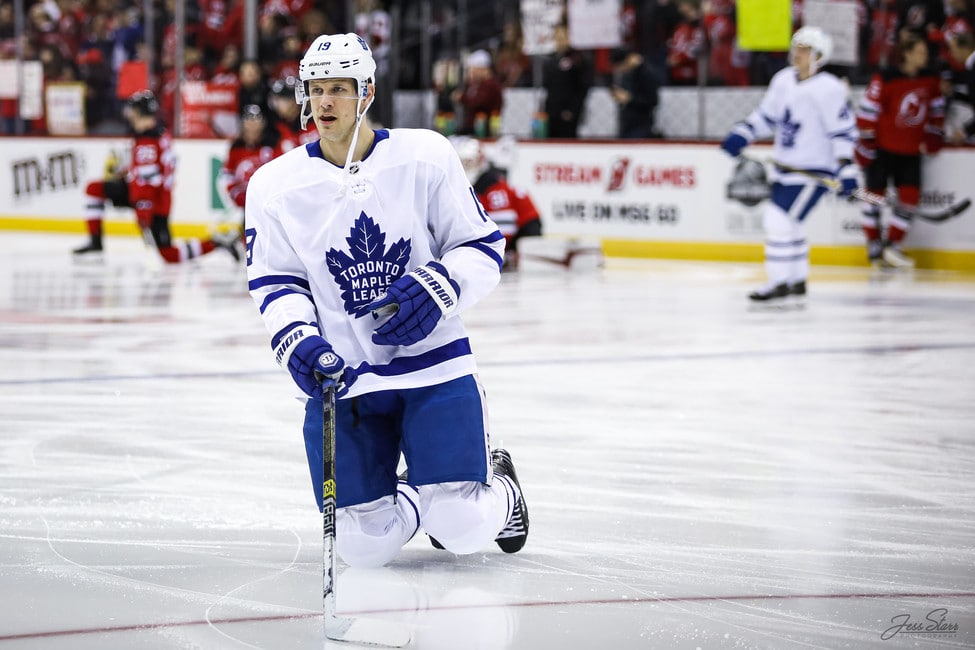 However, it seems there have always been leaders on this team. That fact was evident in a story that emerged today when Maple Leafs general manager Kyle Dubas shared insights at Toronto's annual Coaches Open House yesterday. The gist of the story is that number one defenseman Morgan Rielly went to head coach Sheldon Keefe and volunteered to move to PP2 to help accommodate Tyson Barrie's skillset and get the struggling defenseman going.
Specifically, Dubas said: "He (Rielly) started the year off and did one of the most selfless things that I have seen: In mid-November, he was on the first power play, and we had acquired Tyson Barrie the summer previous. Tyson got off to a fairly slow start with us — he hadn't produced and hadn't scored — and as someone who was facing unrestricted free agency in the new year, in a new city with a lot of expectations on him, he started to really struggle."
Related: Vladislav Tretiak: Goaltending Guru
Dubas added, "Morgan, when Sheldon came into the job, went to Sheldon and said he would have no problem, if it was what was best for the team, going to the second power-play unit to put Tyson on the first unit so that Tyson could get going. If we were going to reach our potential, everyone felt it was important that Tyson played the way we knew he was capable of playing."
It's an interesting story that highlights a dilemma professional athletes face when they straddle a line between putting their own success (and the salary compensation that goes with that success) first or whether they're willing to sacrifice for the team. In some ways, it's a choice between the kind of winning – personal or team – you support if you're a professional.
On one hand, your numbers and statistics support your own winning at the bank in that your salary is often correlated with your statistics. On the other hand, are there times when your own financial success comes second to the needs of the team?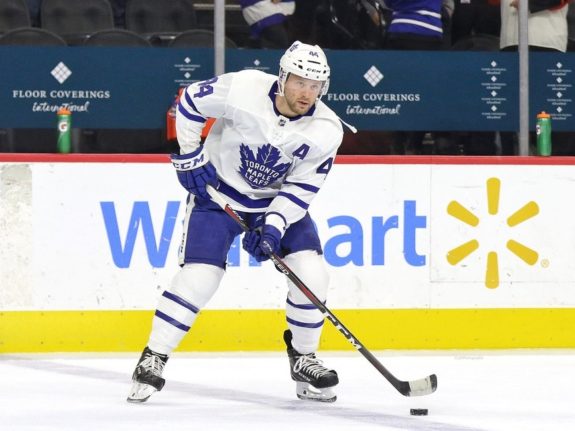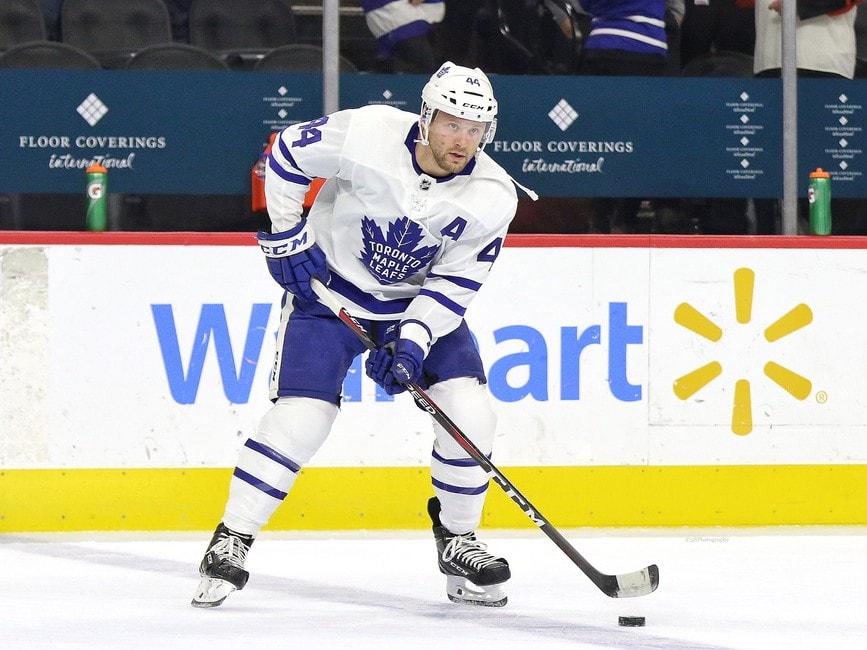 Obviously, Rielly made that second choice last season when he offered to move down to the second power play unit to help Barrie get going. That meant his teammate would be playing with Tavares, Matthews, and Marner on the first power play unit, which would also mean Barrie's numbers would likely improve instead of his own.
How did Dubas assess that move? First, other than the fact that he told the story, which obviously means it registered well with him and he was offering Rielly's action as the class act desired of leadership, he also said it straightforwardly when he called it "selfless."
Dubas added, "On any team, you need players like that who are willing to put the team ahead of themselves. I thought, with Morgan Rielly, he has always done that here."
Item Two: Don't Forget About Maple Leafs Prospect Nick Abruzzese
Related: Whitecaps Re-Sign 4 as They Gear Up for NWHL Season
Last season, Nick Abruzzese was named the Eastern College Athletic Conference (ECAC) Hockey Rookie of the Year, which is quite an honor given that the ECAC is a group of over 300 colleges in the eastern United States. To earn that honor, Abruzzese led all NCAA freshmen in scoring with 44 points (14 goals, 30 assists) in 31 games for Harvard University in 2019-20. He also finished in a three-way tie for third place in scoring for all of the NCAA schools in the United States. That's not to be sneezed at.
The Maple Leafs chose Abruzzese during the fourth-round (124th overall) of the 2019 NHL Entry Draft. This season has been a difficult one for the NCAA hockey, and on Nov. 12 all Ivy League universities cancelled their seasons. That also made it particularly difficult for young players like Abruzzese.
Related: Maple Leafs' Rasmus Sandin's Development Derailed For Two Reasons
In addition, the 21-year-old Abruzzese also suffered another setback. He had left hip surgery to repair a torn labrum and needs to recover from that surgery before he continues his hockey career. Given his success in NCAA hockey and the fact that he's obviously an intelligent young man, being accepted at Harvard University, he's a youngster to watch. He might not make an impact within the Maple Leafs organization immediately, but he's likely going to get that chance sometime in the future.
Although he's on the smaller side at 5-foot-9 and 160-pounds, Abruszzese had nothing short of a phenomenal freshman season at Harvard. He hasn't played in a game since March 7 (almost nine months) and he might not play for a while yet; however, if you're a Maple Leafs fan don't forget he's in the pipeline. He has the possibility to become an elite scorer at whatever level he plays.
What's New with the Maple Leafs?
I for one hope this rumor isn't true, but there's a rumor going around that the Maple Leafs are listening to offers for William Nylander from the Philadelphia Flyers. That rumor comes from Hockey Buzz two days ago.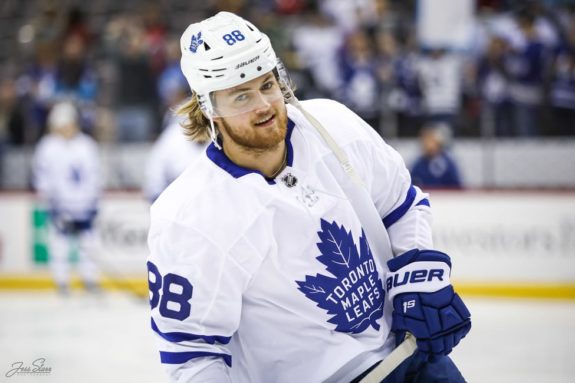 The word has been that the Maple Leafs organization isn't interested in moving any of its core group of players; however, Hockey Buzz reported that "a source tells me" the team has had talks over the past few days with the Flyers regarding a top D-man for Nylander. You have to think it's Shane Gostisbehere?
Perhaps the offseason moving and shaking isn't done after all. More news on that later.
---
---