Given the unique nature of this shortened and condensed season, the Toronto Maple Leafs have just finished an odd five-day break. That break will end this evening when the team meets what's probably a tired Vancouver Canucks team that's been on the road for a while.
Related: Maple Leafs News & Rumors: Tavares, Matthews, Andersen & More
Given a week of practice, there have been a number of changes to the team's roster. In this edition of Maple Leafs News & Rumors, I'll try to keep fans up-to-date with what those changes are. Here's what's going on.
Item One: Looks Like Wayne Simmonds Will Be on Maple Leafs Second Line
In some of the most interesting news of the week, it looks as if NHL veteran Wayne Simmonds is moving to the team's second line for the game against the Canucks tonight. During practice this week, Simmonds had skated on the line with both winger William Nylander and the center John Tavares.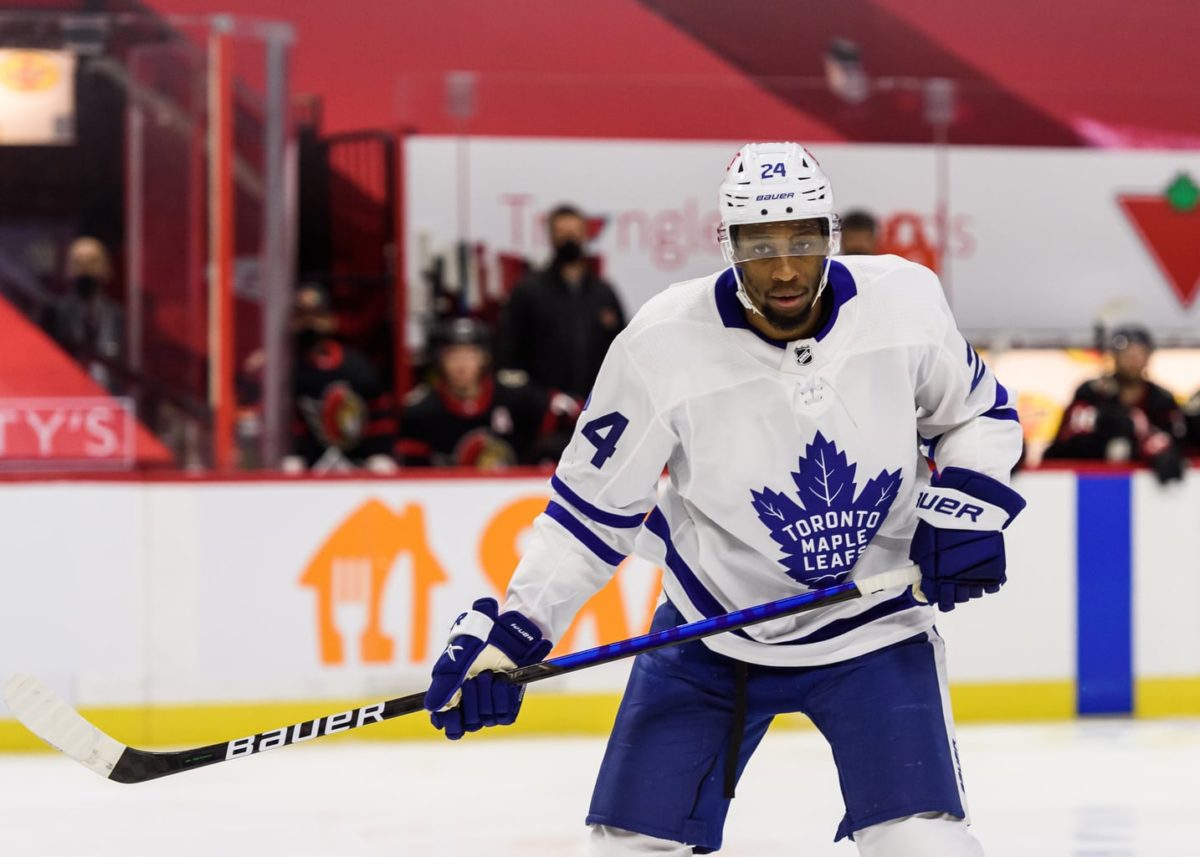 As I noted in yesterday's post, Nylander believes Simmonds brings both energy and fearlessness to that line. Nylander noted: "He's fearless. He works really hard. He's got a lot of energy all the time, which is fun … He's a heavy body in front of the net and wins pucks back, and is a great net-front guy. We had some nice chemistry in practice today."
Related: Val James: The Forgotten Trailblazer
Head coach Sheldon Keefe added: "On the road trip, he was a real standout for us…He's got lots of jump. He looks quick and he's on the puck. He's competitive. He's around the net. He found a way to score in three straight games for us, which has given him a little extra confidence and a little extra boost."
Item Two: Rasmus Sandin Injured at Practice
It makes sense that Rasmus Sandin would be frustrated about not being able to play this season, and every word we get from the Maple Leafs' practices is that – although he's making good use of his time – he remains eager to play.
During practice yesterday, it was reported that Pierre Engvall had accidentally hit Sandin in the face with a puck. There's no word on the extent of that injury, however leaving practice early can't help Sandin's chances of finding a place in the lineup. So far, Sandin has to be thinking that he's had better seasons.
Item Three: Joey Anderson Has Been Sent to the AHL
Joey Anderson, who has played in a single game with the Maple Leafs this season, was assigned to the AHL's Toronto Marlies earlier this week. Although the Marlies' season hasn't started yet, there's a good chance the AHL will be Anderson's eventual destination for the 2020-21 season. In fact, the 22-year-old Anderson should play a big role with the Marlies as the season progresses.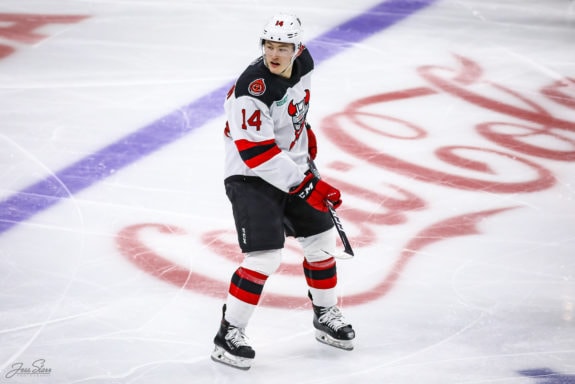 Item Four: Ilya Mikheyev Seems Snake Bit as Far as Goal-Scoring Goes
From what I've seen, Ilya Mikheyev has looked good this season on the ice – especially as a member of the penalty kill. However, he's not showing up on the score sheet so far, and he hasn't scored in his first 10 games of the season. With only two assists for the season, he's just not playing to expectations. Perhaps that's one reason he was moved to the team's third line this week.
Related: Six Lock Up Top Seed, Boston Blanks Buffalo to Tie Series
Although the season is young, Mikheyev is the only Maple Leafs forward who's played every game without scoring a goal. As I say, he seems snake bit. Mikheyev's speed and size are effective and he seems to be carrying the play, but he's nowhere close to the eight goals he scored in 39 games last season before his horrible wrist laceration that ended his 2019-20 season.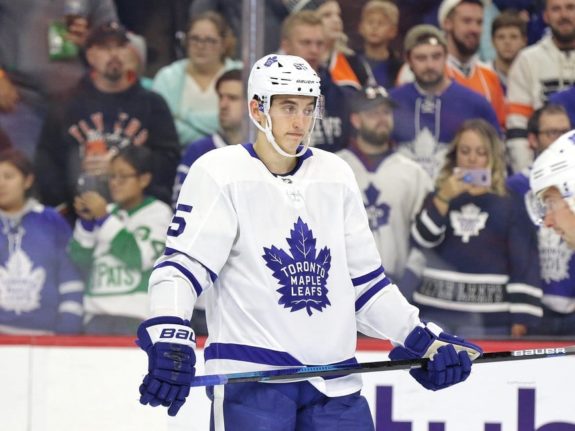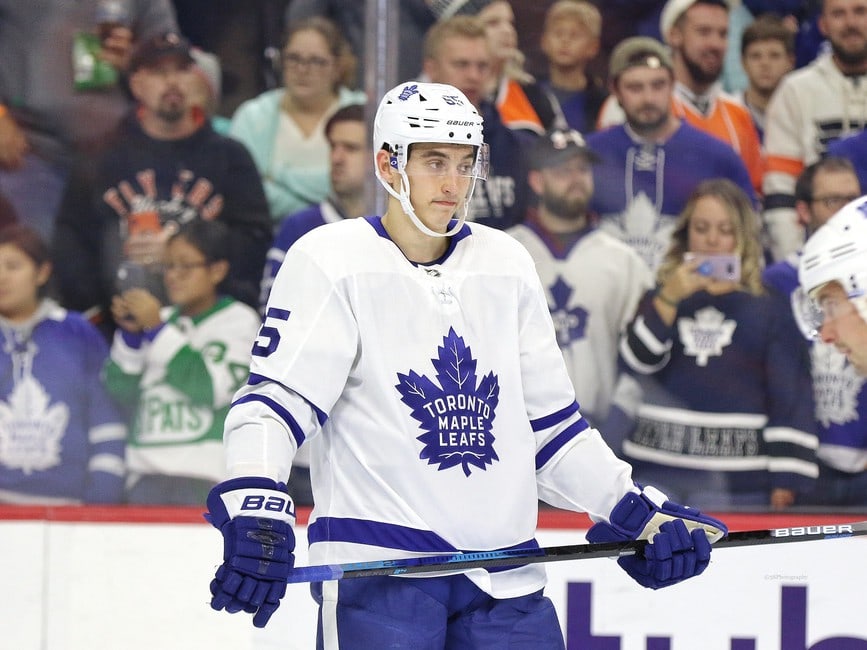 Now that Simmonds has joined the Tavares' line, Mikheyev moves back to a third-line spot. I'm hoping he breaks the jinx soon.
Item Five: Lehtonen Moved Out; Kerfoot, Dermott, and Petan Moved In
Four players were moved to help the Maple Leafs finalize their roster for the upcoming game against the Canucks. First, obviously head coach Sheldon Keefe must believe Mikko Lehtonen needs more time to adjust to the NHL game. Travis Dermott will replace him for tonight's game.
As far as forwards go, Alex Kerfoot had been listed as day-to-day with an injury but has apparently healed well enough to play. It also looks as if Nic Petan will play his first game of the season tonight. He'll be lining up with Travis Boyd and Jason Spezza, who are both off to great starts to the season.
What's Next for the Maple Leafs?
NHL hockey is a funny game. Everything on paper suggests that the Maple Leafs should have an easy time tonight with the Canucks, and perhaps they will. But sometimes these games play out oddly.
The Canucks are about halfway through an extended six-game road trip. They've already lost two games to the Montreal Canadiens, who are now a point up on the Maple Leafs in the North Division standings. In Toronto, they meet a well-rested and well-practiced team.
Over the next five days, the Canucks and Maple Leafs square off for three straight games in Toronto. They play tonight, on Saturday's Hockey Night in Canada, and then again on Monday night. It's a tough trip for the Canucks and an easier one for the Maple Leafs.
I'm looking forward to watching Simmonds in action with Tavares and Nylander.
---
---