John Tavares has started the season on a nice scoring streak. During Friday's 4-2 win against the Edmonton Oilers, Tavares broke a 2-2 third-period tie with a power-play goal to help the Toronto Maple Leafs beat the Oilers for a series' split. It was Tavares' fourth goal of the season, and second during the two-game series against the Oilers.
Item One: Maple Leafs Won Without Their Full First Line, Others Stepped Up
The win was good news for the Maple Leafs, who had played the game without two-thirds of the team's first line – both Auston Matthews and Joe Thornton were out. Prior to the game, head coach Sheldon Keefe announced that Matthews would be a day-to-day decision with "upper-body soreness."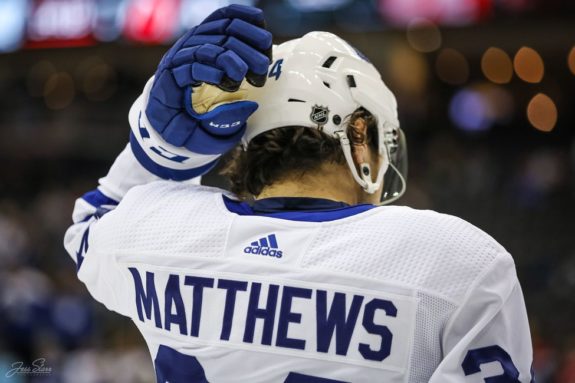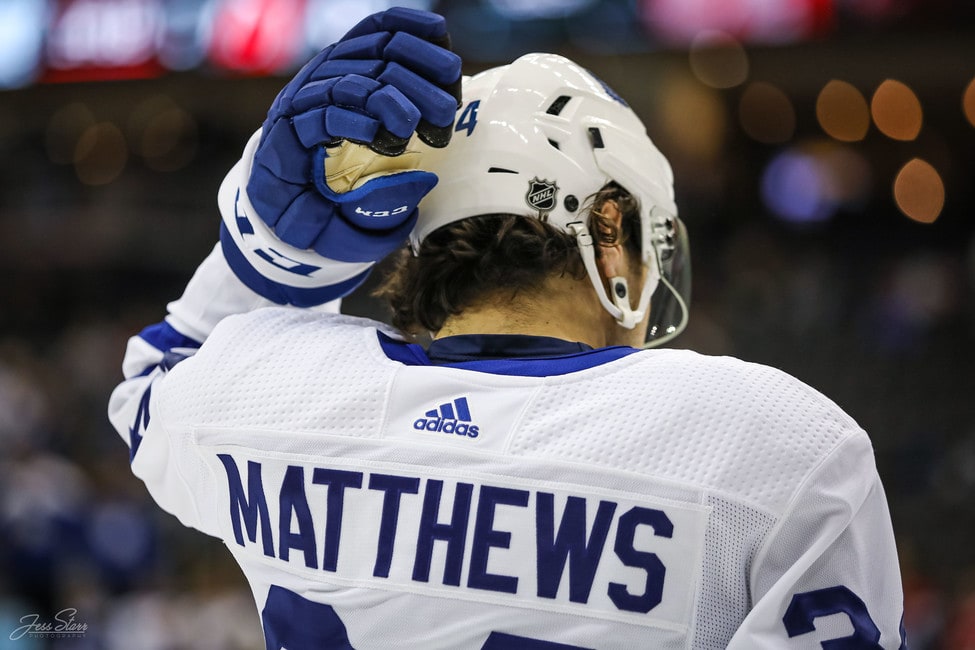 Sadly the news is far more negative for Thornton. Thornton will miss at least four weeks after fracturing a rib during the first game on Wednesday night against these same Oilers.
Related: Toronto Maple Leafs Become Chapter in Jimmy Vesey's Puzzling Career
Other than Tavares' score, two other Maple Leafs goals were scored by Adam Brooks and Jimmy Vesey. For good measure, Mitch Marner added an empty-net goal very late in the third period to put the game out of reach.  
Item Two: Frederik Andersen Has Bounce-Back Performance
No surprise, the Maple Leafs started Frederik Andersen against the Oilers. It was a big matchup for both Andersen and the Maple Leafs, and both faced down adversity successfully. When Andersen started the game, he had a goals-against-average of 3.01 and an .886 save percentage. When he finished the game, his goals-against average had improved to 2.81 and his save percentage to .898.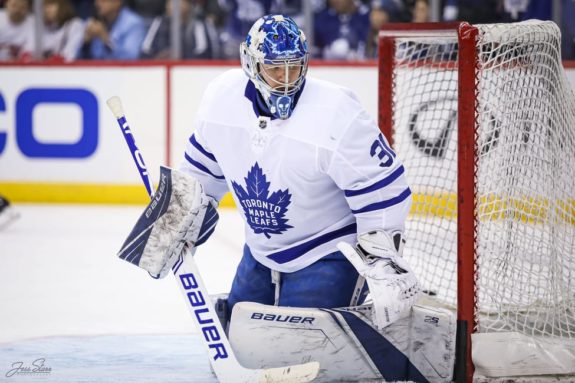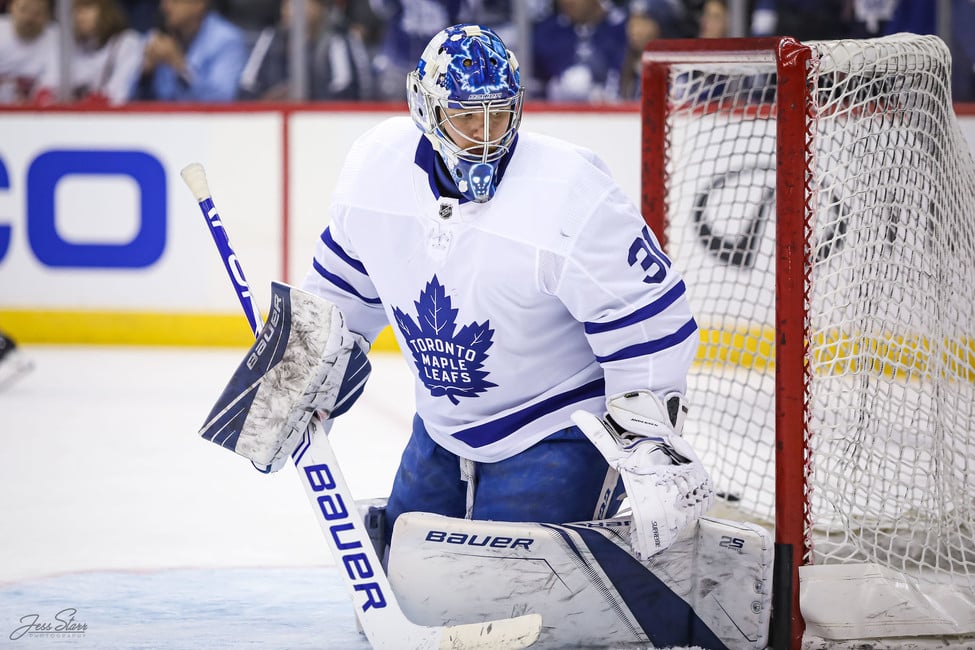 Andersen's game is coming around. He hasn't allowed more than two goals during his last three starts. Last night, he was named the game's first star, stopping 30 of 32 shots in a nice bounce-back performance after losing to these same Oilers on Wednesday. In fact, the Oilers' goals were all but unstoppable.
The first goal was the result of bad hockey and came off a defensive mistake and turnover right in front of his net. That mistake led to a Leon Draisaitl goal. The Oilers' second goal was simply the result of good hockey, when the great Connor McDavid beautifully tipped Ethan Bear's shot from the point. The McDavid-Draisaitl duo has scored on a lot of NHL goalies. No shame in that.
Related: Why the Vezina Trophy Deserves Its Name
One special part of Andersen's victory was that, with the win, the 31-year-old Dane made history. He passed Curtis Joseph (Cujo) for the fourth most wins by a Maple Leafs' goalie in team history. After the game Andersen spoke about how much he had come to appreciate Joseph as he's gotten to know him as part of the Maple Leafs' alumni.
Item Three: Mitch Marner Racks Up Two Points Against the Oilers
Mitch Marner scored an empty-netter and added a power-play assist in Friday's 4-2 win. Marner is on a bit of a roll; it's the third multi-point effort for the 23-year-old over the last four games.
Marner now leads the Maple Leafs in scoring and is on more than a point-a-game pace early in this season, with four goals and eight points in six games. Given the talent that surrounds him – especially when his line partner Matthews returns – there's a good chance he'll keep this pace up. He's also getting plenty of ice time, and last night played 22:43 minutes.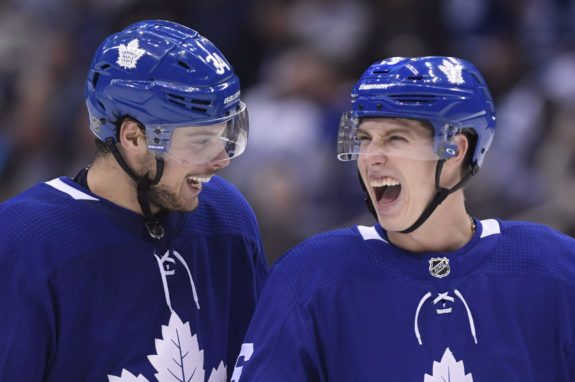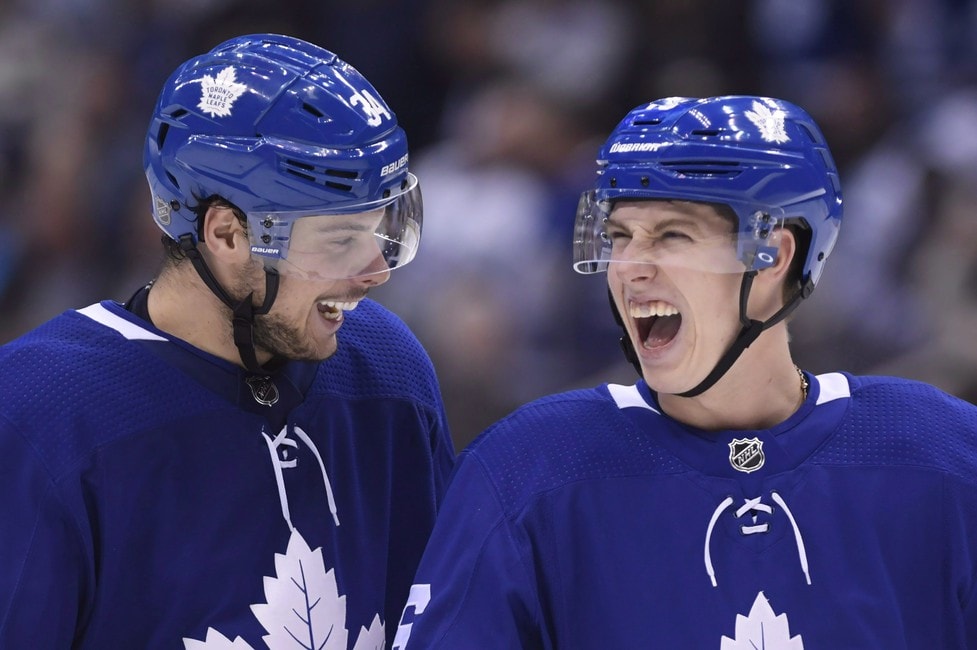 Playing on the first power-play unit helps, and Marner got his first point on Tavares' game winning power-play at 11:46 of the third period. Literally, at the last second, Marner also added his empty-net goal. Last season, Zach Hyman seemed to be getting these goals. Speaking of Hyman, he's likely to join Marner and Matthews on the team's top line with Thornton out.
William Nylander's also has had a nice start to the season. He, too, is on more than a point-a-game pace. Last night he added two assists to his season's total and now has two goals and five assists in the six games he's played.
Item Four: Adam Brooks Scores First NHL goal, and Thanks Spezza for His Help
One highlight of the game for me was Adam Brooks' first NHL goal and the appreciation he showed for NHL veteran Jason Spezza who set up that goal. Last season, Brooks got to play seven NHL games with the Maple Leafs. He noted during an interview after the game that one of the first things he did when he got to the NHL was to ask Spezza to sign a stick for him.
Related: Meet the NWHL's EBUG: Mariah Fujimagari
This season, he scored his first NHL goal on Spezza's feed, and Brooks seem truly struck by that fact. It's not lost on him that he's having an opportunity to play with one of his hockey heroes. For me, it was a nice touch to the game.
Brooks has been kicking around the Maple Leafs' organization for a few years. He played for the team's AHL affiliate the Toronto Marlies for three seasons and, as I noted, finally played in seven NHL games during the 2019-20 season (he had three assists in those games). Last season with the Marlies, he scored 20 points (nine goals and 11 assists) in 29 games.
During the offseason, the Maple Leafs signed the 24-year-old center to a two-year, two-way contract extension for $725,000 if he plays at the NHL level. Brooks was scheduled to become a restricted free agent during the last offseason prior to his signing.
What's Next for the Maple Leafs?
The North Division of Canadian-only teams seems every bit as competitive as it was heralded to be at the beginning of the 2020-21 season. The Maple Leafs (4-2) are tied for lead with the Montreal Canadiens (3-0-2). The Canadiens haven't lost a game yet in regulation.
Related: Toronto Maple Leafs' 2020-21 Roster: Who's Staying, Going & Coming?
The other surprises to me are how well the Winnipeg Jets are playing and how poorly the Vancouver Canucks' season is going thus far. It will be interesting to see how all the teams move back and forth during the season.
---
---