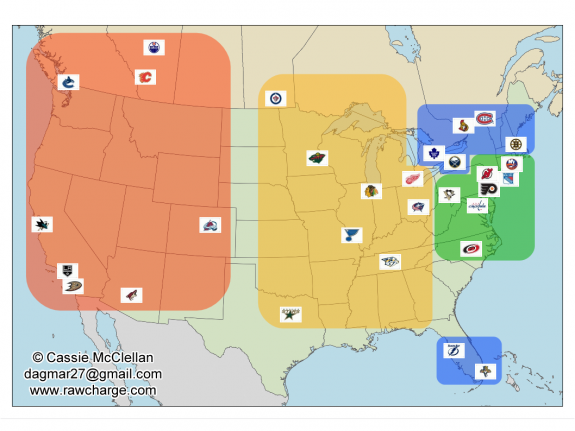 Since the lockout, the Atlantic Division was one to be reckoned with.  The Penguins, Rangers, Devils, and Flyers were constantly in the mix for Eastern Conference supremacy.  The Islanders were a bit of a laughing stock – and still are thanks to Garth Snow – but were invigorated last season with a playoff berth for the first time since the 2006-07 season.
Then realignment came along.  The Atlantic Division added teams like the Washington Capitals, Carolina Hurricanes, and Columbus Blue Jackets.
Amid expectations that the newly deemed "Metropolitan Division" was going to be as strong as the old Atlantic Division, the teams have been anything but, with a slight exception to the Pittsburgh Penguins (and even they have their flaws).  How can some of the best teams in the NHL suddenly become just average in a year's time?
We at The Hockey Writers have journalists covering each of these teams.  I decided to gather a few of them to get their thoughts on the teams they've watched since the the beginning of the year.  Here are there thoughts.
*******************
Andrew Luistro – Writer for the Carolina Hurricanes
"For the Carolina Hurricanes, 2013-14 had all the promise of success that previous years didn't.  Head coach Kirk Muller was finally getting his first full offseason.  Depth holes were plugged with serviceable talent like Nathan Gerbe, Ron Hainsey, and Anton Khudobin — and on the cheap. Players entered camp motivated and healthy.  Well, for the most part.
The black cloud of injuries still hovered over Eric Staal and his knee sprain sustained at the 2013 IIHF World Championships, and the captain got off to his traditional slow start.  But one by one, the plague infected teammates. Alex Semin missed 12 games with a concussion. Jeff Skinner was sidelined for 11 with an upper body injury.  Both Khudobin and Cam Ward were banged up at the same time, yielding the net to third-stringer Justin Peters for an extended period of time. It dug them a whole they've failed to climb out of.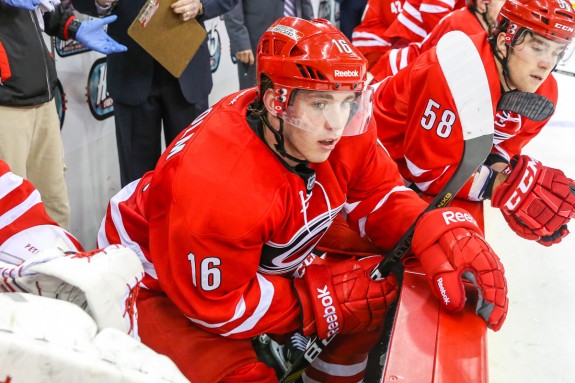 Though the 'Canes have been healthy for several weeks now, the season is still circling the drain.  Muller's powerplay has been powerless, despite the wealth of talent, and has yet to convert a single opportunity since the Olympics.  The lack of goal-scoring as a whole has been a year-long problem.  Only Skinner has broken the 20-goal barrier, and no one else is even close. For a team whose top six forwards make $33.33 million — over half the payroll — that's not good enough.
The Hurricanes are headed for another top ten pick, and though the organization could use another infusion of talent, the fanbase is getting restless. Next year will feature more promises, but also a high probability of new voices making them."
*******************
Douglas Cutler – Writer for the Columbus Blue Jackets
"Many have said that the Eastern conference and specifically the Metro division has been weak.  The Jackets are sitting in a tie for 8th in the East at 71 points, but that same number would also put them one point from the 8th slot in the West as well, so they are certainly in the hunt for a playoff spot.  The early season struggles when Marian Gaborik was actually scoring was nice, but he struggled lately.  With Gaborik producing, perhaps the Jackets don't suffer that 5 game losing streak (and 7 losses in 8 games) in early November.  Gaborik was rather invisible for long stretches of time, and the injuries continued to pile up (40 games missed this season).  The trade deadline came and as it left, Gaborik did too.  Addition by subtraction if you ask me, but don't blame him for all the issues in Columbus.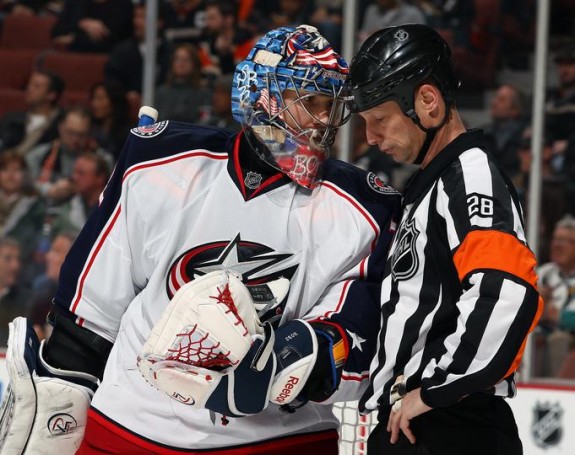 Instead, there are two other issues that have plagued the Jackets.  A rather large stumbling block has been the defense.  It's been porous at times, but can certainly bring the scoring if needed from guys like James Wisniewski and Jack Johnson. Nick Schultz, acquired in a deadline deal, will fill a gap in a defensive corps hurt by injuries all year long.  But speaking of injuries, Ryan Murphy has been declared out for 4-6 weeks after undergoing knee surgery.
And there you have the number one reason for the Jackets inconsistencies.  Staying Healthy.  As of the March 4th report, the Jackets sit in 4th in the NHL in man-games lost.  At 248 games lost, the Jackets need to stay healthy if they want to remain in the playoff hunt.  Assistant Captain Jared Boll may not score a lot, but his leadership and presence on the ice has been missed for 37 games.  Gaborik missed 40, Matt Calvert 26, Blake Comeau 14, Sergei Bobrovsky 12 and Boone Jenner another 9. In other words, injuries have been felt all over the ice.
In the end, for the teams bunched up with Columbus like New Jersey, Washington, the Rangers, and Flyers, goaltending has to remain solid.  I'm not going to bet against the reigning Vezina trophy winner, but Bob has to stay healthy and he and backup Curtis McElhinney will have to do one more thing: win a couple of big games, which they have yet to do.  With 18 games to go, the Jackets play the Flyers, Penguins and Rangers from the Metro and add on one more team ahead of them in the East, the Canadiens. The schedule doesn't favor the Jackets, so earning a big win or two will be key to shaking off the mediocrity and becoming a playoff team."
*******************
Dan Rice – Writer for the New Jersey Devils
"The biggest flaw for the New Jersey Devils this season has been the ability to consistently score goals.  They currently have 152 goals which is tied with Florida among the Eastern Conference teams, and they are only ahead of Buffalo who has tallied only 124 goals.  To make matters worse – or to make that stat even more glaring – they are 0-8 in shootouts this season, and 0-12 dating back to last season.
The 12 consecutive losses is an NHL record by the way. Their shooters are an astounding 1-for-25 this season (rookie Reid Boucher has the only tally & he is in the AHL at the moment); and their two goalies have surrendered 11 goals in 25 chances. The Devils could be in a more secure spot in the East with just a handful more points; since it was introduced it was a part of NJ's game that they used to thrive in with players like Viktor Kozlov, Zach Parise & Ilya Kovalchuk.
Their D is in a transition period, with the older players being maybe a year too old and the younger players are a year too young. For all of the praise Eric Gelinas gets for his offense, he gets benched for his less than stellar defense."
*******************
Toli Metter – Writer for the New York Islanders
"With the Metropolitan Division in a state of flux for what has seemed like the majority of the '13-'14 NHL season, the New York Islanders had every chance to climb their division's rankings this season.  However, the Isles were more or less done in by yet another November swoon – one in which the team only managed to win four out of a possible fifteen games.  While the Islanders started to play better hockey in December as John Tavares, Thomas Vanek, and Kyle Okposo found consistent chemistry together, the team could not find a way to close out games as they surrendered countless multi-goal and third period leads to opposing teams.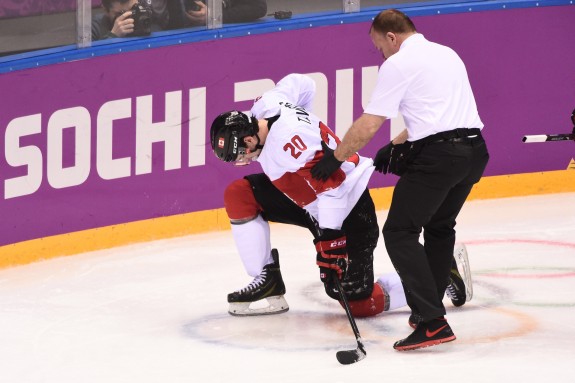 Of course, injuries to Evgeni Nabokov and the team's defense (Lubomir Visnovsky & Brian Strait) certainly affected the Islanders, but the team once again found itself unable to play a full 60 minutes of hockey on more than a few occasions.  Younger players such as Calvin de Haan, Ryan Strome, and Anders Lee have shown much promise, but New York has failed to live up to expectations this season after a surprising second half finish that saw them give the Pittsburgh Penguins a run for their money during the 2013 Stanley Cup Playoffs.  Although the loss of John Tavares to an MCL and meniscus tear was a devastating blow to the Islanders, the team has largely struggled to find any type of consistency this season on a number of fronts – whether it be on the defensive or offensive side of the puck."
*******************
Josh Smith – Writer for the New York Rangers
"Inconsistency
Benoit Pouliot is practically famous for his inconsistency.  The rest of the Rangers lineup seems to be following his lead.  Some of the Rangers' top scorers have been slumping lately.  Nash has posted just one goal and one assist in his last nine games.  Kreider has a goal and an assist in his last eleven.  Carl Hagelin's posted just one assist over six  games. Prior to netting four points in his last four, Derek Stepan endured a five-game scoreless drought.  The Rangers are going to have to pick up the slack for each other to hang on to their playoff spot.
Injuries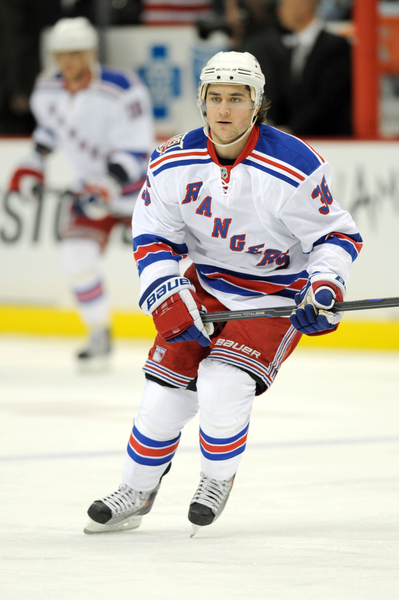 The Rangers haven't lost a ton of players to injury recently.  Earlier this season, Nash, Hagelin, Moore, and Staal all spent time on injured reserve.  They'll have to hope they can stay healthy.  With only one player on the shelf right now, they've been fortunate.   Of course, in the Rangers' case, their biggest injury loss may come in the smallest package.
Mats Zuccarello was the Rangers' leading scorer at the Olympic break. 'Break' being the unfortunately operative word, as the diminutive Norwegian fractured his hand blocking a shot in Sochi. With Zuccarello sidelined for another two weeks, other players in the lineup will have to step up.
Goaltending
What's that you say?  The Rangers are fine with Lundqvist in net?  Absolutely.  They are, but they need him to be better than 'fine.'  History tells us that every time Lundqvist returns from the Olympics, his play drops off.  The Rangers have very little room for error and can't afford to have their top netminder at anything less than his best.
It's only been three games, but Lundqvist's post-Olympic play so far supports the Olympic hangover theory.  In three games, all losses, Hank has posted a 4.35 GAA and an .860 save percentage.  His first two post-Olympic games were just the second time all season he'd allowed more than three goals in back-to-back games.  (The last was in October, in back-to-back losses to the Ducks and Sharks.)
He can rebound, but right now he's not winning games – let alone stealing them – which he'll need to do for the Rangers to make noise in the postseason.
Overview
The Rangers are a stronger team with Martin St. Louis in the lineup.  For this team, though, he's not enough to be the difference-maker that will win them the Cup.  The way the Rangers' luck goes, he'll probably be enough to get them to the Eastern Conference Finals – just far enough to cost the Rangers a 2014 first-round pick, based on the terms of the Callahan-St. Louis trade.  Of course, they need all things working perfectly to hope to even make it that far.  Injuries, inconsistency, and any goaltending struggles will bring their postseason dreams to an abrupt end."
*******************
Shawn Reznik – Writer for the Philadelphia Flyers
"It's a constant struggle with Philadelphia to give it their all for a full 60 minutes.  Oftentimes they either show up for the first two periods and completely shut down for the third, or they can't get a handle the first two periods and play on point during the third while playing catchup.  It's never a consistent effort with the Flyers.
If you've read my stuff at all this season you'd know my disdain for the current shape of the defense.  It's not the worst group of defensemen ever assembled, but some of them are making a case for being benched (Luke Schenn, and Niklas Grossmann in particular).  Most of the burden is left to the top defensive pairing of Kimmo Timonen and Braydon Coburn.  Andrew MacDonald was a nice pick up and has played well in the few games he's dressed, but overall the defense is questionable.
The team not only has issues now, but will have them for the next couple of years, as well.  Why?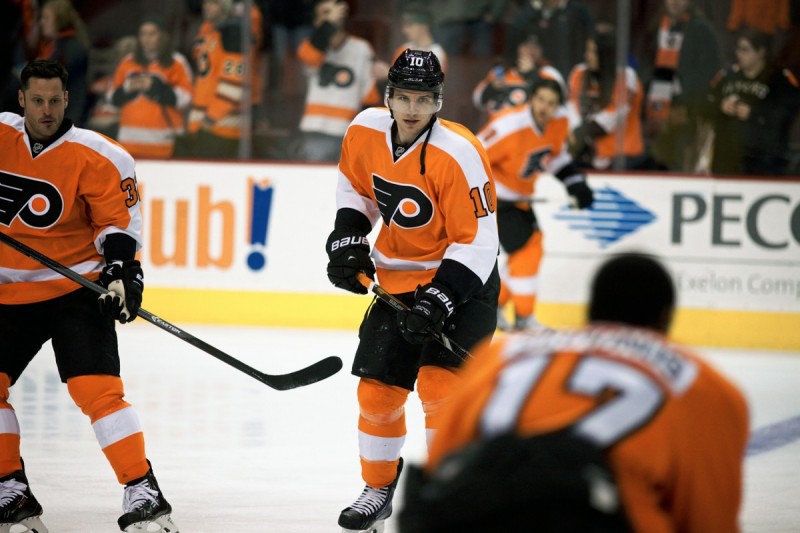 Well general manager, Paul Holmgren, throws out 4+ year contracts at $4M+ per to aging players like it's beaded necklaces at Mardi Gras in New Orleans.  The signings of Mark Streit and Vinny Lecavalier have not worked out nearly as well as fans had hoped – and that's putting it lightly.  Worse yet, Holmgren has $12M dollars in cap space to work with next year.
Now $12M may seem like a good amount to lure a solid free agent, but it doesn't take into account that players like Brayden Schenn, Andrew MacDonald, and Adam Hall (one of the biggest bright spots on this team) need to sign a new contract.  Hall will come cheap, but Schenn and MacDonald are due for some nice salary re-ups come next season leaving the Flyers right up against the cap with little wiggle room.
The Flyers still have an above-average shot at making the playoffs with this team, but the chances of going far is very slim."
*******************
Justin Glock – Writer for the Pittsburgh Penguins
"The Pittsburgh Penguins aren't as good as you might think.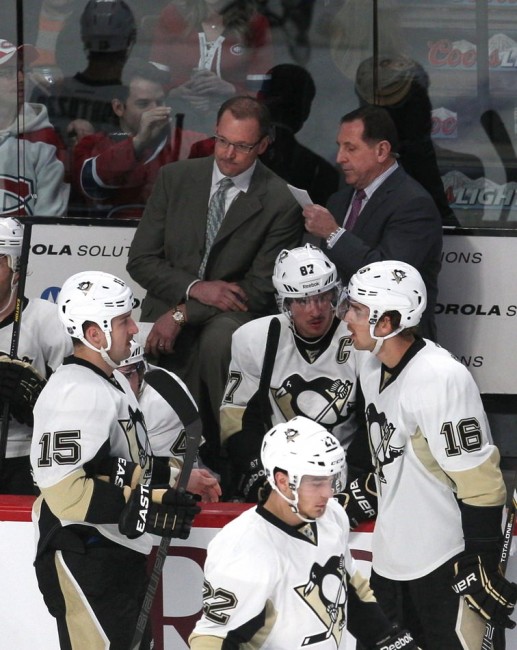 The Pittsburgh Penguins rank 9th, surrendering 2.47 goals per game.  That's a decent ranking, but the team isn't as good defensively as the numbers show.  Dan Bylsma is an offensive-minded coach, and the Penguins' good defensive numbers are a product of their superstar talent on offense . They play defense by possessing the puck, and moving the puck as quickly as possible out of their own zone.  Their team belief is that offense is the best defense.  When the Penguins are forced to play defense without the puck, they prove how vulnerable they are in their defensive zone.
The Penguins play the same way.  They don't surprise their opponents.  That's why Bylsma is under the microscope.  He's behind four straight playoff disappointments since winning the 2009 Stanley Cup.  His worst attribute is his stubbornness to adjust.  Every time the Penguins lose, Bylsma seems convinced that it's because the Penguins didn't play their style of game.  In last year's Eastern Conference Finals against the Boston Bruins, the Penguins lost their first two games before they decided to adjust their style of play.  By that time it was too late to instill playoff hockey.  Bylsma could make life easier on his stars if he kept them away from the top defensive pairings of opponents.  But Bylsma rarely matches lines.  Instead, the Penguins keep going about things the same way and end up with the same results."
*******************
Matt Speck – Writer for the Washington Capitals
"The Capitals made minor but important moves over the NHL trade deadline, shedding salary for the offseason by moving Martin Erat and Michal Neuvirth.  They received goaltender Jaroslav Halak in the Neuvirth trade to Buffalo, giving the former Montreal Canadiens net minder who haunted the Capitals in the playoffs years ago a chance to earn a big time paycheck this summer, when he becomes an unrestricted free agent.
General George McPhee also added gritty winger Dustin Penner for a fourth round draft pick, giving Washington a physical force for their already dynamic power play.  The addition of forward prospect Chris Brown in the Erat trade was a great find by McPhee to add to the farm system after losing top prospect Filip Fosberg in a terrible trade last season.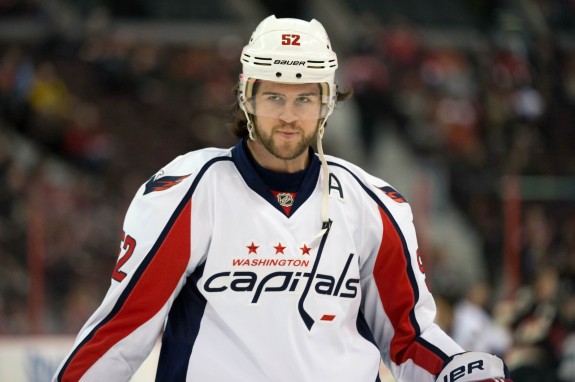 The Capitals are an average team right now and won't get much better even with the addition of Russian forward Evgeny Kuzentsov, who made his debut Monday night against the Pittsburgh Penguins.  Their power play has been exceptional (23.2%), but their shorthanded unit ranks 23rd in the NHL at 80.3%.  They allow just south of three goals per game at 2.92 per contest, due to their inability to posess the puck and get out of their zone.  Their third pairing on the blue line consisting of John Erskine and Connor Carrick has been underwhelming and is a combination that contending teams wouldn't have on the ice.
Washington must add a left-handed top four defenseman to their blue line and there aren't many options in free agency in the coming seasons.  Drafting and developing a defenseman must be the number one goal for McPhee this summer. With significant cap space heading into this summer Washington should also try to add some forward depth and potentially use their final compliance buyout, possibly on forward Brooks Laich who has struggled to stay healthy over the past few years."
*******************
Follow Andrew Luistro on Twitter: @ndrewL7
Follow Douglas Cutler on Twitter: @DougCutlerTHW
Follow Dan Rice on Twitter: @DRdiabloTHW
Follow Toli Metter on Twitter: @ToliMetterTHW
Follow Josh Smith on Twitter: @joshsmith29
Follow Shawn Reznik on Twitter: @ShawnTHW
Follow Justin Glock on Twitter: @JTGlock
Follow Matt Speck on Twitter: @m_speck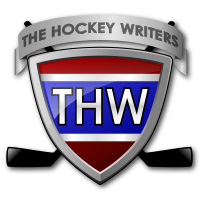 The archives of THW contain over 40,000 posts on all things hockey. We aim to share with you some of the gems we've published over the years.