The Nashville Predators are one of the league's best teams, reached the Stanley Cup Final last season, and are one of the favorites to win the Cup this season. They are led by their elite defense that is the league's best and has been for several seasons. It was back in the 2013-14 season, when Mattias Ekholm, Ryan Ellis, and Seth Jones all played their first full seasons, that the Predators began putting this core together.
That season, their blue line scored 171 points, increasing to 193 points in 2014-15 and to 203 in 2015-16. Last season, injuries regressed this total to 181 points. Nashville's defense was the biggest reason they reached the Stanley Cup Final last season and will be again if the Predators repeat as conference champs. Since the 2013-14 season, Predators defensemen have accounted for at least 29 percent of team points each season. That is the case this season with their blue line representing 31.2 percent of total team points.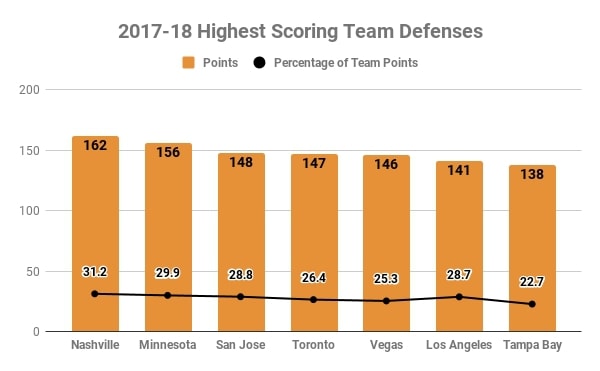 Nashville's 162 points by defensemen are the most of any team this season. They have played 62 games, giving them a 2.61 point-per-game scoring rate and on-pace for 214 points this season. If they reach that mark, it will be the highest scoring season for Nashville's defense since before the 2013-14 season.
With names like Ekholm, Ellis, Roman Josi, and P.K. Subban, it is easy to understand how the Predators blue line has developed into such a potent group. What is hard to believe is that these players make up the best top four in hockey and there are still elite defense prospects in their farm system and Nashville should continue to improve.
Nashville's Current Blue Line
Nashville's front office used all avenues to construct this defense together. Ellis, Josi, Ekholm, and Anthony Bitetto were draft picks of the organization, with Ellis as the only first round pick. Nashville took Josi in the second round, Ekholm in the fourth, and Bitetto in the sixth. Yannick Weber and Matt Irwin arrived via free agency in 2016 and Alexei Emelin and Subban are trade acquisitions. Emelin was acquired for a third round pick from the Vegas Golden Knights and Subban was traded for Shea Weber.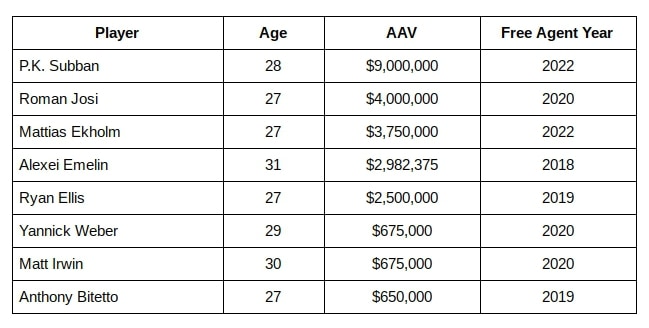 Any of Nashville's top four of Subban, Josi, Ekholm, and Ellis would play on nearly any other team's top pair. While all of their defensemen are talented, it is these four that head coach Peter Laviolette has placed the most trust in. All four play at least 22 minutes per game led by Josi and Subban, each with over 24 minutes. Meanwhile, Irwin, Bitetto, and Weber all play less than 14 minutes per game and Emelin plays 17 minutes, largely the result of being pairing with Subban this season.
Each also plays a different role for the Predators. The Subban/Ekholm pair is the team's most trusted, starting in the offensive zone just 48.1 percent of the time at 5-on-5. At the opposite end is the Josi/Ellis pair, which starts in the offensive zone 58.8 percent at 5-on-5 and is tasked with bringing the most offense. Their third pair of Emelin and Weber receives 55.6 percent of zone starts in the offensive zone at 5-on-5. This allows each player to be placed in situations that are reflective of his abilities.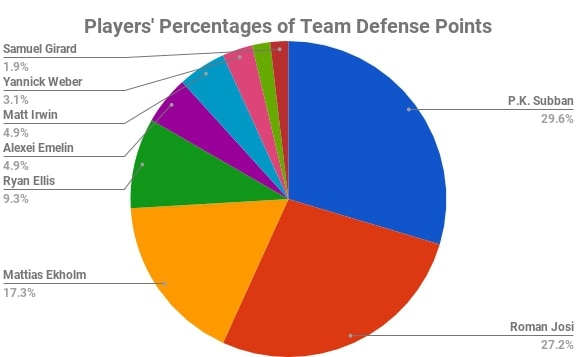 They are also good enough to lose Ryan Suter in free agency during the 2012 offseason. They also traded Seth Jones at 21 years old and with Norris Trophy potential to the Columbus Blue Jackets for Ryan Johansen. More recently, in November, they dealt 19-year old Samuel Girard to the Colorado Avalanche in a deal that yielded the Predators Kyle Turris. Both trades are examples of Nashville trading from a position of strength to address a need. They were both tough decisions but are the type that Nashville GM David Poile thrives at making.
Nashville's blue line is structured in a way that benefits the team now and in the future. They also provide the Predators with trade value if needed. Subban and Ekholm have the longest contracts with both signed through the 2021-22 season. Josi has two more seasons left on his deal and Ellis is a free agent after next season. Subban has the only contract with an average annual value (AAV) over $5 million. This means the Predators are getting great value considering how impactful these players have been.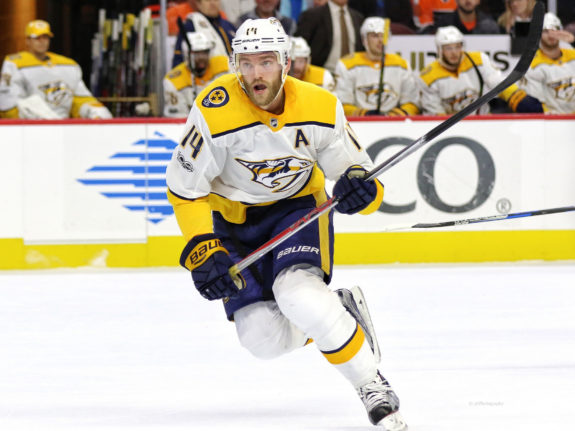 When factoring in games played, the Predators have six defensemen with a cost-per-point average below $100,000. Only Subban and Emelin average more than that when scoring a point. Two of their blueliners, Irwin and Ellis, are in the top 25 in the league for defensemen in cost-per-point. Irwin ranks ninth and Ellis 17th.
Related: David Poile's 5 Best Moves
Defense Prospects in the Predators System
Despite having an elite NHL defense, the Predators front office used 16 picks on defensemen in the last five Entry Drafts. Of those players, four are in the AHL, five are either in juniors, the NCAA, or playing in Europe, and five went unsigned and are no longer in the system. The remaining two, Seth Jones and Samuel Girard, were traded as assets to strengthen Nashville's NHL roster. Of the nine in the Predators' system, six are prospects with upside and have potential to reach the NHL. The best are Dante Fabbro and David Farrance.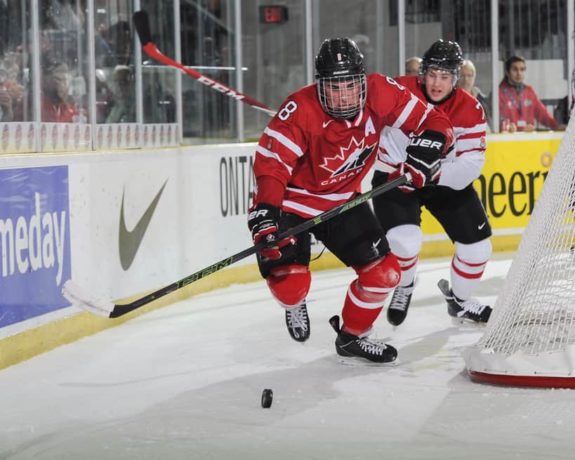 Fabbro is a 19-year old drafted 17th overall in the 2016 Draft. He is in his sophomore season with the Boston University Terriers where he has 26 points in 32 games. Fabbro is not a flashy defenseman like Erik Karlsson or Brent Burns but he makes all the right plays. His ability to process the game stands apart from others his age. TSN's Ryan Kennedy had a scout tell him that Fabbro is "basically an NHL player already." As a right shot, puck-moving defenseman, he is a valuable commodity. It is safe to assume that Fabbro's name came up in trade talks the Predators engaged in at the deadline. Fabbro has the skills to be on Nashville's blue line now and when he signs his entry-level contract will reflect when he makes his NHL debut.
"He's not a player that relies on sheer force or size to be effective, and that'll be key moving forward. He's a great positional player and is almost always in the right place at the right time and has good instincts in terms of when to take risks and when not to." THW's Ryan Pike in Dante Fabbro's Prospect Profile
Nashville drafted Farrance in the third round of the 2017 Draft and he is a freshman teammate of Fabbro's at BU. Prior to playing college hockey, he was a member of the U.S. National Development Program. He posted 37 points in 64 games in his last season with the United States U-18 Team. He is a left shot and excels at both sides of the game. Adding muscle to his five foot, 11 inch frame will go a long way to helping him excel at the NHL level. It is easy to see a top pair of Farrance and Fabbro on Nashville's blue line in the future.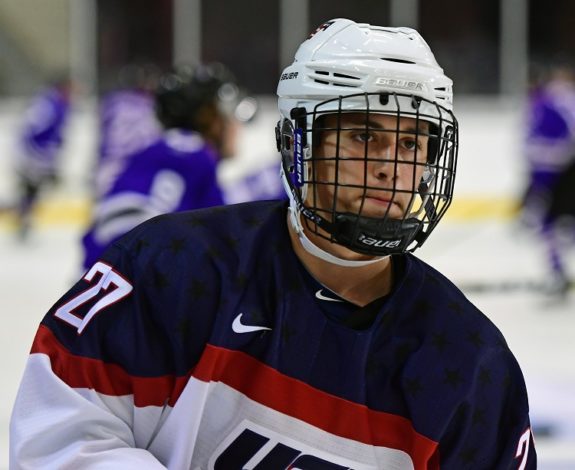 In the AHL, the Predators have Jack Dougherty, Alexandre Carrier, and Frederic Allard with Allard likely having the highest upside. The Predators drafted him in the third round of the 2016 Draft. The QMJHL product played his junior hockey with the Chicoutimi Sagueneens, where he averaged more than a point-per-game his final season. He is a solid two-way right shot blueliner who can quarterback a power play while also playing responsibly in his own zone. If injuries threaten Nashville's depth on the blue line, Allard could be the first one called up.
"Tremendously hard working defenceman who does whatever is asked of him. Really enjoys blocking shots and can also put up points." Jeff Marek's scouting report of Allard.
A wild card in Nashville's farm system is 2017 seventh round pick, Jacob Paquette. His draft position doesn't reflect his abilities as a broken hand affected his draft year with the Kingston Frontenacs. Paquette doesn't have the offensive upside of others but he is a great shutdown defender who wins one-on-one battles. He returned to Kingston this season and has another year of junior eligibility, which he will certainly use. The catch is that he has yet to sign his entry-level contract but, assuming he does, he could be an interesting prospect to watch in the next few years.
Projecting Nashville's Blue Line in 2020-21
Of the current defensemen on Nashville's NHL roster, all with be at least 30 in three years. Josi, Ekholm, Bitetto, and Ellis will all be 30, Subban will be 31, Weber 32, Irwin 33, and Emelin will be 34. By the 2020-21 season, all but Subban and Ekholm will have reached free agency.
After this season, pending unrestricted free agent Alexei Emelin, likely will not be re-signed. That will open up a roster spot on the blue line and free up cap space for the team. The biggest question marks will be Ellis and Josi, who need new deals after the 2018-19 and 2019-20 seasons, respectively. Both are key players to Nashville's success but are also due raises. Ellis currently has a $2.5 million cap hit and his new contract will likely at least double that cap hit. Same for Josi's current $4 million cap hit.
Josi has been in the top 10 in points among defensemen for four seasons, including the current season. The Predators have also had a positive Goals For percentage at 5-on-5 with Josi on the ice three of the past four seasons. It is not out of line to predict Josi's next contract carrying a cap hit similar to that of Subban's $9 million. The question will be whether David Poile will be willing to pay one, both, or neither of Josi and Ellis. Poile is a GM that will not pressured into paying a player above market value. He also knows how the Predators value individual players and contracts reflect that.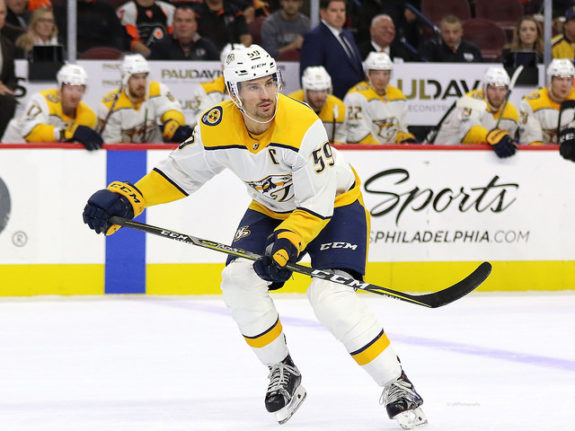 It is with this attitude that he was able to sign Filip Forsberg, Viktor Arvidsson, Calle Jarnkrok, and Ekholm to such team-friendly deals. If Josi or Ellis aren't flexible in contract negotiations, Poile will be willing to either trade them or let them walk. Even Josi's status as captain is unimportant considering the trade that sent Shea Weber to Montreal. Poile also let Suter depart in free agency, getting no assets for him.
I don't see Nashville's current top four being intact in three seasons. Assuming they keep Subban, as he is their best defenseman and is on their best pair, I don't foresee Poile giving contracts to both Josi and Ellis that are close to market value. I think it is fair to predict Josi getting paid similar to Subban and Ellis having a cap hit in the $6 million range. If that is the case, Nashville's top four would have a combined cap hit of $27.75 million, or 33.8 percent of an $82 million salary cap, which is the upper end of next season's projection. Their current defense is only taking up 32.2 percent of the team's salary cap. It's difficult envisioning Poile being comfortable devoting that much money to one position group when others will need new deals as well.
That is why I expect them let Ellis depart in free agency or trade him prior. Of he and Josi, Ellis is the less valuable player to the Predators. Yet, he is still a right shot puck-moving defenseman that teams covet. If he on the trade block, he would yield at least a first round pick in return. Ellis has also been injury-prone, has yet to have a full season, and Nashville needs a more reliable option in the top four. Subban could also be a trade option but his value to the team is likely too much to lose. His contract, although expensive, also gives the Predators cost certainty as he won't reach free agency for another four seasons.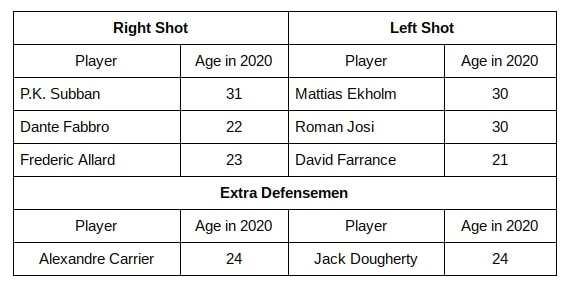 Even in three seasons, I think the Subban/Ekholm pair will be Nashville's top and most dependable pair. They have such chemistry that it is difficult to envision them being separated. With Ellis gone, Josi will need a new partner. Fabbro is a great one for Josi. Fabbro is a good two-way defenseman with offensive upside. He will also be just 22 and Josi would be a veteran presence to help develop Fabbro's game. With Fabbro's high hockey IQ, he and Josi would work well together as Josi enjoys jumping up in the offensive zone. The one downside to this projection is that the third pair consists of two young defensemen in Allard and Farrance. But, with how little Nashville deploys its third pair, Allard and Farrance would be insulated. In this set up, it allows for Poile to add a veteran defenseman to play alongside either Allard or Farrance.
Another way to arrange the top six is by separating Subban and Ekholm. It would allow for Subban to play with Farrance and Ekholm to play with Allard. In this version, both Subban and Ekholm serve as the veteran partner on his pair. There would be less potency on the top pair but no drop-off with three balanced pairs.
Looking at what Nashville's defense corps could look like in three seasons is exciting for Predators fans. Although they already have the best defense in the league, there is a good chance that the group will only be better in the future. The team's scouts and front office have done a great job at finding prospects and then developing them. That should scare the rest of the league as Nashville is already one of the best teams in the league and will continue to be for the foreseeable future.
*All stats came from Natural Stat Trick and Corsica Hockey