There are many factors that have contributed to the New Jersey Devils perfect start to the season. Kyle Palmieri has scored two goals in each game. Keith Kinkaid's brilliant goaltending. The 13 points/assists from the six defensemen. The team's penalty killers, who have only surrendered one goal in 11 chances. And their fourth line has been fantastic, combining for five points in three games.
Blake Coleman, Brian Boyle, and newly-acquired Jean-Sebastien Dea have given the Devils a strong performance shift after shift early on and one of the main reasons is their versatility. "We have three guys on our line that can play center and that's a centerman's dream as far as helping out down low," explained Coleman after the team's 6-0 blowout of the Washington Capitals.
In that game, all three players netted a goal, something that doesn't happen too often amongst the 4th lines in the NHL. "I thought it was great. I think we were kind of got better as the game went on as a line and it's fun to play that way," Coleman said. "Obviously in the home opener it's nice to get one out of the way early (in the season) – I'm sure all three of us feel the same about that but, hopefully, it's a performance that we can build on, round out the rest of our game and be someone that can be relied upon every night."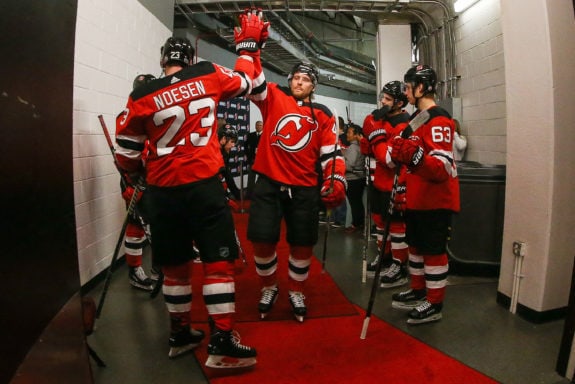 Coleman Cruising
Both Boyle and Coleman have played at center over the past three games and when the younger, faster Coleman is in the middle it has created a lot of opportunity in the offensive zone, and the ability to transition quickly out of the defensive zone. "It allows me to get to my speed a little bit," he said of playing there. "I feel like down low in the D zone it's one of my strengths. It's certainly something that'll take a few games to get back into that comfort level and I'm still trying to find it a little bit right now."
It gives coach John Hynes options to explore and he can always flip-flop when the situation calls for it. "When you look at Blake, he's done a very good job for us at center – he's good on face-offs, he's quick and he's really good down low defensively where he understands how to play defense in that area," said the Devils' coach. "He's a quick player, very good in support and when you have a guy that has some speed in the middle of the ice when he gets some of those breakout passes you can be a little bit more on the attack."
Coleman has the least points of the trio with only one goal (vs. Washington), but he's been excellent on the PK and has won 60% of the face-offs he's taken thus far. 
Dea-Day
New Jersey claimed Dea on waivers from the Pittsburgh Penguins at the tail end of training camp (on September 28) and as Hynes detailed after a 3-2 win over the San Jose Sharks in which the 24-year-old scored his second goal in as many games, his ability to fit in seamlessly shouldn't shock anyone.
How about this: Jean-Sebastien Dea scored his 3rd NHL goal on just his 8th career shot! Pretty solid shooting percentage. #NJDevils pic.twitter.com/Qvq33sqtt9

— MSG Networks (@MSGNetworks) October 14, 2018
"It's a credit to our management and scouting staff. We have an identity that we want to play with, we feel like we really know if we bring players in now that they can fit right into how we want to play and how we want to do things," Hynes said. "When you look at JSD – he's fast, he's tenacious, he's got good hockey IQ, he's competitive and he can play the way that we want to play. He's really doing what we thought he would do, but congrats to him for coming in and doing a good job. That's what you need. You need to try to add players to your team that you think are going to help you and he's certainly done that."
He's almost making it look easy. Dea has two shots on goal in each of the three games, and his goal vs. the Sharks was the game-winner. He only played in six NHL games before this season and his lone goal for Pittsburgh was also of the game-winning variety. It's a testament to him that he has been able to have success after joining the Devils in Europe as they ended their preseason in Switzerland and started their season in Sweden.
Here's the newest Devil Jean-Sebastien Dea who will wear number 10. Good morning from Switzerland. pic.twitter.com/OgHh2q5paj

— Steve Cangialosi (@CangyManMSG) September 30, 2018
"I'm sure it was hard for him – obviously it's a whole new system and a bunch of new guys – having to join us in the European leg doesn't make it easier," Coleman said of his new linemate. "But he's a great guy, seems eager to work and learn, and it's fun to play with guys who are working hard and quick learners. I think he's fit in well and he's fast, can make some plays. I think he's a guy that the more he plays, the more confidence he'll gain in this league."
Brian Valu-Boyle
Boyle is the veteran of the trio and throughout his tenure with the Devils, he has been so valuable in ways that don't often show up on a scoresheet. He's intense, selfless, a vocal leader on the bench and in the locker room, strong on face-offs, and a steady penalty killer. "You look at a guy like Brian Boyle blocking a shot late in the game when it's 6-0. It's something that we've talked about as a group – a certain way that we want to play," praised Hynes after the win over the Caps. "There's detail in our structure and a strong commitment to the way we want to play in our defensive area of the game when called upon."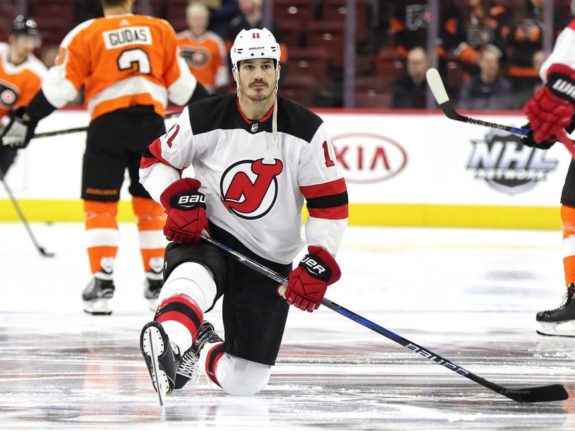 As for why the coaching staff has opted to use the 33-year-old Boyle more on the wing so far this season, Hynes went on to explain, "It's something that we were going to try Brian on the wing, he's a big strong body, he's good on the wall coming out of the defensive zone. Brian has really adapted well to playing on the wing and Blake has done a good job playing at center."
Unlikely they continue this type of production as we get deeper into the season? Yes. But it's quite the luxury to have when you don't have to rely on Taylor Hall to win every game for you. Sure the NHL MVP will get his and dominate at points during the season, but every successful team ever gets contributions from everyone up and down the lineup and New Jersey's 4th line has been a nice boost to a team looking to improve upon last season's return trip to the playoffs.