The New Jersey Devils have made some big acquisitions via trade during the Ray Shero era. Taylor Hall, Sami Vatanen, and Marcus Johansson come to mind and have all been acquired since he took over as GM in May of 2015 but one of his lesser-known swaps may turn out to be a very important piece of the red and black puzzle. In June of 2017, the Devils traded a second and fourth-round pick in the 2017 NHL Draft to the San Jose Sharks for defenseman Mirco Mueller and a fifth-round pick in that same draft.
Mueller was selected in the first round (18th overall) of the 2013 NHL Draft, played in only 54 games (2g-4a) over three seasons with the Sharks and was unable to become a regular in their lineup. Last season he played in only 28 games (fractured clavicle) with the Devils, but this season he's started as one-half of their top pairing on the blueline alongside Vatanen.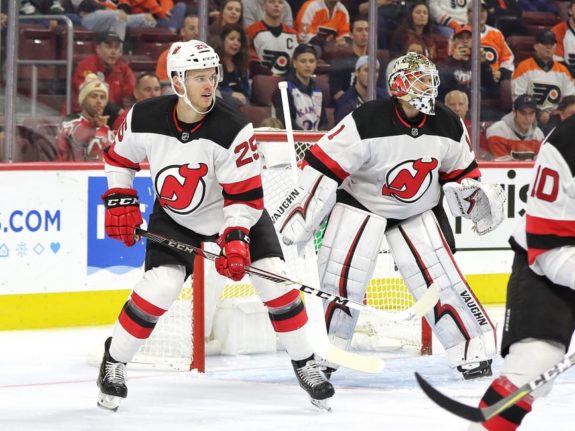 "Mirco's taken a nice step. It's been basically a year since we've gotten him and this is the step we like to see. He's playing with more assertiveness and he's a guy that has all kinds of talent. He's big, he's strong, he's got a good reach, he can skate really well; one of the things he needed to do was play with much more assertiveness than he did. Now he's doing that," said Devils coach John Hynes.
"He's comfortable with the puck, moving it in and out of the zone – which is important. He's been in some situations, even in training camp, where he was adjusting to the role of playing with Vatanen against the other team's top players but since the regular season started he's done a very good job."
When The Hockey Writers mentioned to Hynes that Mueller told us he felt like Vatanen and himself have complimented and communicated with each other well so far, New Jersey's coach smiled and quipped, "For a Finn and a Swiss guy they do read off of each other pretty well. They have been a good combination – which is something we were counting on and were planning on, them being a pair and playing against top lines."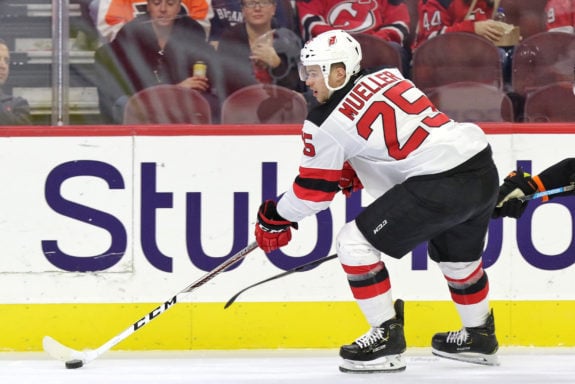 Add in the fact that Mueller currently makes the least amount of money among the Devils defenders ($850,000) and Shero may have found a real gem if the 23-year-old Swiss defenseman is able to continue as a part of their top pair. We recently spoke with him after a home game in New Jersey to find out just why he and Vatanen have worked so well together, what it was like to play with the Devils in his homeland, and just how talented his younger sister is.
Mueller Time
The Hockey Writers: You've been paired with Sami Vatanen so far this season on the top pairing for the Devils, why have the two of you been working so well together?
Mirco Mueller: I think we just keep the game kind of simple. Obviously, we're playing against a lot of the opponent's top players so as long as you keep the puck away from them you're in a lot less danger. We play fast and we think very similarly, that way we're able to read off of each other really well. On the other side, he's more offensive than I am, I can back him up and I think we compliment each other really well.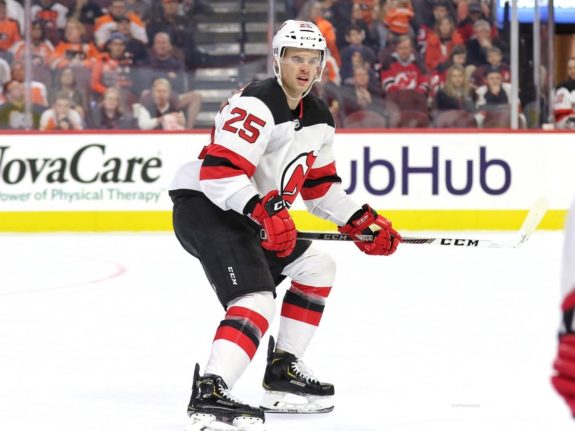 THW: What has the start of this season been like for you? Are you happy with where your game is at?
MM: I feel good, I think the team's play (overall) kind of reflects that a bit. I feel comfortable where I'm at. We've gotten a bit lucky I think, schedule-wise, so we shouldn't overrate it too much. We had a couple of teams on the second leg of a back-to-back, really good teams. You still have to play well, and win, but we definitely had a little bit of an advantage that way. But I feel pretty confident about my game right now.
THW: Is any of that confidence boosted by the fact that you do have three points/assists this early in the season?
MM: Yeah, I guess so. It's always nice getting on the scoresheet. I don't think I'm known for that, or that they're really counting on me to score points; but if you get them, you take them. 
THW: Did you get more satisfaction in the win over your former team (San Jose) because you had an assist in that game or is that something you don't really worry about?
MM: Obviously I still know a lot of guys there so it's nice to beat them – especially since I don't think the Devils haven't beaten them in a while. In the end, the most important thing is our team getting the two points.
I'm From Switzerland Too!
A game I will never forget. Thank you, Switzerland. #home #NHLGlobalSeries pic.twitter.com/hRH3jrRKg3

— Mirco Mueller (@muellermirco) October 1, 2018
THW: Most of the talk prior to and during New Jersey's preseason game in Switzerland pertained to Nico Hischier playing in his home country, but it was also a pretty big deal for you too, right?
MM: Oh yeah for sure. Nico, he's obviously a lot better than I am, and he is the new face of Swiss Hockey – it was great seeing him in that spot. I definitely enjoyed myself there and had a lot of people that I know, family and friends, there and it was just an all-around great event. My family also made the trip over to Sweden as well. I think that trip helped us all a bit as far as team bonding goes and experiencing something different.
Hockey Family
THW: Your sister Alina is a really good player and a pretty big deal for Swiss Hockey too. What can you tell us about her?
MM: She's a dynamic player, kind of the opposite of me in a lot of ways. She has that knack for scoring goals and she has a good shot, a quick shot. She reads the game really well and is an all-around good center up and down the ice.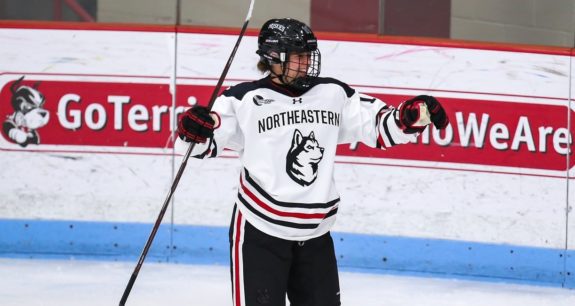 THW: I know there's an age difference but do you train with her in the offseason at all?
MM: No, not at all. Sometimes we train at the same gym but she has her own group with the girls, and I work out with the guys that I've been working out with for a few summers now. We've actually never played together, it's just a three-year difference but I always played with older players. I don't think we've ever really stood on the ice together in a competitive setup. 
THW: Do you feel comfortable admitting that she has a better shot than you do?
MM: (laughs) Yeah. I mean she's definitely quicker than I am. She gets her shot off a lot quicker than I do, especially in tight. She has that nose for where to put herself (on the ice) and I don't really ever get into those spots so I guess we'll never know (grins).
Congratulations on collegiate goal No. 1, Alina Mueller! #HowlinHuskies pic.twitter.com/bIoHyCgx8I

— Northeastern Women's Hockey (@GoNUwhockey) October 6, 2018
THW: Recently she scored her first goal at Northeastern University. We know she was phenomenal on the Olympic stage this past February but was that a big deal for her?
MM: Yeah for sure. She's really happy and feeling very comfortable at school there. From what she's told me the people there have been great and she's really been able to slide right in there and enjoy herself. That's a nice spot too, living in downtown Boston and she's really enjoying herself. Even with the classes at school too, she likes that balance of going to school but also kind of training like a pro on and off the ice. 
Dan Rice is in his 9th year of reporting for THW & has covered NJ Devils home games for 15+ years at various websites. He began his journey working for legendary broadcaster/writer Stan Fischler from 2002-04 & completed an internship at the ECHL; he also has been writing features for the NWHL (nwhl.zone) website since 2016.