In terms of dollars and cents, the 2018-19 season is going to be big for New York Rangers center Kevin Hayes. His final statistical numbers will help to determine if he's a long-term or stopgap solution for the franchise's rebuilding effort moving forward.
It's one of the most intriguing questions in sports today: When do you give a player financial security with a long-term contract? Often, the answer becomes easy if the player in question has lifted his own stock by becoming a better all-around player in the lineup.
All eyes will be on New York this season to see if Hayes can continue flourishing with his play and become a long-term solution for the Rangers' rebuild. He is playing on a one-year contract, so the front office will need answers quickly before next spring's trade deadline.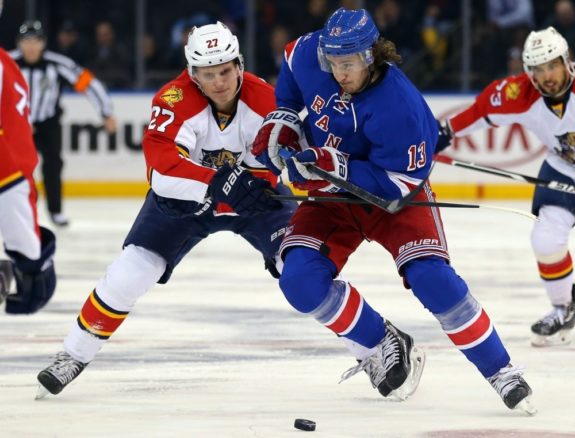 Hayes' puck-handling and defensive skills make him a logical choice for the Rangers' top line, but Mika Zibanejad is currently filling that role. Both players had a positive winning faceoff percentage last season, but the biggest difference in their play is Zibanejad's ability to produce more scoring chances at even-strength and from the point position on the team's top power-play unit.
Players like Hayes are essential pieces to a Stanley Cup championship team because of their versatility to play anywhere in the lineup. Hayes has averaged close to a point per game in four NHL seasons. His level of production might need to improve more this season, so the Rangers gain a balanced scoring attack from their top lines.
Where Does Hayes' Career Go from Here?
Hayes is a bit of a mystery in terms of what type of player he is on the ice. After a disappointing sophomore campaign, Hayes has become a top point producer for the Rangers, as he netted a career high in goals (25) last season, although his assists were down. The rise in goal scoring came as a pleasant surprise, but it's all part of him gaining more confidence with his own game. If Hayes can continue his development into becoming a more complete hockey player, then it seems like a no-brainer for the Rangers to sign him to a long-term deal.
After this season, Hayes will be an unrestricted free agent looking for security. What that contract will look like remains to be seen, but it will depend heavily on his point production this season. The Rangers hope his name is announced often in Madison Square Garden, especially after big goals have been scored. If Hayes can put it all together, then he can expect a significant deposit to his bank account next summer.
Does Hayes' Production Compare to Ron Francis?
Hockey-Reference.com is a great resource for matching past and present players' productivity at the same point in their careers. Those who match best with Hayes are Ron Francis, T.J. Oshie, Mike Foligno and Brian Bellows. All were or are top-line performers, but for Hayes to become a part of this lustrous group, his production must continue on an upward trend. If so, then Hayes has firmly established himself as a long-term solution to the Rangers' rebuild.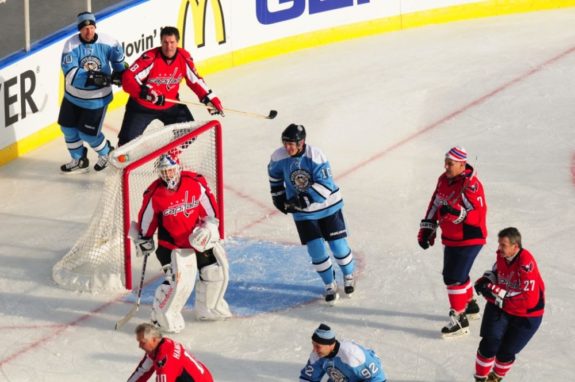 Expecting Hayes to become another Ron Francis is unrealistic, but his production needs to become more dynamic to the point where it doesn't matter who his linemates are on a given shift. To become a team leader for the Rangers, Hayes must develop Francis' ability to make everyone around him better and more productive in the offensive zone.
The Rangers are taking a collective gamble, but all the pressure is on Hayes to show that he is worth the long-term commitment. He could end up being dealt away at the trade deadline or he could score over 30 goals and be awarded a big money, long-term free agent contract next offseason. The outcome may come down to the current status of the organization's rebuild because the Ranger cannot afford to overpay a player if it will stifle the growth of one of their top prospects.
Committing to a long-term deal, the Rangers would be confirming that Hayes is the voice they want in their locker room leading this young group of prospects trying to make a name for themselves in New York. His role will be helping them prepare to compete each night, which should gain them the confidence and experience needed to win consistently in the NHL.
Hayes hasn't reached his true potential as a professional, but as the season unfolds, he could establish himself as a promising two-way player.
Will that be enough to be considered a long-term solution for the Rangers' rebuild? It's too soon to call.