Kevin Hayes' development over the past four seasons represents exactly what the New York Rangers would like to accomplish with their bevy of young centers that are knocking on the Madison Square Garden door amidst the club's rebuild.
A question the Rangers will have to ask themselves this summer, though, is whether Hayes' rise makes him more valuable to the team as a future cornerstone, or as a moveable commodity that could perhaps help them get into position to acquire an elite talent in the draft or other key elements of a playoff team.
At first glance, it appears that Hayes and the new coaching regime led by David Quinn are a match made in heaven. Quinn, the ex-Boston University coach, was hired in no small part because of the 13 former college players who will be vying for spots on the Rangers' roster next season. With player development the key directive from club management, Quinn's proven ability to work with college talent made him appear to be the perfect fit.
Hayes, who played for Boston College from 2011-14, certainly sounded excited about the hiring.
"Yeah I was pretty pumped up about it," Hayes said. "I've know Quinny for a while now, he recruited me when I went to college and we've built a pretty good friendship since then. I know the type of style he brings behind the bench … just his attitude, his excitement, how he demands excellence from his players, so it should be an exciting year."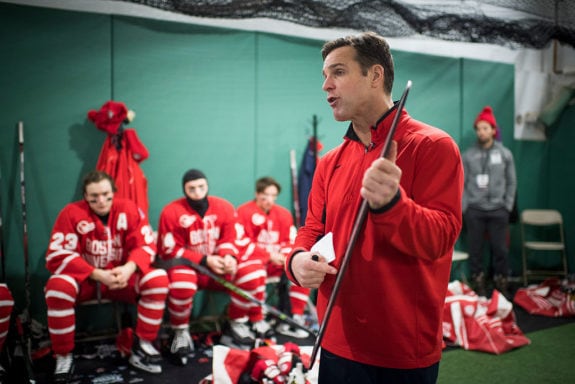 Hayes, though, might not want to get his mind too set on playing for Quinn next season. The fact remains that he is among the Rangers' most tradeable assets – and he plays the only position at which the club boasts considerable prospect depth.
Hayes' Rise Might Make Him More Likely to Be Dealt
Like any young player, Hayes experienced some ups and downs as he learned what it took to be a pro after signing with the Rangers in August 2014. By 2017-18, however, it seemed clear that the first-round draft pick of Chicago in 2010 was on his way to figuring it out. Hayes recorded a career-high 25 goals, a stat that's all the more impressive considering former coach Alain Vigneault used him almost exclusively in a defensive role against opponents' top lines.
Rather than rebel, Hayes embraced the assignment and took his game to a versatile new level. Making 57.3 of his starts in the defensive zone, Hayes won 50.54 percent of his faceoffs – the first time he topped the 50 percent faceoff mark and the third straight season he improved in the dot.
Once considered a liability in his own zone, Hayes last season was exactly what the Rangers envisioned he'd become – a big matchup center that wins draws, frustrates opposing forwards with diligent defensive play and also possesses the skill to score goals.
As a result, Hayes could become a victim of his own success.
The 26-year-old restricted free agent is a due a raise from the $2.6 million he made last season, the final one of his two-year bridge contract, to somewhere above the $4-million mark. Hayes has played at least 76 games in each of four NHL seasons. His value might never be higher.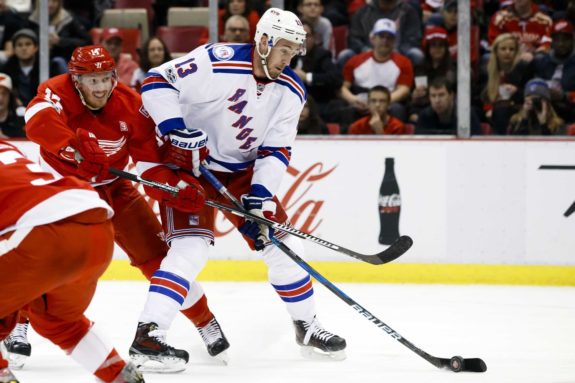 That is a major reason why the Rangers would consider dealing him. Another is the aforementioned positional depth. With Mika Zibanejad ensconced as the presumed No. 1 center and 2017 first-round picks Filip Chytil and Lias Andersson, Tampa Bay trade acquisitions Brett Howden and Vladimir Namestnikov, Boo Nieves and perhaps Ryan Spooner also in the mix, there are an awful lot of present and future options down the middle for the Rangers.
As difficult as it would be to part with Hayes after putting in four years developing him into what they hoped he would be, the reward for the Rangers doing so could be substantial. Including him as a key trade piece to move up in the draft from the No. 9 spot – something general manager Jeff Gorton seems inclined to do – would be a good start in putting together a package suitable to jump at least three or four spots in Dallas on Friday.
Add in a few of the Rangers' 10 picks in this draft—a haul that includes two other first-rounders and two second-rounders—along with another of their center prospects, and the club might be able to obtain access to some of the elite talent near the top of the draft that it so desperately craves.
Hayes Could Help Obtain Top D-Man, Elite Scorer
Even if such a trade doesn't come together, there's the opportunity to include Hayes in a deal to strengthen the club in other areas. The Rangers, desperate for a top-pair right-handed defenseman as well as an elite scorer, will explore all scenarios which could yield either of those elements, be it at the draft or afterward. Would Hayes and other assets be enough to bring back Winnipeg defenseman Jacob Trouba or Calgary blueliner Dougie Hamilton?
In short, Hayes' status as a more polished young player capable of helping a contending team immediately might make him more capable of improving the Rangers' future as a trade chip, rather than if he were to remain on the roster. A contender seeking Hayes' versatility might also be more willing to pay his expected salary, which would be more in line with a second-line pivot rather than a third-liner, which is probably going to be Hayes' best role in the NHL.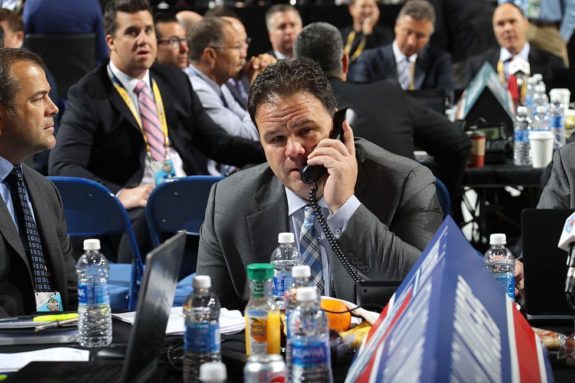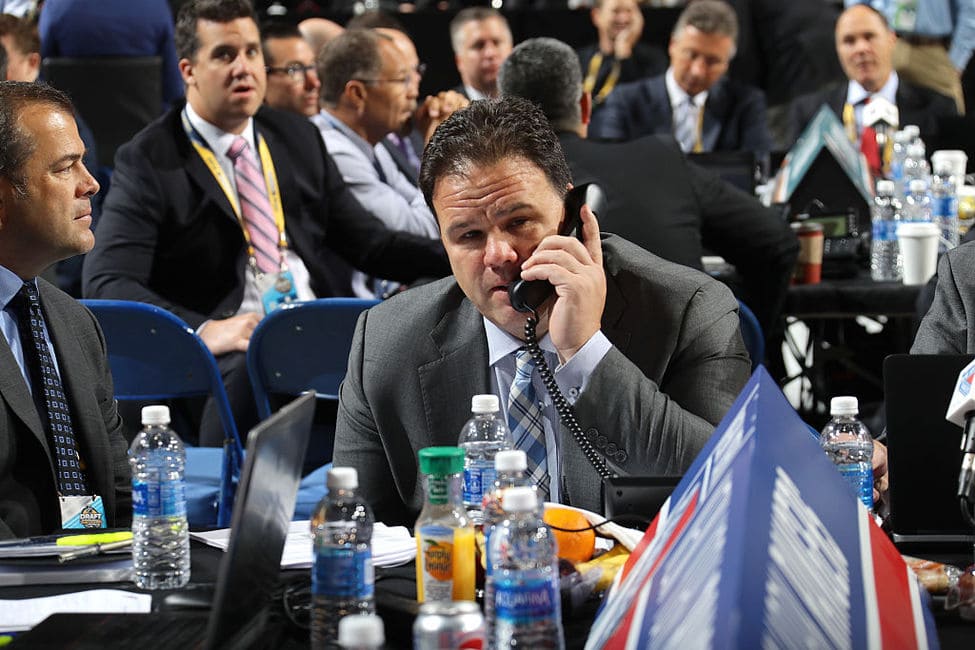 Despite their ample cap space, the Rangers might not be willing to make such a financial commitment right now to a player that's good but not a star, locking him into one of the center spots long-term and potentially blocking one of the potentially higher-ceilinged youngsters at a time that they're rebuilding the foundation.
Hayes is still developing, with his offensive game having room to grow and his newfound confidence in a defensive role making him the rare Ranger who's highly sought after around the league. Leveraging that demand for a higher top draft pick or stud defenseman might prove to be a painful yet necessary step on the road back to consistent contention on Broadway.