Evander Kane's return to the Edmonton Oilers' lineup is nearing after he has been practicing with the team and ramping up his conditioning. He has been out since the start of November recovering from a brutal wrist injury and the team has had to rely on some replacements to fill the hole.
Klim Kostin and Mattias Janmark were both recalled from the American Hockey League (AHL) once Kane suffered his injury and both players have proven they belong in the NHL with the Oilers. The team will be very cap-strapped once Kane returns and it will force the Oilers to either make a trade or send a couple of players down. It will also impact the lines that have found some great chemistry. We'll take a look at how all of that will shape up.
How the Oilers' Roster Will Be Impacted
Before Kane was injured and landed on the long-term injured reserve, the Oilers were right at the cap, so much so that they couldn't have 23 men on the roster. Instead, they had to run with 21 and their extra skater was on defence. This wasn't because they primarily went with 11 forwards and seven defencemen in games, either. It was because they wanted to get rookie Philip Broberg time in the NHL at the start of the season and keep Ryan Murray around on the roster.
---
Latest News & Highlights
---
Due to there only being 12 forwards on the roster, players like Kostin, Janmark, James Hamblin, Brad Malone, and Tyler Benson weren't able to be up with the team practicing and sometimes getting in games on the fourth line. The two most deserving and NHL-ready players, Kostin and Janmark, were then first called up with Kane's $5.125 million being opened up. Kostin earns just $750,000 this season and Janmark is signed for $1.25 million. Janmark's cap hit is what forced the Oilers to make a choice between keeping him or Derek Ryan on the roster to begin the season while the Oilers didn't yet know what they had in Kostin.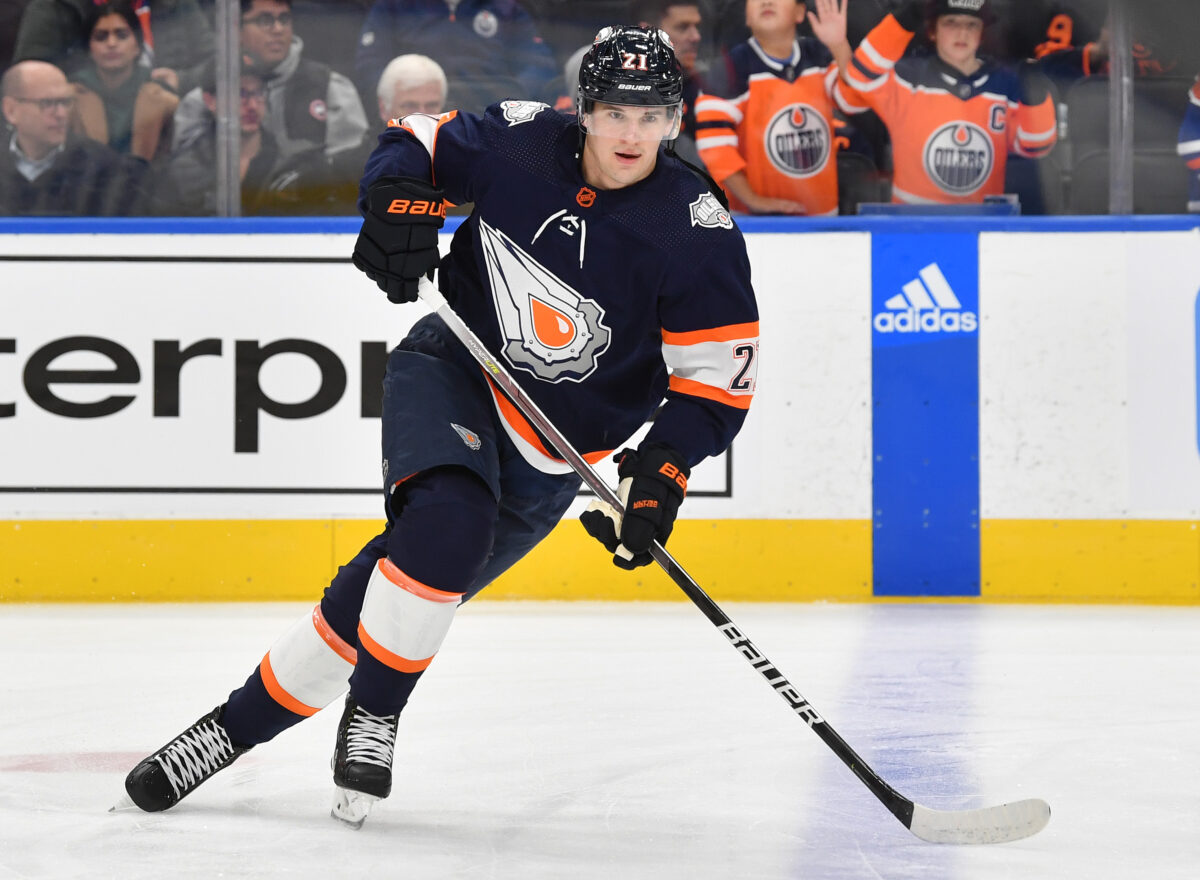 Neither Kostin or Janmark are going anywhere once Kane returns to the lineup. Kostin has broken out and has eight goals and 12 points in 28 games while averaging just over 10 minutes per game. He has proven to be a great puck-protector, shooter, and physical presence that the Oilers need on their team. As for Janmark, he has been creating lots of chances and has blazing speed shown by his two breakaways against the San Jose Sharks in their previous game. He has three goals and 11 points in 30 games. Both Kostin and Janmark have amazing chemistry with Ryan Nugent-Hopkins on the third line, which allows the Oilers to be very deep up front.
Devin Shore will be the first roster casualty. He's been scratched a number of games and consistently more recently. He has just three assists in 29 games. But the Oilers will still be left with 13 forwards and seven defencemen. There could be a choice coming once again between Ryan and Janmark, possibly going in favour of Janmark this time. But the more likely scenario is a trade of Jesse Puljujarvi or Warren Foegele is imminent.
Related: 4 Oilers Trades to Gain an Advantage in Playoff Race
Puljujarvi has proven to be more valuable over the past few games, making hits, scoring a goal, forechecking as he regularly does, and even getting in a fight. Foegele was a healthy scratch twice in a row a couple of games ago. Both have been on the fourth line and have been showcased in the Oilers' last two blowout victories. The Oilers' impending cap issues go away for the time being if one of them is dealt. Then the better performers like Janmark and Ryan can stick around in the NHL.
The Best Forward Lines Based on Chemistry & Talent
Now that we've discussed who will remain with the Oilers and stay in the lineup, we can get to how the forward lines will shape up based on chemistry, talent, and who has shown they deserve playing time.
We'll start with the line that won't be changing, and that's the third line of Kostin, Nugent-Hopkins, and Janmark. I'm convinced both Kostin and Janmark aren't going anywhere with how well the line has played and how many chances they generate. All three haven't been on the ice a ton of time together, just logging 75 minutes as a line this season, but it has been effective. They have a goals for percentage (GF%) of 53.85, per Natural Stat Trick. Anything above 50 percent is good. Kostin and Nugent-Hopkins have an 80 GF% and a 60.93 expected goals for percentage (xGF%). Kostin and Janmark have a 68.48 xGF% together. All of these indicate just how dominant this third line is and how they outperform their third line matchups on the other team.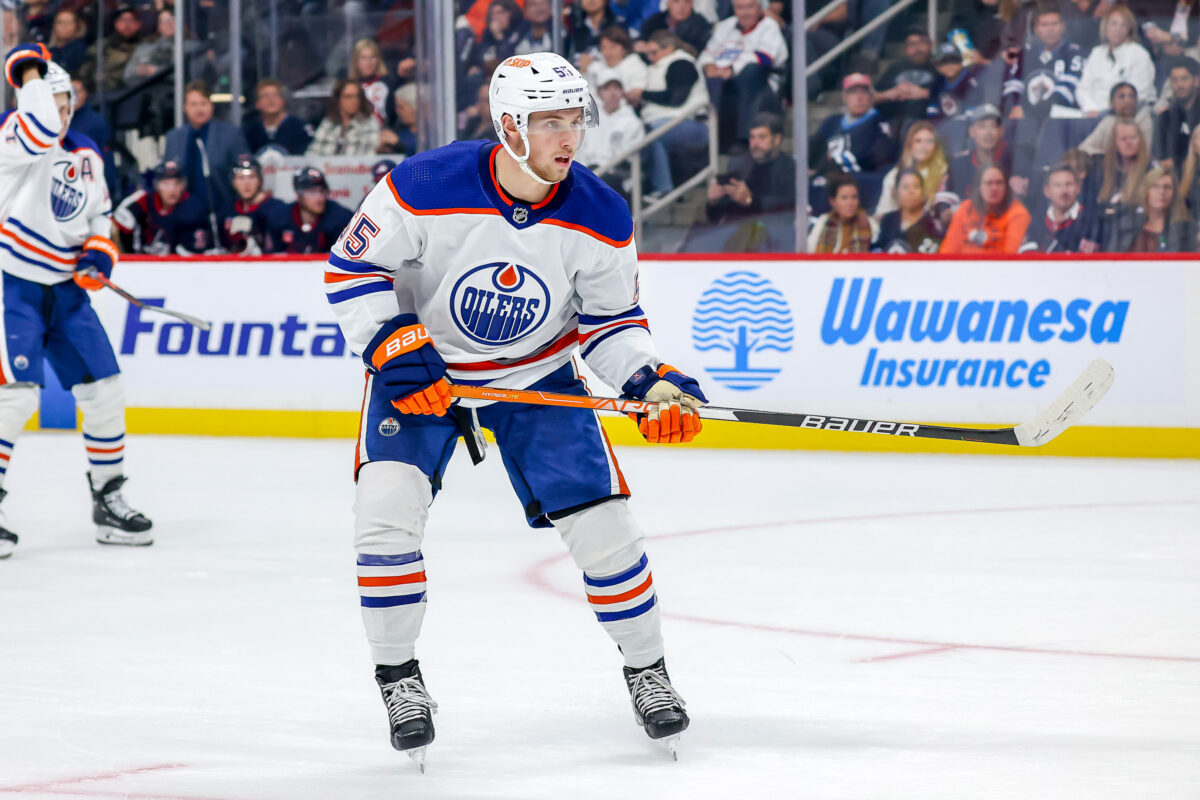 Connor McDavid and Leon Draisaitl will play together at times, but as for the regular lines, they will remain as the top two centers. Flanking them can be a combination of players that include Kane, Zach Hyman, Kailer Yamamoto, and either Dylan Holloway or Ryan McLeod. What's very tough to judge about the top-six wingers is that Jay Woodcroft has altered them so much over the course of the season, even when Kane was healthy.
It's safer to assume Kane will be on Draisaitl's line upon his return. Those two have spent over 100 minutes together at 5-on-5 and have a GF% of 61.54 percent. Kane has spent 64 minutes with McDavid this season at 5-on-5 with a 50 GF%. So to give McDavid more help, Hyman should play with him on the top line. This decision is made easy due to the analytics as well. Hyman and McDavid have a 60.87 GF% while Hyman and Draisaitl have a 33.33 GF%. That leaves us with which line Yamamoto plays on and who of McLeod or Holloway gets the final top-six spot.
As with Kane and Hyman, we'll use data from this season to determine where Yamamoto has had better results. He has played well with both McDavid and Draisaitl, but the results have come more on the second line with Draisaitl. Yamamoto has a 66.67 GF% with Draisaitl and a 55.56 GF% with McDavid. Yamamoto's xGF% is 9.39 better with McDavid, though. So, if we determine Yamamoto plays with Draisaitl and Kane, then who gets the final spot on the top line?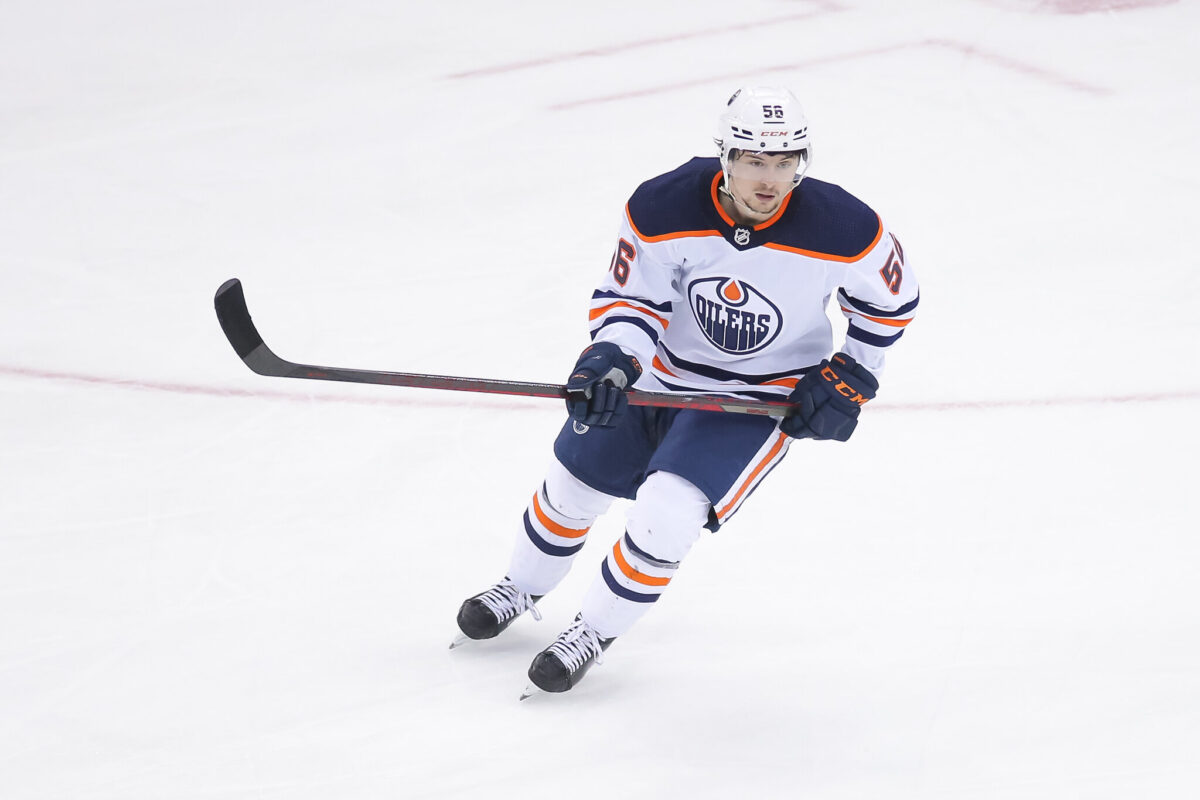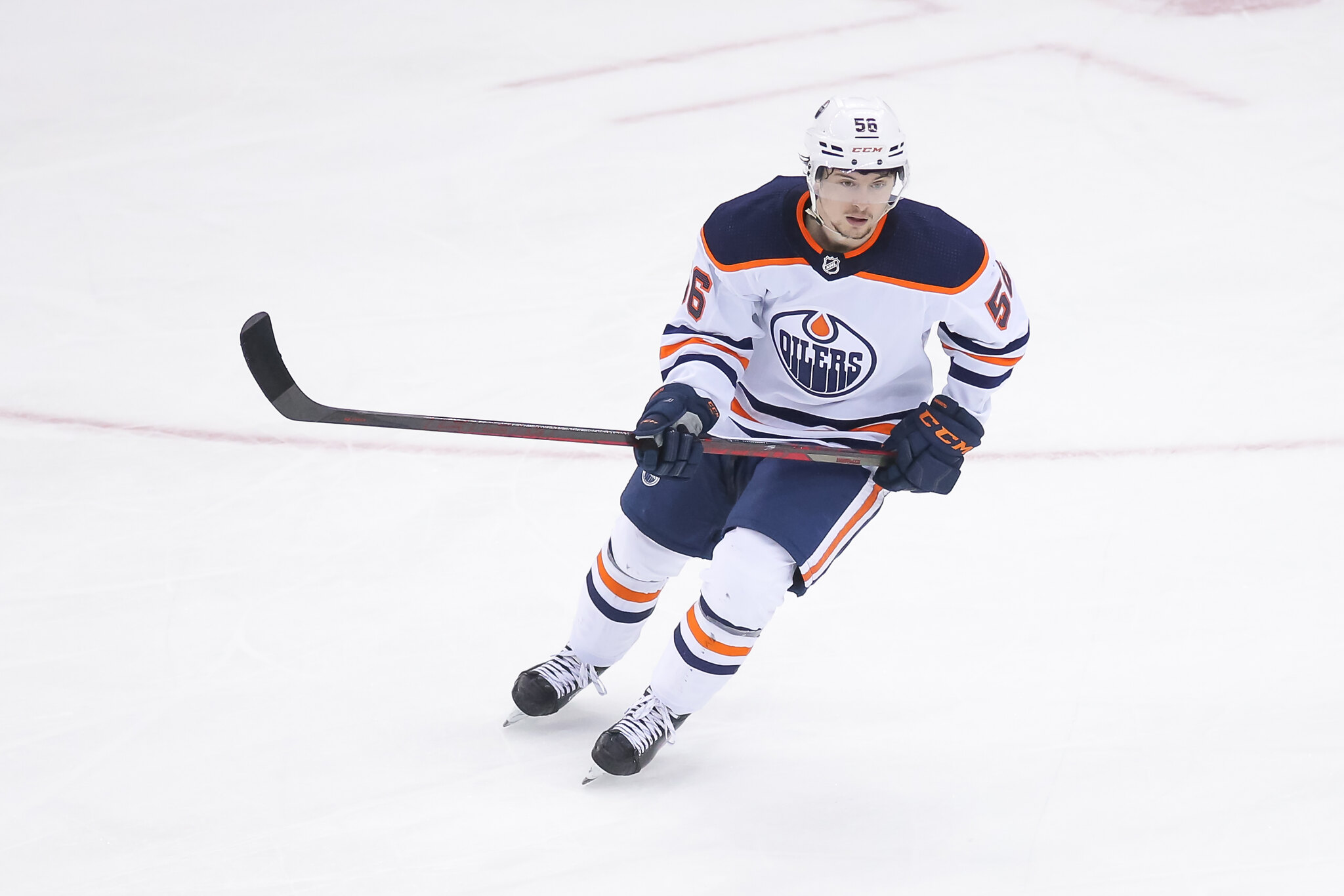 McDavid hasn't spent too much time with either Holloway or McLeod, but Holloway has gotten his opportunity on the top line the previous two games against the Anaheim Ducks and Sharks. He hasn't had much playing time this season, but has gained a ton of confidence as he develops. Originally, he was slated to play in the top-six alongside Draisaitl due to the preseason Holloway put together, but a couple mistakes cut that very short. I think the Oilers at least start with Holloway on the top line when Kane returns, but the next couple of weeks could change the perception.
The Oilers have problems to fix in the next couple of weeks involving cap space and it will be interesting to see what they actually do. It creates an opportunity to move a forward or two while still remaining very deep up front. The Oilers have an easier schedule in the second half of the season and have already started to gain traction and get scoring from their depth. We may start to expect more goals throughout the lineup and it will only benefit the team.
---
---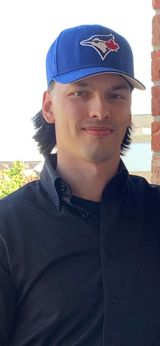 Rob Couch is a THW freelance writer covering mainly the Edmonton Oilers and Calgary Flames. He covers everything you need to know about fantasy hockey. He will also keep you up to date with NHL Stats News and trade talks.
You can find more of his work here.
Follow Rob on Twitter or his hockey account Stat Hockey for the latest articles, stats, and more.