An Edmonton Oilers' scoring binge couldn't have come at a better time for Edmonton's Sam and Sue Skinner family. Their son Stuart Skinner was making his NHL debut in goal for his hometown Oilers and he – including his parents and eight siblings – was legitimately nervous.
Related: Connor McDavid Predicts Jesse Puljujarvi Will Be Huge for the Oilers
So when Skinner hung in there to win his NHL debut in goal against the Ottawa Senators by an 8-5 score, there was likely tons of celebrating in the Skinner household.
Now, of course, when NHL hockey fans – and even fans of the Oilers – learn that Skinner won his first NHL game in goal, the big question is: "Who's Stuart Skinner?"
In this post, I'll try to offer some background so that fans can have a better sense of who this young goalie is. And, perhaps by doing so, this post can pay some tribute to hockey families everywhere in Canada who have supported their children's dreams of playing in the NHL by driving thousands of kilometers and spending hundreds of hours in chilly Canadian rinks.
What's Stuart Skinner's Hockey Background?
One thing we can know is that it isn't just the Skinner family who's proud of Skinner. The ECHL released a nice congratulatory piece announcing that the 22-year-old, 6-foot-4, 206-pound former Wichita Thunder goalie became the 685th former ECHL player to reach the National Hockey League when he debuted with the Oilers on Sunday against the Senators.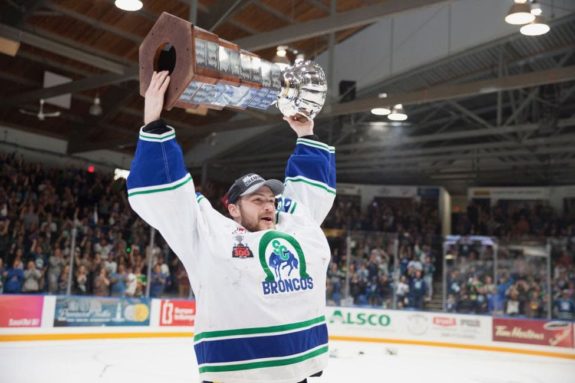 Skinner, who was the Oilers' third-round draft pick (78th overall) in the 2017 NHL Entry Draft, also became the seventh former ECHL player to make his NHL debut during this current 2020-21 season. During the 2018-19 season, Skinner played 41 games with Wichita and had a 15-14-7 record, including four shutouts, a goals-against-average of 3.16, and a save percentage of .903.
Related: Edmonton Oilers' Top-20 Goal Scorers All-Time
Last season, Skinner started the season with the Thunder and played three games for the team, going 2-1-0 with a 3.62 goals-against average and a save percentage of .894. He has also played in 47 career American Hockey League games with the Bakersfield Condors. His record in those games is 20-19-6 with a shutout, a goals-against average of 3.26 and a save percentage of .891.
Skinner's Family Connection to Edmonton and Growth as a Goalie
In 2017, longtime Edmonton Journal sports writer Jim Matheson wrote a nice piece on Skinner and his family. In that piece, Matheson reported that Stuart was the youngest of nine children, four brothers and five sisters, many of whom were either hockey players or figure skaters. By the way, all the brothers and sisters have names that start with the letter "S." (from "Stuart Skinner is youngest of nine children, starting his Edmonton Oilers journey, Jim Matheson, Edmonton Journal, 11/09.17).
In the article, Mattheson noted that the Skinner family acted like a taxi service for their nine children who all played sports and that their garage stored – at the time – hundreds of pairs of skates. Stuart's father tried hard to keep his son from becoming a goalie, but Stuart loved being in net so much that he wouldn't take no for answer.
Father Sam noted, "Stu was a centre, our top scorer (novice), and when I got back from a business trip one day I rushed to the rink and saw Stu dragging out some goalie pads after their practice. Another novice team needed a goalie."
Sam continued the story: "When I got home, I told Stu to put on his equipment and go in the backyard and I'd have the other boys warm him up. I told Stephen, Scott, and Sheldon (his brothers) to get the five-gallon bucket of pucks from the garage and light up their brother. I saw Sheldon rip one off Stu's chest and he went 'yesss!'"
Stuart admitted that his dad told his brothers to scare "me off, so they were firing snapshots at my head and chest. Every time I got hit, I'd be yelling 'bring it on.' I loved it."
Skinner's First NHL Win Wasn't the Prettiest, But It Was an NHL Win
Fast-forward many years to 2021 and Skinners' NHL debut. The game might not have been the prettiest start; however, it was a victory. During Sunday's game, Skinner gave up five goals on 38 shots in the 8-5 win. Perhaps more important was the fact that it was the first game of 10 this season where Mikko Koskinen hadn't started in the Oilers' net. 
Related: Wayne Gretzky – The Great One's 10 Most Unbreakable Records
Perhaps the 8-5 game was one of those games destined to be a high-scoring event from the start; or, perhaps, Skinner's performance was a reason Oilers' head coach Dave Tippett waited to give a second Oilers' goalie a start. In truth, Skinner might not get much NHL playing time this season. The Oilers don't have another back-to-back game for another week – on Feb. 8 and 9 in Ottawa. There's even speculation that Mike Smith (who's out with an undisclosed injury) might be ready to take his turn in net by then.
Skinner Reflects on His Time in Net Sunday
In the video below, the young Oilers' goalie was interviewed by Sportsnet's Gene Principe about his first day in the NHL and his thoughts about the victory.
Skinner's Personal Highlights of His NHL Debut
Personally, I can't begin to imagine what the entire day was like for Skinner and his family. Like so many Edmonton youngsters, his family spent years driving him and his siblings on literally hundreds of trips to local rinks for the possibility of this game. That it happened and Skinner won will likely become a family story for many years.
Some of the notes from Skinner's interview that stood out for me was that he had a good day because he "got to the rink and then just kind of hung out with the guys." (Remember, we're talking Connor McDavid, Leon Draisaitl, James Neal, and other teammates.)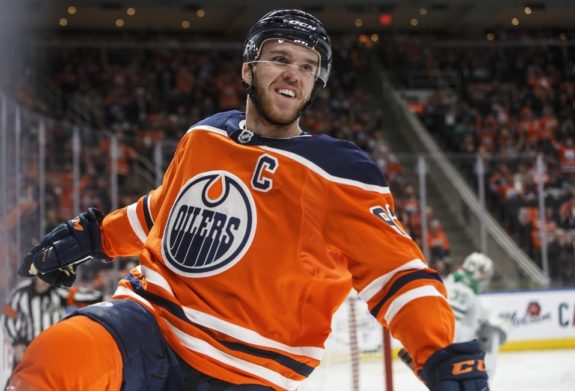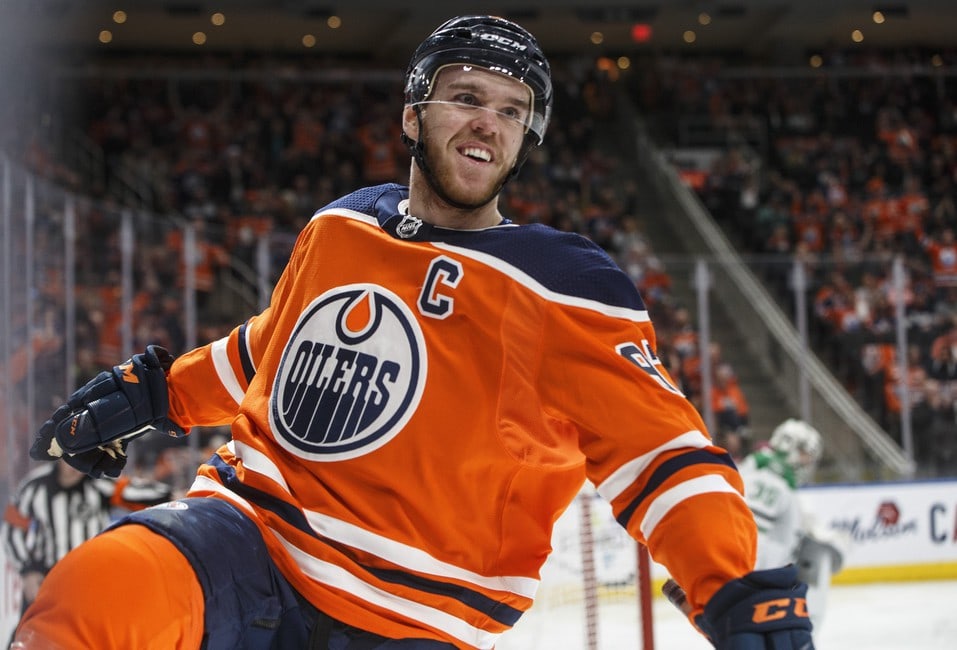 When Principe asked if he were nervous, Skinner admitted he was and noted that "the boys really helped me out … (by) giving me some wise words in the in the locker room just telling me to relax."
For a Kid from Edmonton, What a Great Experience
Skinner recalled the experience of "walking out of the rink and onto the ice, and you see the Oilers logo, and it's a little bit surreal."
Related: Which James Neal Will Show Up for the Edmonton Oilers in 2020-21?
As I say, for an Edmonton kid who great up cheering for the Oilers, I can't even begin to imagine. Congratulations to Skinner and his entire family.
---
---
The Old Prof (Jim Parsons, Sr.) taught for more than 40 years in the Faculty of Education at the University of Alberta. He's a Canadian boy, who has two degrees from the University of Kentucky and a doctorate from the University of Texas. He is now retired on Vancouver Island, where he lives with his family. His hobbies include playing with his hockey cards and simply being a sports fan – hockey, the Toronto Raptors, and CFL football (thinks Ricky Ray personifies how a professional athlete should act).
If you wonder why he doesn't use his real name, it's because his son – who's also Jim Parsons – wrote for The Hockey Writers first and asked Jim Sr. to use another name so readers wouldn't confuse their work.
Because Jim Sr. had worked in China, he adopted the Mandarin word for teacher (老師). The first character lǎo (老) means "old," and the second character shī (師) means "teacher." The literal translation of lǎoshī is "old teacher." That became his pen name. Today, other than writing for The Hockey Writers, he teaches graduate students research design at several Canadian universities.
He looks forward to sharing his insights about the Toronto Maple Leafs and about how sports engages life more fully. His Twitter address is https://twitter.com/TheOldProf