'Tis the season for analysts, columnists, and fans everywhere to make their predictions for the upcoming National Hockey League season. With the countdown to puck drop on the 2020-21 season down to hours as opposed to weeks or days, many projections and predictions will be very well thought-out and measured.
I've spent a good deal of time examining the Nashville Predators over the last few days, and especially after watching the live stream of their second intra-squad scrimmage, and have some predictions of my own to add. Some fans may frown or even laugh, but I truly believe these projections are completely attainable.
Roman Josi Will Match His Points Pace From Last Season
The reigning Norris Trophy winner as the league's top defenceman, Roman Josi has maintained a solid amount of preseason buzz as being among the league's best blueliners. Known as a dominant two-way defenceman, Josi scored 16 goals and 65 points en route to his year-end award a year ago. With only 69 games played in the pandemic-shortened season, that puts Josi at a points-per-game rate of 0.94. This season, with 56 games on the schedule, a full completion of the schedule at that pace would get Josi to 53 points on the season.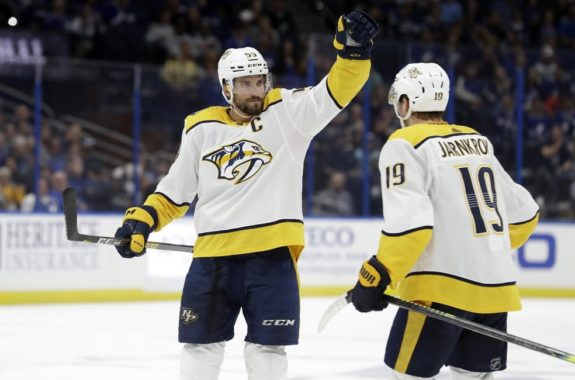 The Swiss blueliner looks like he'll be paired with Ryan Ellis once again on the Predators' defence corps, which should allow him to stay on his pace from 2019-20. The abbreviated schedule could also allow Josi to see his average time on ice increase, which in turn will lead to more scoring opportunities for him.
Nashville's captain is expected to be a leader not only in the dressing room, but also on the ice, and while he may not end up leading the team in points (see below), having a points-per-game rate that matches last season is within his grasp and something Predators fans can expect this season.
Matt Duchene Will Lead the Team in Points
This one might be met with a lot of resistance, but there is plenty of evidence that suggests Matt Duchene is due for an offensive explosion. Consider that he has been a dominant offensive producer for every team he has played for, and that becoming said producer has taken varying degrees of time. Duchene had a good chunk of time in 2019-20 to settle into a Nashville uniform, accumulating 42 points in 66 games, which are good numbers but not something a player of his calibre should be pleased with.
Duchene looked great in the Blue vs. Gold scrimmage the Predators streamed on Sunday night, playing on a line with Luke Kunin and Erik Haula, for the most part. In addition, Duchene looked like he had good chemistry on a power-play unit with Ryan Johansen up front, which could create a wildly dynamic duo for penalty kills to attempt to cover. Duchene is known for his speed and slick stick handling, while Johansen is a power forward whose net-front presence can wreak havoc on opponents this season, especially with Duchene feeding him the puck from the wing.
A seven-time 20-goal scorer, Duchene did not have a stellar output offensively a year ago, but is primed and ready to re-discover that scoring touch, and I think he will do so in a big way in 2020-21. Keeping in mind Josi is expected to hit around 53 points, I think Duchene can actually hit the 20-goal mark once again even in the abbreviated 56-game season, and his playmaking ability could see him rack up the assists as well, once again becoming a point-per-game player.
Juuse Saros Will Earn Himself a Big Contract
As has been mentioned in previous THW articles, goaltender Juuse Saros is entering a contract year, and with some questions around what Nashville might do in the next off-season, Saros' future as a Predator may be in his hands as he heads towards restricted free agency. The 25-year old Finnish goalie has never won more than 17 games in a season, but has also never started more than 34.
Take into consideration Saros will likely be the opening night starter, and the number of back-to-back games the Predators have in the first two months, depending on momentum and how fresh he feels, he could end up starting close to 40 games by the end of the season. With a veteran yet improved defensive corps in front of him, and Pekka Rinne ready to go behind him should he falter, Saros should be able to find the motivation to succeed in a big way.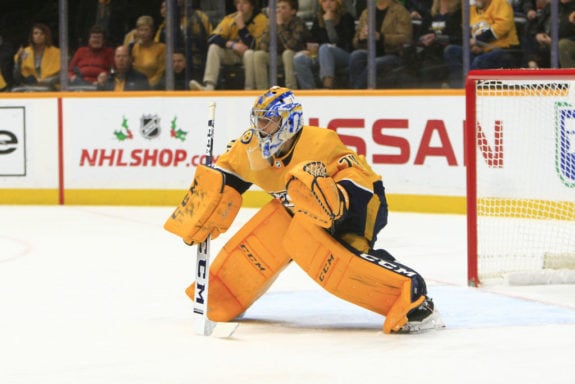 If he does have a great season as far as wins and save percentage goes, Saros could end up earning himself a nice, big contract from general manager David Poile. Rinne's contract, also in its last year, is worth an annual cap hit of $5 million, and a successful season in the crease could earn Saros a comparable figure in dollar value while seeing him into his 30s with the length of the next contract. Saros has shown flashes of brilliance in the past, and the extended time off, as well as a proper focus on the season at hand, could lead to a big-time extension coming up.
Calle Jarnkrok Will Earn a Selke Trophy Nomination
I have alluded to this in the past, but Calle Jarnkrok has the potential to be a top two-way forward in the league. This season he can prove that by earning himself a nomination in the award category which acknowledges exactly that skill-set. At 29 years old and with 459 NHL games under his belt, all with Nashville, under his belt, Jarnkrok is now a veteran presence who has scored double-digit goals each of the last five seasons. It's not unreasonable to assume Jarnkrok will reach that mark in 2020-21, even with him playing on the third or fourth line with Brad Richardson and Rocco Grimaldi.
Jarnkrok has been an important piece to the penalty kill over the past number of seasons, and with Richardson his likely companion on the penalty kill this season, it's natural to think Jarnkrok can improve his situational value. Especially at even strength, Jarnkrok and Richardson will likely see a steady dose of the opposition's top forwards, should head coach John Hynes elect for the matchup game. If all goes according to plan, and Jarnkrok continues to emerge as a dominant forward at both ends of the ice, it should see his name mentioned when the year-end award nominations are announced.
Nashville Will Lead the Central Division in 20-Goal Scorers
I know what you're thinking – nobody from Nashville can lead the Central Division in goals! And you are correct, but I ask you to re-read the prediction. The Predators will have more players top the 20-goal plateau than any other team in the Central Division.
Yes, Tampa Bay has Steven Stamkos. Yes, Dallas has Tyler Seguin. Yes, Chicago has Patrick Kane.
All of those players have the ability to score 35 goals without blinking an eye this season (for reference's sake, a regular 50-goal season's pace will be 34 goals in the 56-game schedule). But Nashville, while not having one single player who can light the lamp at will and top the stats sheets, has an incredibly deep scoring lineup.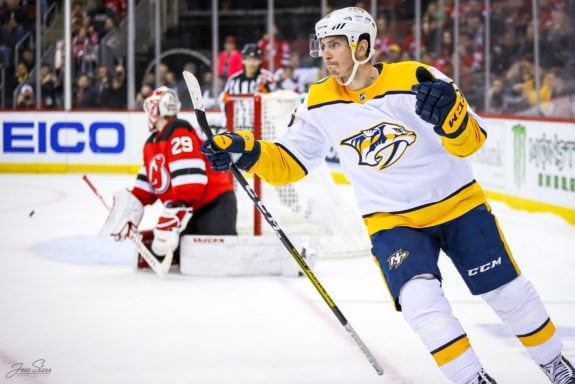 I've already spoken about Duchene and how I expect him to have a nice offensive explosion, but keep in mind he is likely to be the second-line centre. Johansen, who centres the top line, has scored 33 goals in a season before, and as mentioned above could be a good garbage-goal collector in front of the net on the power play this season. In addition, his wingers, Filip Forsberg and Viktor Arvidsson, both have natural goal-scoring abilities as well, have both surpassed 30 goals in a season as Predators, and with a couple of good series against Detroit and Chicago, could find themselves approaching 30 even in the shortened season.
Erik Haula and Mikael Granlund have both been 20-goal scorers in the past, Luke Kunin and Colton Sissons have both hit 15 goals, and even on the blueline, players like Josi and Ellis could also factor into the goal-scoring race as well. This plethora of scorers means Nashville could have as many as six or seven players reach 20 goals – a pace that in an 82-game season would be 29 goals. Bold prediction? Absolutely, but entirely doable for this edition of the Nashville Predators.
As you finalize your fantasy hockey draft lists for the 2020-21 season, be sure to keep these predictions in mind as you narrow down your list of Nashville Predators to draft. Be sure to check back later in the season to see how well these predictions have aged – I know I'll be keeping close track.
---
---
Wray has been an NHL fan long enough to remember when Paul Kariya and Teemu Selanne were linemates, as well as when Colorado and Detroit had a brutal rivalry.
Wray has seven years' experience serving as the Sports Writer for Mount Allison University's student newspaper, The Argosy, as well as two years as the Sackville Tribune-Post's student reporter. After covering football, basketball, and hockey at the university level, Wray worked for four years with the CFL's Ottawa Redblacks in a behind-the-scenes capacity, and while currently living in New Brunswick (Canada), is doing lots of writing and podcasting for various topics, including CFL football, movies and television.