It's rare for an NHL team to start off slow and bounce back to snag a playoff spot in a normal 82-game regular season. While there are exceptions – like the 2018-19 St. Louis Blues – it's very uncommon for teams to experience such a wondrous turnaround.
In the COVID-19 world of altered and shortened seasons, it will be imperative for teams to start strong, especially the Nashville Predators. In what is expected to be an extremely competitive Discover Central Division, that includes both the defending Stanley Cup champions and finalists, it will be almost impossible to bounce back from a poor start mid-season.
Here are five key components to the Predators' 2020-21 campaign that will be vital for early-season success.
Josi and Ellis Provide Offence
This is a given since most of the Predators' offence in recent seasons has revolved around the dynamic defensive duo. Roman Josi, the reigning Norris Trophy winner as the league's top defenceman, set career highs in goals, assists and points in the COVID-shortened season in 2019-20, and he is expected to again compete for the Norris this season.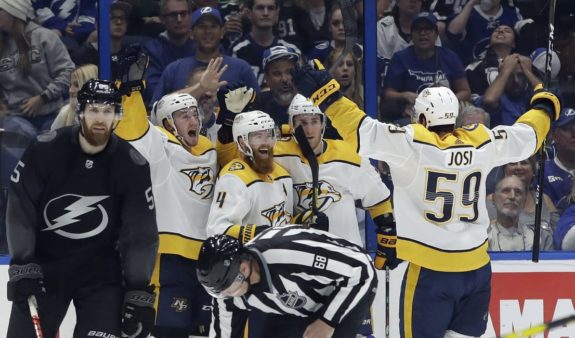 Meanwhile, Ryan Ellis will look to bounce back after he missed 20 games due to injury last season but still managed to record 38 points. Only four seasons removed from a 16-goal campaign, the 30-year-old veteran is Robin to Josi's Batman, and any additional offence he can provide will help take any pressure off of Josi in the offensive zone. However, Ellis has really improved his play in the defensive zone in the last few seasons, and he has become reliable in a shutdown role.
The Predators signed blueliner Mark Borowiecki as a free agent on Oct. 18, and he should help both Josi and Ellis continue their offensive success. The former Ottawa Senator has mostly played a shutdown role against the opposition's top forwards in the past couple of seasons, as the grizzled veteran among a fairly young defensive corps. With 1576 career hits and 603 blocked shots, "BoroCop" could be a viable option for Nashville in that same role, which could also take some of the heat off Josi and Ellis in the defensive zone as well as open things up for them on offense.
Centre Strength
On paper, the Predators' depth down the middle is comparable to every other team in the Central Division. Ryan Johansen and Matt Duchene will be the go-to centres on the top two lines, each with their own skillset for opposing defensemen to worry about. Johansen is a prototypical power forward in today's NHL; at 6-foot-3 and 218 pounds, he needs to be a top-tier player up front regardless of who his wingers happen to be.
Likewise, Duchene's speed and slick puckhandling abilities are going to be important for the Predators to stretch the ice or transition quickly into the offensive zone. A three-time 30-goal scorer, it might be a big ask for him to reach that plateau in only 56 games, but it's doable given his streaky nature. If Duchene starts the season on a hot streak, he could hit 30.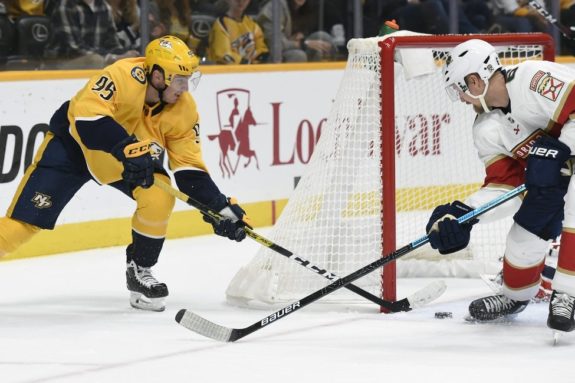 Erik Haula's return to Nashville is welcome, and he'll likely anchor the third line ahead of the ageless wonder Brad Richardson on the fourth line. These two create an incredible four-pronged attack down the middle, but keeping them healthy will be integral to the Predators' success upfront. Duchene is already on the "unfit to practice" list as of this writing which will pose problems if he misses any games. Not to say that Haula is a bad option as the second-line centre, but who will take over the third line and keep that same level of depth at the centre position if that happens? 
If Johansen and Duchene start the season on a scoring streak, it will be perfectly reasonable to expect them to keep the pace for longer than normally feasible in a full campaign. Similarly, if Haula can start by putting up some points, it will create more problems for opposing teams trying to play the match-up game, which could be favourable for Nashville.
A Solid Goaltending Plan
Nashville's decision in goal should be an easy one, as they turn to the future with Juuse Saros. Saros has the chance to prove himself this season, and the abbreviated schedule should help him make a big splash ahead of a new contract. After starting a career-high 34 games last season, don't expect him to exceed that number in 2020-21, and if he puts up numbers that are comparable to his last two seasons, the Predators will be in a good spot defensively.
Meanwhile, Pekka Rinne is not a bad 1B goaltending option given his experience and history of sustained success. Having four full months off should benefit the 38-year-old, and though he won't be the clear starter in Nashville, he could still see quite a bit of game action. With a number of back-to-back games against the same team – the Predators have six in January and February alone – Rinne could be leaned on often in big moments, particularly early in the season.
It will be interesting to see how head coach John Hynes approaches his goaltending situation, and what his plan will be for back-to-back games in the first two months. Whatever it may be, he will need to stick to it as best as he can, while also having the flexibility to adapt should one goaltender drastically outperform the other. General manager David Poile has already hinted at re-signing Rinne after this season, so keep an eye out for whether that affects how Nashville platoons their two Finnish netminders this season.
Consistency From Second Defence Pairing
Jose and Ellis are talked about ad nauseum, and I've already discussed Borowiecki's importance to the upcoming season, but it's hard to understate how crucial Mattias Ekholm and Dante Fabbro will be to the Predators' success early on. Slated to play together on the second pairing, it's tough to see these two taking on a fully offensive or fully shutdown role. Ekholm excels at both ends of the ice, and received some Norris Trophy votes in 2018-19, so his role is much more flexible.
Fabbro is coming off his first full NHL season, with 11 points and minus-7. If he's on the second pairing with Ekholm, he'll likely have to emulate his partner as much as he can. Expecting him to be like Ekholm at both ends of the ice is unreasonable in 56 games, but consistency will be key, particularly early on. Should Fabbro start strong and maintain his level of play, it will create much more flexibility for Hynes to use Borowiecki and establish three very balanced defensive pairs, which could cause three different kinds of headaches for the rest of the Central Division.
Forsberg and Arvidsson's Scoring Touch
Viktor Arvidsson holds the franchise record for goals in a season with 34 in 2018-19. He followed that up with a very disappointing 15 goals in 2019-20. If he rediscovers his scoring touch, it will open up much more room for the Predators' depth to create offence. Not only that, but a stunning 79% percent of Arvidsson's goals were scored at even-strength, so reemergence on offense wouldn't necessarily ignite the power play.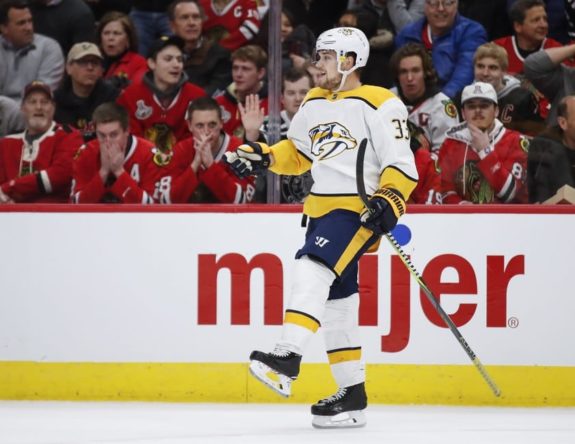 Filip Forsberg didn't quite suffer a slump last season, but the Predators would like to see him find his form from the 2015-16 and 2016-17 seasons when he eclipsed the 30-goal mark. With 21 goals in 63 games in 2019-20, it's reasonable to expect him to reach a goal-total in the high 20s, but once again, it all starts with the first couple of months and getting off on the right foot.
Considering the first four teams the Predators play are the Columbus Blue Jackets, Carolina Hurricanes, Dallas Stars and Chicago Blackhawks, it's vital that the Predators, Arvidsson and Forsberg in particular, start the season on a good offensive note considering all of these opponents are somewhat questionable in goal. If the Predators' top two wingers don't find the back of the net within the first four matchups, it will raise questions about their scoring ability
The importance of a strong start and early-season success is heightened by a shortened training camp, no preseason, and the 56-game schedule. Finding success will be a tall task for every team, particularly the Predators, who are looking for a bounce-back season and more consistency from their players. With a week to go until the regular season begins, it will be interesting to see who steps up in the first few games and makes an impact.
---
---