Welcome to the Nashville Predators All-Time 25 in 25. In this series, we at The Hockey Writers will unveil our top 25 players in franchise history in honor of the organization's 25th anniversary. Starting Sept. 18, we will unveil a new player every day until the Predators' home opener at Bridgestone Arena on Oct. 12. Join us as we celebrate 25 years of hockey in Nashville. At 24 – Jordin Tootoo.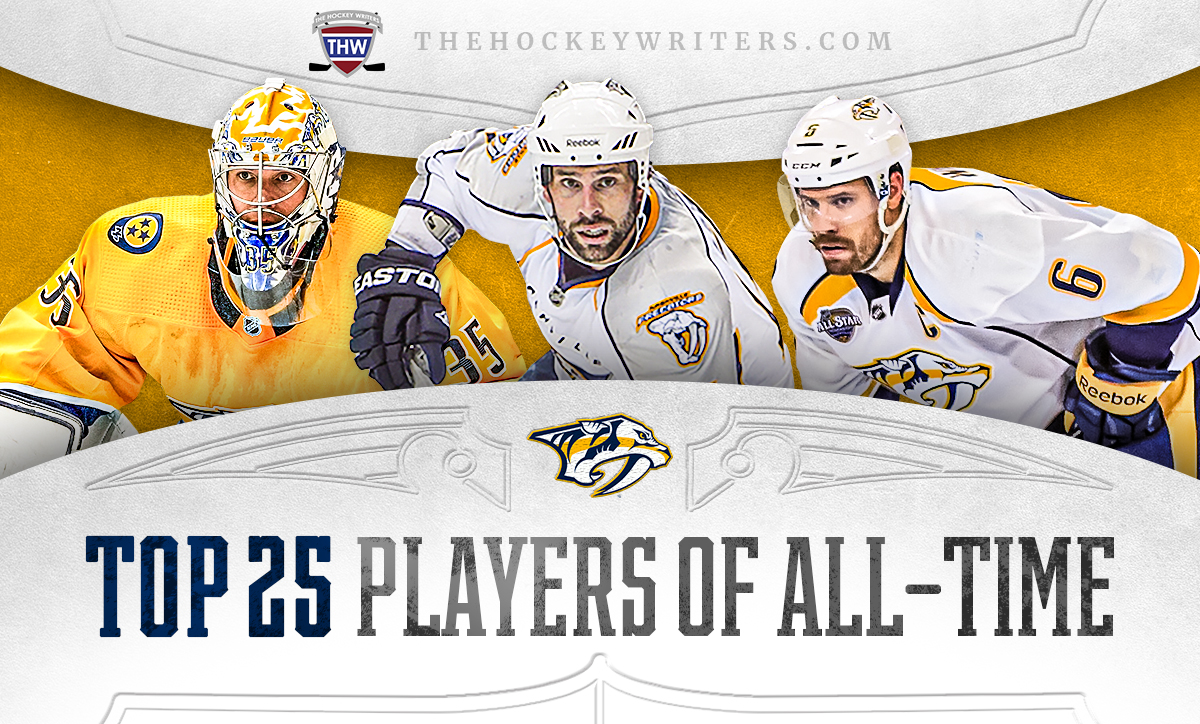 Tootoo's Time With the Predators
Drafted in the fourth round of the 2001 NHL Draft, Tootoo played eight seasons with the Predators, adding depth scoring to the roster. He had five consecutive seasons of over 15 points, but his best came in his last season with the organization. He scored a career-high 30 points (6-24-30) in 77 games in the 2011-12 season, ending his Preds career on a high note. Tootoo sits 32nd all-time in assists (79), 35th in points (125), is tied for 33rd in goals (46), and is 20th in games played (486). While he didn't bring chart-topping offense, he knew how to rack up penalty minutes. He is the Predators' all-time leader in penalty minutes with an impressive 725, which only scratches the surface of what he brought physically.
---
Latest News & Highlights
---
What Tootoo lacked in offensive skill, he made up for in physicality and fearlessness. He was known for plastering opponents to the boards, sticking up for teammates, and dropping the gloves. Despite being 5-foot-9, he was one of the fiercest fighters in the NHL. He didn't let his size prevent him from getting to the dirty areas of the ice. He quickly became a fan favorite following his rookie season, where he set his career-high of 16 fights. He racked up 62 fights over his tenure in Nashville, using his talent to catch fans' eye and foes' frustration.
Despite being a fan favorite, Tootoo's time in Nashville goes beyond the ice. He elevated his physical, rock 'em sock 'em style of hockey with his character outside of the rink.
A Fan's Run-In With Tootoo
Hoards of people scurry through Opry Mills Shopping Mall in Nashville, TN. Izod, a now-closed store at Opry Mills, is facing loads of customers entering, looking for the perfect gift for their loved ones. The 2008 holiday season is in full swing. A pizzeria, Izod's neighbor, makes the poignant smell of baked pizza fill the retail store, hoping to lure in hungry shoppers while tempting the grumbling stomachs of retail workers facing the seasonal rush. Bradley Muhs, an Izod employee and Predators fan, is folding clothes near the storefront. A stocky, 5-foot-9 man and his father approach him, asking for a pocketed shirt, similar to what the average 50-year-old father wears.
"You're Jordin *** Tootoo," Muhs blurted without hesitation, not answering his initial question.
TooToo chuckled and confirmed his suspicion. After the shock, Muhs let him down easy, informing him that Izod doesn't carry the particular shirt. He also said he's a huge fan and is hoping for an autograph. To Muhs, it appeared that Tootoo's eyes looked around, worrying he might draw a crowd in the jam-packed store. Regardless, Tootoo said sure, signed some things, and continued his search.
Muhs recalls the impact this interaction had on him. Despite the brief, tomato-sauce-scented scene, Tootoo's willingness to put aside the tedious task of Christmas shopping during the holidays created a lifelong fan. Muhs noted his quick meeting with the former Pred as lovely, highlighting Tootoo's character. For Tootoo, his clothing hunt may not have ended at the Izod in Opry Mills Shopping Mall, but he did make a lifelong fan who cherishes the memory with all his heart.
Tootoo's Community Contributions
Tootoo was a key figure in the Nashville community. Countless stories of Predators' fans recalling cherished memories with the forward continue to surface on the internet to this day. He has done public signings and always has time to take photos and sign autographs. He hooked Predators' fans on his rough hockey style, but his generosity with his time created lifelong supporters.
Beyond Nashville, Tootoo is committed to giving back to Indigenous communities in Canada. The first Inuk NHLer started the Team Tootoo fund to help charitable causes addressing suicide awareness and supporting youth. His goal post-retirement is to give back to various communities and create safe spaces where discussions surrounding mental health are possible. His charitable efforts reveal the person Tootoo is, but that should go without saying.
Related: Predators' Top 25 Players of All-Time: Colin Wilson
Nashville embraced Tootoo, and he reciprocated their love. The fearless competitor brought intensity to every match he played, throwing hits and punches and using his speed to generate some offense. Off the ice, he talked with fans, even if it was inconvenient, making lifelong memories for those who cheered him on. Now, in a life post-hockey, Tootoo is focused on giving back to Indigenous communities and highlighting the importance of suicide prevention among youth.