The St. Louis Blues will need their best players to perform this season as they attempt to bounce back from a lackluster 2022-23 campaign. A lot of their issues last season arose from several veterans underperforming, so that must change this season if they want to improve. With that being said, this article will examine five different team awards and which Blues will win them.
Most Valuable Player: Robert Thomas
After a breakout season in 2021-22 and a drop in production last season, Robert Thomas is going to be at his absolute best this season. Cemented as the Blues' top-line center, Thomas will have the necessary studs around him to succeed in all three zones.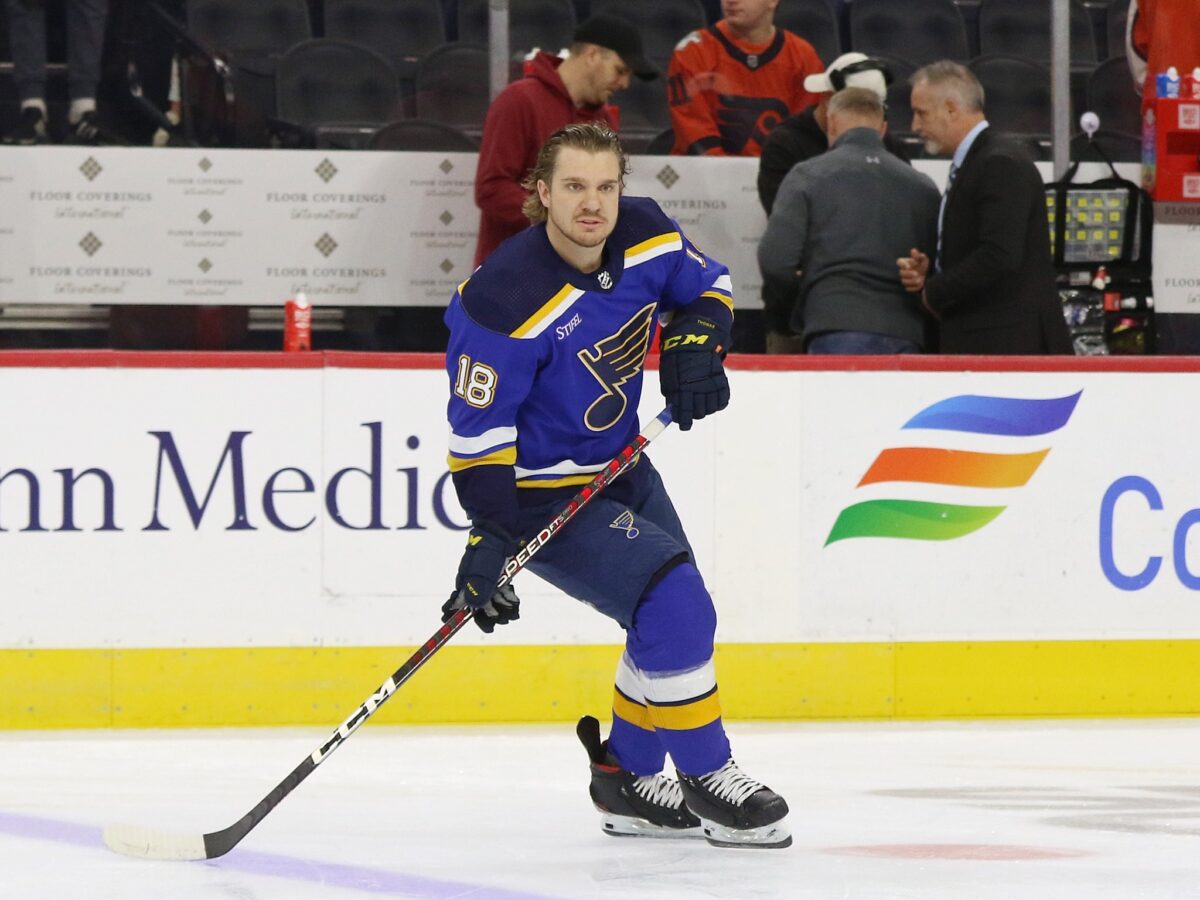 Thomas's production and impact will make him the Blues' most valuable player. I think he'll score around the same number of goals as last season (18), but he will have more assists and overall points. He has elite vision that allows him to see the ice unlike anybody else on the Blues roster, which will lead to an increase in assists. I wouldn't be surprised if Thomas ends up with a career-high in assists. He was nearly 53 percent in the faceoff circle last season, and that number will increase this season. If he stays healthy, the sky is the limit this season.
Most Improved Player: Jake Neighbours
There are a few candidates for the team's most improved player this season, but I'll go with forward Jake Neighbours as the winner of this award. Not only does he have a lot of room for improvement from last season, but he has a boatload of talent as well. He has appeared in 52 games over the past two seasons after being a first-round pick of the Blues in the 2020 Draft. When the Blues drafted Neighbours, there was an assumption that he would be a huge part of the forward group by now, but it hasn't happened yet.
This is the season where head coach Craig Berube and staff will try to give Neighbours ample opportunity in the bottom six. He had several performances last season where he looked like a first-round gem, but he hasn't found consistency yet. I believe he will stay healthy and score upwards of 40 points this season with a more well-rounded style to boot.
Maurice "Rocket" Richard & Art Ross: Pavel Buchnevich
Pavel Buchnevich is the Blues' best player and it would surprise me a little bit if he didn't lead them in both goals and points this season. Last season, the Blues' Richard and Art Ross trophies went to Jordan Kyrou after he scored 37 goals and 73 points. One key for Buchnevich will be staying healthy after missing 19 games last season. Even with games missed due to injury last season, he still racked up 67 points in 63 games.
Related: 5 Player Predictions for 2023-24 Blues
---
Latest News & Highlight
---
I think Buchnevich has an extraordinarily high ceiling this season, especially if Thomas and Kyrou perform the way that I expect them to. Those three on the Blues' top line will be dangerous for the opposing team's defense. I predict Buchnevich to score 40 or more goals and be the first Blue since Vladimir Tarasenko in 2021-22 to surpass 80 points. However, I don't think Kyrou will be far behind him in leading the team in goals and points. Either way, Buchnevich is the Blues' best player and it will show this season.
Biggest Surprise: Joel Hofer
I've been high on Joel Hofer as a prospect for quite some time, and this will be the season where he shows what he can be at this level. He enters the season as the backup to Jordan Binnington, who has struggled over the past two seasons. There have been signs of what Hofer can become over the past couple of seasons, especially in his first three games last season.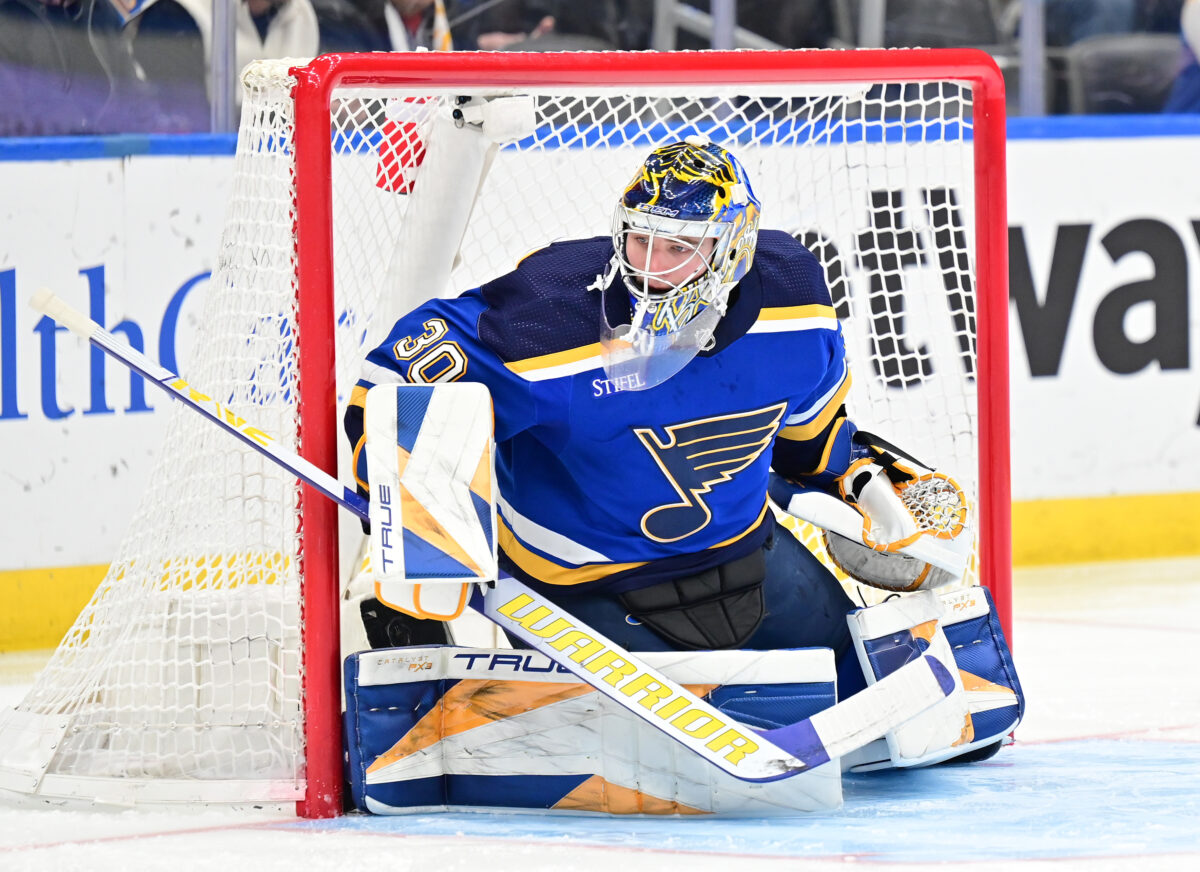 Hofer will surprise most with his performance this season, and that could mean overtaking Binnington in the same way that Ville Husso did in 2021-22. At just 23 years old, Hofer has the potential to be between the pipes for the Blues for many more seasons to come. It's clear that the Blues organization is very high on him, trusting him to be the sole backup at his age.
Rookie of the Year: Zach Dean
There aren't a lot of candidates for this award, but I think Zach Dean is the best choice if he gets enough opportunity with the Blues. There is a great argument for Hofer, but I chose him for the biggest surprise award, so I went with Dean for this one. He is unlikely to make the roster out of training camp, but he'll be a major part of the Springfield Thunderbirds down in the American Hockey League (AHL). If he produces enough there, he is more than likely going to get an opportunity with the Blues in some capacity this season. Dean is a great example of what head coach Craig Berube wants from his players. He's a two-way forward with a lot of overall skill. It wouldn't surprise me to see him turn heads throughout the season in either the NHL or AHL.
Overall, a lot of this season will be unpredictable for the Blues. However, some of these award selections are no-brainers to me. The Blues will need these players to step up this season as they try to make their way back into the playoff picture after a lackluster 2022-23 season.