Detroit has only selected one winger (Lucas Raymond) with a first round pick in the last four drafts, taking two defenders, one center, and a goalie with the other picks. The Red Wings showed this year that they need help scoring, with Dylan Larkin doing his best to carry the team on offense. Only two players on the entire roster managed to score 50+ points last year, and the team finished the season 24th in the league in goals scored. Detroit needs more goals.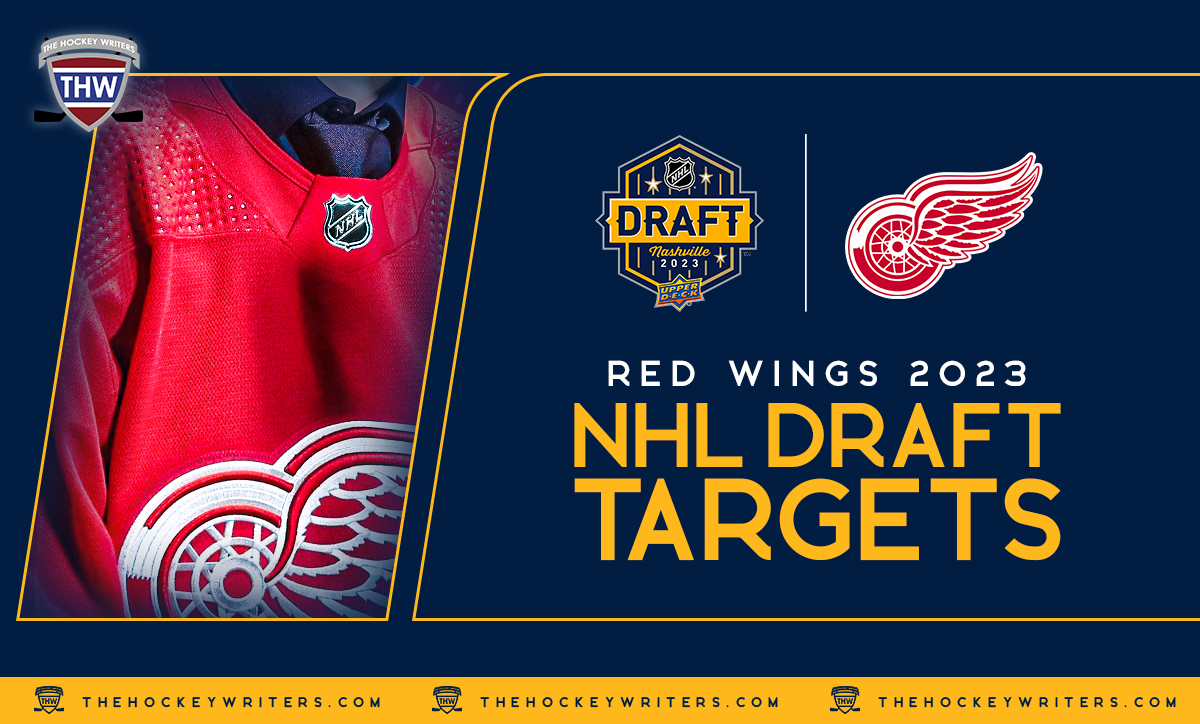 So who better for them to add in this year's draft than an incredibly skilled offense-first winger who has torn up every league he's been a part of since childhood? Matthew Wood is a phenomenal prospect who will almost certainly be available at ninth overall, and could be available at 17th provided Detroit gets pretty lucky on draft day. 
Who is Matthew Wood?
Wood dominated the British Columbia Hockey League (BCHL) last year as a 16-year-old, and scored nearly a point-per-game this year as the youngest player in NCAA hockey. He was the only U18 skater in the entire NCAA this year, and still managed to lead his team in scoring with 34 points in 35 games. That stat line is pretty impressive for a freshman in their draft+1 season (the year after they're drafted), but for Wood to do it in his draft year is much more rare.
Related: Red Wings 2023 NHL Draft Coverage
---
Latest News & Highlight
---
Few players as big as Wood have as much skill with the puck as he does, making skilled plays close to his skates with ease. Wood's ability to hold onto the puck through traffic is partly due to his great puck protection instincts and reach, but he's also got a knack for finding the puck through a mess of sticks and skates.
Wood's shot is one of the best in the draft class, with a wrist shot that projects to beat NHL goalies and a one-timer that I think could beat NHL goalies today. He has the curl-and-drag wrister in his arsenal, a shot that's becoming more and more common in the NHL, and can get his shot off from a wide variety of different positions, stances and angles. 
He doesn't have the best skating which limits his two-way potential, but he took noticeable steps in the right direction over the course of the season, particularly when it comes to acceleration and top speed. Wood still has a way to go skating-wise to be a high-end NHLer, but his offensive skills and size are already good enough to comfortably project him as a top-six scoring winger in the NHL.
You may have heard Wood being compared to Tage Thompson, but I don't think that's a helpful comparable since Thompson has had such a unique rise to stardom over the last two years. Yes, Wood is big, has good hands, and a great shot, but Thompson is bigger, has better hands and an amazing shot. Maybe that's the right player-type to think about, but don't go into this draft with the expectation that Wood will be an elite offensive talent in the exact same way as Thompson because no two-players are exactly alike. Wood won't be "the next Tage Thompson", he'll be the first Matthew Wood.
Quotes
"He also has an excellent wrist shot and one-timer, making him a major asset on the power play. Wood is a big winger as well, so the size/skill combo has a lot of upside." – Corey Pronman, The Athletic (2023 NHL Draft ranking: Connor Bedard leads Corey Pronman's tiers of the top 142 prospects, May 30, 2023)
"He played a leading offensive role thanks to his ability to get to the interior and finish off plays. Wood is a goal scorer with good instincts and a sense of time and space that the best goal-scorers have. He pops into soft areas of the ice and always makes himself an option for his linemates." – Chris Peters, FLO Hockey
"Wood is particularly good at mopping up loose pucks behind the red line and then making a quick pass to a teammate in the slot. He's got an excellent shot and is quite good with puck manipulation prior to shooting. Wood will delay, force the goaltender to completely shift over and then strike at the gap that the goaltender provided him." – Josh Tessler, Smaht Scouting
Wood's Fit in Detroit
Depending on who else Detroit adds in the 2023 Draft, I think Wood would become Detroit's third best prospect immediately, behind only Simon Edvinsson and Marco Kasper. Those two have each played at least two seasons of professional hockey while Wood has only done a single year in the NCAA, but his upside is massive and I don't think any other prospect in Detroit's pool is quite on his level.
Related: 2023 NHL Draft Guide
Lucas Raymond and Carter Mazur are the only other young, right-handed wingers who project to be on the NHL roster by the time Wood joins the team, and I think Wood and Raymond would make a great top-six combo on the right side. If Mazur's offense really pops in the NHL, then I could see either him or Wood moving to their off-side at times to boost the top-six forward group a bit.
Other Draft Targets
Should Detroit Draft Wood?
Above all else, the Red Wings are in need of high-end offensive players. I still expect Raymond to be a legit top-line contributor soon, but that still leaves the team with only two players in Raymond and Larkin who can score a ton. They'll need more options, especially options who can help improve the team's dismal power play. 
Wood is an excellent option to fill that need, he's got the shot to be a threat from the flanks on the powerplay and the hands to do damage off the rush. If Wood can continue to improve his skating then he could be a consistent 70+ point guy, and even if he doesn't, I believe he's got a great chance to be a regular 20+ goal scorer who gets the job done on the man advantage.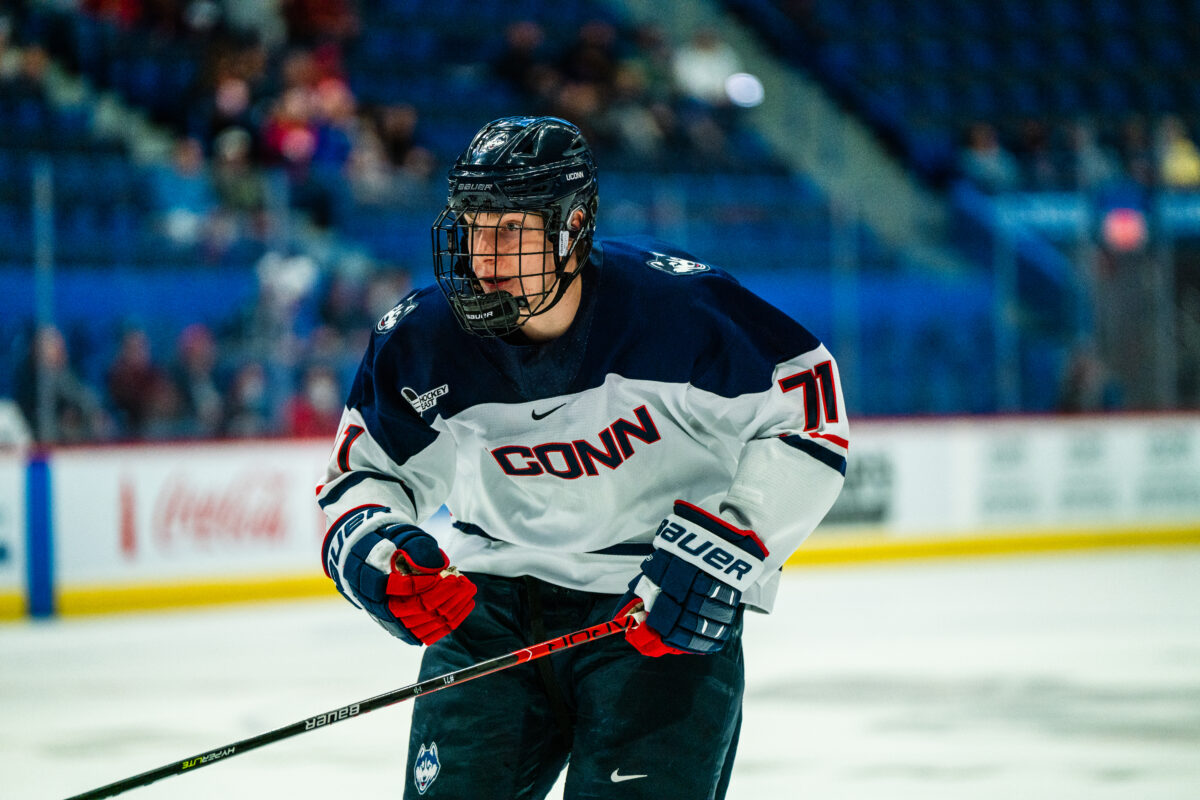 If Detroit lands Wood with the ninth overall pick, they're getting good value, with a guy who still has tons of time to develop and has shown real skating improvement in the last nine months or so. If they land Wood at 17, or trade up a few picks to nab him, then they are getting excellent value for their pick.
It also doesn't hurt that Wood is over 6-foot-3, giving the Red Wings some size at the top of their lineup. Size certainly isn't everything in the NHL, but here's a list of all the forwards who played regular minutes for the Red Wings last year who are taller than 6-foot-1: Dominik Kubalik and Michael Rasmussen. That's the whole list. Detroit's group of high-end forwards is below league-average height and Wood might help balance that out a bit, even if physicality isn't his calling card.
I think Wood fits quite well in Detroit's future, and would be a great pick for them in this year's draft. If they can select someone else at ninth overall and then land Wood at 17 or trade up a little to get him, then they will have come out of this year's first round as massive winners in my book. 
What are your thoughts on Detroit drafting Matthew Wood? Who would you like to see him play with on the Red Wings if they do draft him? Where would Wood land in Detroit's prospect pool? Sound off in the comment section below!