What's The Grind Line? Apart from the once-famous line of Kris Draper, Kirk Maltby, and either Joe Kocur or Darren McCarty, The Grind Line is also The Hockey Writers' weekly column about the Detroit Red Wings. Jacob Messing, Griffin Schroeder, and Tony Wolak are the muckers who make up THW's forechecking unit and sound off on Red Wings topics.
---
Detroit Red Wings general manager (GM) Ken Holland acknowledged more youth is on its way during locker clean out day, last week.
"I'm hoping and expecting that minimum of two, maybe four or five kids between the ages of 19 and 22 are on the roster next year that weren't on the team to start this year," Holland told reporters Tuesday.
It would be a refreshing look for the aging Red Wings, where more speed and skill would join the youth of Dylan Larkin, Anthony Mantha, Tyler Bertuzzi and Andreas Athanasiou.
The Red Wings draft lottery luck, or lack thereof, could have a big influence on the 2018-19 roster, but until June's draft, roster projections and potential trades will be hot topics in the organization.
Related: 3 Potential Red Wings Draft Strategies
Jacob Messing
Good Chance: Evgeny Svechnikov
Svechnikov displayed significant growth from night to night during his 14-game stint with the Red Wings this season. His two goals and four points in that span don't jump off the page, but he controlled the puck, played with poise and showed flashes of his offensive skills.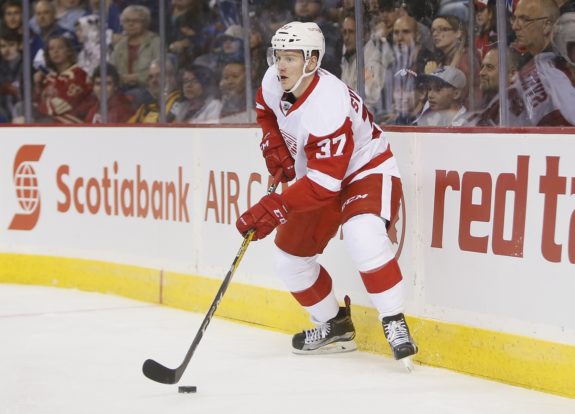 He was sent back down to Grand Rapids to help the Griffins push for a postseason berth, which they would eventually earn. After a neck injury in fall's training camp, he got off to a slow start with the Griffins, but helped turned their season around when he began to find his offensive touch. The 21-year-old's postseason with the Griffins will go a long way in him earning a spot next year. With the turnover from the Griffins' 2017 Calder Cup championship team, the Russian will be expected to help carry the load as they push for the repeat title.
The Red Wings selected Svechnikov 19th overall in the loaded 2015 draft where 23 of the other 29 first-round picks have skated in as many, or more, NHL games than Svechnikov. Three of those selections were drafted after Svechnikov.
Related: Red Wings & Svechnikov: Patience is Required
He's not likely to be hopped by any forward currently in the organization ahead of next season, meaning he should earn the 12th spot among the forwards and a full-time role to begin transitioning into the NHL role his draft counterparts have already earned.
His brother, Andrei, is projected to be a top-three pick in June's draft and short of landing the top pick, could find himself in Detroit along with Evgeny and create a more-than-reliable duo of brothers. Bets case scenario, think of the second-coming of Henrik and Daniel Sedin.
Long shot: Filip Hronek
Holland's comments of four or five new faces should be taken with a grain of salt, as the roster just doesn't have room with the current logjam at every position. Jonathan Ericsson, Niklas Kronwall, Trevor Daley, Danny DeKeyser, Nick Jensen, Xavier Ouellet and Luke Witkowski are all still under contract on the backend. Should a defensive spot be up for grabs, it may be Joe Hicketts' given his NHL stint over Hronek this year.
Filip Hronek's strong play for the @griffinshockey provides @DetroitRedWings fans a glimpse into what the future of their blue line might be.

📝 @petewallner
→ https://t.co/zOtUy0zVm5 pic.twitter.com/aFv9REZzNp

— American Hockey League (@TheAHL) April 15, 2018
But no prospect is going to make the team just to be a seventh defenseman, or for that matter rotate with an Ouellet or Witkowski. Holland will certainly shop some of his defensemen, but trading any of the big contracts won't be easy.
Hronek may deserve a spot out of camp given his rookie season in Grand Rapids, but moving parts and other prospects could hinder that. That's without mentioning the potential return of Mike Green or the 8.5 percent chance of landing Rasmus Dahlin.
Tony Wolak
Good Chance: Michael Rasmussen
After four goals in last fall's preseason, Michael Rasmussen was sent back to juniors where he didn't disappoint. For the upcoming season, let's hope Detroit's 2017 first-round pick forces his organization to hold onto him rather than settle for another year of junior hockey.
It's no secret that the near-19-year-old has dominated in the postseason for the Tri-City Americans. Through eight playoff games, the center has recorded ten goals and 24 points, leading his team and placing second in the WHL overall. Rasmussen's six-foot-six frame is hard to move from the net-front on the power play, from which he scored 17 goals during the regular season and four more while on the man advantage in the playoffs. And, if you recall, Detroit's power play has been remarkably powerless over the past two years.
This past season, Detroit's power play ranked 24th in the league (17.5 percent) and 27th the year before (15.1 percent). In addition, the team only had 234 power play opportunities this past year (27th in the league). By comparison, Colorado's man advantage received 296 opportunities, meaning their speed and game plan produced nearly one more power play than Detroit over the course of the year. That additional power play time and subsequent goals could have won the Red Wings a few more games throughout the season considering how many one-goal games they lost (27).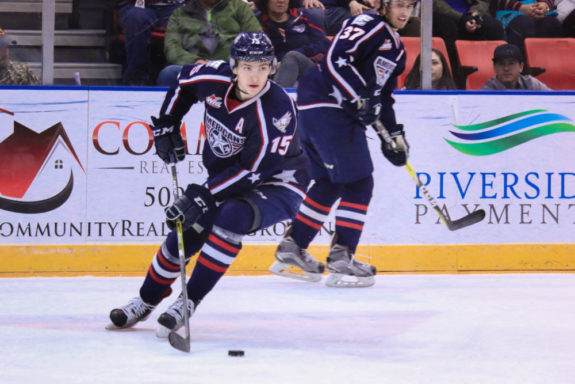 Adding Rasmussen to an already deep, yet superstar-less forward group will give the Red Wings another threat on their anemic power play. The center has proven the ability to score from around the net-front in juniors and NHL preseason games. Put him on a man advantage unit with Larkin, Gustav Nyquist, Martin Frk, and Joe Hicketts, and the Red Wings could pop home a few more power play goals than this past year.
Additionally, Detroit could move Mantha from the net-front to the half-wall—à la Johan Franzen—and keep Justin Abdelkader in Tomas Holmstrom's old office on the other power play unit.
Most of all, having Rasmussen, Svechnikov and other prospects on the team next year will allow them to gain value experience. Veterans are still needed to teach these players how to play night-in and night-out at the NHL level, but Rasmussen and company are the future. If they earn the opportunity to play in the NHL, then they deserve a fair chance to make an impact right away.
Long Shot: Dennis Cholowski
Rasmussen's WHL counterpart, Dennis Cholowski, could join him in Hockeytown next season, but has a few more names to jump on the depth chart.
Now that his junior team's season has wrapped up, Cholowski will join the Grand Rapids Griffins for their playoff run this spring. He'll have to outperform fellow prospects Vili Saarijarvi and Libor Sulak to earn time on Todd Nelson's blue line, where Hicketts and Hronek are already thriving. If Cholowski can gain an opportunity to suit up for the Griffins, that playoff experience will go a long way for not only his confidence, but also his chances to make the Red Wings next season.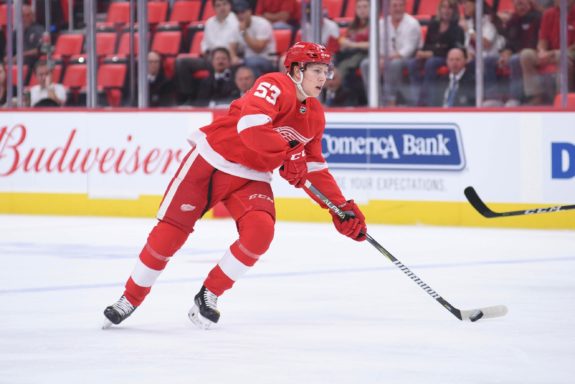 But until the Red Wings clear defensemen from their NHL lineup, there's not much room for their most-deserving prospects, Hicketts and Hronek, let alone Cholowski. If Green is allowed to walk, plus two other blue-liners are traded, then there's a chance for Cholowski. That's quite a bit of contingencies, though.