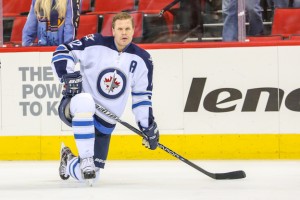 The Nashville Predators chose not to partake in the mayhem of the free agency frenzy that consisted of over-payments to average players. Instead, they waited to the second day when the signings slowed down and asking prices would be at a discount, if you will. GM David Poile got his discount when signing center Olli Jokinen to a one-year, $2.5 million contract.
While this signing was at a reasonable price (compared to Dave Bolland's deal in Florida), it left questions of whether or not this was the 'top-line center' Poile hinted at to play alongside right-winger James Neal. If so, Jokinen certainly would not fill it. If not, he'll add tremendous depth as a center, or even as a winger.
"Most of my career, [I've] played center," Jokinen told Predlines.com. "The game has changed a lot over the last few years. I think at the end of the day, wing or center, it doesn't really matter. It's more of finding the chemistry with other players."
"He has certainly played with top players throughout his career," Poile said during a press conference announcing the deal. "It gives more options to Peter Laviolette. You're going to see a lot of experimentation at training camp as he gets used to our roster.
"We're still talking to other teams. I'm not saying we're going to do anything else, but we are looking at a couple different situations. I thought I was close on something else, and might still be. We're feeling good at what we've accomplished at this point."
Despite questions about Jokinen being the top-line center for Nashville next season, the Predators did get better with the acquisition. And they needed to with the amount of improvements the Chicago Blackhawks, Dallas Stars and St. Louis Blues made within the Central Division.
"Somebody referred to the Western Conference as an arm's race," Poile said. "We needed to get better at center ice and with Olli, he certainly did that [for us]."
Under the current CBA, unrestricted free agents are allowed to meet and interview with potential new clubs between June 25-30. Jokinen, a UFA, met with a hopeful and eager Peter Laviolette and Poile.
"We had excellent conversations between Olli before we signed him, especially Peter Laviolette," Poile said. "Peter weighed in heavily on this decision as he saw our team and how we matched up with teams in our conference. After he talked to Olli, he seemed a little more bullish.
"I think after having a talk with the coach and understood what we are trying to do, I think it made a lot of sense to him as it did to us."
"Speaking with [Laviolette], I got excited," Jokinen said. "I wanted to start playing tomorrow. With a healthy [Pekka] Rinne in the net, he gives you a chance to win every night. You have best defenseman in the League in [Shea] Weber. You have best young defenseman in the league in Roman Josi. And you got James Neal, Mike Fisher, Matt Cullen. So for me, this was the best option."
Although Laviolette and Poile ultimately persuaded Jokinen to sign with the club, the recruitment process began months prior in Minsk, Belarus. Jokinen discussed with Pekka Rinne the possibilities of playing in Nashville for the upcoming season during the World Championships in May. The Kuopio, Finland native and Rinne won a silver medal together at the competition.
"I talked to him during the World Championships a lot about the situations," Jokinen said. "I was trying to gather as much information I could get from the players from the different teams. With Peks here a long time, [he was] telling me about the city and how everything is run here in the 1st class. He gave me good information."
Jokinen, 35, has played in 1169 career games in the NHL totaling 317 goals and 740 points. Not only does he bring additional veteran presence into the locker room, but leadership qualities as well. Jokinen has been a captain (assistant included) in 8 of his 17 seasons in the League. Despite his leadership skills, Jokinen acknowledges what is currently in the room and will take a less significant role on the team.
"There are a lot of leaders in this room already. That's not the thing that's lacking here. For me, its bring[ing] that work ethic everyday and do things the way its supposed to be done."
Nashville will be his 8th team since being drafted by the Los Angeles Kings 3rd overall in 1997. Jokinen has not stayed in a city for longer than 3 seasons since his time in Florida from 2000-09. Since then, he has played in Phoenix, Calgary, New York City, Calgary (again), and Winnipeg.
With a wife and 3 daughters, Jokinen is looking for job security and place to call home. He is hoping the Music City will serve that purpose.
"Hopefully I can stay here for a long time. The kids are at that age where they want to settle in one place for more than a few years."