No. 15 or No. 9, it doesn't matter what number Jack Eichel has on his jersey; starting in the 2018-19 season, he needs to be No. 1 for the Buffalo Sabres.
After the front office frittered away three years of his entry-level contract with no team success to show for it, Eichel's massive 10-year, $80-million contract kicked in on July 1. It's now Eichel's time to shine. He must lift this team into the playoffs.
Related: 6 Stories from Sabres Development Camp
Eichel's Surprise
A few days ago, when Eichel posted a photo of himself on his personal Instagram account, in his signature celebratory pose while wearing No. 9, it left little to the imagination. He was handing in his No. 15 for the No. 9 that he wore while at Boston University and for Team USA.
And the number change is here for Jack Eichel pic.twitter.com/frTnAZDiNd

— John Vogl (@BuffaloVogl) July 6, 2018
"For a long time, the number nine has always been a part of my identity as both a person and as a player," said Eichel. "The opportunity opened up to switch and I felt it was the right time to make the change as I begin the next phase of my career as a Sabre."
Eichel's Career: Phase One
Three years ago, Sabres general manager Tim Murray didn't waste any time inside the BB&T Center in Sunrise, Florida. He stared down Eichel in the stands as he approached the podium at the NHL Entry Draft and uttered four simple words: Buffalo selects Jack Eichel.
Murray and the Sabres lost out to lady luck when the Edmonton Oilers won the rights to choose the No. 1 overall pick, phenom Connor McDavid.
Generational players, no matter how good they are presumed to be, aren't named captain in their rookie seasons. The concept of leadership required for a captain or even an assistant captain lends itself only to those who have shown remarkable character on the ice as well as in the locker room. McDavid took the title at the age of 19 years and 266 days old with the Oilers. He is the youngest permanent NHL captain in NHL history.
When Eichel came to the Sabres, Brian Gionta was the team's captain. "Gio" was a seasoned veteran and a 2003 Stanley Cup winner with New Jersey Devils. Before signing with the Sabres, he was only the second American-born player to serve as team captain of the Montreal Canadiens (Chris Chelios was the other). He was a standup guy, always ready to face the media after a win or loss, and a leader by example both on and off the ice.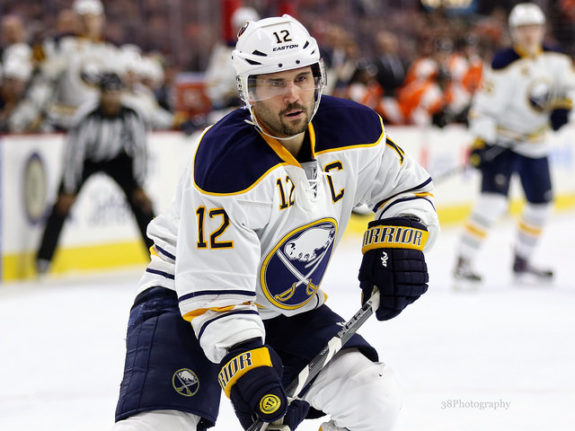 Eichel didn't need the weight of wearing the 'C' stitched to his sweater then. He was adapting to the life of a professional athlete at the age of 19, living in a new city and had enough on his plate. Besides, there were plenty of veterans surrounding him, including Ryan O'Reilly, Evander Kane, Josh Gorges and Jamie McGinn.
Since then, the team has gone nowhere. It finished 23rd place with 81 points in 2015-16, 26th place with 78 points in 2016-17 and dead last (31st) with 62 points in 2017-18. Other than the three-year span from 2013-14 through 2015-16, the team has lost more games in Eichel's first three seasons (153) than in any consecutive span in franchise's 47-season history. He knows losing all too well.
The North Chelmsford, Massachusetts native has had seasons of 56, 57 and 64 points (73 goals and 104 assists), respectively. He's been named to the NHL All-Star game. His production has increased every year, despite him being sidelined with injuries for 21 games in 2016-17 and 15 games last season. And he's only the fourth player in franchise history to score 20 or more goals in each of his first three NHL seasons (joining Gilbert Perreault, Rick Martin and Thomas Vanek).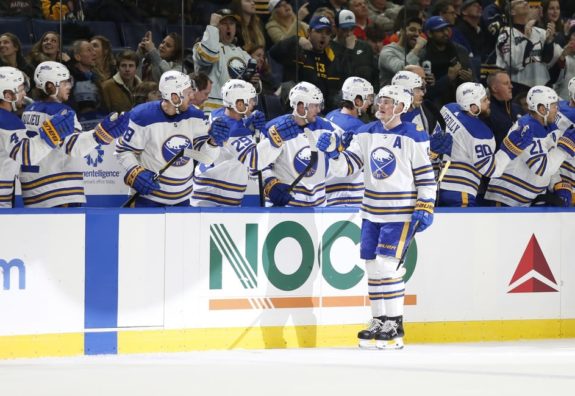 Now 21 years old and with three years under his belt, it's time for Eichel to show us the elite player he can be. He knows his way around the league and needs to be the leader this team sorely lacks. It's time for the Sabres' captainless, four-man leadership group game to end. Committees don't lead, individuals lead.
Eichel's Career: Phase Two
While it's true that the player makes the number rather than the number make the player, there's more to it here.
Eichel's number change is his way of drawing a line in the sand, or the ice, and starting fresh. He's distancing himself from the team's failures, saying goodbye to Tim Murray, Dan Bylsma, Evander Kane, Robin Lehner, Ryan O'Reilly, Hudson Fasching, Victor Antipin and Matt Moulson. He's looking to the future with Jason Botterill, Phil Housley, Sam Reinhart, Rasmus Ristolainen, Kyle Okposo and a host of fresh faces, including Rasmus Dahlin and Casey Mittelstadt.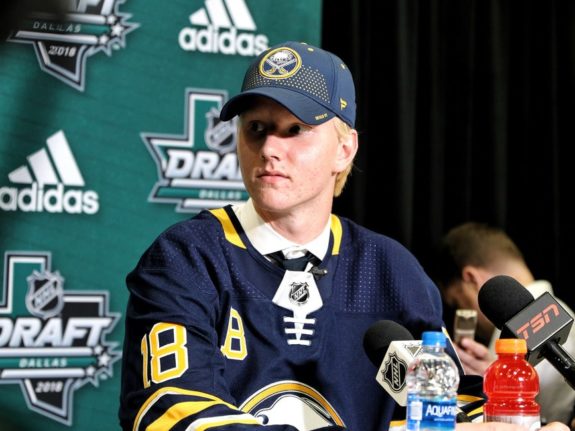 Botterill has eliminated much of Murray's moves. He's re-shaping the roster and is following a plan.
"We felt that, in our meetings at the end of last season as a management group, we had to change the dynamic," said Botterill. "The bottom line was there's a lot of great people in that locker room, but when you finish 31st you have to look to make changes."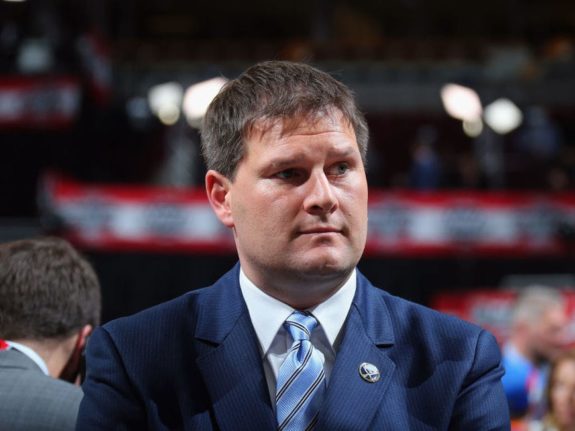 The Sabres' development camp was full of exciting prospects, including Dahlin, Mittelstadt, Lawrence Pilut and Victor Olofsson. Many dazzled coaches and fans with stickhandling, speed, and laser-like shots.
As Dahlin and Mittelstadt whetted the thirst of Sabres fans, Eichel has sweating up a storm in the gym. As Botterill has been working trades, Eichel has been working out. He knows the expectations for him increase next season. As these fresh faces join the team this coming season and the next, they'll look to respected veterans in the locker room to help guide their professional growth. Once a rookie, Jack Eichel is now that veteran. All that's missing is the letter 'C' sewn to the front of his sweater.
Related: Sabres Find Their Captain on Clean Out Day
Jeff has been covering the NHL for over a decade for various sites. He's been with The Hockey Writers as a lead Sabres writer three years, while also writing a satire column called "Off the Crossbar."